Doug Baldwin feels 'terrible' for stealing a TD catch from his teammate
Doug Baldwin feels 'terrible' for stealing a TD catch from his teammate
BY Cameron DaSilva • January 10, 2017
Doug Baldwin had himself a stellar game against the Detroit Lions in Saturday night's 26-6 Seattle Seahawks win. After a slow start, Baldwin finished with 11 catches for 104 yards and a touchdown. The connection he and Russell Wilson share is as good as any QB-WR duo in the NFL. In fact, it's so strong that Baldwin is even stealing touchdowns from his teammates.

Late in the game, Wilson lofted a pass up that appeared to be headed for Jermaine Kearse's wide-open hands in the end zone. It was going to be one of the easiest scores of his career … until Baldwin snatched it right in front of him, stealing a touchdown from his stat line.

"That ball was supposed to go to Jermaine," Baldwin said, via SeattlePI. "I feel terrible about it. You guys laugh, but we work really, really hard. Every opportunity and every target is few and far between. I wasn't where I was supposed to be. Fortunately enough it worked out for us in terms of us scoring a touchdown, but I took a touchdown away from my brother and I feel terrible about it."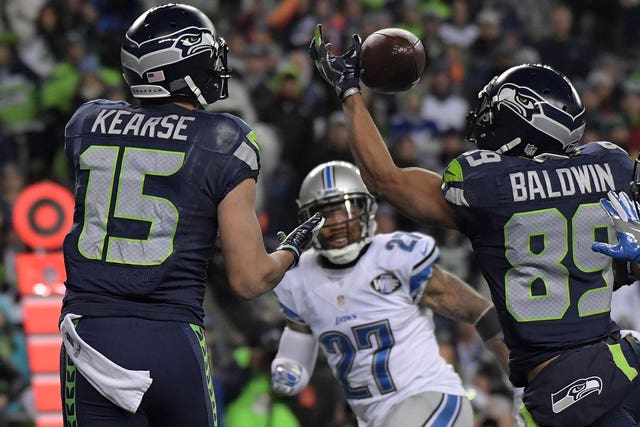 Baldwin brought it in with one hand, which was much more difficult than it would have been for Kearse, who was waiting for it to fall right in his bread basket. As Baldwin said, thankfully he caught it and didn't drop what would have been a catch for Kearse that a fourth-grader could have made.

Of course, that wasn't the only difficult catch Baldwin made. He also made a ridiculous grab with his butt after pinning it to his backside.

"He makes the tough catches," Richard Sherman said. "He even catches with his butt sometimes. There's nothing he can't do. That's why they pay him the big bucks."
---
---