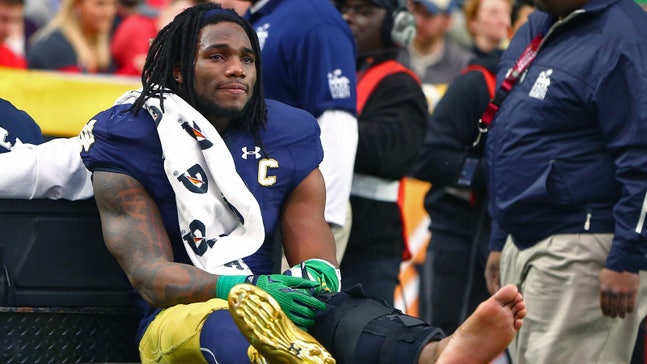 Docs finally get good look at Notre Dame star LB's blown-out knee at NFL Combine
Published
Feb. 26, 2016 3:13 p.m. EST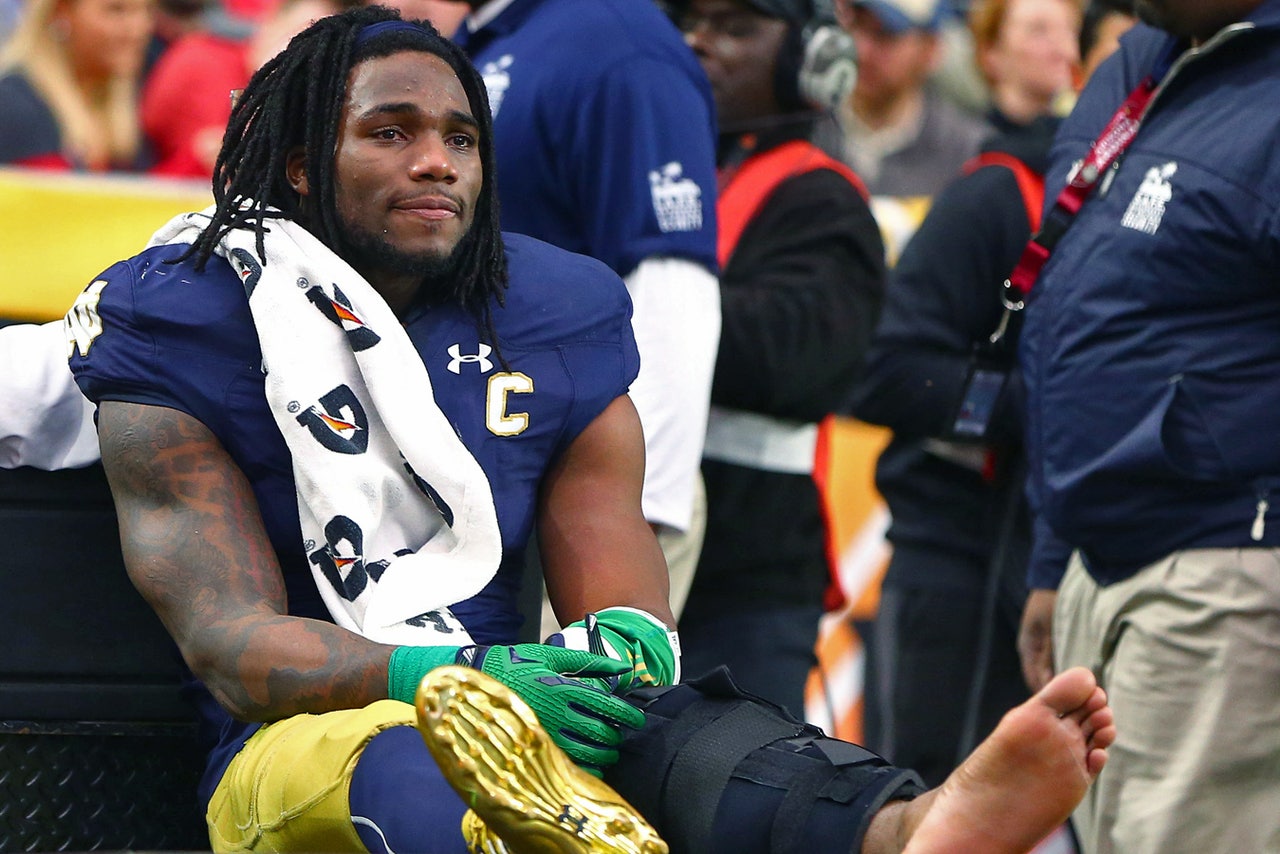 Although he isn't participating in any drills, Notre Dame linebacker Jaylon Smith's visit to the NFL Scouting Combine was an important one.
Smith's left knee was examined Friday by team physicians to determine the extent of the injury sustained in Notre Dame's bowl game against Ohio State. Smith suffered multiple torn ligaments and possible nerve damage that could greatly damage the stock of a player who was considered a first-round lock in April's draft.
A source told FOXSports.com that Smith was walking at the combine wearing a DonJoy A22 brace roughly seven weeks after surgery.
"He looks good," the source said. "He just needs more time."
How much time is a matter of speculation that NFL teams must try to answer before deciding where to place him on their draft boards -- because nerve damage is more serious than torn ligaments.
Dr. David Chao, who was the long-time team physician for the San Diego Chargers, told co-host Bruce Murray and me on SiriusXM NFL Radio Friday that he believes Smith will need a "redshirt year" in 2016 before returning to play. Chao based some of his analysis upon watching a video Smith posted of his recovery.
Chao believes Smith was wearing an AFO (ankle-foot orthosis) brace that would indicate drop foot (also known as foot drop), a nerve ailment that prevents people from lifting the front part of their foot.
A source told FOXSports.com that two doctors with knowledge of the situation have differing opinions about the odds of Smith making a full recovery, with one far more optimistic than the other. Another doctor was far more pessimistic, listing Smith's odds for a full recovery at 10 percent.
The 6-foot-3, 229-pound Smith won the Butkus Award as the NFL's top linebacker in 2015 and led the Fighting Irish in tackles the past two seasons.
---
---