Detroit-New England: How Jonas Gray makes Brady, Patriots a force
BY foxsports • November 20, 2014
New England's scary-good offense just got scarier. In the Patriots' victory over Indianapolis, their run game featured the emergence of new weapon: power back Jonas Gray.
Gray, the former practice squad running back, rushed for a career-high 199 yards to lead the Pats to a 42-20 victory. In one game, Gray racked up four rushing touchdowns, or more than LeSean McCoy and Frank Gore have this season combined, or as many as the rest of the NFL in Week 11. More important is what this kind of weapon means for New England.
Since 2000, the Pats are 40-1 when they have a 100-yard rusher in the game.
Tom Brady is a master of the art of the play-action pass. Brady's slight-of-hand game is ridiculous, and nobody in the league sells the play-action better than him. He has used play action on 91 of his 364 pass attempts this season, fourth-most in the league. Now that it appears he has a true power running back in the 5-foot-10, 230-pound Gray to pummel the middle of the defense, Brady's ability to get defenders out of position with ball skills in play-action will be at its best.
Another dimension of the Pats' offense developed as well. One of the Patriots' most dynamic offensive tactics over the past decade-plus has been to keep defenses guessing what personnel grouping they'll see on game day. Most defenses prepare to face an offense by watching game tape of their four previous games. That doesn't help with New England.
While the Patriots have always run heavy doses of 11 personnel (one RB, one TE and three WRs) as their staple, they change up their personnel and scheme better than anyone in the league. They may show several weeks of 12 personnel (one RB, two TEs and two WRs), but then show up on game day and run a high number of snaps with 01 personnel (zero RBs, one TE and four WRs) or 22 personnel (two RBs, two TEs and one WR).
Against Indy, they revealed a whopping number of snaps of the Jumbo personnel (extra offensive lineman) that gashed the Colts, and it won't be the last we see of it this season. They used both Jumbo 22 (two RBs one TE, one WR and one extra OL) and Jumbo 12 (one RB, one TE, two WR and one extra OL). Rookie offensive lineman Cameron Fleming was used as an eligible receiver aligned at tight end in 36 snaps.
This puts the defense in a bind by most often forcing it to take a safety out of the game and use an extra linebacker to defend against the run. Now, the defense isn't able to do as much coverage-wise yet it still has to cover two WRs, one of the league's best tight ends and a shifty running back out of the backfield. If the D keeps a safety in the game, it's more vulnerable to getting slow-drubbed to a pulp with heavy doses of ground game — often getting hit for 4 to 5 yards a pop.
Combined with the emergence of the powerful Gray, the Jumbo personnel is one more headache for which opposing defenses will have to prepare — and worry about — for the rest of the season. Let's take a look at some plays to see how this works and why Gray's emergence has made the Patriots even more of a force.
The Jumbo run
In the first photo you'll see the end zone shot of the trenches when the Patriots lined up in their Jumbo 12 personnel (one RB, one TE, two WRs and one extra OL). You'll also see how the O-Play is drawn up against this defense.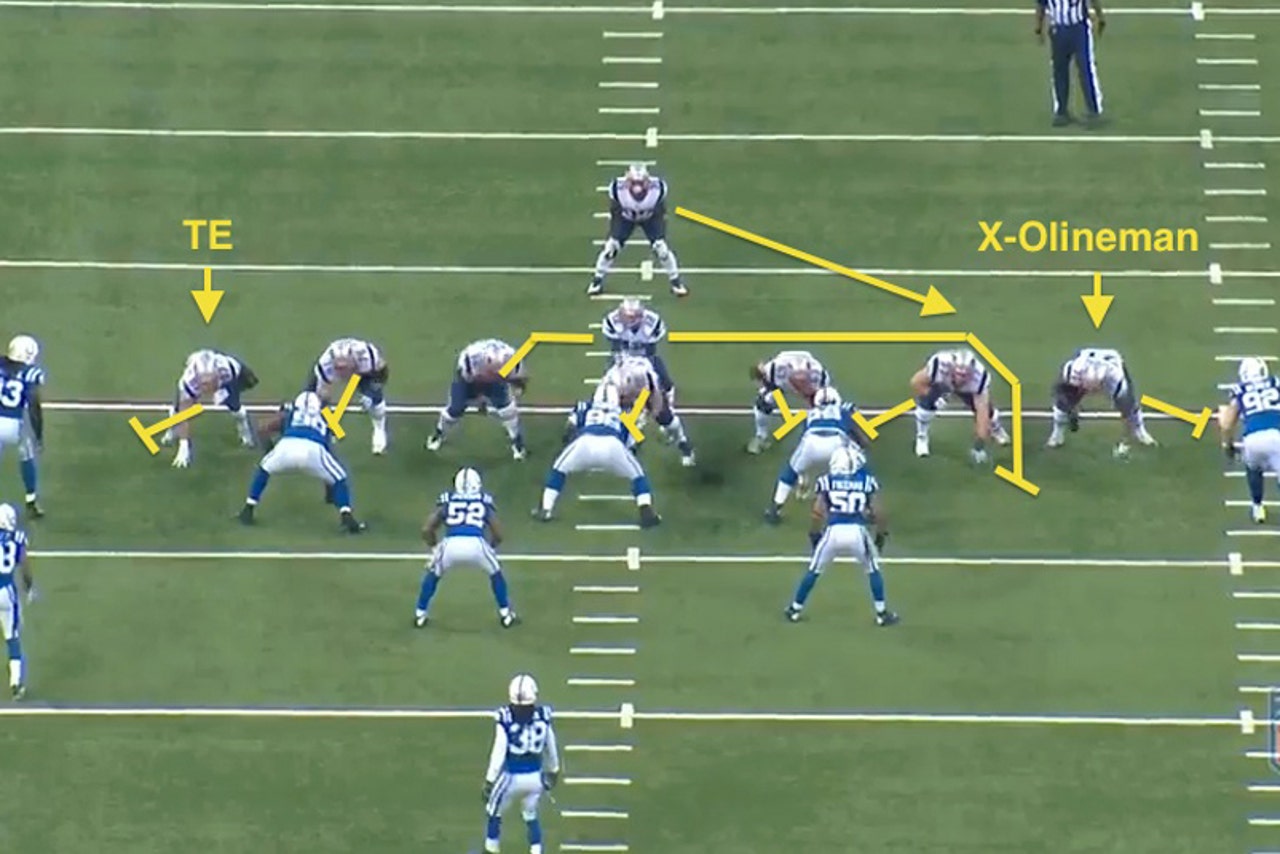 In the next photo, as the play develops, take note of where the defensive end's feet are when the extra offensive lineman (Fleming) engages with him (green dotted line).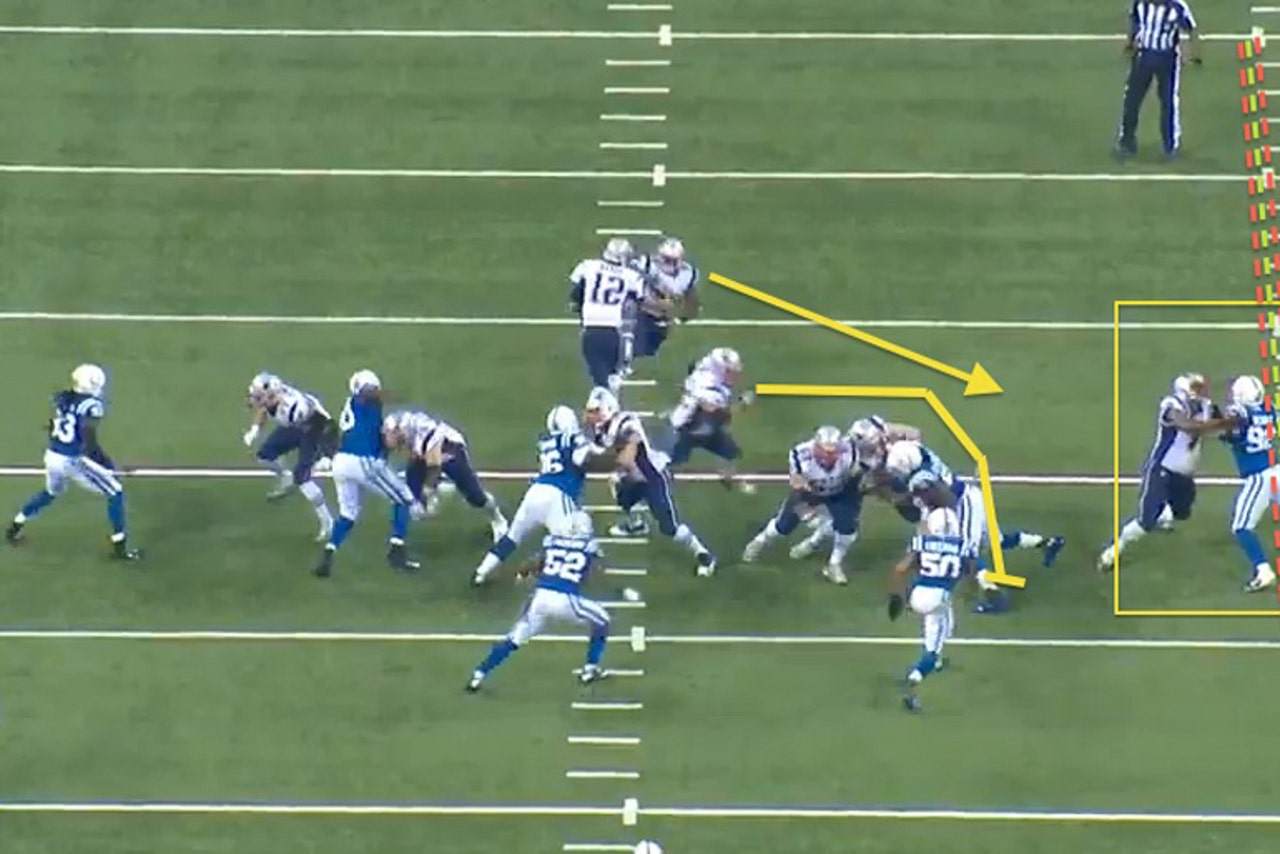 In the next photo, you'll get an idea of how the Jumbo personnel can give a boost to blocking schemes in the ground game. Notice how far Fleming widened the defensive end to create an enormous running lane for Gray on this play. Keep in mind that the defensive end on this play is Bjorn Werner, the Colts' first-round draft pick a season ago.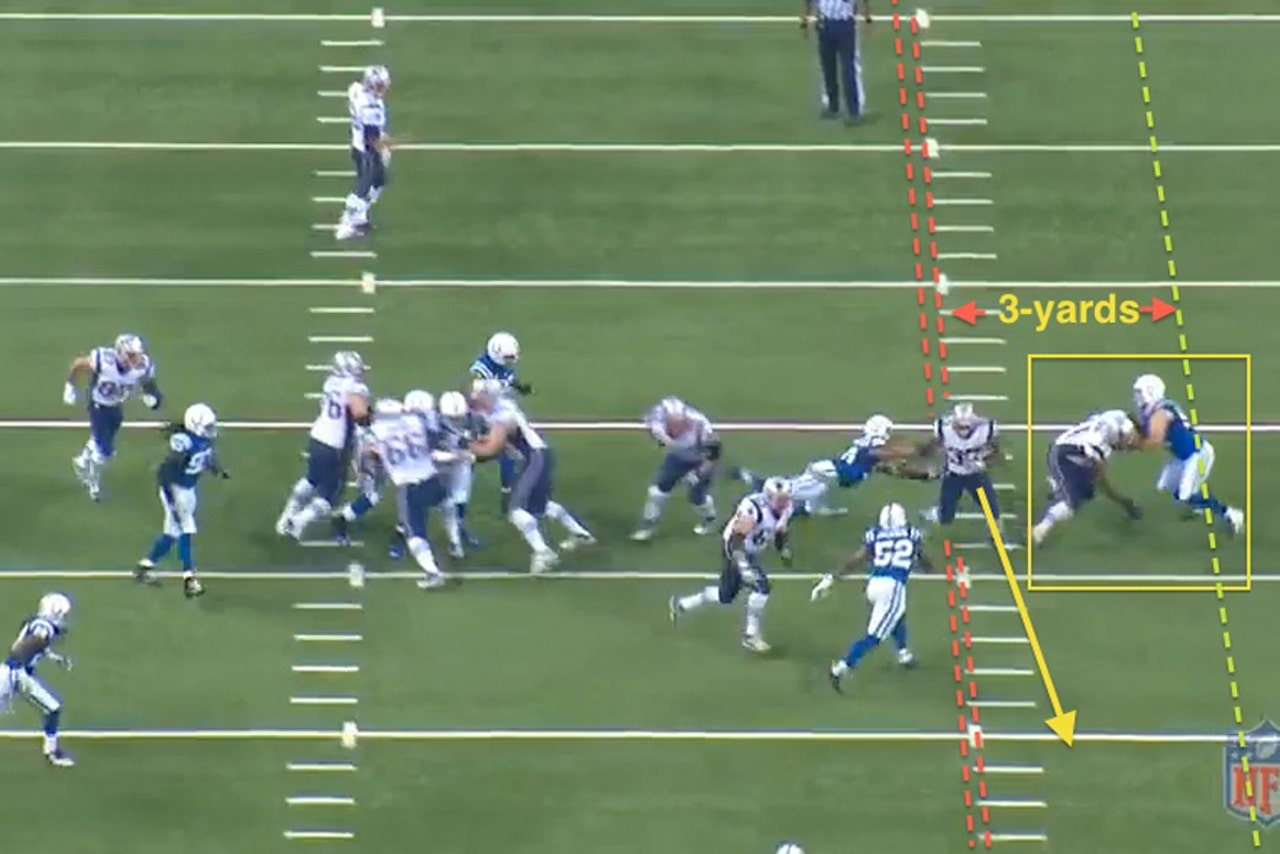 Jumbo play action
As the game wears on, and the Patriots keep pounding between tackles out of their Jumbo personnel, the linebackers begin to attack the line of scrimmage quicker and more aggressively when there is run action on the play. Catching a 230-pound running back and being taken for a 4-5 yard gain each and every play gets old after a bit, so something has to change.
In the first photo, you'll see how this play-action pass is drawn up against man-to-man coverage out of the Patriots' Jumbo 22 personnel (two RBs, two WRs and one extra OL).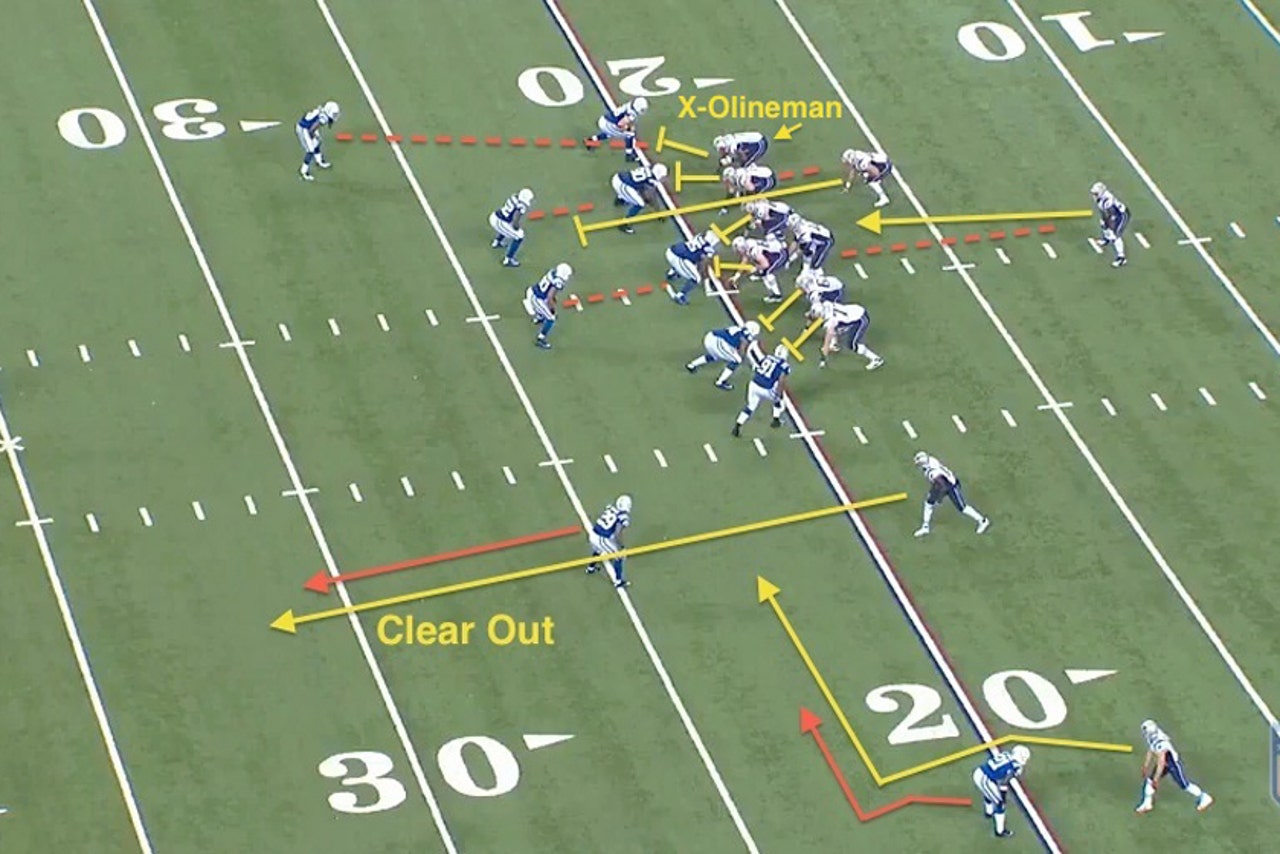 In the next photo, look at Tom Brady stick the ball out on the fake handoff to affect the linebackers. His head movements, body language and tempo are identical to what they look like when he actually does hand the ball off on a run play. That's one of the reasons that he's the best play action quarterback in the NFL: details.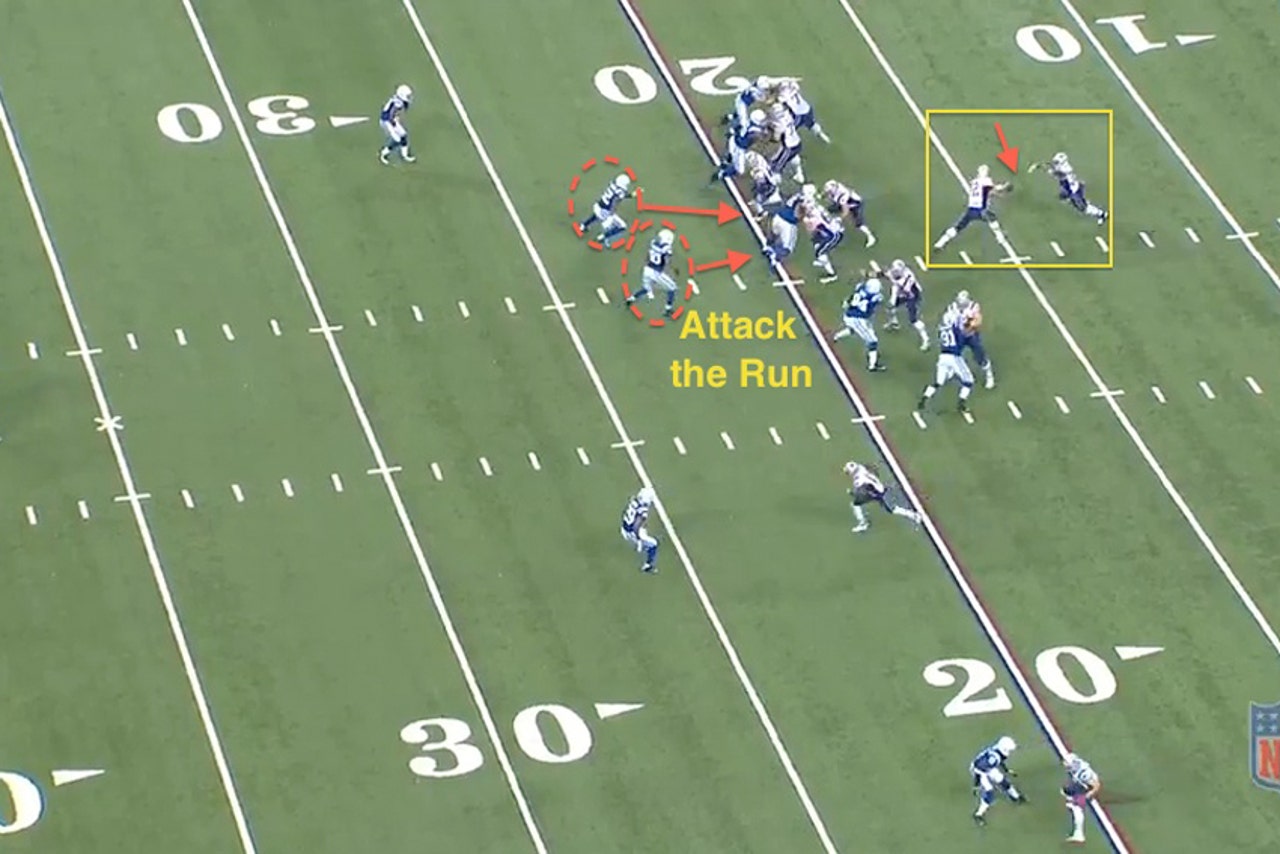 In this final photo, you can see how far the linebackers ran up into the line of scrimmage. They were influenced by both the play-action mechanics of Brady and also because the Patriots had been so successful running the football with the bruising back, Gray, out of their Jumbo personnel seen previously.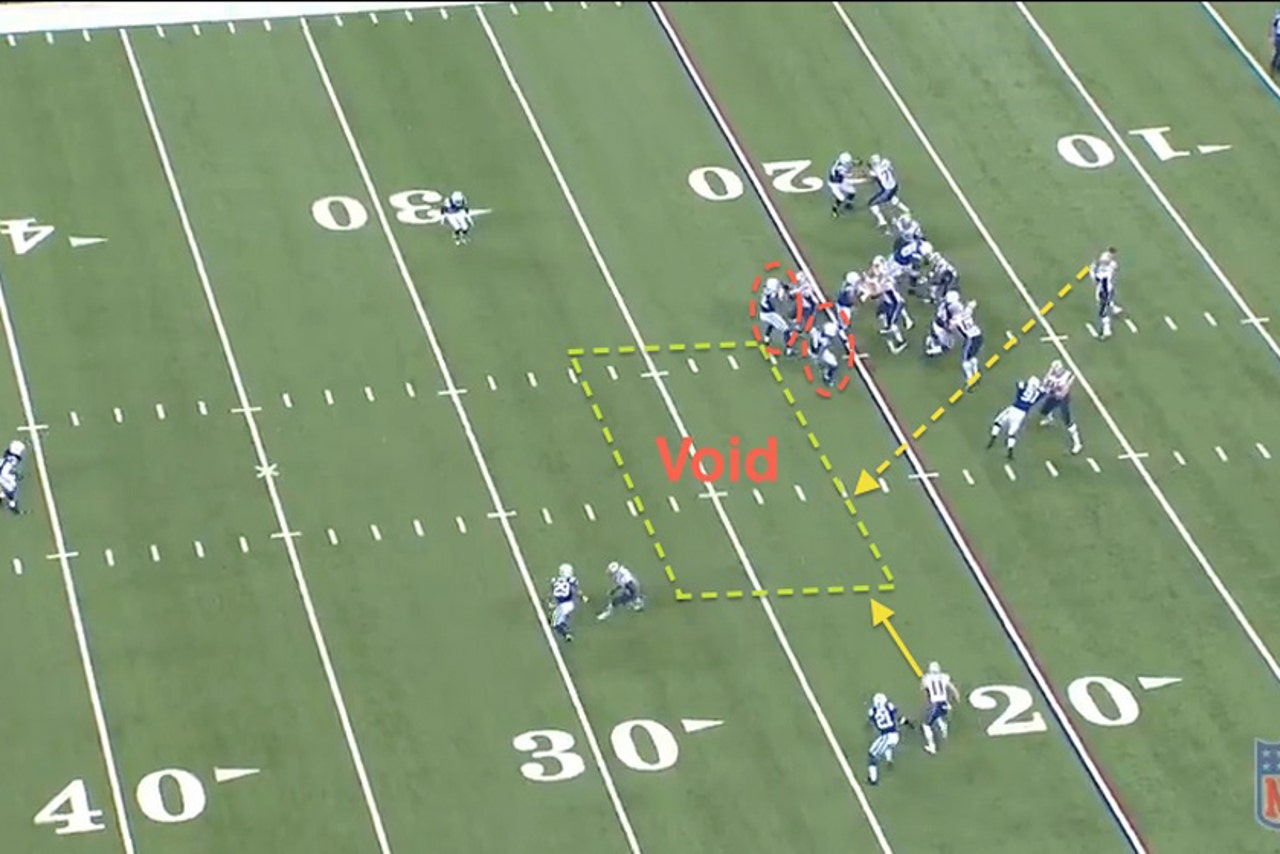 These two things seem simple when we describe them here, but it's an example of how the Patriots' offense continues to develop over the course of the season and a big part of the reason that New England is riding a six-game winning streak.
With the emergence of an added dynamic, and power back, to their run game, the Patriots' offense will face their stiffest challenge of the season this weekend against Detroit.
The Lions boast the NFL's best run defense, allowing a mere 68.8 yards per game and 3.0 yards per attempt. The Lions are coming off a loss to the Arizona Cardinals, a game in which they failed to score a touchdown for the first time since 2009 and the defense failed to record a sack in a game for the this first time all season.
Detroit will be looking to get back on track, but in order to have a chance, their stout run defense will have to stop a red-hot offense that is coming off a game that displayed new tactics and their best ground game of the season. Studying what New England did in previous games will help the Lions some but not as much. With Bill Belichick now deploying a new kind of weapon, the Patriots have become a different kind of force to be reckoned with.
Coy Wire played college football at Stanford before a nine-year NFL career in Buffalo and Atlanta. He's currently a college football analyst for FOX Sports 1 and writes for FOXSports.com. Follow him on Twitter @CoyWire.
---
---