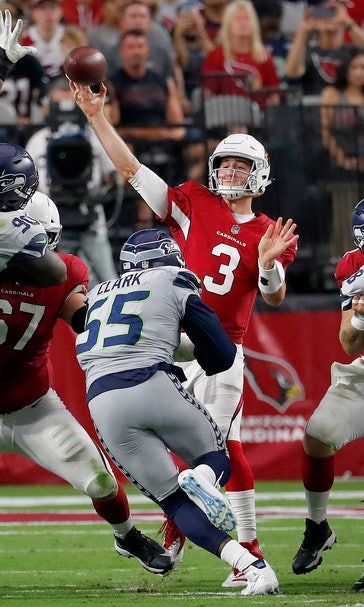 Despite Arizona's 0-4 start, rookie QB fuels optimism
October 1, 2018
TEMPE, Ariz. (AP) — The Arizona Cardinals are the only team without a victory in the NFL. Their 0-4 start is the Cardinals' worst since 1986, two years before the franchise moved to the desert from St. Louis.
There were many bad teams in the intervening years but all managed to win one early.
Still, there is a sense of optimism as the team prepares to face the 49ers in San Francisco, and it all stems from the performance of Josh Rosen in Sunday's 20-17 loss to the Seattle Seahawks.
"I thought he played well. I thought he gave us every opportunity for us to win that football game," Arizona coach Steve Wilks said at his Monday news conference. "Very poised, a great leader, put the ball where it needed to be. Great accuracy, good arm strength. And I loved the way he just commanded the offense and the way we went down the field sometimes."
Rosen, in his first NFL start, completed 15 of 27 passes for 180 yards and a touchdown with no interceptions. The numbers should have been better because five passes were dropped. Two were by Larry Fitzgerald, difficult catches but ones he usually makes. And there was one apiece by Ricky Seals-Jones, Christian Kirk and J.J. Nelson.
Nelson was behind the secondary and headed for a score with a long pass when it slipped through his fingers, costing at least 40 yards if not a touchdown.
But Rosen encouraged his receivers through the difficulties.
"I mean, the other alternative is all bad, so you might as well keep pushing on," he said after the game. "Trying to encourage everyone, if something happens bad, let's get better, and if something happens good let's keep going. So, that's kind of how sports work, is you just kind of always have to have a positive attitude."
Fitzgerald loved what he saw from the 19th quarterback to complete a pass to him in his 15 seasons.
"He's got great huddle composure and demand. He's got everybody's full attention," said Fitzgerald, who is slowed by a sore hamstring. "You look in his eyes and he's ready for the task. It was great to see him come out and perform and to do some of the things he did, like I said, skill positions, we didn't help him. The balls were where they were supposed to be and that's encouraging."
Wilks admired Rosen's accuracy.
"When you look at some of the throws, particularly the two to Ricky late in the game — tight windows, very impressive," Wilks said. "when you look at a rookie being able to make those kinds of throws in that particular situation I thought was very impressive."
Rosen, Wilks said, "gave us a spark that we needed. I'm disappointed we just couldn't finish yesterday."
Arizona also was able to get a little more from David Johnson, with the big running back lining up at wide receiver a few times. He finished with 112 yards from scrimmage, 71 rushing and 41 receiving.
But there were enough problems on offense and defense to lead to another loss, culminating with Phil Dawson's missed 45-yard field goal with 1:50 to play and Seattle's late drive for the game-winning field goal.
So how does the team dig out of this 0-4 start?
"I keep going back to Josh, I'm just so encouraged based off of what I saw yesterday," Wilks said. "I think you guys saw the potential of pushing the ball down the field, which we haven't had in the first three weeks of the season. We've got to finish now. Those guys are wide open; they've got to make those catches.
"His ability to get outside of the pocket and buy time on the sprint outs and the boots and to move the pocket, if we are having some issues as far as protection, I think we can help him out a little bit there. Then you saw the glimpse of David and the things that he can do as far as moving him around. I think our offense is getting ready to flourish."
Notes: Wilks said he expects Andre Smith to be back at starting right tackle. Smith has missed the last three games with an elbow injury. ... Wilks said he expects to continue using Mike Glennon as the backup quarterback. Sam Bradford was inactive Sunday.
---
---