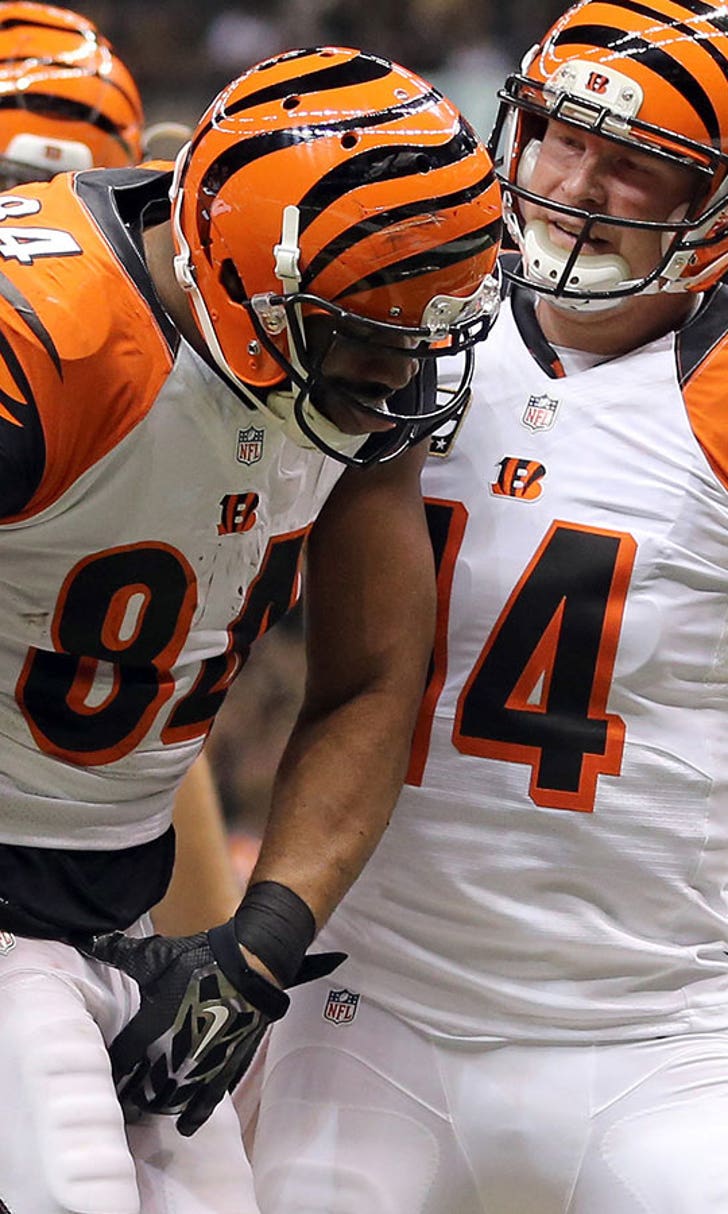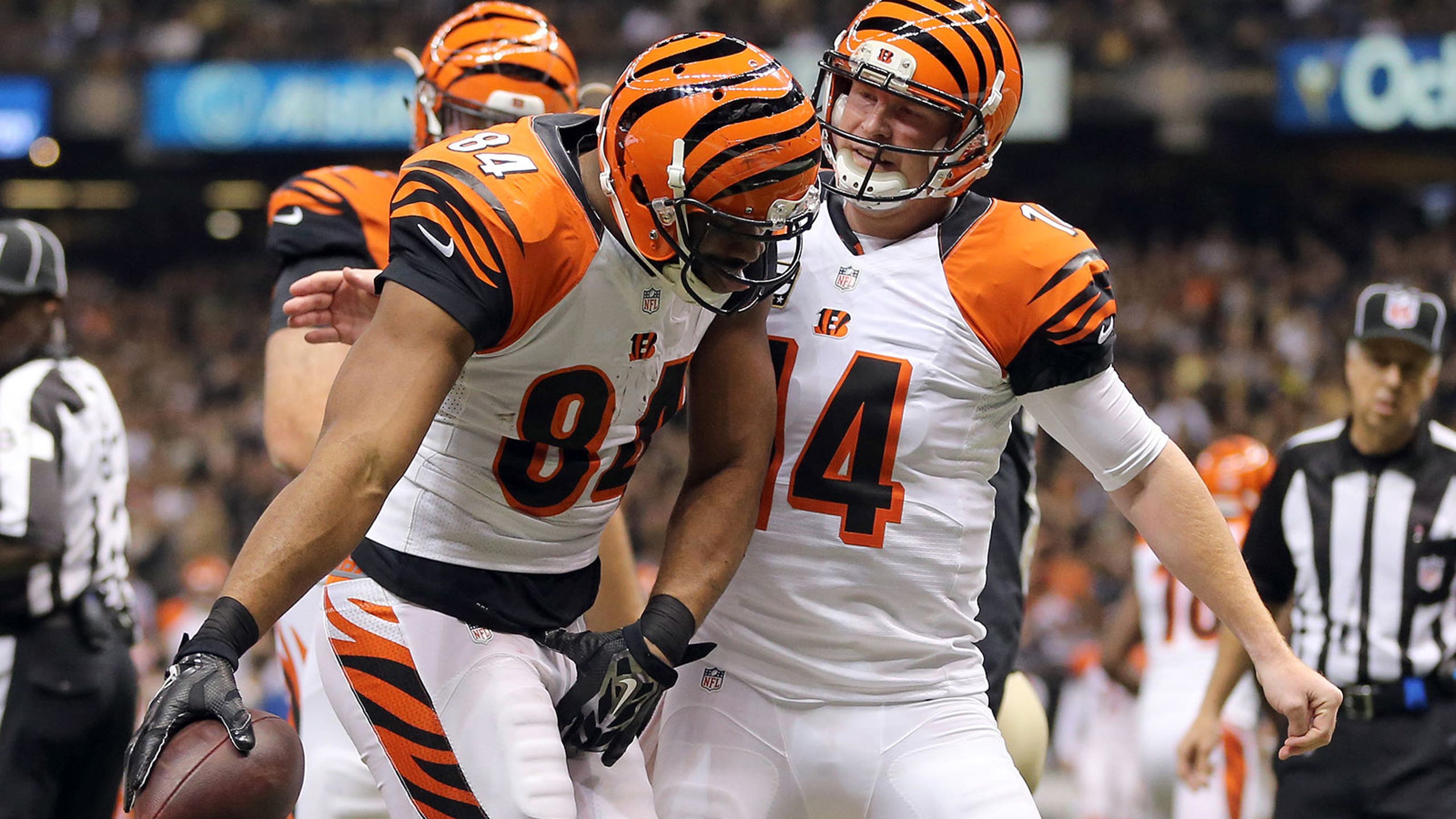 Dalton bounces back as Bengals take care of Saints on road
BY foxsports • November 16, 2014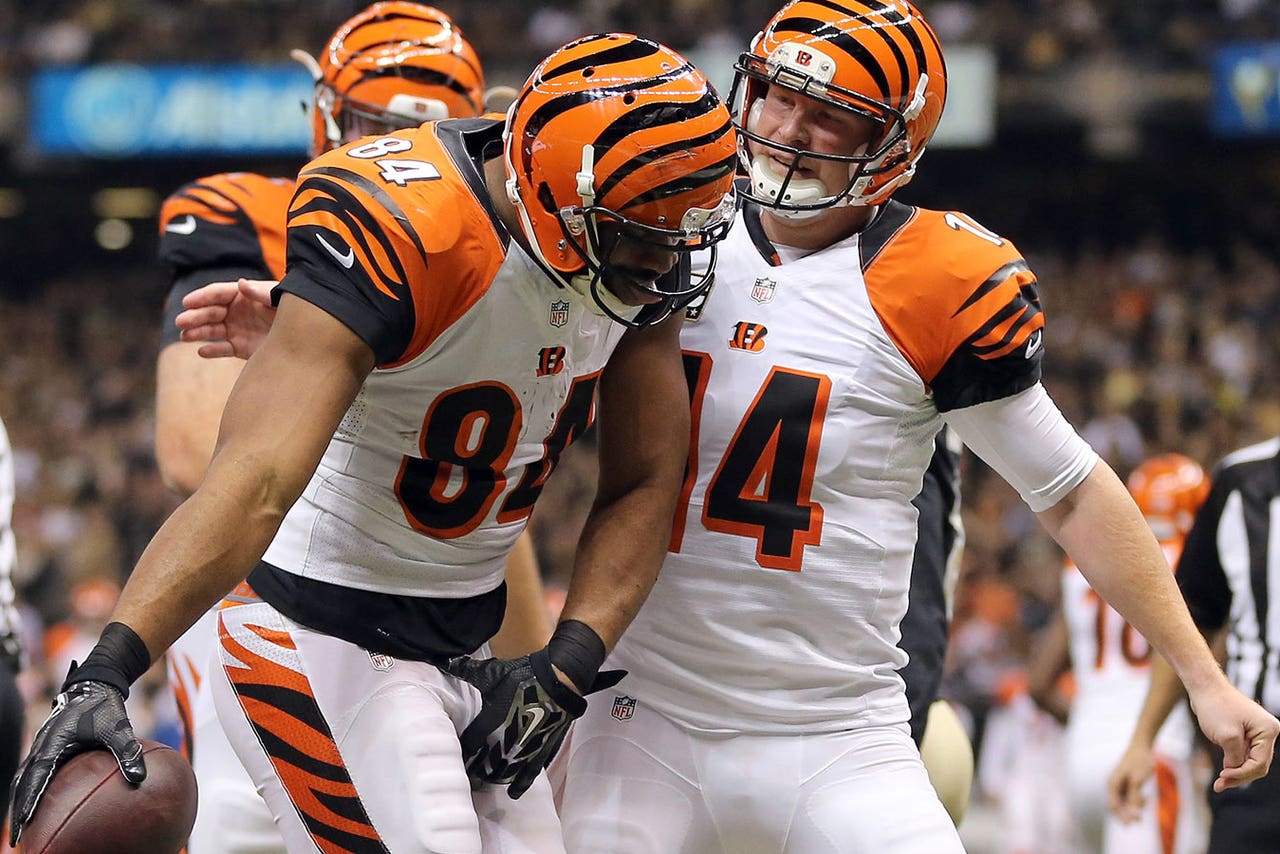 Cincinnati Bengals receiver A.J. Green counted himself among the least surprised to see a pair of long Andy Dalton passes hit him in stride during a pivotal fourth-quarter drive against the New Orleans Saints.
Dalton rebounded from one of the worst outings of his career with a composed, ruthlessly efficient performance, completing 73 percent of his throws for three touchdowns in a 27-10 victory over New Orleans on Sunday.
"He's our quarterback for a reason. He's one of the best," Green said. "We have faith in him. He has faith in himself. There was nothing wrong with him this week."
For Dalton, the game represented a dramatic reversal from a week ago, when he completed only 10 passes for 86 yards and had a passer rating of 2.0 in a 24-3 loss to Cleveland.
Against New Orleans (4-6), Dalton was 16 of 22 for 220 yards, did not throw an interception and finished with a passer rating of 143.9 as he helped lift Cincinnati (6-3-1) back into first place in the AFC North.
"You lose and everybody wants to run you out. You win, everybody is going to like you," Dalton said. "I'm not too worried about that. This was a big win for us and so it's good to bounce back and get a big win on the road."
Two of Dalton's touchdown passes went to tight end Jermaine Gresham. The other was a pinpoint 24-yard pass along the left sideline to Green, who had six catches for 127 yards. Gresham's first touchdown required some extra effort after he fumbled while trying to stretch for the goal line.
Saints cornerback Brian Dixon tried to scoop up the ball, but it slipped through his hands and into the end zone, where Gresham recovered.
That gave Cincinnati the lead for good at 7-3 in the first quarter.
Drew Brees passed for 255 yards, including a 9-yard TD to Kenny Stills on the first play of the fourth quarter.
Despite the loss, the Saints remained tied with Atlanta for first place in the anemic NFC South after the Falcons (4-6) defeated Carolina (3-6-1).
"Could we go to the playoffs? Yes, we could, but we need to start playing like it," Brees said.
"I feel good about our chances and our opportunity that we have," Brees added, apologizing for his optimism. "We're learning a lot about how to win. Unfortunately, it's because of failure, but failure can be the best teacher at times."
The Saints' most recent failure represented one of their worst losses in the Superdome in a decade. They haven't lost by more than 17 points in the dome since a 34-13 defeat to Denver in 2004.
"I'm obviously not doing a very good job," Saints coach Sean Payton said. "They clearly outplayed us in every area."
New Orleans went unbeaten at home for more than a season before falling in overtime to San Francisco a week earlier.
The crowd tried to generate chaos-inducing noise when the Bengals' offense was on the field, but Dalton looked unfazed. He threw confidently from the pocket for much of the game, but also scrambled away from pressure as needed and completed passes on the run. Cincinnati converted nine of 13 third downs.
"Our third-down defense was awful," Payton said.
The Saints also struggled to stop former LSU star Jeremy Hill, who carried 27 times for 152 yards. His 62-yard run set up a field goal at the end of the first half.
One of Dalton's biggest throws came in the fourth quarter, when Cincinnati had the ball and a 20-10 lead, but faced third-and-18 on its 12.
The crowd was roaring, sensing a chance for the Saints to sneak back into the game, but Dalton spotted Green in one-on-one coverage with Brian Dixon along the right sideline, hitting him in stride deep downfield for a 38-yard gain. The play sustained a drive that culminated in Green's TD.
Cincinnati's defense entered the game looking beat up and missing starting linebacker Vontaze Burfict (knee) and starting cornerback Terence Newman (knee).
Still, the unit held Brees to his second-lowest yards passing total all season while also ending Mark Ingram's three-game streak of 100-yard rushing games. Ingram had 67 yards on 23 carries.
The Bengals also made a clutch defensive stand after the Saints had a first-and-goal on the 3 in the second quarter. New Orleans came away from the 17-play drive with nothing after linebacker Rey Maualuga, playing through a sore hamstring, snuffed out a short fourth-down pass to fullback Erik Lorig.
"Anytime you can keep a touchdown off the board against this offense, that's a doggone big swing there," Bengals coach Marvin Lewis said.
Notes: Saints S Rafael Bush was hurt late in the fourth quarter and said after the game he had a fractured tibia. ... Bengals DE Margus Hunt left with an ankle injury in the first half.
---
---