Daily Buzz: Playing the name game
BY Sam Gardner • July 25, 2013
New York City mayoral candidate Anthony Weiner is back in the news again -- and not because he's running for the most recognizable mayoral position in the country, but because he kept right on sexting, even after he got caught doing it once before.
One of the most interesting tidbits to come out of the latest Weiner scandal is a report that the former congressman used the pseudonym "Carlos Danger" to email lewd pictures of himself, and Slate's "Carlos Danger Name Generator" (which does exactly what you think it does) has gone viral in the days since.
The sports world hasn't exactly had a shortage of its own sex scandals over the years — from criminal activity to nude photo scandals to baby mama drama — so we thought we'd use the name generator to crack the code on the nicknames for the most explicit stars in sports.
Michael Vick didn't need an online algorithm to come up with his Ron Mexico coverup, but according to Slate, he should have been Antonio Smash. Mr. Smash is joined in the NFL by Aníbal Sly (Tiki Barber), Jorge Calamity (Ben Roethlisberger) and Ariel Jeopardy (Fred Smoot).
Deadspin also famously publicized Brett Favre's X-rated photos, but maybe if he'd gone with Feliciano Menace as a cover-up, he'd have had more luck staying out of the tabloids.
Ditto for other athletes whose suggestive selfies have reportedly ended up on the web, a group that includes, but is not limited to: the Violence Brothers, Pascual (Greg Oden) and Antonio (Santonio Holmes), Bernardo Threat (George Hill), Luis Gamble (Grady Sizemore, whose name already sounds racy), Feliciano Stealth (Martellus Bennett) and Leandro Trouble (Dorell Wright).
Elsewhere, Manolo and Ernesto Dynamite (Calvin Murphy and Shawn Kemp) were certainly known to be fertile fathers, but they're not alone in a group that reportedly includes Juan Hazard (Dwight Howard), Pablo Covert (Travis Henry), Alejandro Furtive (Antonio Cromartie) and boxers Mario Gamble (Evander Holyfield) and Efraín Catastrophe (Mike Tyson, who also spent three years in prison after being convicted of rape in 1992).
Wife-swappers Silvestre Gamble (Fritz Peterson) and Rolando Evil (Mike Kekich) are responsible for one of the more infamous bombshells in baseball, but other diamond stars have found themselves embroiled in scandal, including Inigo Death (Roger Clemens), Efraín Clandestine (Denny Neagle), José María Gamble (Alex Rodriguez) and Julio Furtive (Chipper Jones).
Meanwhile, Diego Threat (Rick Pitino), Ignacio Calamity (Dennis Rodman) Efrain Smash (Isiah Thomas), Armando Covert (Mark Chmura) and Luis Evil (Eugene Robinson) have made their own share of headlines for their varying carnal controversies. But perhaps no athlete has ever spent as much time on the front page on account of infidelity and general lasciviousness as Ignacio Distress, known better as Tiger Woods.
As for me? I'm going to do my best to keep Víctor Verboten out of the headlines, if at all possible. Also, let's see your Carlos Danger name in the comments section below.
Now for some links:
• A different kind of escort is making news in New Jersey — however, it's still shocking.
• Madison Square Garden has 10 years to move to another location.
• Atlanta Braves pitcher Tim Hudson gruesomely fractured his ankle Wednesday night. I won't embed the video, but if you really want to see it, you can watch it here.
• You can get frozen beer foam at Dodgers Stadium:
• Finally, a Texas A&M controversy that doesn't involve Johnny Manziel.
• The last survivor of the Boston Marathon bombings has gone home.
• We've likely seen the last of LeBron in a Team USA jersey.
• Here is why you don't put your head in a crocodile's mouth, no matter how nice the crocodile may seem:
• Check out this newfangled football helmet.
• Racer gets arrested for DUI in the middle of a race.
• Now moved on from George Clooney, is Stacy Keibler plotting a return to the wrestling ring?
• Purdue keeps it simple with its football media guide:
• Check out the grade school-level artwork put on display by some of the NFL's top rookies.
• Detroit got approval for a new Red Wings arena despite the city's current bankruptcy.
• Miami (Ohio) got some interesting new football uniforms.
• Bob Baffert, Goo Goo Dolls fan:
• The Calgary Flames say the flood-damaged Saddledome will be ready for preseason.
• Donovan McNabb says he wouldn't care if Eagles fans booed him at his retirement ceremony.
• Did a no-call on an apparent infield fly cost the Twins a game on Wednesday?
• Christiano Ronaldo broke a kid's wrist with a free kick:
• Baylor gave a scholarship to a guy who has never played American football.
• J.J. Redick responded to reports of an "abortion contract" between himself and a former flame.
• A Packers fan paid $4,674 for the earliest known action image from Lambeau Field. Unfortunately, it was actually just a picture from a 1917 high school football game.
• Memphis quarterback Jacob Karam performed an awesome duet with an 11-year-old Leukemia patient:
• Braylon Edwards is back with the New York Jets — again.
• Go home, AT&T Park batters box drawer, you're drunk.
• Odin Lloyd's alma mater will play a tribute game on behalf of the slain football player this seaosn.
• It probably wouldn't kill Tyson Chandler to beef up those chicken legs: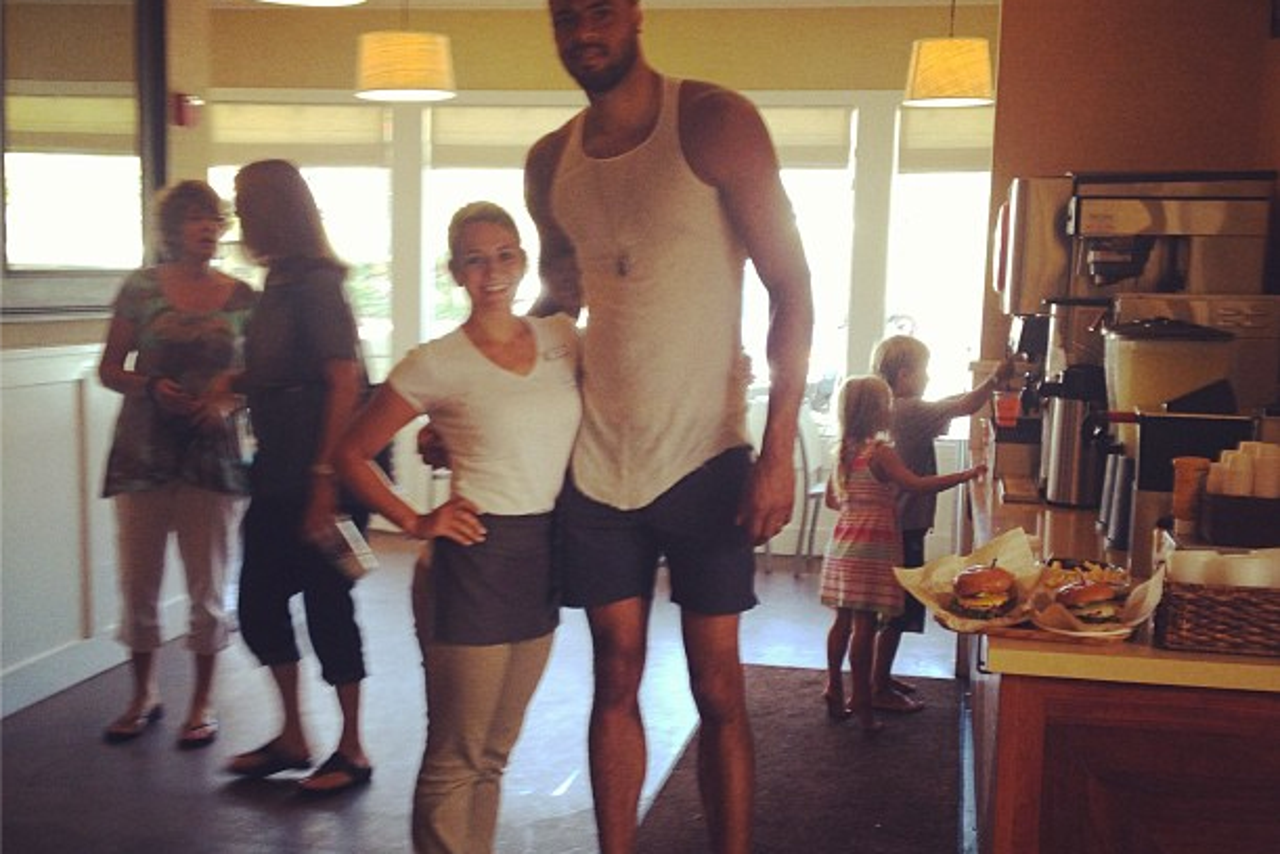 • Vince Young will have to auction off a bunch of his stuff to pay back a loan.
• Mario Chalmers is back in Lawrence, Kan., as a mentor.
• DC United and the mayor of Washington D.C. agreed to a deal for a soccer-specific stadium near Nationals Park.
• Sports, once again, proved too tough a topic for a few Jeopardy! contestants:
---
---