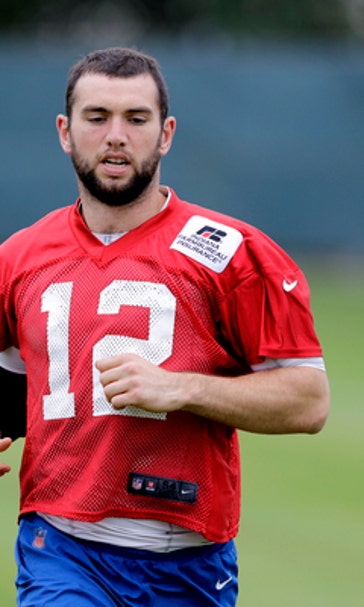 Colts keeping Luck out of practice because of sore shoulder
October 18, 2017

INDIANAPOLIS (AP) Andrew Luck has stopped throwing passes for now, and it's not yet clear when he'll resume.
On Wednesday, Indianapolis Colts general manager Chris Ballard said the team has instructed the star quarterback to take a break from throwing after developing soreness in his surgically repaired throwing shoulder.
''The doctors and the trainers have decided - they've given him a cortisone shot to kind of take away some of that inflammation that's been happening,'' Ballard said. ''In terms of the rehab, it's been going well.''
Ballard explained some soreness was expected as Luck continued to work his way back from a partially torn labrum in his right shoulder.
But the news came as a surprise after two straight weeks of promising signs.
Since having surgery in January, Luck missed all of the team's offseason workouts, all of training camp and the entire preseason before finally being cleared to practice Oct. 4. He did some light throwing that day and was told he could throw every other day.
Last week, Luck ramped up the rehab work. He was throwing passes of 35 to 40 yards with increased velocity and was scheduled to run the scout team as Indy (2-4) prepared for Monday night's matchup at Tennessee.
Even Luck acknowledged he could sense the finish line was near. Now, suddenly, he's been temporarily shut down.
''He's been very in tune with where he's at,'' Ballard said. ''Andrew's got a good sense of how he feels and where he's at, and he's communicated that with us the whole time. And we've made sure we've kept a daily log of where we're at and where we're going.''
Ballard refused to say definitively that Luck would play this season and said the team does not intend to put Luck on injured reserve, a move that could end his season.
Without Luck, the Colts offense has struggled .
Backup Scott Tolzien was benched 3+ quarters into the season opener, and coach Chuck Pagano selected Jacoby Brissett as the starter in Week 2.
Brissett has produced mixed results, going 2-3 as the starter with Indy struggling to maintain second-half leads. The Colts' only wins have come against the NFL's two remaining winless teams - Cleveland and San Francisco.
Yet they are just one game behind Houston, Jacksonville and the Titans in the AFC South chase. All three teams are 3-3, and with five division games left on the schedule, fans were hoping a quick return would put Indy (2-4) in position to make the playoffs .
Now, everything's on hold.
''I don't think it'll be long,'' Ballard said when asked about when Luck could start throwing again. ''I don't, but I don't want to sit here and give you an exact date, then it doesn't happen, then you're going, `What was that guy talking about?'''
Luck's injury originally occurred during a come-from-behind win at Tennessee in September 2015.
He missed nine games that season, two with the injured shoulder and seven with a lacerated kidney. Despite playing through the pain in 2016 and missing one game with a concussion, Luck had perhaps his best statistical season before opting for surgery.
He completed a career-high 63.5 percent of his passes, threw for 4,240 yards with 31 touchdowns and 13 interceptions.
Luck will sit out his seventh consecutive game Sunday when the Jaguars visit Lucas Oil Stadium.
And the Colts are hoping a little extra rest and the cortisone shot will be all Luck needs to make a full recovery.
''The good news is when he comes back, it'll be right where we were at,'' Ballard said. ''He's made great strides. We'll continue to rehab. He'll continue to rehab. We're just going to shut down the throwing right now to get this thing calmed back down.''
NOTES: Ballard said the Colts should have a decision about whether to put running back Robert Turbin on injured reserve in the next day or two. Turbin was hurt late in Monday night's game. ... Safety Clayton Geathers also could return to the practice field soon too, Ballard said. Geathers has been on the physically unable to perform list with a neck injury since training camp opened in late July.
---
For more NFL coverage: http://www.pro32.ap.org and http://www.twitter.com/AP-NFL .
---
---