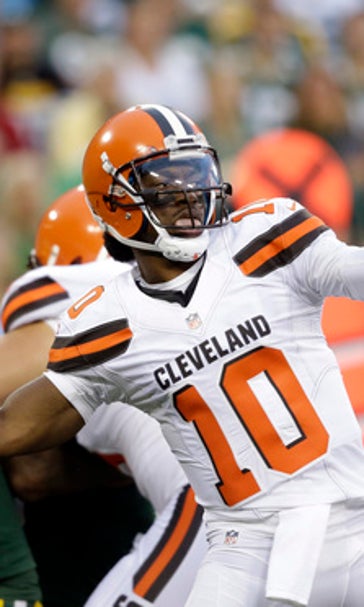 Castoff to captain, RG3 embracing new shot as QB with Browns
BY foxsports • September 7, 2016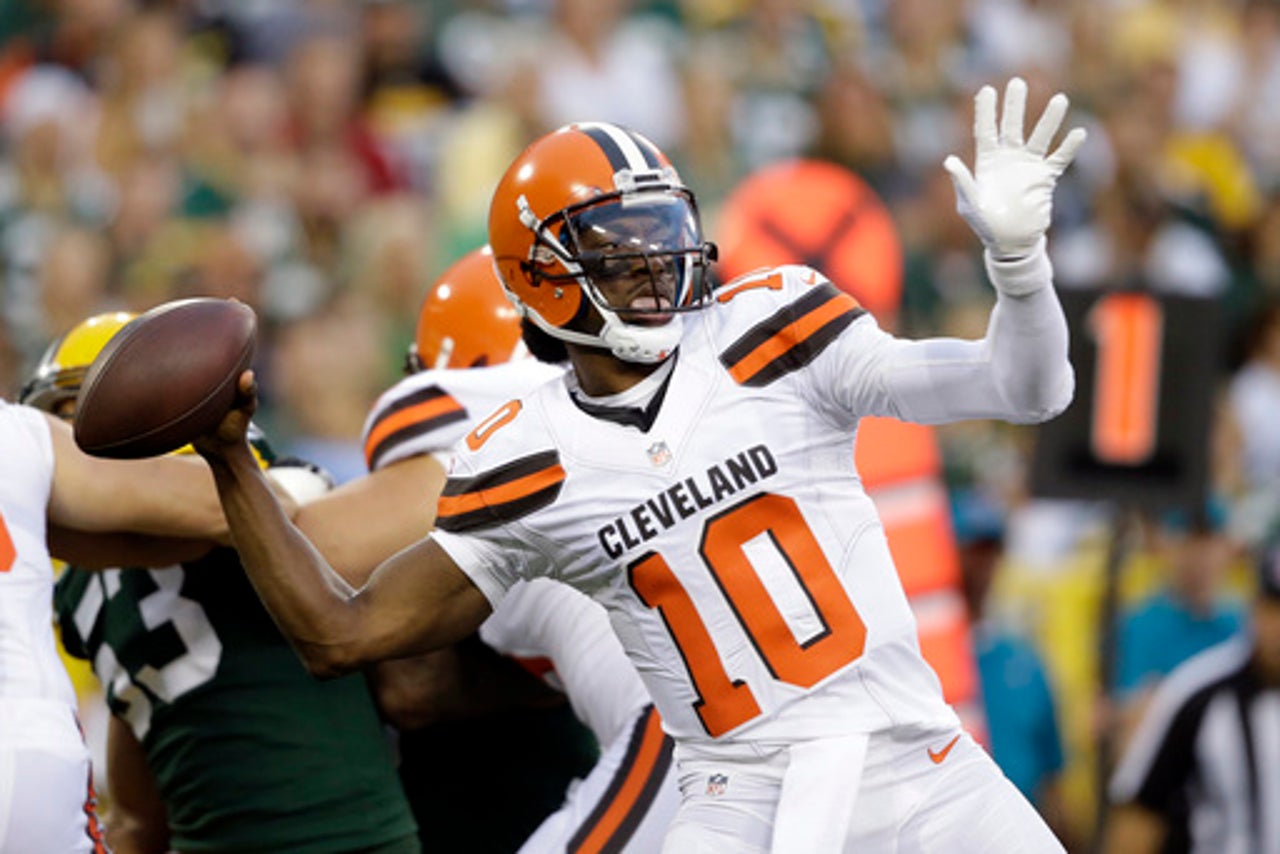 BEREA, Ohio (AP) From castoff to captain.
Robert Griffin III may have changed the course of a career headed toward disaster.
Thrown out in Washington, where he was labeled selfish, moody and immature before his exit, Griffin has reinvented himself with the Browns, who believe the 26-year-old can not only guide them through another rebuild but perhaps become their long-term answer at quarterback.
During his first six months with Cleveland, RG3 has become a leader and the new face for a franchise still trying to find its footing.
''That's not something you take lightly,'' Griffin said Wednesday as the Browns prepared for their season opener against Philadelphia. It will be his first start since 2014.
Griffin takes nothing casually or for granted any longer.
He has moved on from his days with the Redskins and claims to have grown from his four-year stay in the nation's capital, where his fall from grace was akin to a scandalous politician's plunge.
The experience may have left Griffin scarred, but he's not dwelling on his past and only embracing his second chance in Cleveland.
''Everything that I have been through personally in the league, it makes you have that emphasis on controlling what you can and focusing on what you can and when you get an opportunity make the most of it,'' Griffin said.
''Yeah, I'm extremely happy, not satisfied but happy with where I am, the opportunity that has been blessed upon me and being here with these guys is truly a blessing.
''I can't speak enough about how this locker room has been awesome. I have been able to grow as a player and as a leader in this locker room.''
From the moment he arrived in Cleveland, Griffin has shown a desire to lead. Despite minimal interest elsewhere, the Browns signed him to a two-year, $15 million contract, a deal that steered them away from drafting a QB with the No. 2 pick, a selection they traded to the Eagles, who as fate would have it are starting rookie Carson Wentz on Sunday.
Griffin has been out front with everything he's done. Whether it's in the weight room, classroom or on the field, he has led by example.
''He's kind of who I thought he was going to be,'' cornerback Joe Haden said. ''He's a super, team-first guy, a dude that just wants to bond, have a friendship. He wants to have a bond with all his teammates. He's like me.
''He wants to be liked. He doesn't feel like there's no reason to have anybody walking around and not talking to everybody, so I get that and that's really special and I think that's why the team picked him as a captain.''
Griffin was voted one of the team's five captains, a selection that even shocked coach Hue Jackson, who has been in the QB's corner from the outset.
''I was a little surprised, I will be very honest with you,'' said Jackson, who playfully laughed off the suggestion he rigged the election for Griffin.
''I was surprised because obviously Robert hasn't been here very long and we haven't played a real football game yet. So for him to be voted captain, he should feel good about that. His teammates feel good about him.''
Pro Bowl tackle Joe Thomas was aware of Griffin's reputation for being self-centered before he came to Cleveland. He hasn't seen that guy yet.
''When a new player comes in you try not to have any preconceived notions about him based on the media or what you hear from other players,'' Thomas said. ''Robert's been such a great leader, being accountable, doing all the things that you need a franchise quarterback to do.
''Walking into a new team is difficult no matter your position, but when you're expected to be the quarterback who is basically the head coach, offensive coordinator all in one, the stakes are so much higher and it's so much more difficult to just slide into that role seamlessly. But he's done an awesome job at it.''
As he tries to escape his past, Griffin can't break completely free of it. Earlier this week, Redskins Hall of Fame cornerback Darrell Green called Griffin ''selfish'' and ''childish.''
Griffin, who is going through a divorce, was disappointed to hear the comments from Green, whom he considers a friend.
Griffin may have once fought back. Those days are gone. He's changed.
''It is nothing that I can control,'' he said. ''I just focus on being here with the Browns, worry about football, and don't let anything distract me.''
NOTES: Jackson took issue with former Ravens coach Brian Billick saying the Browns won't win a game this season. ''Who said what?'' Jackson said before getting an explanation. ''Good for him. I didn't know he worked here. I think it's really interesting that everybody can comment on other people's teams and don't even understand their inner workings. I have great respect for Brian, but we'll see if that's true.''
---
Online:
AP NFL website: www.pro32.ap.org and www.twitter.com/AP-NFL
---
---