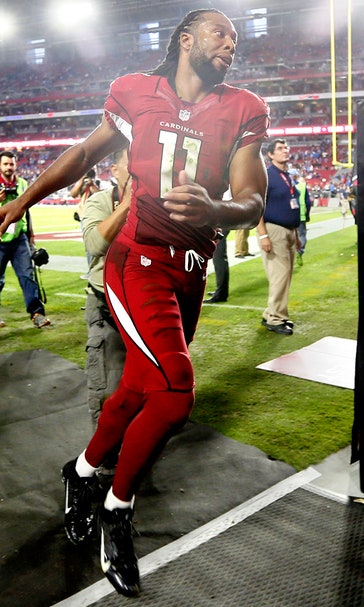 Cardinals WR Fitzgerald says left knee 'a little better'
November 20, 2014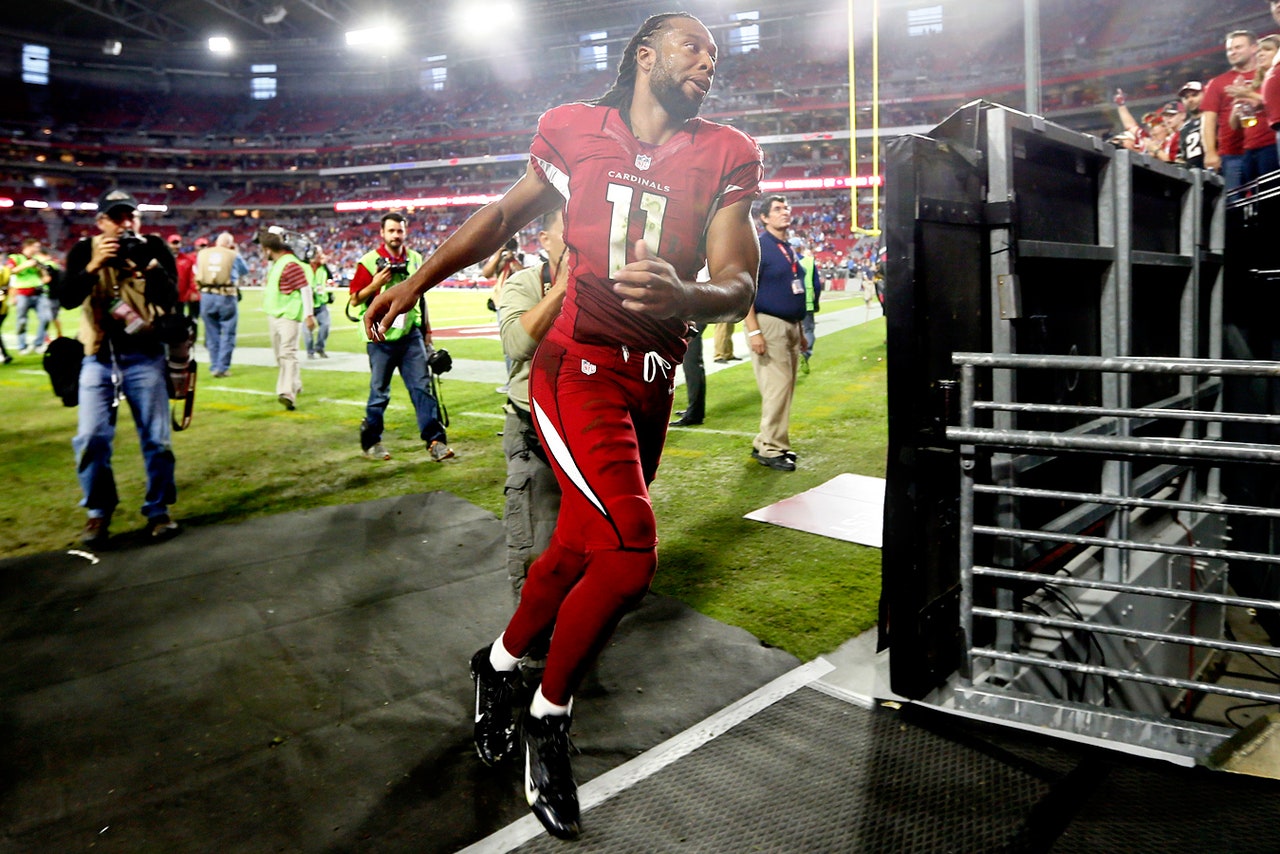 Arizona's eight-time Pro Bowl wide receiver Larry Fitzgerald says his injured left knee is ''a little better'' and that he is optimistic he will be able to play when the Cardinals face the Seahawks on Sunday.
Fitzgerald sprained his left MCL in last Sunday's 14-6 win over Detroit. He left the game in the first half, but returned and caught a pass for the first down that clinched the victory.
He has played in 110 consecutive games with 71 straight starts, but coach Bruce Arians said Wednesday that it was ''a little iffy'' whether Fitzgerald will be able to go against the Seahawks.
He has not practiced this week.
Fitzgerald last missed a game on Dec. 2, 2007, when a groin injury kept him out against Cleveland. The Sept. 26, 2010, game against Oakland is the only time he has played but not started during that 110-game streak.
He has missed four games out of 170 in his 10-plus seasons.
''I'm going to do everything I can to get out there,'' Fitzgerald said after the team practiced on Thursday. ''That's just how I'm wired.''
He was asked if he takes pride in his consecutive-game streak.
''I really don't think about it like that,'' Fitzgerald said. ''I just take it one week at a time and try to make sure I'm on the field ready to go each week. It's a rough game. It's a rough business. You look around the league and you see every week somebody is getting dinged up and banged around. It's not like I haven't played through a lot of things.''
Despite Fitzgerald's stated optimism, the Cardinals know there is a chance he won't be able to play in what he called ''a big one for us.''
Arizona enters the game with a league-best 9-1 record. The reigning Super Bowl champion Seahawks are 6-4 and fighting for their playoff lives.
''This is a team that's won our division the last couple of years,'' Fitzgerald said. ''They're the defending Super Bowl champions. They play great at home. This is a big game for us to know exactly right where we stand and just assert ourselves in our division. That's the most important thing.''
He said there is no chance he would sit out the game as a precaution in order to be healthier for later in the season.
''Every game is important for us,'' he said. ''We need to win every single game coming forward to be able to secure our playoff position and a potential first-round bye. That's what we're thinking.''
Fitzgerald also said he could play Sunday even if he doesn't practice all week.
''I know the game plan. There's nothing different,'' he said.
Offensive coordinator Harold Goodwin said the team is well equipped to survive without Fitzgerald.
''You go back to last weekend, I think Larry maybe caught two or three balls,'' Goodwin said. ''It was a big day for Michael (Floyd). We've got receivers. That's not a problem. Whoever's open gets the ball. A lot of times the coverage dictates who gets it, but we're loaded at receiver. I'm not worried at all.''
If Fitzgerald can't go, it would mean more playing time for Jarron Brown, and rookie John Brown may play a bigger role.
---
---