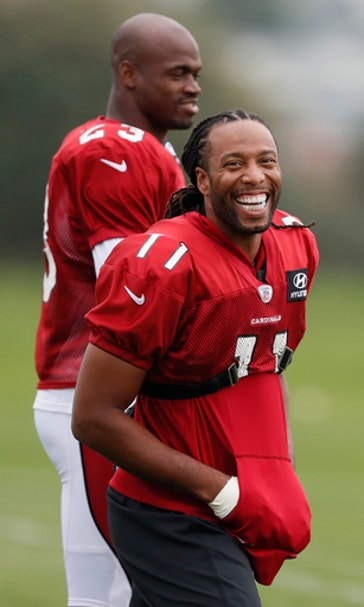 Cardinals, Rams travel far for big NFC West matchup
October 19, 2017

This is no throwaway NFL game in London.
The Arizona Cardinals and Los Angeles Rams normally play their home games 371 miles apart, but they are traveling thousands of miles across the Atlantic for their important NFC West matchup on Sunday.
''Obviously, it's a very big game, a division game,'' Cardinals coach Bruce Arians said. ''It's the first time that we've faced the Rams this year, and they're playing extremely well. And, we got here safe and sound.''
The Cardinals (3-3) left Monday evening and arrived in London about noon Tuesday. They've been practicing there all week.
This is Arizona's first trip to London. The Rams have been there twice, losing both times. But this is the first such trip for the new regime, first-year coach Sean McVay and his staff who have the Rams (4-2) off to a great start.
Los Angeles spent the beginning of the week at a beach-front resort in Jacksonville after beating the Jaguars last Sunday.
''It's been kind of like a mini training camp a little bit,'' quarterback Jared Goff said. ''You get to hang out with all the guys again. To be around the coaches some more is always fun, and meeting rooms are right near our rooms. It's kind of like training camp again. It's nice and it's definitely better than flying back to California and then having to fly all the way back out to London.''
The Rams give up a home game to make their Sunday appearance at Twickenham Stadium, London's famous rugby ground.
Adrian Peterson, who rejuvenated Arizona last Sunday, a 38-33 victory over Tampa Bay, is making his second trip to London in less than a month. He was with the Saints when they beat Miami 20-0 on Oct. 1.
Peterson said that, unlike his first trip, he got some sleep on the flight.
''That was a big thing,'' he said, ''because it took me almost three days to adjust once I arrived here.''
Now he is raring to go after gaining 134 yards in 26 carries and scoring two touchdowns in his Arizona debut, satisfying proof that he's not quite yet over the hill.
Here are some things to consider when the Cardinals face the Rams:
GIVE IT TO GURLEY: Rams running back Todd Gurley is getting plenty of opportunities to touch the ball this season, and he isn't letting McVay down. He got 23 carries and one reception against Jacksonville after getting only a season-low 16 touches against Seattle the previous week.
Gurley has three games with at least 100 yards rushing and three games with at least five receptions. He is fourth in the NFL with 521 yards rushing, and his 4.2 yards per carry rank fourth in the NFL among backs with at least 100 carries.
The Cardinals haven't allowed a 100-yard rusher in 19 games, the longest active streak in the league.
PASSING FANCY: Arizona's Carson Palmer has had to throw a lot more than he wanted in the first five games with the team unable to move the ball on the ground. When Peterson is rolling, it means less passing, fewer hits on the 37-year-old quarterback, and more open receivers.
Palmer completed his first 14 passes, going 18 for 22 for 283 yards and three touchdowns with one interception against Tampa Bay. In his first five games, Palmer threw 49, 36, 48, 51 and 44 passes.
STILL WORKING: The partnership between Goff and new receiver Sammy Watkins still hasn't taken off. Watkins, acquired from Buffalo for a second-round pick during the preseason, has two catches in the last three games, and Goff has only targeted him a shocking six times.
Watkins expressed surprise at his small role on social media recently, but McVay has said Watkins remains a key part of the plan. Watkins also draws the opposition's top cornerback, presumably including Arizona's Patrick Peterson in London, allowing Robert Woods and rookie Cooper Kupp to get free for big plays.
DANGEROUS DONALD: Aaron Donald held out until the day before the Rams' season opener, but the All-Pro defensive lineman looks as good as ever. He had two spectacular games on the interior line in the Rams' last two outings, pushing into opponents' backfields to stop the run, and harassing quarterbacks with equal vigor.
NEW O-LINE: Arizona seems to finally have a combination on the offensive line that works.
Left tackle D.J. Humphries, out much of the season with a knee injury, was back last week, as was left guard Alex Boone, who had been sidelined with a triceps injury. On the right side, ineffective Adam Boehm has been replaced by recent signee Earl Watford.
---
AP Sports Writer Greg Beacham contributed to this report
---
For more NFL coverage: http://www.pro32.ap.org and http://www.twitter.com/AP-NFL
---
---