Cardinals-Packers was just the most amazing ending to a sports game
BY Zack Pierce • January 17, 2016
Just when you thought these NFL playoffs had filled up their quota of crazy endings, the Cardinals and Packers went and outdid 'em all.
Wild-card weekend already gifted us a contentious thriller between the Bengals and Steelers and the infamous Blair Walsh Game between the Seahawks and Vikings. Those were both fantastically compelling endings, with heroes and goats and first-graders writing pick-me-up letters to NFL players. It wasn't going to get any better than that, right?
It sure didn't seem like it. Not yet anyway, not with Arizona leading 20-13 late in Saturday's NFC divisional round game against Green Bay. Not with the Packers — out of timeouts and pretty much out of hope too — buried deep in their own territory with less than two minutes to play. A first-down pass attempt from quarterback Aaron Rodgers went incomplete. A second-down fiasco ended in a sack. Another incompletion on third down. Suddenly, it was fourth-and-20 for the Packers on their own 4-yard line, needing 96 yards and an extra point to tie the game and having only 55 seconds to do it. Their odds of winning at that point, according to my calculations, were minus-14 percent.
Everything that happened from then on was pure eye candy for a football fan, and would make it worthy of a Best Picture nod if the Oscar nominations hadn't already come out. Here now, the four wild plays that made 2016's best sports ending so far.
Fourth-and-20
Rodgers took the snap out of the shotgun, received it in his own end zone, then was pretty much immediately flushed out of the pocket to his left. He ran a big wheel route back up to the goal line and uncorked this 61-yard bomb to Jeff Janis:
Here's a great shot that shows the utter desperation of an on-the-run Rodgers heaving a ball high into the air not far from his own goalposts: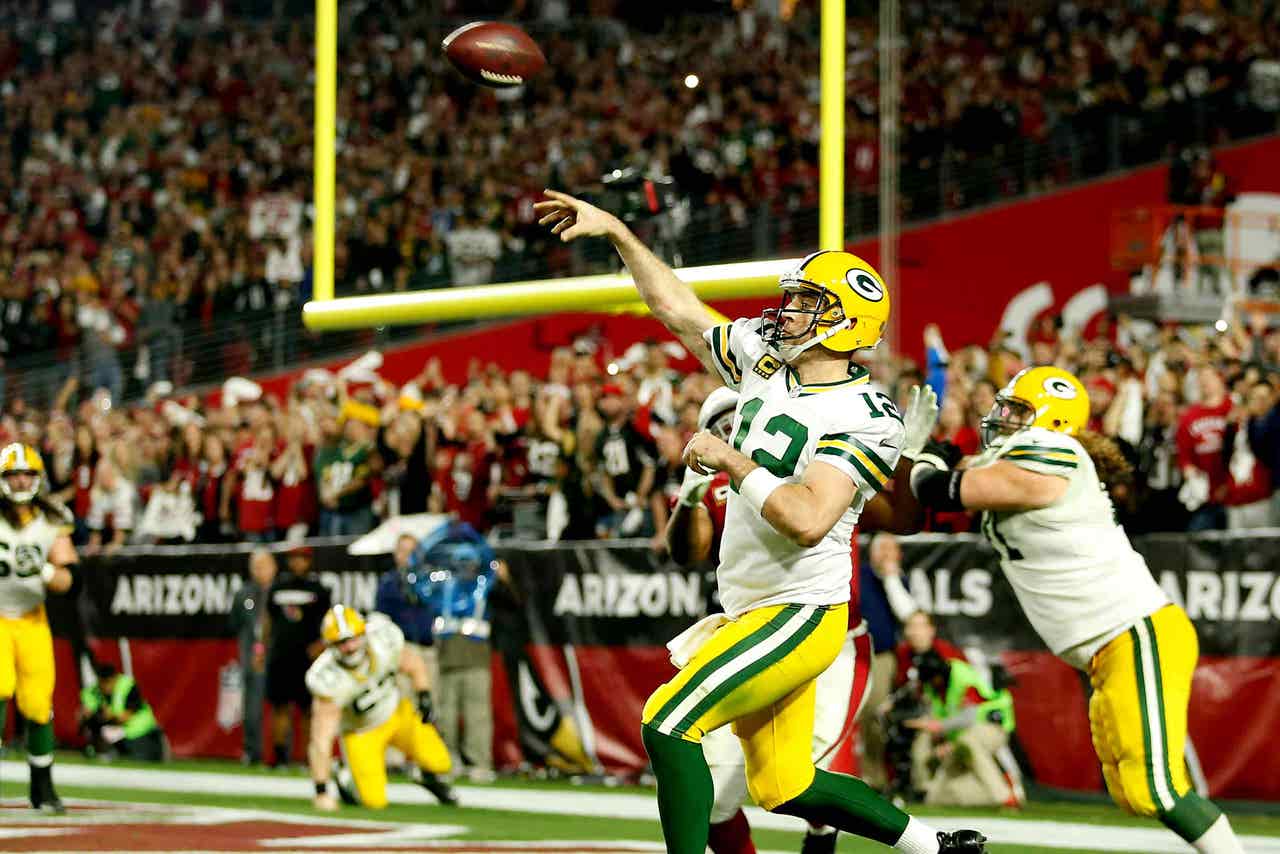 The Hail Mary
It took 34 seconds from the time the fourth-and-20 play was snapped for Rodgers to get the next play off, bringing the clock down to just 21 seconds. After an illegal motion penalty on Green Bay, the Packers had just 12 seconds left and were on the Arizona 41-yard line. After an incomplete pass, just five seconds remained.
We all had the requisite flashbacks to Green Bay's Week 13 game in Detroit, when Aaron Rodgers found Richard Rodgers on a last-ditch Hail Mary to win the game. Nice highlight to show during the broadcast but surely not something that would be repeated.
Oh boy:
Jeff Janis again! Incredible stuff.
Take a look at Aaron Rodgers again, looking even more desperate on this lob: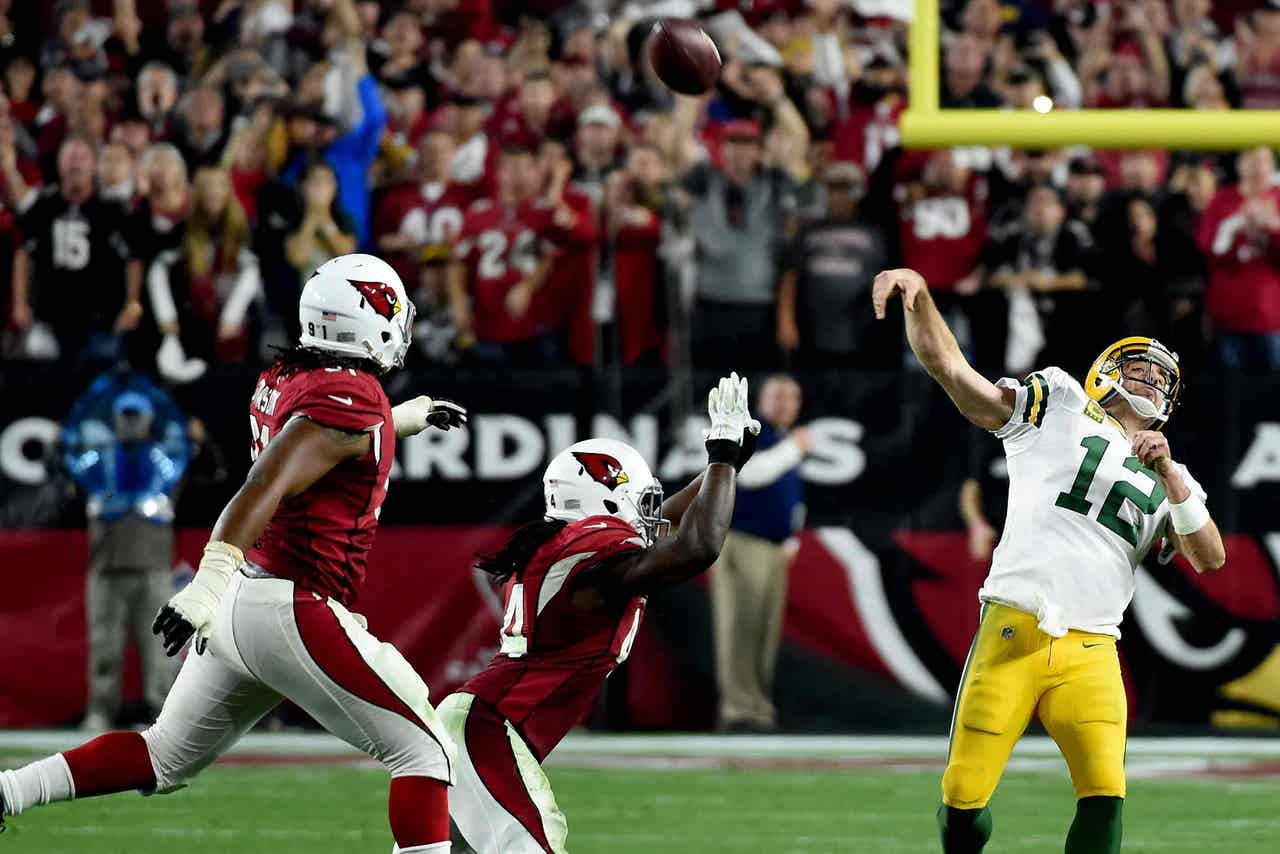 And three close-ups of Janis' amazing grab: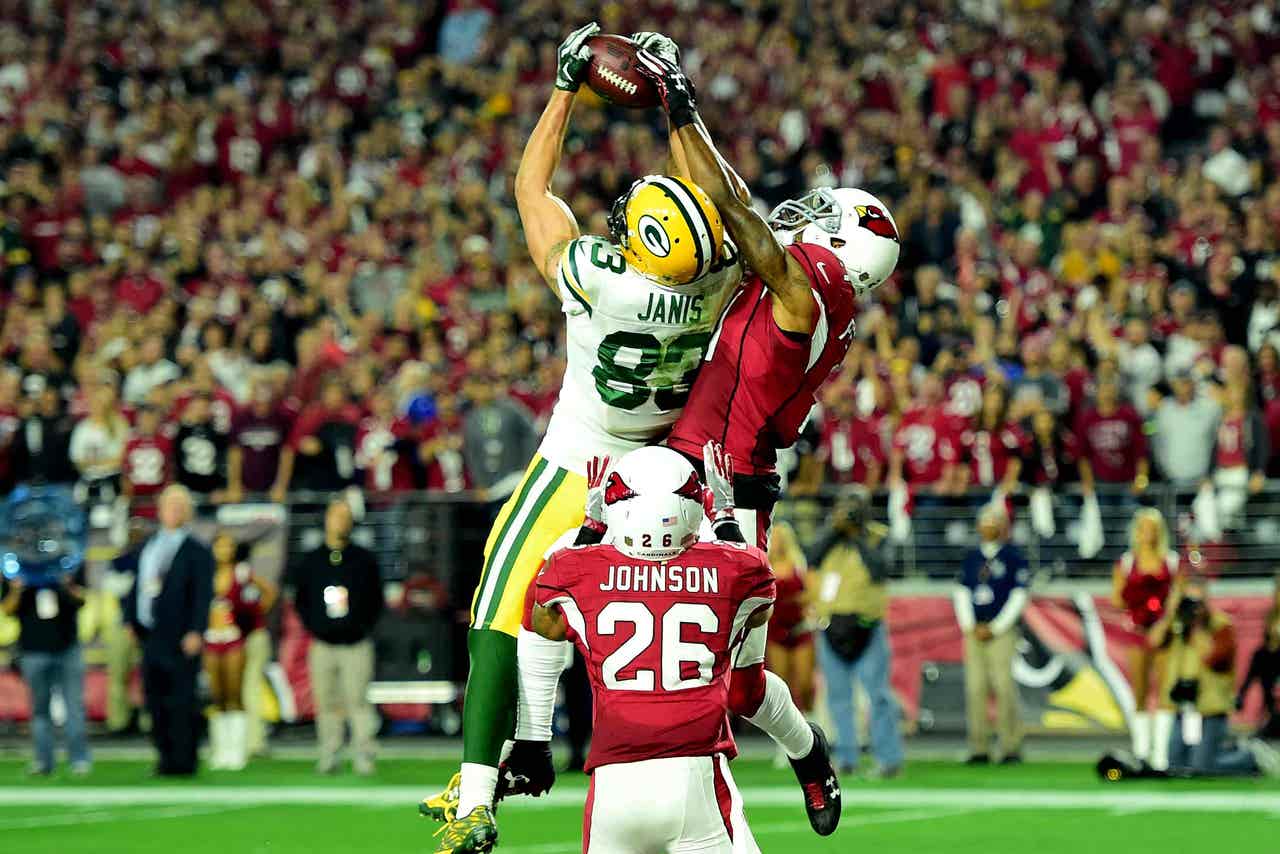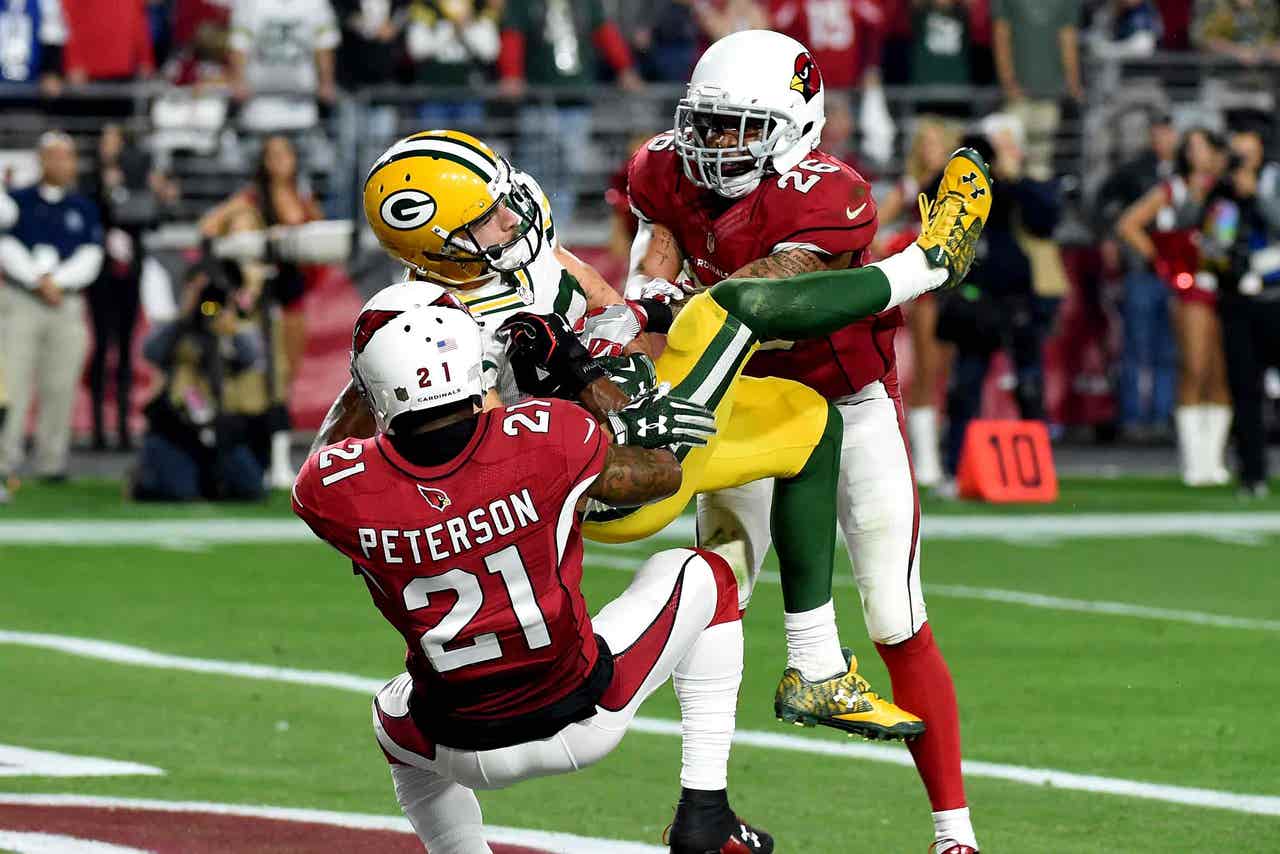 Kicker Mason Crosby nailed the extra point, and the teams went to overtime tied at 20.
Larry Fitzgerald runs wild
On the very first play from scrimmage in overtime, Cardinals quarterback Carson Palmer found himself scrambling out of the pocket to his right, only to turn back to his left and throw across the field to wide receiver Larry Fitzgerald.
Fitzgerald was wide open, caught the pass and ran through half the Packers' defense, taking it 75 yards all the way down to the Green Bay 5-yard line. Yeah, really it's better if you just watch it:
And here he is at the end of the run, after leaving the Cardinals in prime position for a touchdown and the win: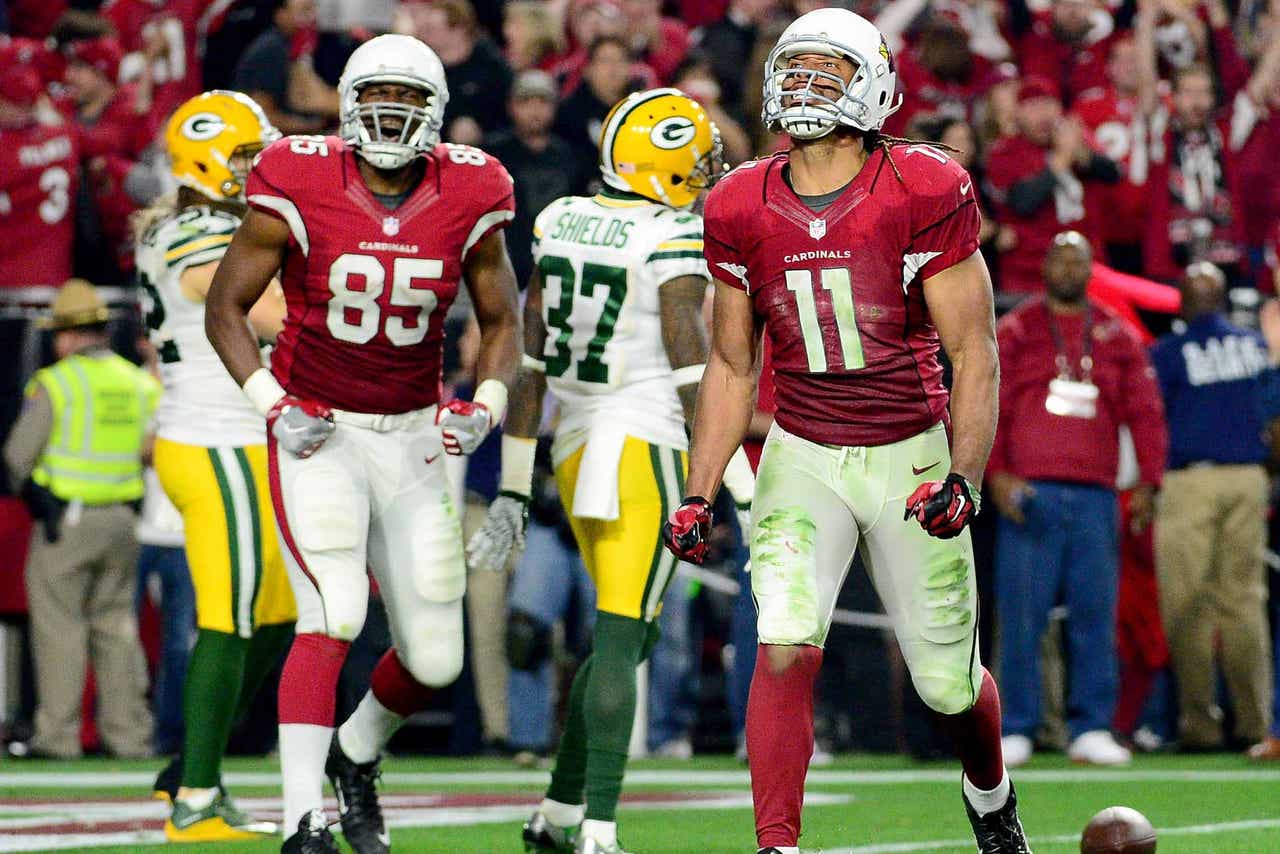 Larry walks it off
Arizona still had work to do. A field goal wouldn't outright win the game, so everyone on the Cardinals sideline was thinking touchdown. On first down, Palmer tried a fade to Fitzgerald on the right side, but the pass went incomplete.
On second down, the Cardinals lined up in a tight shotgun formation, and this happened:
Yes, a little shovel pass to Fitzgerald, and in he went.
Final score: Arizona 26, Green Bay 20. The Cardinals move on to the NFC Championship Game and were understandably ecstatic: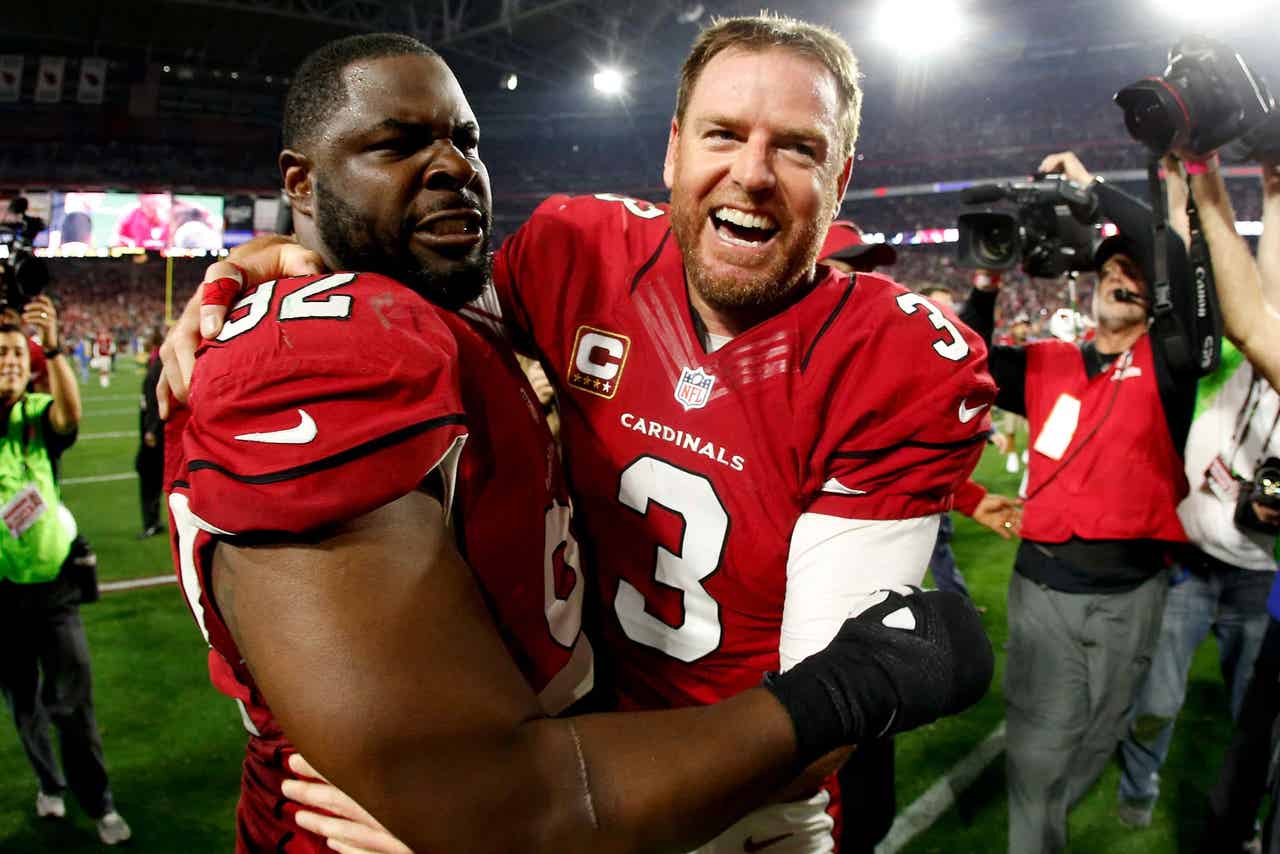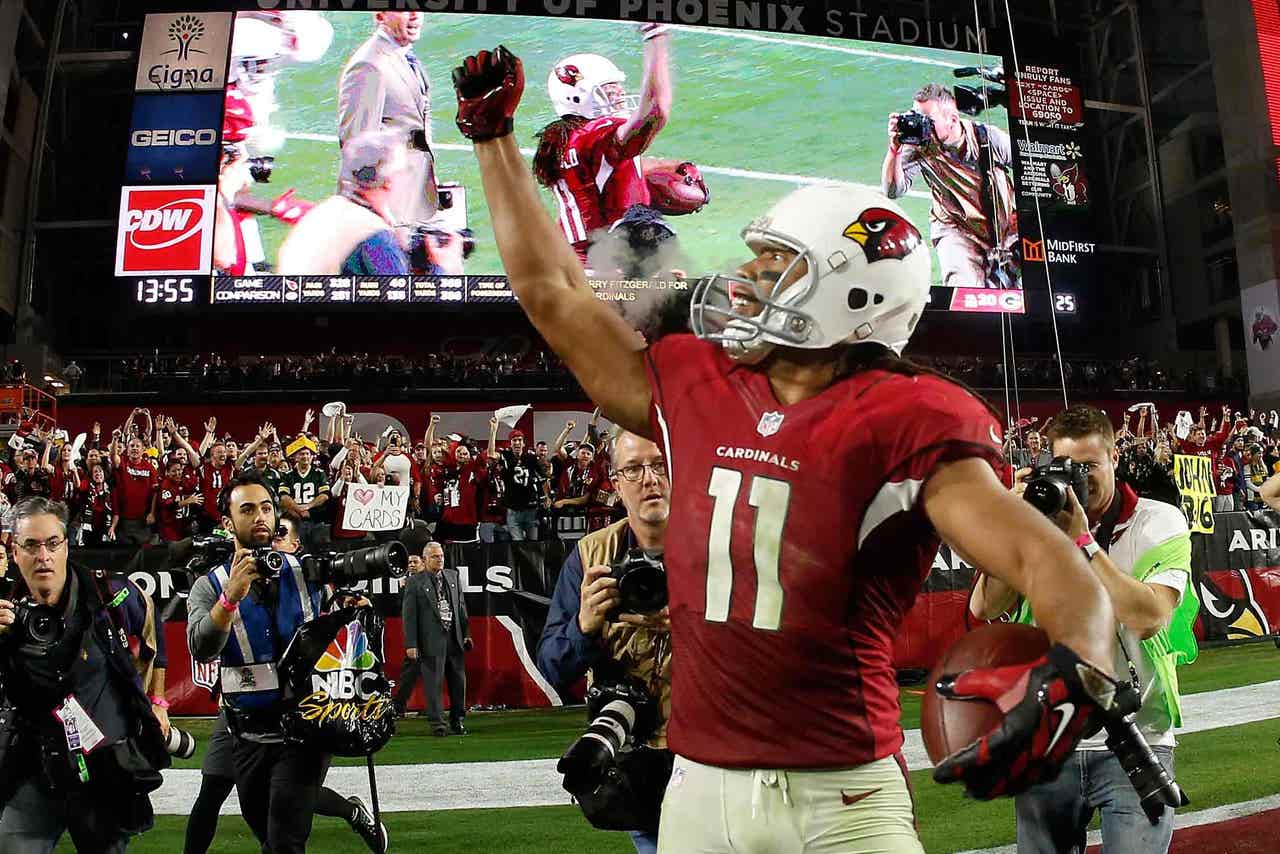 What seemed like a relatively ho-hum game headed for a routine ending turned into easily the best finish of 2016 so far and a game that just might not be topped the rest of the year.
All right, Seahawks-Panthers and Steelers-Broncos. What can you do Sunday to top that?
---
---