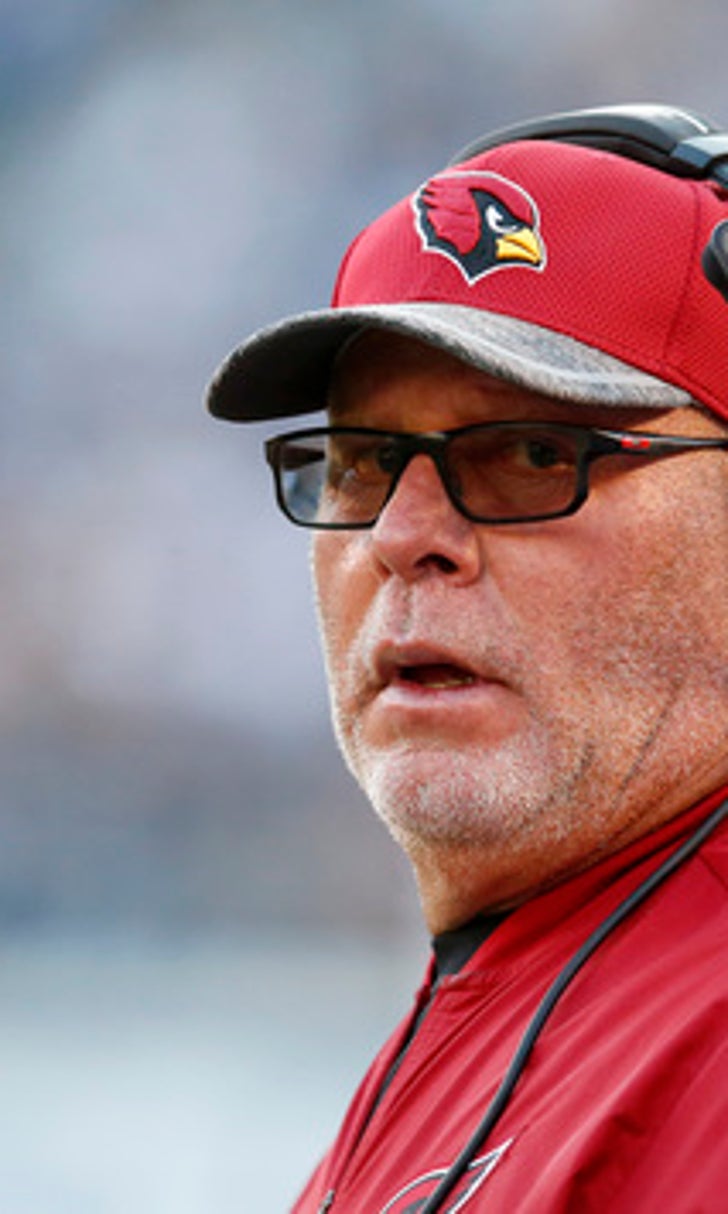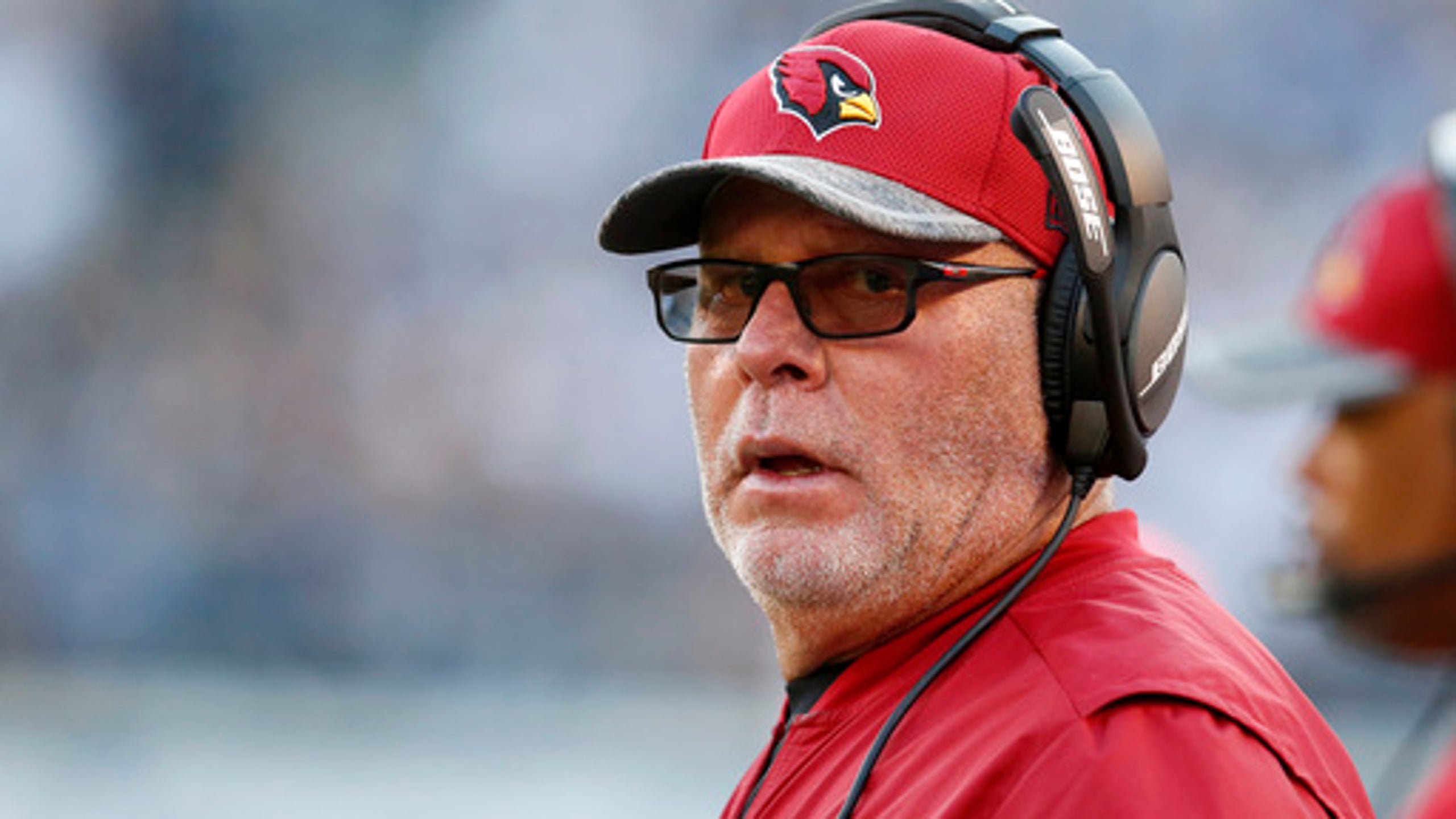 Cardinals' Mathieu returns: 'I've got my swag back'
BY foxsports • August 21, 2016
GLENDALE, Ariz. (AP) Tyrann Mathieu, Justin Bethel and Frostee Rucker practiced for the first time this training camp Sunday and Arizona Cardinals coach Bruce Arians said ''there's no doubt'' all three will be ready for the Sept. 11 season opener.
Mathieu, an All-Pro safety last season who is coming back from surgery to repair a torn right ACL, participated in several plays 11-on-11 drills with the first unit, surprising himself and his teammates with how much he was able to do.
''I've got my swag back,'' he said. ''I feel good, confident.''
Bethel, a cornerback, is returning from foot surgery and defensive lineman Rucker had a foot injury that might have been related to offseason ankle surgery.
Arians also welcomed back wide receiver John Brown, out with a concussion since early in camp. However, Brown went back in the locker room after doing some individual work.
Arians said outside linebacker Alex Okafor, who did not practice, had decided to keep playing despite a torn biceps tendon rather than opt for surgery.
Mathieu returns a much wealthier ''Honey Badger'' after he signed a five-year, $62.5 million that included $21.5 million guaranteed and another $18.75 million guaranteed if he's on the roster at the start of the 2018 season.
The do-everything player is listed as a safety but played more snaps at cornerback last season before he went down with the knee injury on Dec. 20. It was his second significant knee injury in his three NFL seasons. He sustained a far more severe injury to his left knee in his rookie season.
Mathieu said he was ''real surprised'' by how good he felt and how much he was able to do in his first practice.
''I didn't feel any pain. I didn't really get tight at all,'' he said. ''I was surprised with where I was at but I also was pleased with what I've been doing.''
Bethel, a three-time Pro Bowl selection on special teams, started four games at cornerback last season and was considered a leading candidate for the job this year opposite All-Pro Patrick Peterson. But, in Bethel's absence, the job has gone to rookie Brandon Williams.
Bethel, who participated in 7-on-7 drills and a little bit of 11-on-11, said he would love to think he could win the starting job but understands that might not happen.
''Brandon's been playing really well,'' Bethel said. ''Either way, the way we run our defense, we'll all be out there at some point.''
Williams struggled in his first preseason game but was noticeably improved in Friday night's 19-3 loss at San Diego. Arians said Williams also showed improvement in the team's two joint practices with the Chargers.
''I thought Brandon got really better last week,'' Arians said before practice Sunday, ''going against different receivers, seeing different things. I thought he held his own all week.''
Asked if he thought Mathieu, Bethel and Rucker would be ready for the opener against New England, Arians said, ''There's no doubt. It's just a matter of conditioning now, football conditioning, hit, getting the pad level down and all the things we've been doing the last 15-18 days.''
Okafor, in the final year of his contract, missed nearly all of his rookie season with a biceps injury but came back with a team-high eight sacks in 2014. He got in the coach's dog house last season when he injured his toe during the team's bye playoff weekend and wasn't able to play in the postseason.
Arians said he was hopeful first-round draft pick, defensive lineman Robert Nkemdiche, would be able to practice some Wednesday. Nkemdiche has been sidelined with a high ankle sprain since rookie training camp four weeks ago.
The Cardinals have been outscored 49-13 in two losses this preseason but Arians brushed aside any concern. He was unhappy - he used a stronger word - with the offense's performance in San Diego after the game but didn't dwell on the subject on Sunday.
He considers ''95 percent'' of the team's problems Friday night to be easily correctable.
''Nobody's shaken in their confidence in any way. It's preseason,'' Arians said. ''I think the tendency (of those outside the team) is `woe is me' but when our starters have played maybe 20 plays, that's not even a good half. We've had bad halves before and come back and won games. So it's not a doomsday situation by any stretch of the imagination.''
---
AP NFL website: www.pro32.ap.org and http://twitter.com/AP-NFL
---
---