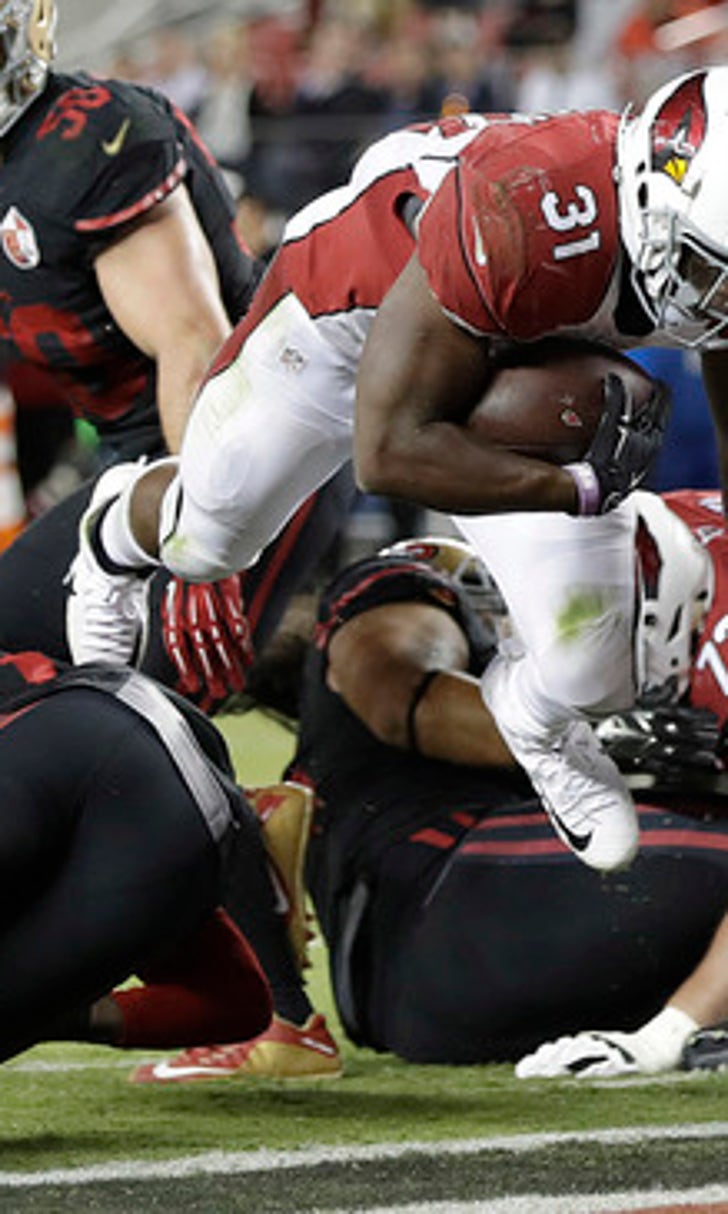 Cardinals look to build off 33-21 win over 49ers
BY foxsports • October 7, 2016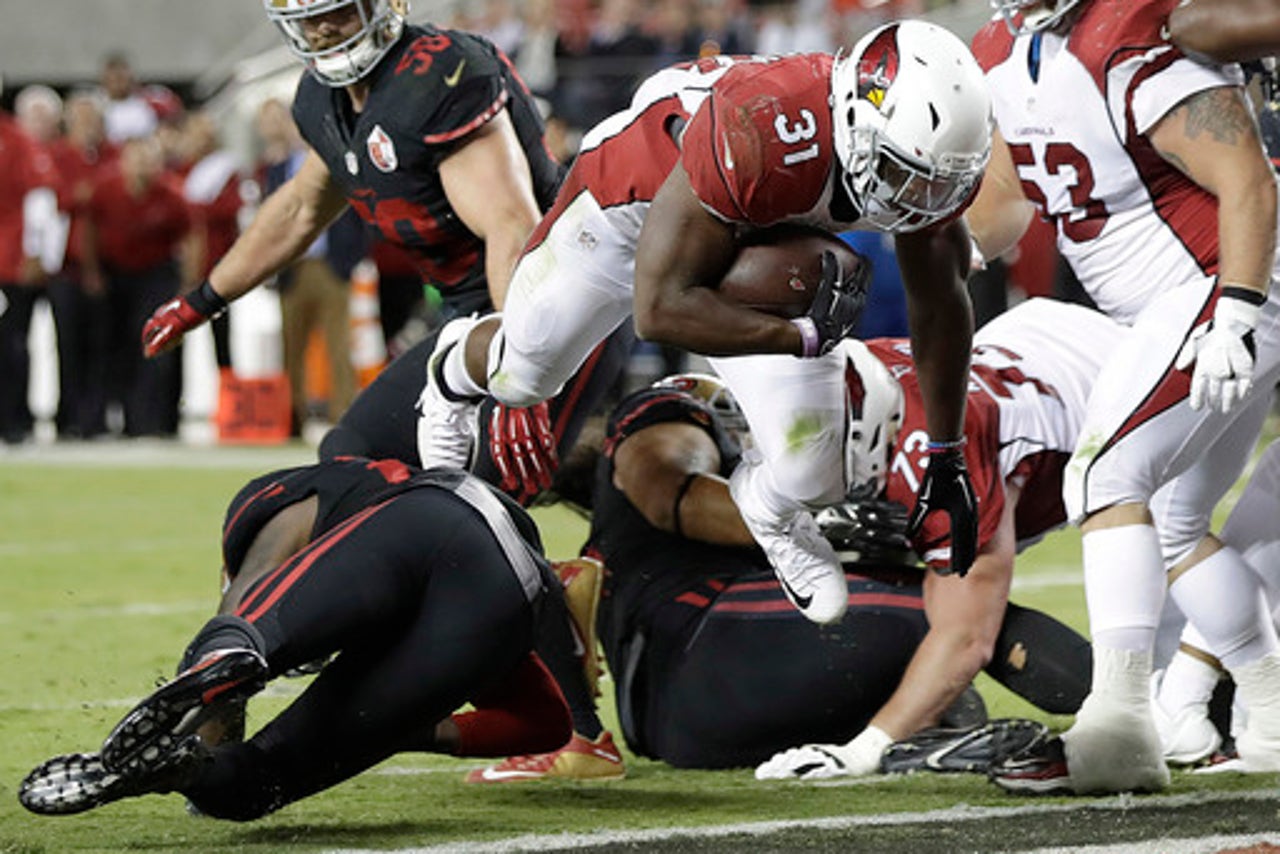 SANTA CLARA, Calif. (AP) After stumbling at the start of the season, the Arizona Cardinals hope a road win without their starting quarterback is just what they need to get their season back on track.
After a fourth straight loss and another lackluster performance by quarterback Blaine Gabbert, the San Francisco 49ers must decide if it's time to make a change at quarterback.
Drew Stanton threw two touchdown passes to Larry Fitzgerald in the quarterback's first start in two years, David Johnson ran for 157 yards and two scores and the Cardinals capitalized on San Francisco mistakes to beat the 49ers 33-21 on Thursday night.
''We've been saying all week it just starts with one. Just get one win and try to stack them,'' said defensive lineman Calais Campbell, who had two sacks an interception and a safety for the Cardinals (2-3).
''We've been a team in the past that can rip off a bunch of them. ... Now we have to figure out what we can do to keep that ball rolling.''
The 49ers (1-4), on the other hand, need to figure out whether it's time to start over and give Colin Kaepernick a chance at quarterback.
Gabbert went just 18 for 31 for 162 yards against the Cardinals, throwing two interceptions and once again struggling to get the ball down field. Gabbert ranks last in the NFL in yards per attempt (5.9) and his 69.6 passer rating is second worst in the league.
''It's extremely frustrating,'' Gabbert said. ''I let this team and this organization down tonight and did not play good whatsoever and that's on me. I had two crucial turnovers there that led to points for the Cardinals and that was the difference in the game right there. I got to do a better job protecting the football and leading this team to scoring more points and winning games.''
Here are some other takeaways from the game:
WE WANT KAP: The 49ers fans made their feelings known in the second half when they started chanting ''We want Kap! We want Kap!'' Gabbert responded by leading an 82-yard TD drive fueled in part by his 24-yard run. The chants started again after Gabbert threw his second interception and after the game coach Chip Kelly would not address whether it was time to make a quarterback change.
''We're 1-4. We're going to look at everything,'' he said. ''We have to make sure we're giving our team the best chance to go out and win.''
DOMINANT D: The Cardinals managed to put pressure on Gabbert all day , especially with their front four. Campbell and Markus Golden each had two sacks as Arizona finished with seven in all against a team that had allowed only three through the first four weeks.
'' It felt good to make a play or two to help the team,'' Campbell said
BELL COW BACK: With Carson Palmer sidelined by a concussion, the Cardinals turned the offense over to their star second-year back, Johnson. He delivered with 157 yards and two TDs on 27 carries and three catches for 28 yards. Fitzgerald added 81 yards receiving as those two players combined to gain 266 of the team's 288 yards of total offense.
''I feel unstoppable, basically,'' Johnson said. ''Especially with the help of the guys blocking, tight ends, receivers and obviously the O-line. It helps me get going, helps me get into the flow of being able to break some of the tackles, being able to get some of the yards we needed.''
QUICK TURNAROUND: The game changed in a span of less than 4 minutes starting late in the second quarter. Campbell's interception of a deflected pass set up Arizona's first score on a 21-yard pass from Stanton to Fitzgerald with 1:40 left in the half. Davis' fumble of the second-half kickoff then set up Johnson's 4-yard run that put Arizona up for good. Gabbert's second interception led to a field goal.
''When you're minus-3 in the turnover column, you're not going to win the football game,'' Kelly said. ''It took them 41 yards to get 17 points out of it.''
BANGED UP LINE: The Cardinals lost both starting guards to injuries with Evan Mathis (foot) and Mike Iupati (leg) both leaving with injuries. John Wetzeel and Earl Watford came in and helped key a 75-yard TD drive that sealed the win in the fourth quarter.
---
AP NFL website: www.pro32.ap.org and www.twitter.com/AP-NFL
---
---