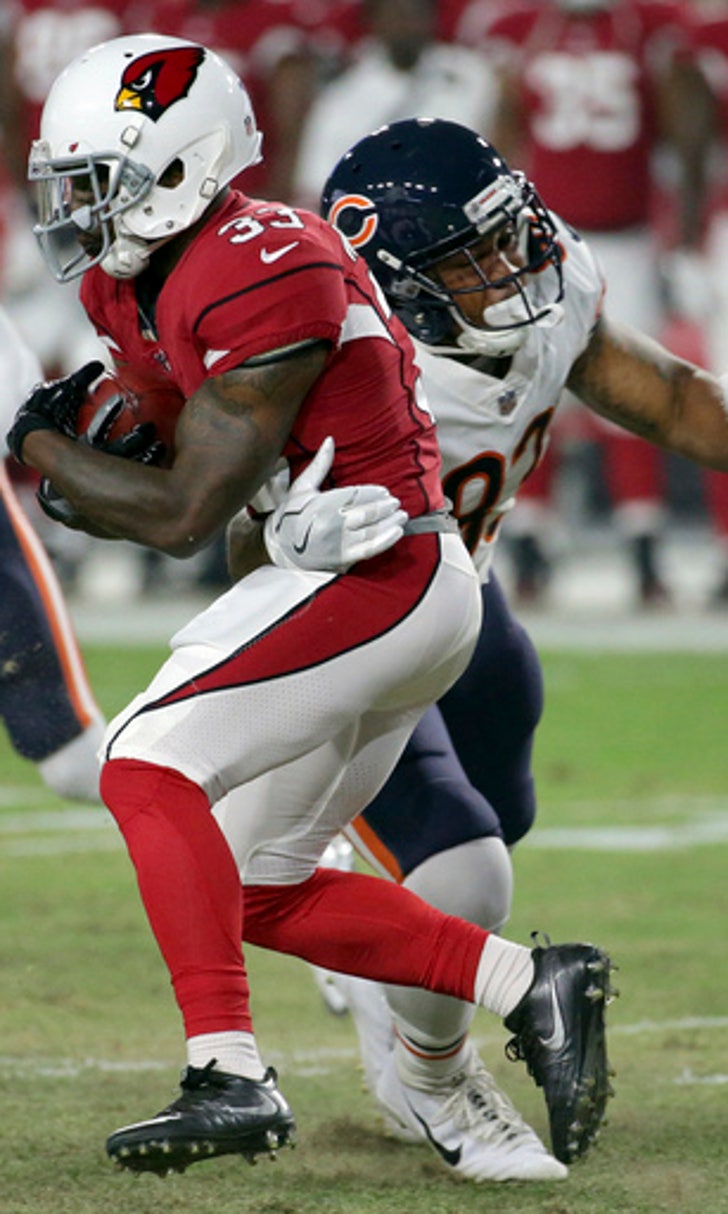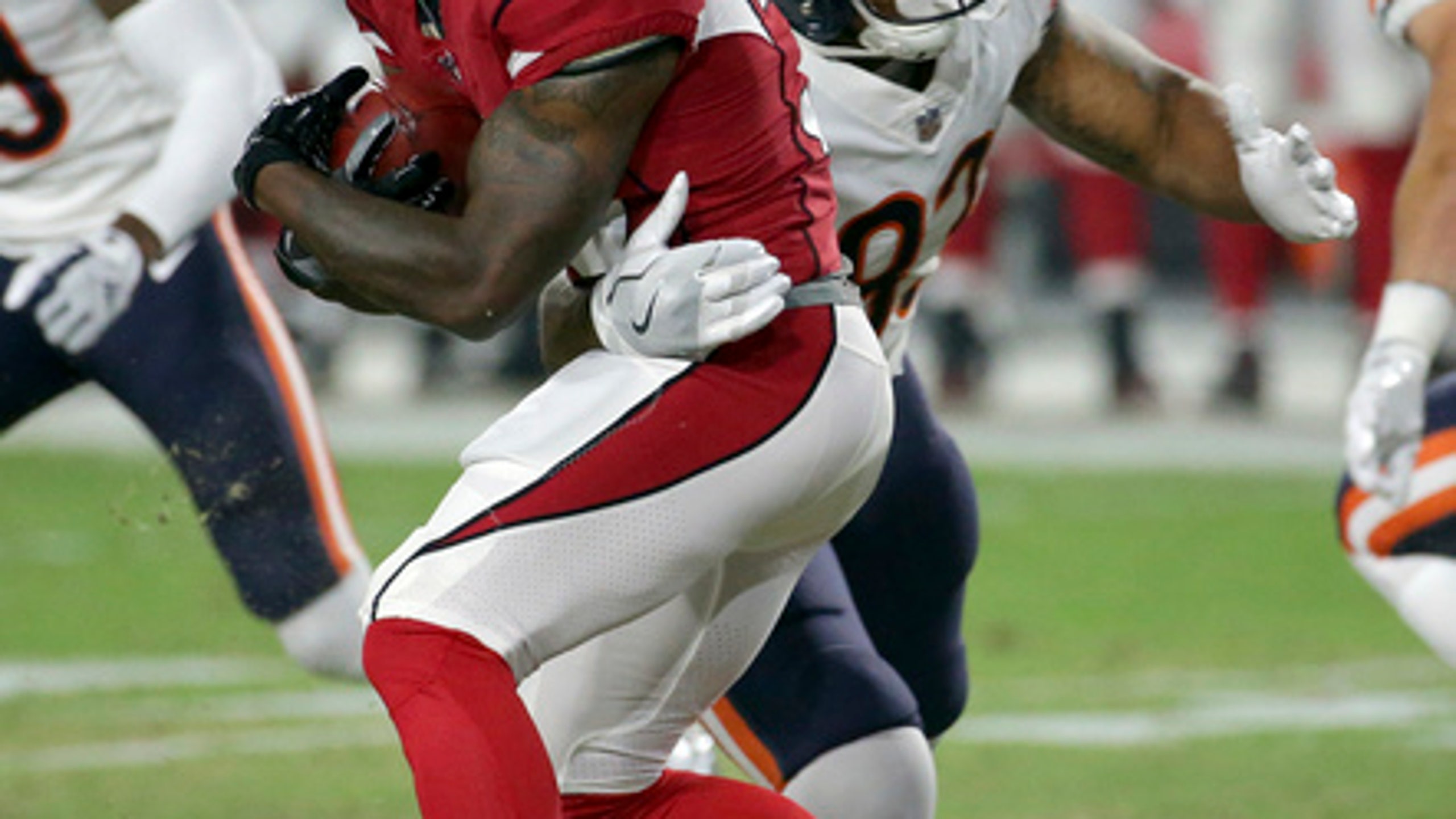 Cardinals gather RBs in wake of David Johnson injury
BY AP • September 14, 2017
TEMPE, Ariz. (AP) The Arizona Cardinals added two running backs in the wake of the injury to standout David Johnson.
The re-signing of Chris Johnson and signing of D.J. Foster off the New England practice squad gives Arizona five running backs on the roster. Quantity, though, probably won't replace the quality of Johnson, who accounted for more than 2,000 yards last season.
Johnson dislocated his left wrist Sunday in a season-opening loss at Detroit. He will require surgery and will be lost eight to 12 weeks.
There seemed to be a difference of opinion after Wednesday's practice as to how Arizona's offense would change because Johnson is gone.
Coach Bruce Arians, uncharacteristically terse with reporters, said it wouldn't change ''one iota.''
Quarterback Carson Palmer had a difference assessment.
''It changes it drastically,'' Palmer said. ''You lose who I think is one of the best football players in this league. Things are obviously going to change. But that saying, we're not going to sulk.''
Kerwynn Williams will move into the starting role, Arians said.
''Andre (Ellington) will spell him and play third down,'' Arians said. ''And Chris will get some carries.''
The team is expected to have four running backs active for Sunday's game in Indianapolis. Elijhaa Penny is one of the Cardinals' top special teams players - he had three tackles at Detroit.
The odd man out, at least for now, probably will be Foster, the former Arizona State standout who needs to learn the Cardinals' offense.
''We loved him coming out of college,'' Arians said, ''because he can play receiver and he can play running back. So, just as he learns the offense, he gives us depth at that position.''
Foster, who grew up in nearby Scottsdale, was thrilled to be back home.
''Definitely growing up this is the team that I watched, being a local guy,'' he said. ''This is who I tuned in to watch every week. It's definitely a blessing to be a part of this organization.''
The team released Chris Johnson in its final roster cuts, and he acknowledged there was some bitterness when that happened.
''I just had bitterness toward being cut period,'' he said. ''The type of player that I am and being that it was unexpected and given everything that was happening, of course there was bitterness. But I couldn't dwell on it. Just made sure I stayed in shape and get ready for whatever opportunity I had coming towards me.''
Johnson, in his ninth NFL season, needs 463 yards rushing to reach 10,000 for his career. He returns to the Cardinals uncertain how big a role he will have in the offense.
''I'm not sure,'' he said. ''I'm just trying to help the team.''
Two years ago, Chris Johnson was the primary back for the Cardinals and had rushed for 814 yards. An injury shortened his season. He missed most of last season with a knee injury.
Williams, a seventh-round draft pick of Indianapolis in 2014, fought his way up from the practice squad and appeared in 10 games last season. He has never started an NFL game.
'' It's definitely exciting,'' Williams said. ''It's definitely an opportunity I haven't had before. I'm definitely looking forward to it.''
Williams will retain his kick and punt return duties.
Palmer and Larry Fitzgerald, who normally have Wednesday off, practiced this Wednesday, but Arians was quick to erase any thought that it was because of their play in the opener.
''I set the damn schedule two months ago,'' he said before anyone asked a question. ''I'm not answering any questions about why they practiced. The schedule's been set for two months, so put that to bed.''
The loss of David Johnson puts the spotlight on the 37-year-old Palmer more than ever. He is coming off of one of his worst performances of his long career. Against the Lions, he completed 27 of 48 passes for 269 yards and one touchdown with three interceptions. He had a quarterback rating of 53.2.
Arians said Palmer is the best quarterback he's been around at bouncing back from a bad outing.
''I just think that comes with playing the position and experience and not doubting yourself and getting down on yourself,'' Palmer said. ''Just get up and come back firing.''
Does he feel that way this week?
''I feel that way every week,'' he said, ''especially this week after I disappointed myself and my teammates. I'll be ready to roll on Sunday. It can't be here fast enough.''
---
For more NFL coverage: http://www.pro32.ap.org and http://www.twitter.com/AP-NFL
---
---