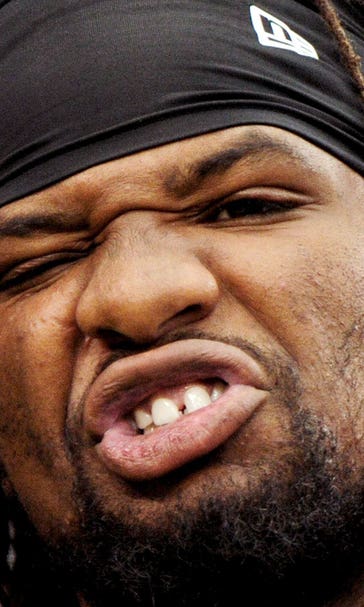 Burfict back in middle of Bengals defense, making impact
November 3, 2015

CINCINNATI (AP) On his first play in more than a year, Vontaze Burfict made the tackle. Did it again on the next play, too.
The Cincinnati Bengals middle linebacker is back from two knee operations and making an impact on a defense that could use a boost heading into the midpoint of a so-far undefeated season.
The Bengals (7-0) played one of their better games defensively on Sunday, beating the Steelers 16-10 in Pittsburgh with Burfict back in the middle of things for nearly half the plays.
''It feels great, especially with his energy, the mindset he brings, just his relentless play,'' cornerback Dre Kirkpatrick said. ''He was picking guys up when they were down. We needed that. We needed that energy. I felt he brought a lot of spark in the fourth quarter when we needed it.''
Cincinnati is off to the best start in its history in large measure because the offense has been so good, with Andy Dalton ranking among the NFL's best passers. The defense is ranked only 22nd in yards allowed, although it's fifth in points allowed.
The only missing piece has been Burfict, a former Pro Bowl player who missed most of last season with concussions and torn knee cartilage that required two operations. He missed all of training camp and opened the season on an injury list with a chance to return after the sixth game.
He practiced last week for the first time in a year, was activated on Saturday night and opened the game in Cincinnati's base defense, making tackles on the first two plays.
''He's got an incredible football intelligence and great passion to play,'' coach Marvin Lewis said on Tuesday. ''He's so doggone smart. He steps back in and does things as though he's been doing it the whole time, which is a credit to him.''
The Bengals had planned for him to be on the field a limited number of plays, but that changed when linebacker Rey Maualuga hurt his right calf on the opening series and wasn't able to return. Burfict ended up on the field for 36 of the 75 defensive plays.
''The Steelers are our rival, so once your competitive nature gets into it, you don't want to come out,'' Burfict said. ''I had to push through it, dig deep and finish. It was a long game, though. It's different from rehab. That was my first time in a long time.''
Lewis said on Tuesday that Burfict seemed to be fine physically after spending more time on the field than planned. The Bengals host the Browns (2-6) on Thursday night, and it's unclear whether Maualuga will be available.
Maualuga was held out of practices on Monday and Tuesday. While the rest of the team had a light workout at Paul Brown Stadium, he was on the side doing agility drills for his legs and running.
Burfict finished with five tackles on Sunday, including a play that changed the Steelers' season. He tackled running back Le'Veon Bell on the sideline after an 8-yard reception. Bell's right knee twisted beneath him as Burfict brought him down, causing a season-ending injury.
''It was a clean hit,'' Burfict said. ''He's a good friend of mine. I didn't mean to hurt him. I told his teammates it wasn't an intentional hit.''
Notes: In addition to Maualuga missing practice, right tackle Andre Smith was out again as part of the concussion protocol. He was hurt in the second half of the game in Pittsburgh. ... DE Carlos Dunlap was limited for the second straight practice because of a right shoulder injury, also suffered in Pittsburgh.
---
AP NFL website: www.pro32.ap.org and http://twitter.com/AP-NFL
---
---