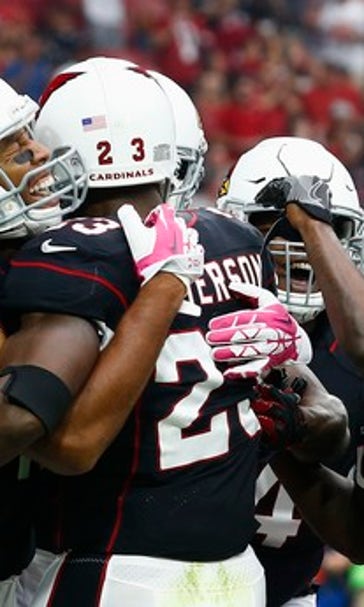 Buoyed by addition of Peterson, Cardinals head to London
October 16, 2017

TEMPE, Ariz. (AP) The Arizona Cardinals were in fine spirits as they boarded a plane for London on Monday, buoyed by the addition of Adrian Peterson and his impressive debut against the Tampa Bay Buccaneers.
There was a noticeable uptick in the team's energy and the home fans' enthusiasm from the time Peterson first touched the ball on Sunday. In fact, he got a standing ovation after his first carry, which went for eight yards.
''That's the type of impact I want to make with my teammates and fans,'' he said in front of his locker on Monday. ''For me, I'm just happy to have the opportunity.''
Five days after being acquired in a trade with New Orleans, Peterson rushed for 134 yards in Arizona's 38-33 victory over the Buccaneers. He scored on a 27-yard run on the team's first possession and punched one across from one yard out later in the game, giving him 99 career rushing touchdowns.
He said he felt no worse for wear after his 26 carries on Sunday.
''My body feels good,'' Peterson said. ''I feel really good, not banged up. I got my squats in today, did some cardio. Ultimately I came out well. A couple of bruises, but outside of that I'm fresh.''
The Cardinals (3-3) head to London for an NFC West showdown with the vastly improved Los Angeles Rams, who lead the division at 4-2.
While the Rams are staying in Jacksonville after beating the Jaguars there on Sunday and won't leave until Thursday, the Cardinals chose to depart late Monday afternoon, in part so they can adjust to the 8-hour time difference. Coach Bruce Arians said the team was to arrive in London about noon, local time, on Tuesday.
''We'll unpack and go straight to a workout and break a sweat, try to keep them up and stay awake,'' he said. ''If you're going to take a nap, take it a little bit later in the day and then get a night's sleep.''
Arizona's offense, which had sputtered through the first four games, looked like its old high-powered self on Sunday, with season highs in points (38), touchdowns (five), net yards (432), rushing yards (160), average yards per play (7.3), rushing average (4.6) and average yards per pass play (11.3).
''It was refreshing,'' defensive lineman Frostee Rucker said, ''to see some movement, to see some big plays. Our offense is capable of a lot of big plays. They have playmakers all across the board. Just to see their hard work pay off and A.P. (Peterson) coming in and doing a fantastic job. It's great and we're going to try to keep in rolling.''
With Peterson running the ball so effectively, and the line bolstered by the return of left tackle D.J.Humphries and left guard Alex Boone, there was a lot less pressure on Carson Palmer. That meant he had to throw fewer times and had much more time when he did. With the Buccaneers packing the box to stop the run, receivers often ran wide open, especially in the first half, when Arizona built a 24-0 lead.
''Probably the best first half of offensive football, team football, that we've played in a long time,'' Arians said.
The second half? Not so much.
Ryan Fitzpatrick, stepping in for the injured Jameis Winston, threw for 290 yards and three touchdowns to bring his team back from a 31-0 deficit. The contest wasn't clinched until Larry Fitzgerald gathered in an onside kick with 2:02 to play.
''I thought we relaxed after we scored and went up 31-nothing,'' Arians said. ''I thought we relaxed at that point in time and started giving up plays we hadn't been giving up during the game.''
With the running game working, Palmer threw only 22 times. He completed 18 (including his first 14 attempts) for 283 yards and three touchdowns with one interception. In his first five games, Palmer threw 49, 36, 48, 51 and 44 times, and took a lot of vicious hits along the way.
Arizona entered the contest averaging a league-worst 51.8 yards per game on the ground. Peterson eclipsed that on the first series.
Now he is off to London for the second time in less than a month. Peterson was there with the Saints when they beat Miami 20-0 on Oct. 1.
His advice:
''It's still a business trip at the end of the day because the main objective is to come back with a `W,''' he said. ''Just take it all in, of course enjoy when you have down time ... but stay within the ultimate goal of the journey, and that's winning.''
---
More AP NFL: http://pro32.ap.org and https://twitter.com/AP-NFL
---
---