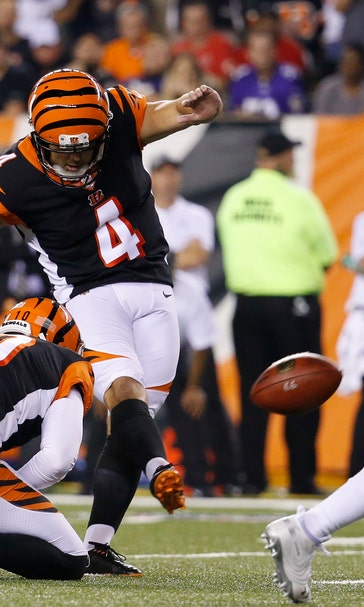 Bullock perfect on kicks, gets 2-year extension from Bengals
September 20, 2018
CINCINNATI (AP) — While Minnesota and Cleveland changed kickers after only two games, the Bengals gave Randy Bullock a two-year contract extension for his perfect start.
He's made every field goal and extra-point attempt, helping the Bengals remain unbeaten.
The seventh-year kicker has settled into the job after beating out fifth-round draft pick Jake Elliott last year, prompting the Bengals (2-0) to offer the contract extension through 2020. He signed it on Tuesday.
Bullock is one of 11 kickers in the NFL who have yet to miss.
"Randy has come in here, grown in his role and has developed a trust through the building," coach Marvin Lewis said. "He's morphed his body and feels confident about things. He's been consistent, and he's just got to keep working at it. Now is not the time to relax."
Bullock arrived in Cincinnati in 2016 after Mike Nugent was released . He filled in while Chris Boswell was hurt in Pittsburgh, and the Bengals claimed him off waivers for the final three games. They drafted Elliott and staged a competition for the job in training camp last year. Bullock won, and Elliott wound up with the Super Bowl champion Eagles.
Bullock went 18 of 20 in field-goal attempts and made 31 of 33 extra-point tries last season, earning the Bengals' trust. He spent the offseason lowering his body fat and strengthening his core muscles.
"I feel like a new person," he said Thursday after practice. "I feel a lot stronger."
Heading into a game on Sunday at Carolina (1-1) , Bullock is 4 for 4 on field goals and 8 for 8 on extra points.
Kickers are part of a closely knit group. They compete for jobs, stay in touch during the season, work out together in the offseason on occasion, and offer congratulations or support, depending upon how the last game has gone. Bullock got congratulatory messages from other kickers when he signed his extension.
"A lot of guys have reached out to me in the last couple of days," Bullock said. "Even Jake Elliott reached out to me, so that was cool. I've stayed in touch with him a little bit."
He's been on the other side as well. He started his career with Houston from 2012-15, and also has kicked with the Jets, Giants, Steelers and Bengals.
Bullock keeps up with how other kickers fare each week. He saw clips of Minnesota's Daniel Carlson missing three field goals in a 29-29 tie with Green Bay on Sunday, and Cleveland's Zane Gonzalez missing a pair of field goals and extra points during a 21-18 loss at New Orleans . Both kickers lost their jobs.
"It's tough to watch anybody struggle, whether they're a rookie or a second-year guy or somebody older," Bullock said. "Unfortunately that's the growing pains. You're not going to make every kick, even though you go out with the mentality that you will.
"You can see the look on their face when they miss. Every day your job's on the line to perform at a high level. Everybody knows that. Nobody knows that better than the person who's just missed."
TRA CARSON RETURNS: Running back Tra Carson cleared waivers and reverted to the Bengals' injured reserve list on Thursday, a day after the team waived him with an injured hamstring. Carson was hurt in practice on Monday.
GIO BETTER: Running back Giovani Bernard had a full practice on Thursday, a day after he was limited by a sore knee. Bernard is the Bengals' only veteran running back with experience in their system heading into Sunday's game. Starter Joe Mixon is out for a few weeks following knee surgery, and Carson — No. 3 on the depth chart — got hurt as well.
Linebacker Preston Brown and defensive end Michael Johnson went through limited practices. Brown sat out last Thursday's 34-23 win over Baltimore with a sprained ankle. Johnson went out early with a strained knee. Center Billy Price (sprained foot) also got hurt in the game and is sidelined several weeks.
---
---