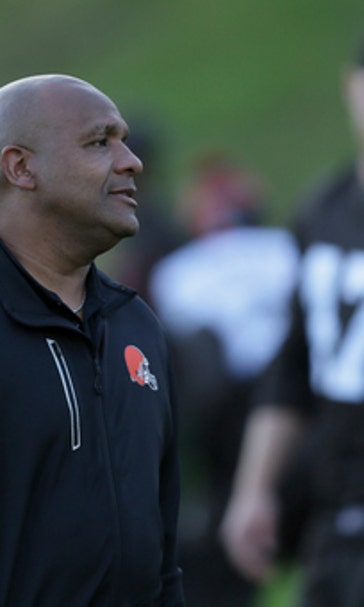 Browns QB Kizer gets rookie treatment on London trip
October 27, 2017

BAGSHOT, England (AP) DeShone Kizer may be the starting quarterback for the Cleveland Browns - for now - but he's still getting the rookie treatment on the team's trip to London.
Even though he's been named as the starter for Sunday's game against the Minnesota Vikings, Kizer was not among the lucky players to get a bed on the overnight flight to England.
''Rookies don't get beds,'' Kizer said Friday after the team's first practice at their five-star resort outside the British capital. ''When you only have a couple of months in this league you get pushed to at least the second level of seats. But I was able to sleep a good five hours.''
The next challenge is playing four quarters, which is a goal in itself for a struggling young quarterback on a winless team.
Kizer was pulled for the third time in his last three starts after throwing two interceptions in the Browns' (0-7) latest loss, the 12-9 overtime defeat to Tennessee, but head coach Hue Jackson still gave him the nod ahead of Cody Kessler to start again at Twickenham.
''He's had a really good week, just like last week. He was fired up about being named the starting quarterback again,'' Jackson said. ''I see growth, I see a guy who is eager to go back out and prove that he deserves the job. I don't think DeShone wants to feel like we're giving him anything. He likes to earn it. Obviously he has to earn it by continuing to play and play better throughout the whole game. I think he knows that.''
Few are expecting the hapless Browns to end their string of defeats against the Vikings (5-2), whose defense has been dominant in three straight wins. But Kizer knows that leading his team to victory is the fastest way of earning the respect of his teammates - and possibly putting a stop to the team's never-ending quarterback carousel.
''If I can finish out a game and potentially get some wins stringed up, it will be an awesome opportunity for me to take the next step in that locker room and being a leader,'' Kizer said. ''This far along in the season I'm starting to earn some respect from my guys. As long as I can go out there and perform well and create some consistency where they know I'm going to be the guy every week, then I can continue to push the message I've been pushing and continue to lead the guys the way I would like to.''
Running back Duke Johnson said the rest of the offense is firmly behind Kizer and that ''we try to keep his head up.'' But he said the rookie quarterback ultimately has to rely only on himself.
''One thing he doesn't have is kind of that older guy in the room, that veteran, the voice of reason,'' Johnson said. ''With him, going through what he's going through, it's tough for him. Because he doesn't have a guy who he can watch make mistakes and learn from them. He's the one out there who's making those mistakes and having to learn from himself.''
Both Johnson and Kizer said they planned to stay at the hotel Friday night to rest up, even though players were free to go into London for some sightseeing in the evening. That's despite Johnson being among the veterans who actually got a bed on the plane.
''Yeah, I did. It was comfortable,'' Johnson said. ''It was a long ride. I kind of felt bad for the guys in the back who didn't have it.''
Johnson said a couple of teammates even tried unsuccessfully to strike a deal to get a couple of hours each in the bed. But Kizer said that wasn't an option for him.
''One, my salary isn't like theirs, those guys sitting up there,'' Kizer said. ''So there's not too much to bargain for. And two, as a rookie, there's no seniority I can pull to make that happen.''
Perhaps a win on Sunday would put him in a better position to negotiate on the flight home.
---
---