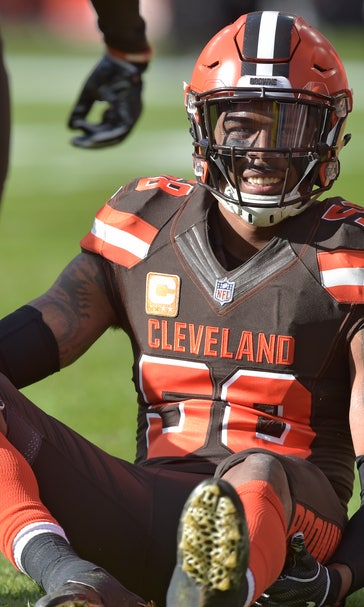 Browns place starters Kirksey, Gaines on injured reserve
November 7, 2018
BEREA, Ohio (AP) — The losses are piling up for the Browns — in the standings, and on the sideline.
On Wednesday, two defensive starters were added to the stack.
Cleveland placed linebacker Christian Kirksey and cornerback E.J. Gaines on injured reserve, ending their seasons with seven games remaining and putting further strain on a unit lacking quality depth and experience.
"Those two guys, they really set a precedent for what we wanted to do as a team, as a defense," said cornerback T.J. Carrie. "And, of course, they'll still be here sparingly in and out throughout the week, but it's a lot different when they were on the field fighting with you, blood, sweat and tears with you, through the trenches.
"We're going to definitely miss that. Those are two players that we can't replace."
One of the team's captains, Kirksey injured his left hamstring in the second quarter Sunday as the Browns (2-6-1) lost their fourth straight game, 37-21 loss to the Kansas City Chiefs.
Gaines sustained his second concussion in three weeks when he took a knee to the helmet while trying to make a tackle in the first quarter.
The loss of Kirksey is especially damaging because he's one of the team's leaders. The fifth-year pro has played on the weak side and in the middle this season, making 43 tackles and two interceptions.
"Kirko is kind of the heart and soul of the defense, heart and soul of the team in the locker room, on the field, just how he goes about his business," said linebacker Joe Schobert, a 2017 Pro Bowler who returned to practice after missing three games with a hamstring injury. "It's the next-man-up mentality, but there's things that you're going to miss."
Schobert's return will help ease the loss of Kirksey, and the Browns are expected to have defensive back Damarious Randall for Sunday's game against Atlanta after he missed last week's game with a groin injury.
Linebacker Jamie Collins (ankle) and rookie cornerback Denzel Ward (hip) were limited in practice, but interim coach Gregg Williams expects both back on the field Thursday.
Randall, who has played cornerback and free safety, felt he was healthy enough to play last week, but Williams kept him out so he would have the versatile defensive back for multiple games. Randall's absence became magnified when Ward and Gaines went down on the Chiefs' opening drive, forcing Williams to adjust his game plan against the NFL's most electrifying offense and play seldom-used reserves Denzel Rice and Tavierre Thomas.
"It's very hard," Carrie said of losing two key players. "It changes the game plan. It changes a lot of things because you can only give practice reps to so many guys, and so you get guys that come in and they're athletes, but it's hard when you don't know the schematics of the little details that we put in for that game."
And, as luck would have it, the banged-up Browns will have to deal with a talented Atlanta team that has overcome its own injury issues and reeled off three straight wins.
Needing seasoned secondary help, the Browns claimed Phillip Gaines off waivers from Buffalo and Jermaine Whitehead from Green Bay. To make roster room, Rice was waived.
Gaines spent four years with Kansas City before signing with Buffalo. Whitehead played in 19 games with the Packers from 2016-18.
Schobert's return is vital to Cleveland's defense as he's the one responsible for calling out Williams' pre-snap schemes and getting his teammates organized — an on-field coach.
After missing three weeks, getting back on the field will be a welcomed change for Schobert, who had played every defensive snap since the start of the 2017 season until he got hurt on Oct. 21 at Tampa Bay.
"It is just different. It is weird," Schobert said of being inactive. "Especially with a hamstring. You just walk around on the sideline feeling good and watching people on the field thinking you can be out there — wishing you could be out there. You just have to kind of suck it up and take it into your own role however you can help a team in that aspect.
"That is what I was doing. Just kind of jumped right into more of a coaching aspect, trying to keep myself involved that way. I think it helped."
NOTES: Rookie LT Desmond Harrison was limited in practice after missing last week's game with an undisclosed illness. Greg Robinson stepped in and played well in his first start for Cleveland. Williams hasn't decided who he'll play against the Falcons. "What we will do is every day is an interview and both of them are taking reps," he said. "By the end of the week, we will make what is best and it is good — the fact that you have depth. Guys can compete and get ready to roll." ... The Browns signed DB Juston Burris to the active roster off the Jets' practice squad. A fourth-round pick in 2016, he appeared in 34 games for New York.
---
---