Cleveland Browns
Cleveland Browns
Browns' Gordon feeling forgiven in return from suspension
Published
Nov. 24, 2017 5:20 p.m. ET

BEREA, Ohio (AP) As he builds his body into football shape and develops trust with his teammates, Josh Gordon feels forgiven.
Since returning to the Browns following an indefinite drug suspension by the NFL for numerous abuse violations, Gordon doesn't sense any resentment or anger directed at him.
Only love.
''I do love this environment, these guys here, these coaches here from top to bottom,'' the former All-Pro wide receiver said Friday. ''It's been an all-around conducive environment in what I'm trying to do. There hasn't been any type of negativity or any kind of energy being sucked out of the room or anything like that.
''I'm in a good mental space for me. As long as I feel that myself, the rest doesn't affect me as much. It's all good right now.''
Gordon practiced this week for the first time in 14 months, and as long as he continues to abide by guidelines established in his conditional reinstatement by league Commissioner Roger Goodell, the 26-year-old can play next week in a regular-season game for the first time since the end of the 2014 season.
That's the next step. Until he can take it, Gordon has to stay sober.
Earlier this week, coach Hue Jackson said when Gordon left the team on the eve of last season to enter rehab, he and the Browns were ready to move on from their troubled star.
Jackson, though, had a change of heart when he learned more about Gordon's addiction and background.
Gordon was warmed by Jackson's compassion.
''That just shows the humanity of it. People can make a turn,'' Gordon said. ''People can make a change at any given moment just depending on the situation and the variables in place. For him, it was just being enlightened on the situation. I think that can happen for many people, many fans, and whoever that may have thought they were done with me or wanted to be done with me are giving me another opportunity.
''They kind of just wanted to see it through and I'm glad that he was patient enough to do so, so I appreciate him for doing that.''
Early in his return, Gordon has wowed teammates new and old with his supreme skills, positive outlook and a renewed commitment.
On and off the field, No. 12 has been spectacular.
''He's a playmaker,'' said rookie defensive end Myles Garrett, the top overall pick. ''We want to win and he's one of the best receivers out there. It's been a while since he's been here, he's been off for a while, but he came in with his head up and he wasn't making any excuses for himself.
''He took it face on. He's ready to roll. He's ready to go. And he hasn't lost a step. He came in and he immediately went into the weight room and he was working from Day 1. So that's why we accepted him back so quickly because he's ready to go. He wasn't out of shape, he wasn't taking any time off. When they said he could be back in meetings and practice, he was the first one there.''
Gordon has missed Cleveland's past 43 games and 53 of 58 because of suspensions. While he was away from football, Gordon worked out when he could at a rehab facility in Florida and returned in tip-top physical shape.
Jackson put him with Cleveland's first-team offense earlier this week, a tease for what's to come when the winless Browns (0-10), who visit Cincinnati this week, play the Los Angeles Chargers on Dec. 3.
Gordon said rust hasn't been a problem.
''None that I felt, and none that I was told about, so I felt pretty good,'' he said. ''I think I knocked that rust off prior to getting back into the building.''
He hit the ground flying.
''It's different when you're watching him than actually being on the field with him,'' rookie safety Jabrill Peppers said. ''You can feel the speed going by, and I think us having him back for this week, he was doing what (Bengals receiver) A.J. Green does when he goes against our defense.
''I don't think we can get a better look than that. We're definitely grateful to have him back. I can't wait to see him in action next week.''
---
For more NFL coverage: http://www.pro32.ap.org and http://www.twitter.com/AP-NFL
---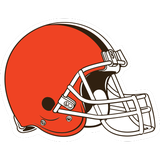 Get more from Cleveland Browns
Follow your favorites to get information about games, news and more
---