Broncos' Siemian trusts he'll get a shot at starting, too
May 3, 2016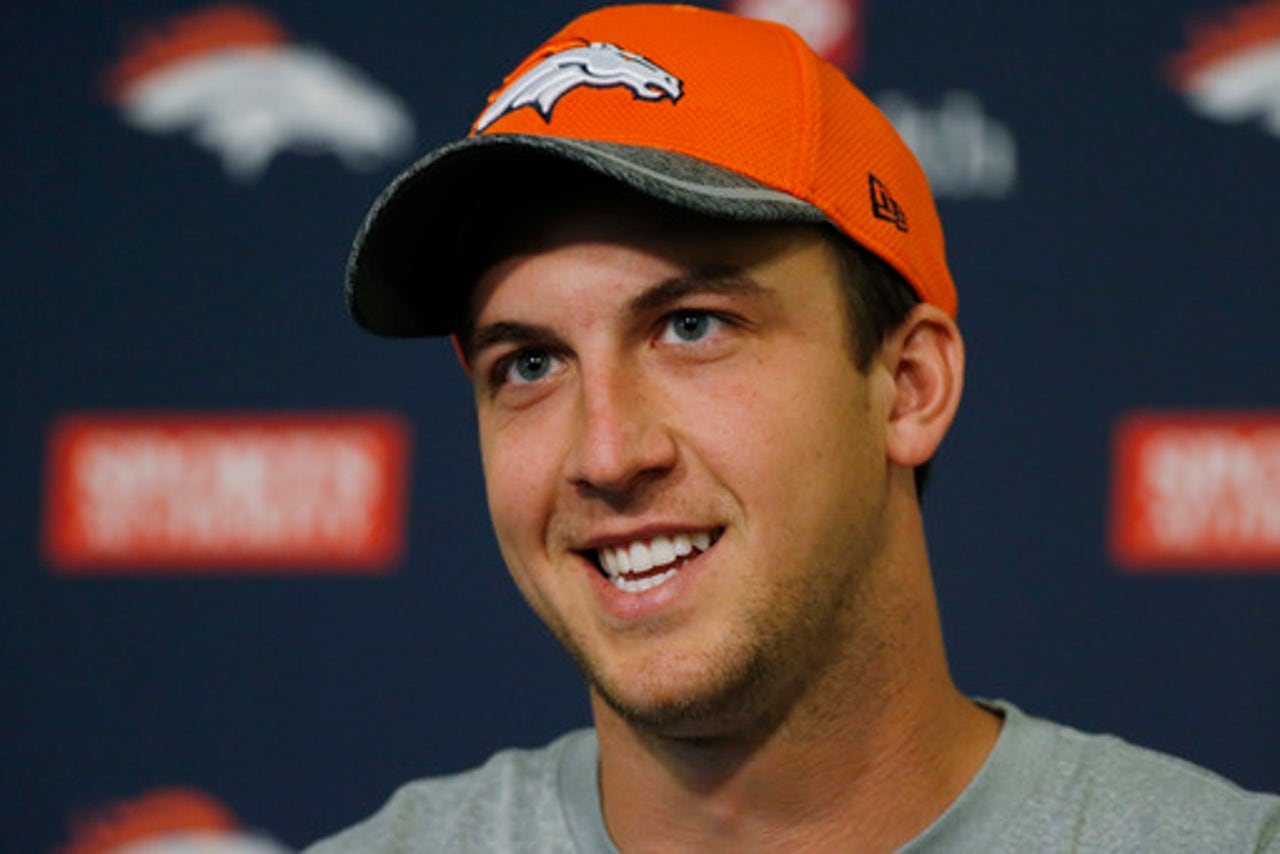 ENGLEWOOD, Colo. (AP) Quarterback Trevor Siemian is stuck between the future and the present, a project in first-rounder Paxton Lynch and a placeholder in Mark Sanchez.
Siemian, a seventh-round draft pick out of Northwestern in 2015, is the only QB on Denver's roster who has taken a snap - albeit just one - in Gary Kubiak's West Coast offense.
He was the only Broncos QB left standing when Brock Osweiler bolted to Houston 48 hours after Peyton Manning's retirement in March.
GM John Elway quickly added Sanchez in a trade with Philadelphia and then last week moved up in the draft to snare Lynch, the mobile Memphis quarterback whom Dallas owner Jerry Jones also coveted, after failing to persuade disgruntled San Francisco QB Colin Kaepernick to take less money for a bigger role in Denver.
Although Sanchez is the front-runner to win the starting job while Lynch ideally gets a year's worth of seasoning, Kubiak and Elway insist Siemian will be given every opportunity to prove he deserves to be under center when the Broncos begin defense of their Super Bowl title.
After all, he served as Osweiler's backup when Manning was injured for seven weeks last season and was one hard hit away from guiding a team that ended up winning it all.
Here's what Kubiak had to say about Siemian competing for the No. 1 job:
''Obviously, we think a lot of him,'' Kubiak said. ''This is going to be a step for him. If a guy makes a big jump, he usually makes it from Year 1 to 2. ... So, it'll be up to him. We'll see. But I think our football team has a lot of confidence in him. I know I do.''
Here's what Elway had to say:
''We are really happy with Trevor and the way that he's played. He's very talented. He's got great arm talent and he's a young guy. He came off an ACL (injury) last year so he will be much better coming in this offseason program. Plus, he's got a year under his belt as far as the offense so he'll feel a lot more comfortable. Trevor is going to compete, too.''
And here's what Siemian had to say about whether he feels he'll have a legitimate shot at winning the job:
''Absolutely.''
Siemian is a man of few words. Nothing flashy. Just businesslike.
Sanchez said Siemian was instrumental in helping him acclimate to the Broncos both in Denver and in California, where the two gathered with some receivers for a passing camp this offseason.
''For a young guy going into his second year and not playing much, he's got a good grip on the system and really helped out in California,'' Sanchez said. ''He was almost like a player-coach in helping me out with reads and footwork and things like that.''
A year ago, Siemian missed the offseason program while recovering from a knee injury but was ready by training camp and quickly earned a roster spot by showing off his strong arm and accurate throws. He would be a few months before he felt 100 percent.
''It's great to be healthy, that's for sure,'' Siemian said. ''It's one less thing off my plate. I'd say probably this time, even in camp I was cleared, but I'm starting to feel a little more normal.''
He said it's his understanding all three quarterbacks will split snaps ''pretty evenly'' and he's eager to show what he can do when healthy.
''It was a great opportunity for me last year to learn a lot obviously from Brock and Peyton,'' Siemian said. ''At this point, I'm kind of getting antsy to apply some of those things I picked up from those guys.''
While he gained confidence serving as the backup for half the season, Siemian cracked that he didn't get enough playing time to erase all the butterflies.
''I might need something more than a kneel-down at the end of halftime,'' he said. ''When Peyton was injured, I was ready to go. I was the No. 2. I was a play away and that was kind of my mindset.''
Notes: The Broncos waived P Will Johnson and S Ryan Murphy. Murphy joined the Broncos' practice squad in November but was sent home from the Super Bowl after being detained and questioned in a prostitution sting in San Jose, California. He wasn't charged in the case and re-signed a futures contract in February.
---
AP NFL website: www.pro32.ap.org and www.twitter.com/AP-NFL
---
Follow AP Pro Football Writer Arnie Melendrez Stapleton on Twitter: http://twitter.com/arniestapleton
---
---