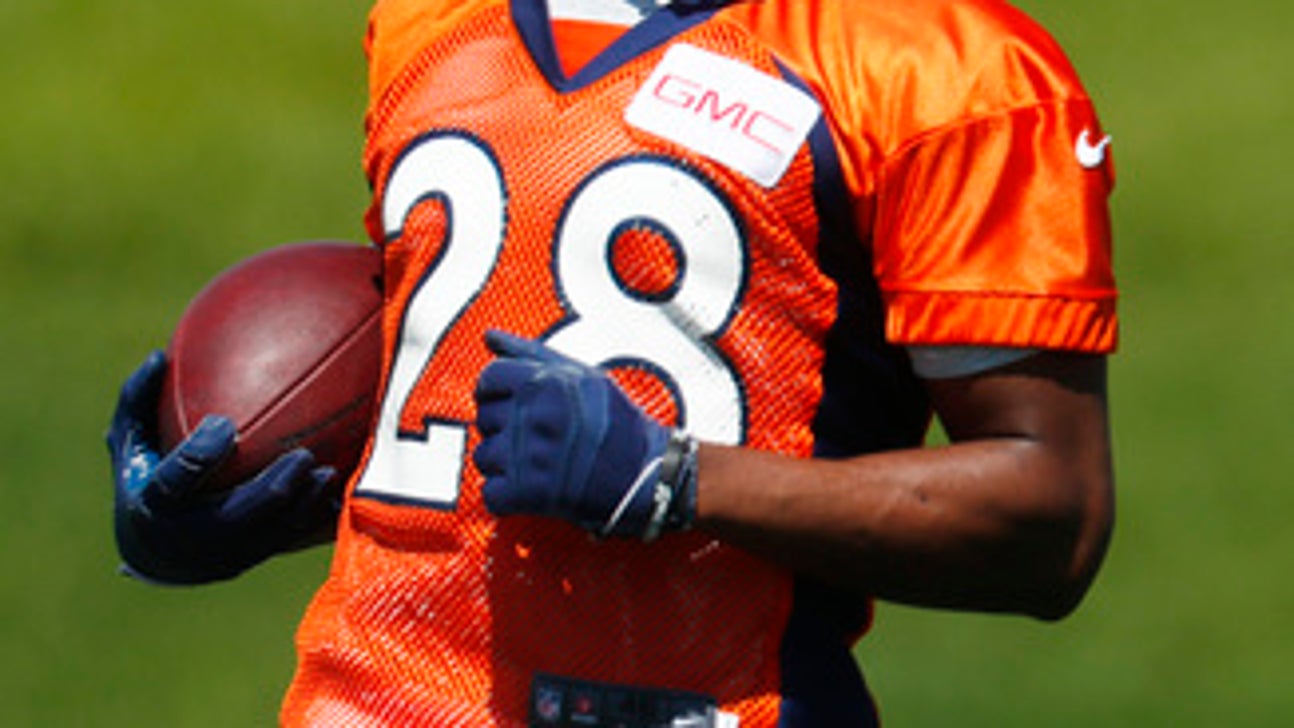 Broncos' Jamaal Charles has put K.C. in his rearview mirror
Updated
Mar. 5, 2020 12:40 a.m. ET

ENGLEWOOD, Colo. (AP) Scribbling ''28'' next to his autograph takes some getting used to for Jamaal Charles, the Kansas City Chiefs' all-time leading rusher who is embarking on a comeback with the AFC West rival Denver Broncos.
''I'm signing 25 still,'' Charles said, chuckling. ''One time they were about to break down the huddle and I was about to say, `Chiefs.'''
Habits may die hard but Charles made it abundantly clear this week that he's moved on from his old team because the Chiefs ''fired'' him after the season.
''I'm just happy to be a Bronco,'' Charles said after donning a helmet and participating in individual running drills for the first time since signing a one-year deal that could be worth nearly $4 million. ''The past is the past. If I was still a Chief, I would be there now. I'm here now. I was fired. Hey, it's a business. I'm excited to be a Bronco.''
Charles, who had to get a new jersey number because 25 belongs to All-Pro cornerback Chris Harris Jr., said Denver has been his dream destination for years.
''I've wanted to be a Bronco since I was a little kid when I looked up to John Elway and saw how he carries his team and Terrell Davis at running back. That inspired me as a little kid,'' Charles said of the two Hall of Famers. ''I just like the way the organization was back then.''
And now.
Charles picked the Broncos, where Elway is now the general manager, for his comeback at age 30 following two years of knee troubles that led the Chiefs to release him.
Charles caught some flak from Chiefs fans on social media recently after former NFL tight end Jermichael Finley posted an old photo of their days together at the University of Texas in which Charles was rocking an Elway No. 7 jersey.
''I've been an Elway fan. You go back on my Instagram, you'll see that way before. That was a throwback picture. That was in college,'' Charles said. ''I'm just excited to be a Bronco right now, so I'm not really caring about what people think. I was fired.''
Coach Vance Joseph reiterated this week that Charles won't participate in team drills until training camp.
''I'm just happy they're being patient with me,'' Charles said. ''I'm happy to come to an organization like this ... where they're just taking it slow with me.''
In nine seasons with the Chiefs, Charles ran for 7,260 yards and 43 TDs and added 2,457 yards receiving and 20 TD catches. But a career that looked as if it would land Charles in the Hall of Fame was derailed by injuries that cut short several seasons in his prime.
He tore his left ACL in 2011 and his right ACL in 2015 and he struggled with his knees last season, when he carried just 12 times for 40 yards in three games before requiring arthroscopic procedures on both knees. After the season, the Chiefs cut him to clear more than $6 million in salary cap space.
If his knees hold up in August, the Broncos envision spot duty for Charles in a mix with C.J. Anderson, Devontae Booker and rookie De'Angelo Henderson.
Charles, however, imagines a much bigger role in the Broncos backfield, which ranked 27th in the league last year with just 92.8 rushing yards per game, a big reason Denver missed the playoffs a year after winning the Super Bowl.
''I want to show up and compete with my teammates and show them that I am good and that I am still at the top of my career,'' Charles said. ''It is important to me. When I left Kansas City, I was still at the top. It's just the injuries. As long as I can control injuries - you really can't control it. The best thing is you just wish for good luck.''
---
For more NFL coverage: http://www.pro32.ap.org and http://www.twitter.com/AP-NFL
---
Follow Arnie Melendrez Stapleton on Twitter: http://twitter.com/arniestapleton
---
---