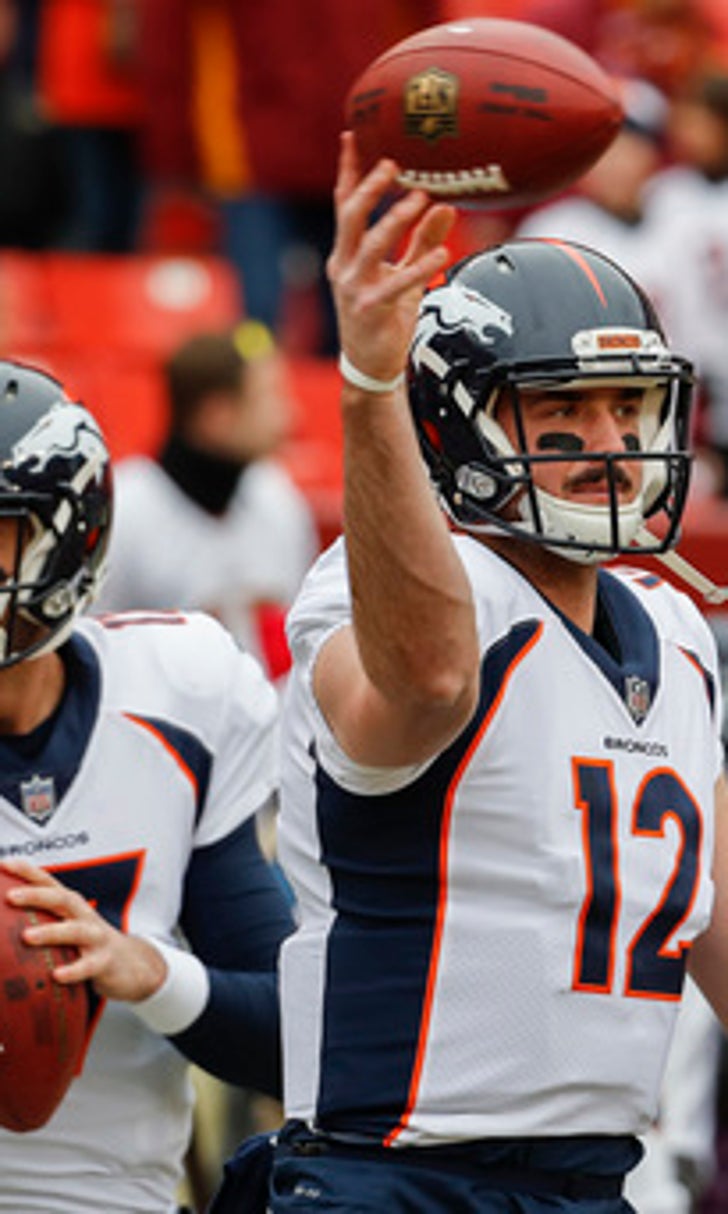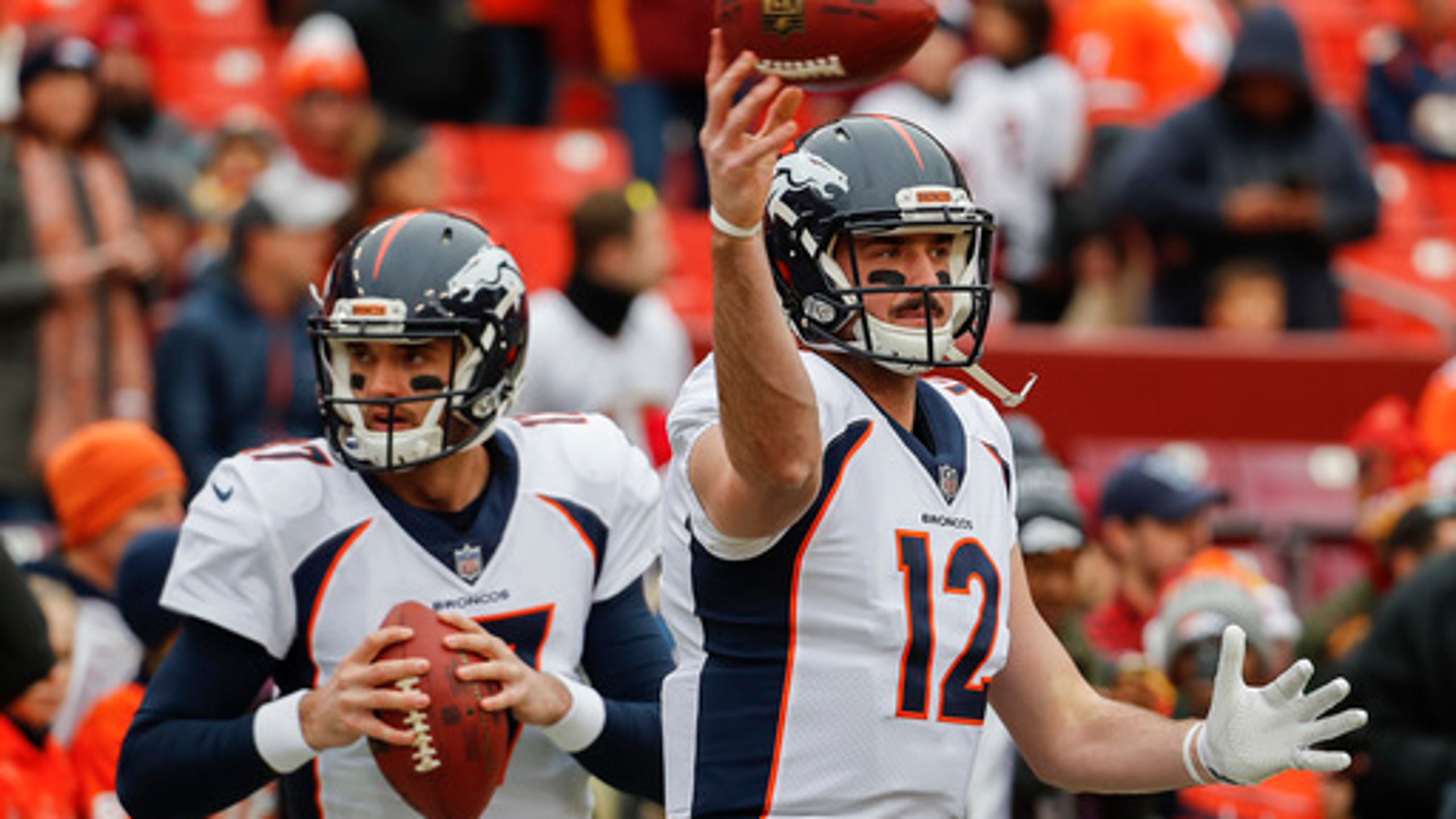 Broncos declare Paxton Lynch the starter for finale
BY AP • December 26, 2017
ENGLEWOOD, Colo. (AP) The Denver Broncos will start Paxton Lynch in their season finale against the Kansas City Chiefs - providing he can play on his sprained left ankle that's sidelined him for more than a month.
''He wasn't quite ready last week. Hopefully, he's ready to go this week,'' coach Vance Joseph said Tuesday. ''That's the plan to start Paxton this week.''
Joseph insisted the top priority for the Broncos (5-10) is to beat the Chiefs (9-6), who won the AFC West crown for the second straight season and could treat Sunday's game in Denver like a playoff bye.
''Not saying if he's playing we can't win,'' Joseph said. ''He's going to be our quarterback, so we expect to win.''
Joseph said it doesn't matter if Lynch is facing backups, he still wants to get another look at the team's 2016 first-round draft pick who has only started three NFL games.
''We don't care about the Chiefs as far as who they play,'' Joseph said.
Lynch sprained his left ankle in his only start this season, on Nov. 26 at Oakland, and spent the fourth quarter that day sobbing on the bench while Trevor Siemian engineered two touchdown drives in the Broncos' 21-14 loss.
General manager John Elway wanted Lynch to play last week at Washington but he was deemed unready, so Brock Osweiler got the nod in Denver's 27-11 loss to the Redskins.
The decision to make yet another change at quarterback was met by seeming indifference in the locker room, where the Broncos have long been playing out a soured season that began with promise but was ruined by an eight-game losing streak.
''That's the decision they're going with, so we're going to be behind that decision as a team and as an offense,'' receiver Jordan Taylor said. ''So, I'm looking forward to seeing Paxton get out there and work.''
At practice last week, ''he looked good. He might have been kind of favoring the ankle, didn't know how much he wanted to test it out last week,'' Jordan said. ''So, I expect him to be looking a lot crisper this week and a lot more confident in that ankle.''
The yearlong QB juggling has kept the offense from finding any rhythm.
''If we fix a couple of things early in the season, Trev might still be the starter. If we fix some things with Brock, he still might be the starter,'' receiver Bennie Fowler III said. ''So, I think it's on everybody.''
Osweiler was so flustered by the Broncos' poor play against the Redskins that he ranted along the sideline while his offensive teammates sat in seeming indifference to his pleas, a scene that was captured by television cameras and sparked discussions about how disengaged the Broncos appear.
''I was trying to ignite the offense. I felt like we were leaving too much out there,'' Osweiler explained afterward, adding the offense's play was ''embarrassing and unacceptable.''
Joseph said he had heard about Osweiler's sideline rant but hadn't watched it on film.
''He provides a leadership quality that we haven't had on offense from that position in my opinion,'' Joseph said. ''If Brock's doing that, it's for the good of our football team.
''I'm not surprised it happened and I'm encouraged by it because we need more of that. We need more players pushing players. We need more players helping our young guys become pros. I'm not opposed to that at all, that's a good thing in my opinion.
''Now, who was listening? I'm not sure. I didn't see it, but we need guys pushing other players and that's the quarterback's role. I'm not opposed to Brock doing that.''
But is he opposed to Osweiler's teammates seemingly ignoring their quarterback?
''I didn't see it,'' Joseph stressed. ''I don't know who was engaged and who wasn't engaged ... but I encourage Brock to lead.''
That's something he'll have to do from the sideline Sunday apparently.
Lynch has regressed since his dismal rookie season, when he threw for 497 yards with two TDs and one interception in 10 quarters of work behind Siemian, who soundly beat him out for the starting job again this summer.
Lynch hurt his left shoulder in the preseason and missed almost three months. In his only action this season, he completed 9 of 14 passes for 41 yards with no TDs, an interception and four sacks against the Raiders.
Joseph also said he'd like to see C.J. Anderson gain the 54 yards he needs to become the first Broncos running back since Knowshon Moreno in 2013 to top 1,000 yards rushing.
The Broncos chose to activate rookie De'Angelo Henderson (one run for minus-3 yards) last week, which meant Jamaal Charles was a healthy scratch for the first time this season.
Joseph said the Broncos haven't considered releasing Charles, who has 296 yards and one touchdown on 69 carries and 129 yards on 23 receptions this season.
Charles said he's certainly thought about the Broncos releasing him.
''I ain't playing. Might as well,'' he told the Denver Post. ''No reason for me to just sit around and look at people play.''
---
For more NFL coverage: http://www.pro32.ap.org and http://www.twitter.com/AP-NFL
---
Follow Arnie Melendrez Stapleton on Twitter: http://twitter.com/arniestapleton
---
---