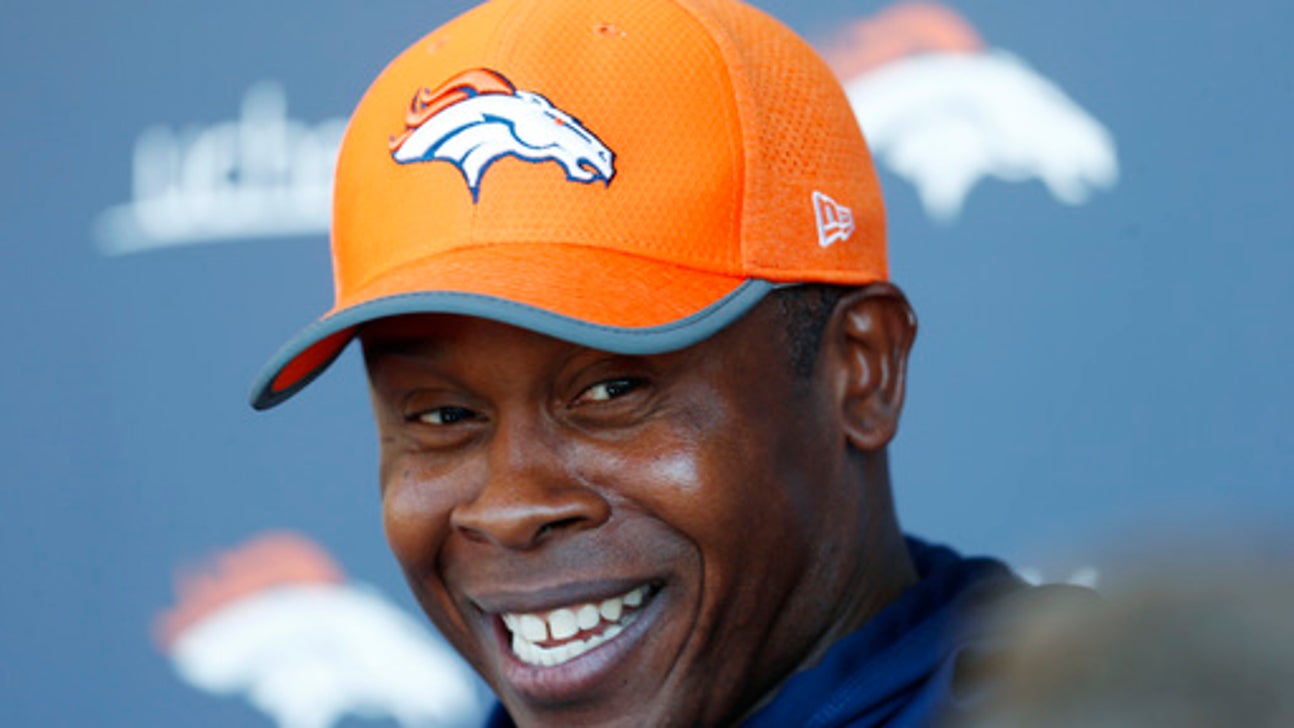 Broncos coach says QB competition hasn't really begun
Updated
Mar. 4, 2020 2:48 p.m. ET

ENGLEWOOD, Colo. (AP) The biggest offseason position battle in the NFL - the Denver Broncos quarterback sweepstakes featuring Paxton Lynch and Trevor Siemian - has been nothing but a tease.
Coach Vance Joseph said Tuesday that the evaluation won't truly start until training camp next month.
So, all those spectacular deep throws from Lynch sprinkled in between the bad choices and awful chucks were all for naught. Same with all those safe, short passes from Siemian surrounded by all those throws batted down at the line.
The quarterback competition has been one of the most hotly debated topics in Denver this offseason. Linebacker Brandon Marshall put it best when he said Lynch, the 2016 first-rounder, had ''the arm that you dream of,'' and Siemian, the surprise successor to Peyton Manning last year, has ''the mind that you dream of.''
Yet, it turns out all that chatter online and on the airwaves about who was ahead in this race was just click bait or a ratings magnet, because Joseph said the offseason program has simply been a time to learn the new offense being installed by Mike McCoy.
On the first day of the Broncos' mandatory minicamp Tuesday, both quarterbacks were mistake-prone one snap and magnificent the next.
''They're both getting better. Again, it's hard to give a true evaluation right now with these guys because there's so much learning going on. It's been positive plays by both guys. It's been big throws by both guys. It's been some terrible throws by both guys,'' Joseph said.
''Our mind-set has not changed. That's going to start more in the fall, so as we watch these guys, we're just coaching and trying to improve every day so when we get to the fall we'll have a true evaluation.''
Let everyone else debate who is winning. Joseph and his staff are waiting.
''This part? Probably zero to none, guys, to be honest,'' Joseph said when asked how much the offseason program counts in the quarterback competition. ''It's going to be won on the field. It's going to be won in the games in preseason. And that's the way evaluation starts, in my opinion.''
Joseph said he has no timetable to make up his mind, either.
''It can be the first week of camp; it can be the end of the preseason, I'm not sure,'' he said. ''When I see a clear separation, I'll call it off.''
Siemian and Lynch said they have viewed the competition thus far as merely a prelude, one in which they face the ''No Fly Zone'' secondary and pass-rusher extraordinaire Von Miller on a daily basis.
''I think for all of us we're all learning now,'' Siemian said. ''We're not a finished product as an offense, and probably as a defense, too. So, it's a good time for us to learn. We're getting a bunch of team reps, which is a good thing for us. So, a lot of learning, a lot of young guys learning, too, so I'm looking forward to camp.''
So is Lynch.
''I obviously believe in myself and believe in my abilities and what I can do,'' Lynch said. ''So, I just really wanted to come out here for OTAs and these next two days of camp and just fine-tune everything and just feel good going into the break.''
FULL DECK: Joseph said the Broncos don't plan on pursuing veteran wide receiver Eric Decker , who was released by the Jets on Monday.
''We've drafted two young guys that we're excited about,'' Joseph said of Carlos Henderson and Isaiah McKenzie. ''It's a full room, guys. ... So, we can't add anyone right now. We're satisfied with what we've got in that room. It's a competitive room, it's a full room.''
Decker spent his first four NFL seasons in Denver.
NOTES: DT Kyle Peko left practice with a foot injury. ... Max Garcia moved back to left guard and Ronald Leary moved over to right guard. ''Hopefully that's a better mesh for us,'' Joseph said. ''We think Max is more comfortable playing left and Ronald, he doesn't care.'' ... First-round pick Garett Bolles alternated with Ty Sambrailo at left tackle every other series. Bolles had been working with the second team. ... The Broncos' O-line got into it with DE Derek Wolfe twice. ''I'm not (surprised) at all. That's his personality,'' Joseph said. ''But I'm excited to see our guys make a stand offensively.''
---
For more NFL coverage: http://www.pro32.ap.org and http://www.twitter.com/AP-NFL
---
Follow Arnie Melendrez Stapleton on Twitter: http://twitter.com/arniestapleton
---
---