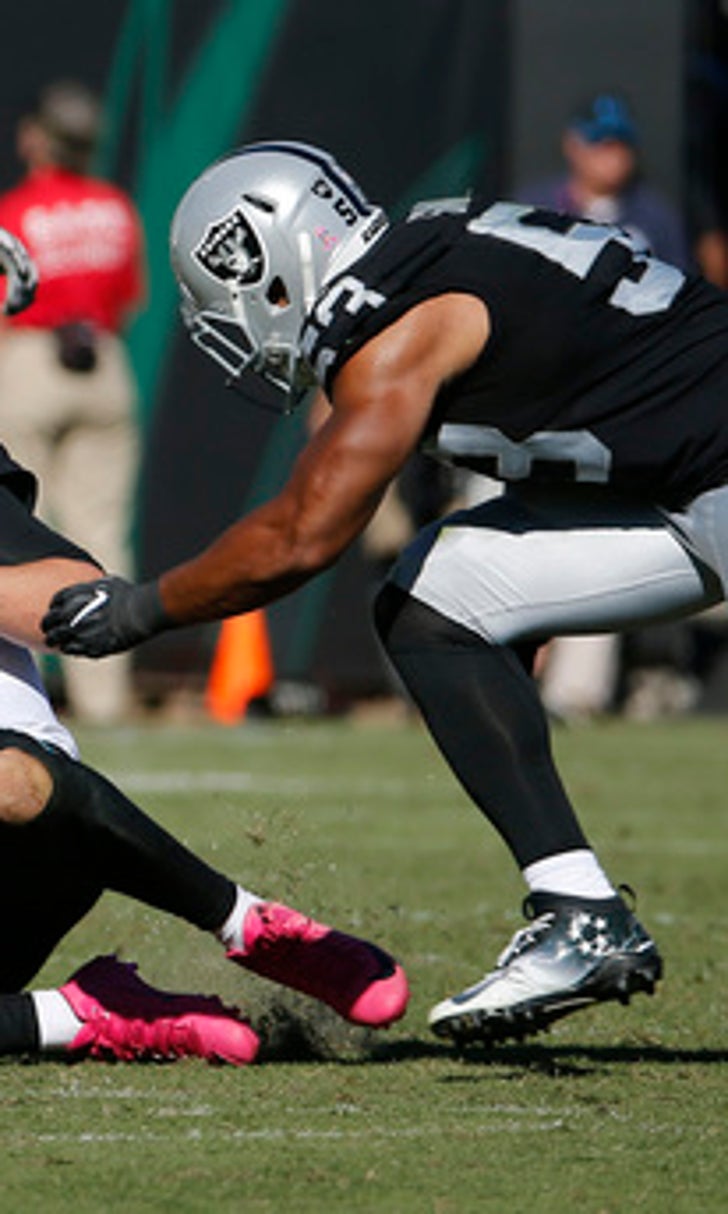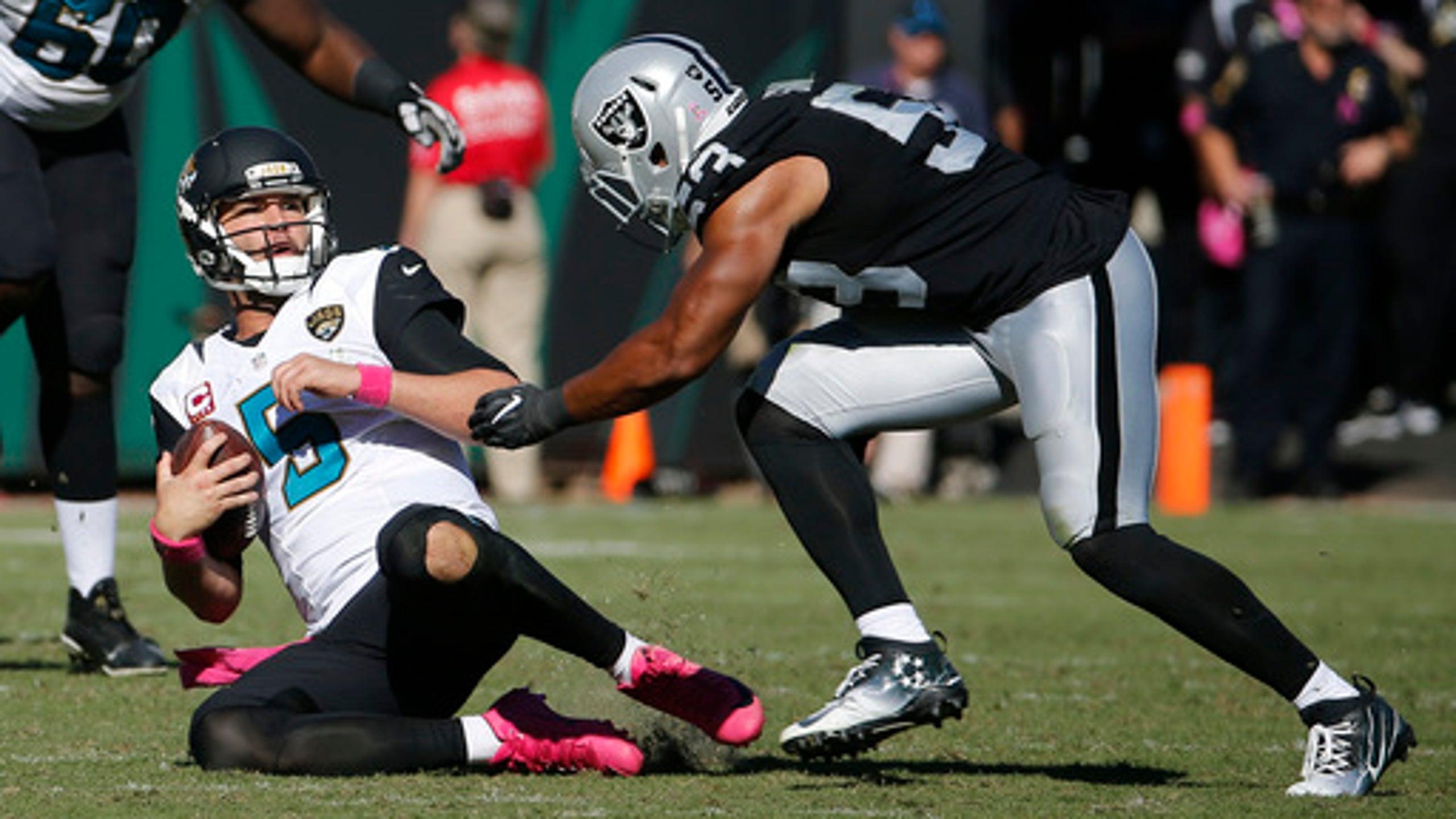 Bradley says 'I firmly, firmly believe in Blake Bortles'
BY foxsports • October 24, 2016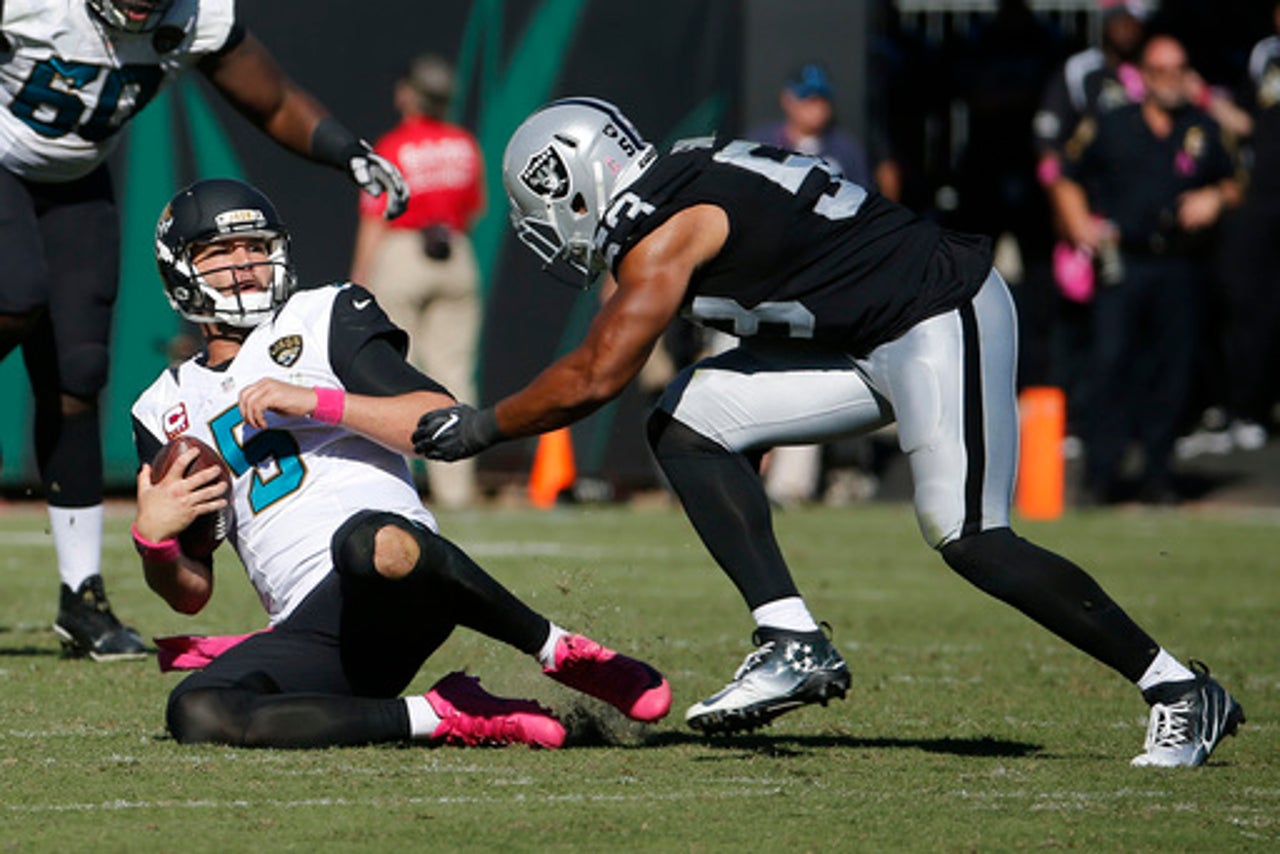 JACKSONVILLE, Fla. (AP) Jacksonville Jaguars quarterback Blake Bortles insists his confidence isn't shaken despite playing the worst football of his NFL career.
It probably helps that coach Gus Bradley has his back.
''I firmly, firmly believe in Blake Bortles, without a doubt,'' Bradley said Monday, a day after a 33-16 home loss to Oakland. ''I think it was a challenging day (with) some of the situations we were in, but as far as a competitor and tough and what he brings to this team, there is no doubt.''
The Jaguars should have, at the very least, some concerns about whether the third-year-pro is a long-term solution. In several games this season and especially against the Raiders, Bortles showed no touch, no timing and no sense that he's capable of turning things around on a consistent basis.
His inaccuracy continues to be a major concern, along with his penchant for turnovers and his less-than-ideal mechanics. His ultra-long windup is giving defenders extra time to break on passes, and those three-quarter-sidearm throws make the 6-foot-5 Bortles play more like a 6-footer. He is tied for the most passes batted down at the line of scrimmage (7).
He has nine touchdown passes, nine interceptions, two fumbles and a rushing score. Sure, he's been plagued by some drops and a little bad luck with balls that should have been caught ending up getting picked.
But he also has benefited from two somewhat-fluky touchdowns. Allen Hurns turned a 4-yard out into a 42-yard touchdown in London when he broke an arm tackle, outmaneuvered five defenders on a sloppy field and found the end zone. Two weeks later in Chicago, Arrelious Benn slipped while catching a low throw, then got up, took advantage of a defender who also fell and went untouched for a 51-yard score.
Without those plays, the Jaguars probably would be winless in 2016.
What's more certain is Bortles has regressed from last season, when he finished with 35 touchdown passes and looked poised to take another significant step in Year 3. Instead, he's been one of the franchise's biggest problems.
He completed 23 of 43 passes for 246 yards Sunday against the league's worst-ranked defense. He had a garbage-time touchdown to Julius Thomas that was nearly picked, and two interceptions.
He failed to look off a defender and threw a pick in the end zone in the first quarter. He badly underthrew Marcedes Lewis down the field early in the second and wildly zipped one wide of Thomas.
''I missed some throws,'' Bortles said after the game. ''It happens every Sunday in any game you watch. It's part of playing football. Obviously, you don't want to do that. You want to make every throw. Sometimes you miss them, so it's a continuous work in progress (to) find ways to get better, find ways to throw the ball to our team and try to put up more points.''
Although benching Bortles might seem like an option, it's not for the Jaguars - at least not now. They have a short week before playing at Tennessee (3-4) on Thursday night. It's also the start of a tough stretch in which Jacksonville plays four road games in five weeks.
Bortles isn't the offense's only issue, either:
-The line has been among the worst in the league, failing to open holes for running backs and allowing 15 sacks in six games.
-Pro Bowl receiver Allen Robinson has looked lost at times, struggling to create separation and get open against double teams, and he's dropping passes early and often. His touchdown-turned-interception last week at Chicago was a game changer for Jacksonville. Instead of getting points on the opening drive, the Jaguars seemed deflated right from the start and barely recovered.
''We're just not doing enough of those things right,'' Bradley said. ''It feels like a broken record. We've bounced back from it. We see some resilience. ... The fight and all that is there, it's just we're not taking advantage of opportunities, especially in the red zone offensively.''
-And the defense has provided Bortles little help in terms of creating turnovers and giving him better field position.
''It falls on all of us,'' Bradley said. ''It falls on me as a head coach, falls on the defense for not getting the ball, enough turnovers, and it falls on not taking advantage of opportunities in the red zone.''
---
AP NFL website: www.pro32.ap.org and AP NFL Twitter feed: http://twitter.com/AP-NFL
---
---