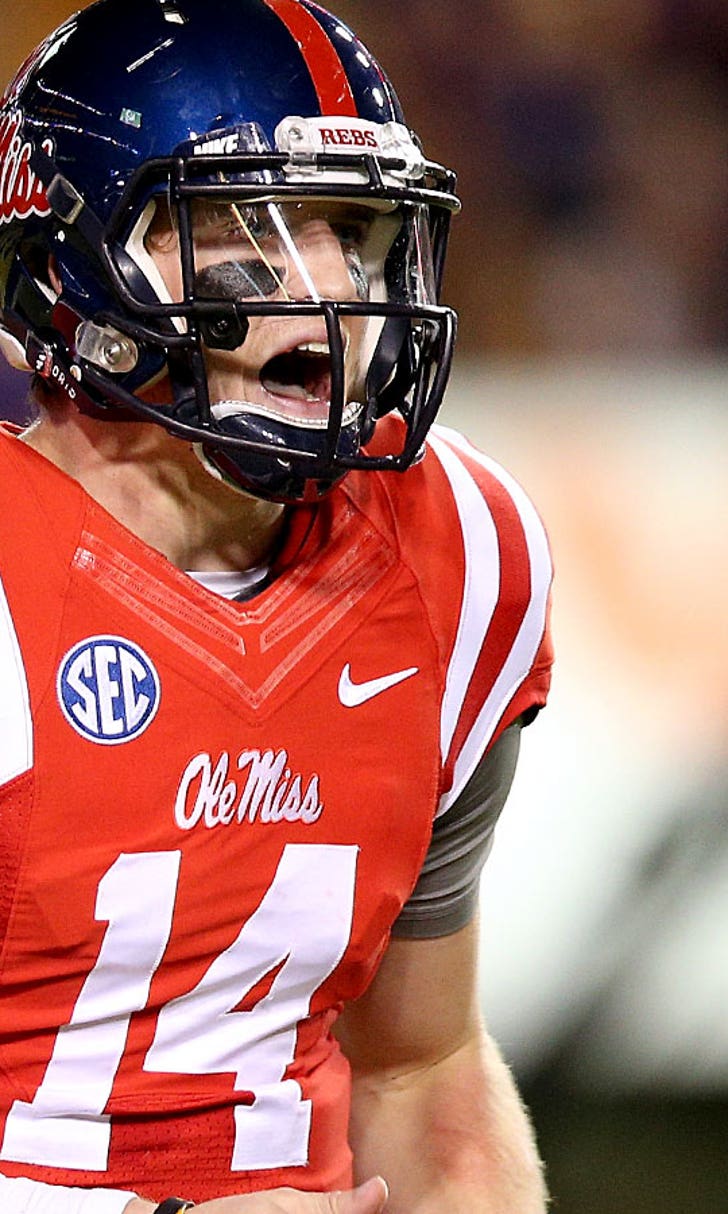 Bo Wallace channels energy toward next level
BY Ross Jones • February 11, 2015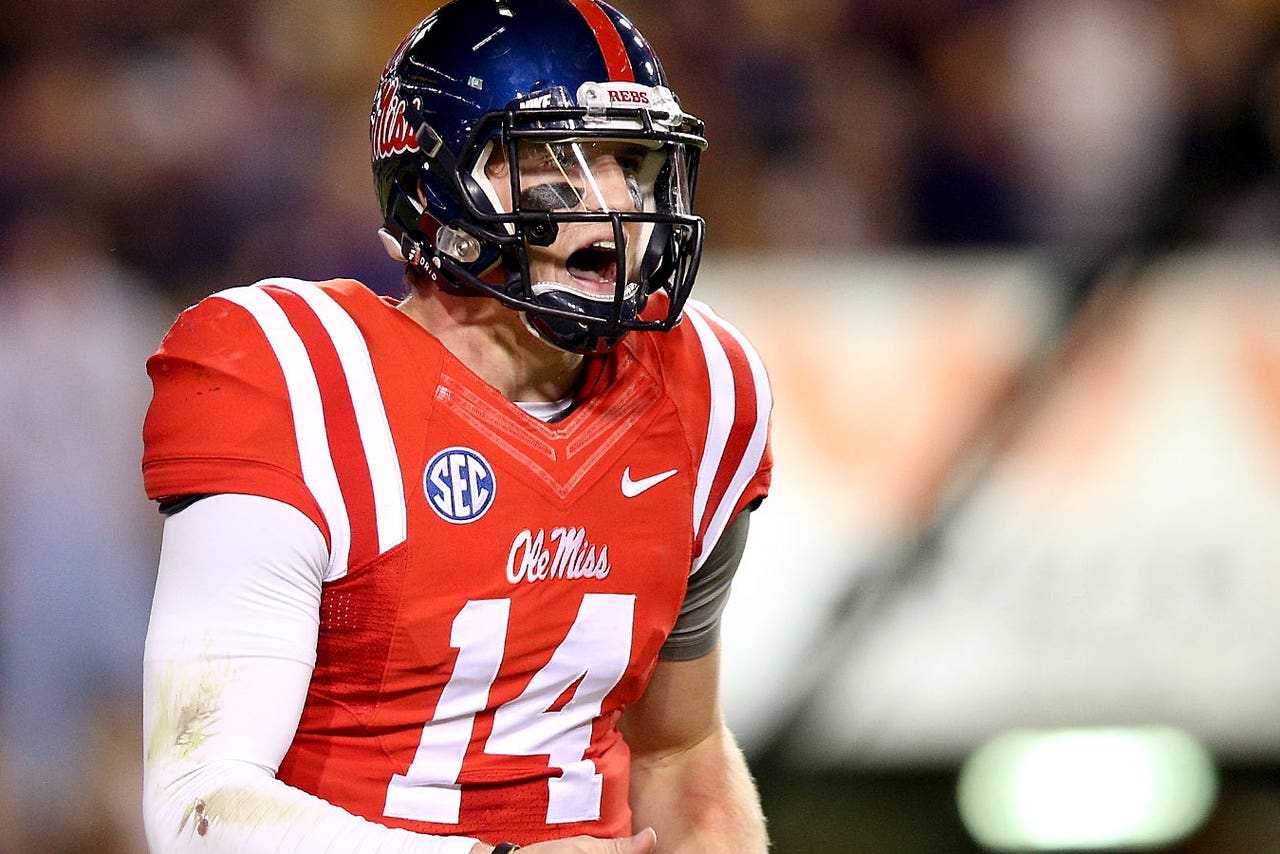 HOLLYWOOD, Calif. — Showing no symptoms of the severe high right ankle sprain that sabotaged the last three games of his senior season, former Ole Miss quarterback Bo Wallace steps into the gym just after noon.
On this day, like every other over the  past five weeks, Wallace enters Unbreakable Performance, a boutique training facility perched above the Sunset Strip.
Wallace's daily routine includes rehabbing the ankle with Dr. Patrick Khaziran, throwing with his QB coach John Beck at USC and working on his agility and conditioning.
Donning an Ole Miss T-shirt, cherry red shorts and worn Nikes, the 6-foot-4, 217-pound quarterback's 90-minute workout features band-resistance training, lateral movement drills and exercises meant to strengthen the core.
More than a month has passed since the Rebels' nightmarish performance against TCU in the Peach Bowl. Wallace is recharged mentally and physically from the roller coaster season, in which he stood on top of the college football world and poised for a playoff run one minute, then heartbroken after a crushing loss to Auburn the next. His team rebounded by upsetting its in-state rival only to follow that performance with an embarrassing display in Atlanta.
Admittedly, it took him weeks for memories of that TCU game to not replay in his mind. Now, he's zeroed in on what lies ahead.
Without an invite to next week's NFL Scouting Combine, Wallace isn't discouraged. The competitive fire burns brighter than ever.
"It's a mystery to me and frustrating," Wallace said, referring to not being one of the 15 quarterbacks headed to Indianapolis. "If you look at my numbers and the way I played in some big games, I don't see how I wasn't invited."
"With that said, I have the mind-set that I'm going to focus on the things that I can control. That's my pro day. I have to have the best day that I can have."
Three weeks remain before Wallace throws in front of NFL scouts, coaches and general managers. Each day is an opportunity to get better.
"There's no days off with Bo," Wallace's trainer Gabe Rangel said. "You can tell he comes from a good program because he takes it so serious. He's a grinder. He's here every day. He knows what he has to do and what he needs to surround himself (with) and he gets stuff done."
However, there's concern that his last impression in college affected how some teams might project him in the next level.
During the three-game span when Wallace played on one ankle, the other numbed by the painkilling injection Toradol, his performance dramatically sank. In those three games, his season-long completion percentage dropped from 68.4, ranking in the top five nationally and equal to that of Heisman winner and potential first-overall pick Marcus Mariota, to a pedestrian 60.1, ranking 54th nationally. Wallace's 46.4 completion percentage, six interceptions and no touchdowns over that three-game span underscored his critics' belief that he can't overcome his inconsistencies.
"I felt like there was a stretch during the season where I was making great decisions," Wallace said. "I was really locked in and tuned in. Most of the time I do make the right decisions, just sometimes I can make one crucial decision that looks really bad."
Wallace certainly had his share of shining moments last season, leading Ole Miss to a 7-0 start and its first top-five ranking since 1964. His three-touchdown performance and perfect QB rating (158.0) in leading a come-from-behind win over Alabama was his highlight of the season, and Wallace led the Rebels to three victories over top-10 teams in his three years at Ole Miss. Wallace leaves tied with Eli Manning as the winningest quarterback in school history, an impressive feat considering the program was 2-10 and had lost 14 straight SEC games when he arrived. Wallace is hopeful NFL teams will consider his full body of work when evaluating his professional prospects instead of focusing on his last three games.
"He could barely move and step into throws when he first got here," Beck said. "I bet Bo was playing at 60 percent during the season. Any quarterback knows just how important ankles are, especially if you're a right-handed quarterback and if your right ankle is hurt. That's the one that you plant and drive off of. It affects everything."
The injury lingered so long that Wallace was unable to accept an invitation to play in the NFLPA Collegiate Bowl last month in Carson, Calif.
Statistically, Wallace ranks among the top eight quarterbacks in this draft class, according to DetroitLionsDraft.com's Darren Page, who charted every throw for 10 to 12 games for each passer, accounting for drops, throw-aways and distance. Page's game-by-game charting also illustrates the degree to which Wallace's post-injury play dropped off.
"When we sit and analyze his throws with him, we see there's room that he can improve," Beck said. "He's not a guy who is at his ceiling. Not at all. There's room for him. He will improve in mechanics and arm strength. That's what will intrigue some teams because he can grow and evolve as a passer."
Jockeying for an opportunity, Wallace wants league personnel to know one thing about him: "I just want to win. I'm competitive as hell. If you ask any of my teammates, they'll tell you nobody wants to win more than me."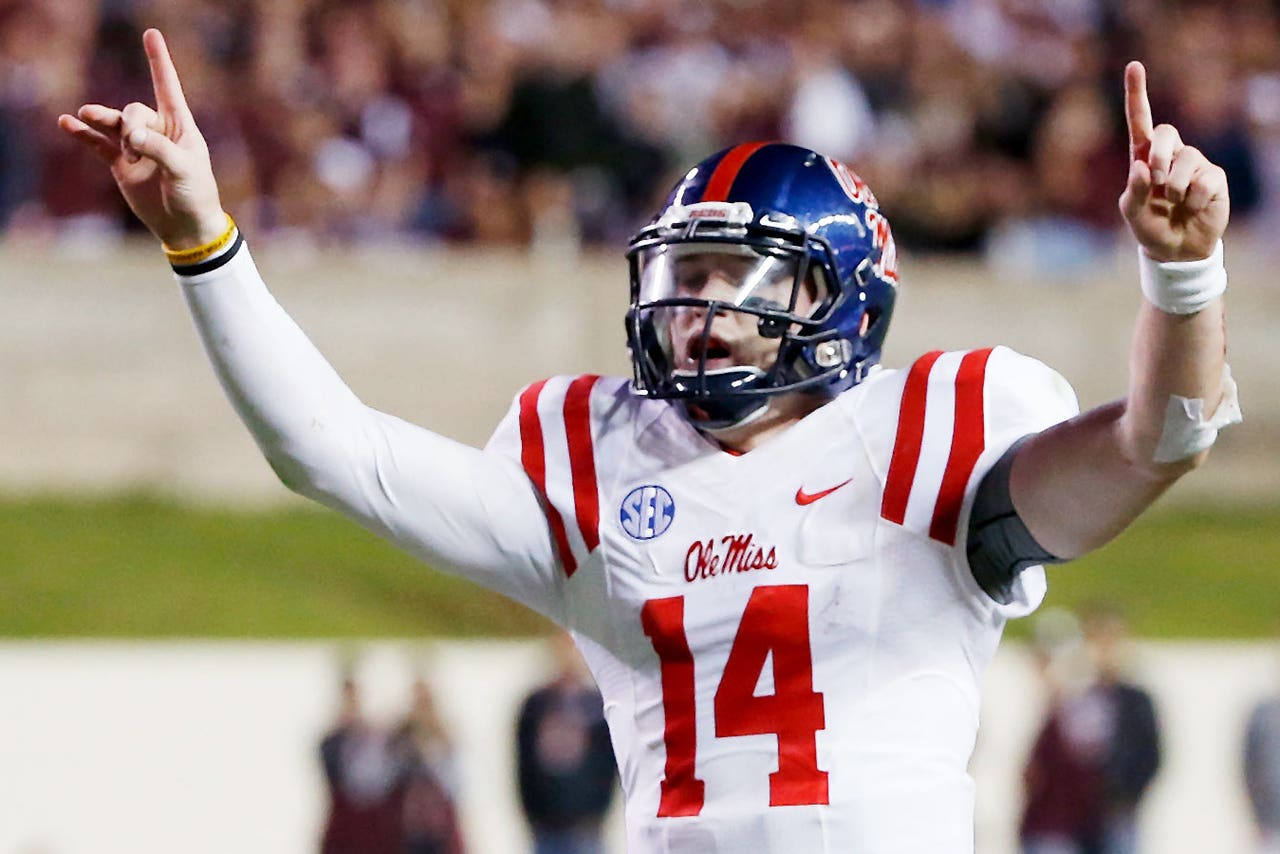 Bo Wallace threw for 3,194 yards, 22 touchdowns and 14 interceptions in 2014.
---
---