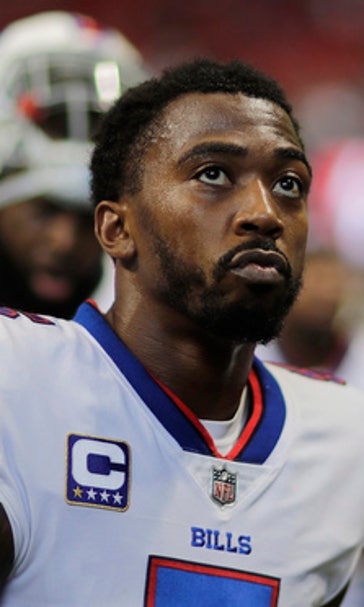 Bills starter Tyrod Taylor acknowledges he can play better
October 18, 2017

ORCHARD PARK, N.Y. (AP) Bills quarterback Tyrod Taylor doesn't need to hear from his detractors to realize his share of shortcomings.
The third-year starter did the math Wednesday, when asked to evaluate his performance through five games.
''Right now as a team we sit 3-2,'' Taylor said. ''It's time for us as a team, and time for me as a quarterback to separate from the pack and do whatever it takes to win.''
For Taylor and the Bills, coming out of their bye week, that process begins Sunday, when Buffalo hosts Tampa Bay (2-3).
Taylor was initially defiant in deflecting questions regarding the inconsistencies that have clouded his term in Buffalo.
''We're here to talk about Tampa Bay and getting ready for that,'' he said.
Taylor eventually acknowledged it's within his power to change the narrative by once and for all proving capable of being a long-term starter for a franchise that's lacked one since Hall of Famer Jim Kelly retired after the 1996 season.
''I welcome that opportunity. I'm excited for it,'' he said.
It's been so-so, so far for the 28-year-old with a career record of 18-16.
Taylor has yet to top 225 yards passing this season, and overseeing an offense that hasn't produced 300 yards since gaining 408 in a season-opening 21-12 win over the New York Jets.
Injuries to an already thinly experienced group of receivers have been a factor. Starter Jordan Matthews has missed one game with a broken thumb, and also missed most of the preseason with a chest injury after being acquired in a trade with Philadelphia.
And now Taylor's top target, tight end Charles Clay, is out indefinitely with a left knee injury.
It also doesn't help that Taylor's adjusting to an entirely new group of wide receivers after Sammy Watkins was traded, and Robert Woods and Marquise Goodwin left in free agency. Taylor is also adapting to a new offensive philosophy under coordinator Rick Dennison.
On the bright side, Taylor has been efficient in completing 85 of 136 passes for 910 yards with six touchdowns and two interceptions.
What remains a concern is Taylor's inability to rally the Bills from deficits, something that was an issue his previous two seasons.
Taylor has won just twice when Buffalo's trailed in the fourth quarter. And he has a 2-16 record when the Bills fall behind by four or more at any point of a game.
Taylor's record in those situations ranks 28th out of 29 quarterbacks with 20 or more starts since 2015, according to an analysis by The Associated Press from Pro-Football-Reference.com statistics.
Only three quarterbacks - Kansas City's Alex Smith (12-7), New England's Tom Brady (9-7) and Dallas' Dak Prescott (7-5) - have winning records over that span, while 20 have won at least six times.
Some of the NFL's top passers have losing records, including Green Bay's Aaron Rodgers (5-13) and Indianapolis' Andrew Luck (5-11).
Taylor's struggles, however, are magnified because eight of his losses have been decided by six points or fewer on a team in the midst of a 17-year playoff drought - the NFL's longest active streak.
Rookie coach Sean McDermott doesn't consider Taylor's record in those situations to be a negative.
''The thing I love about that is the fact that we were in those games,'' McDermott said.
The downside is Taylor failed to engineer scoring drives on the last possession of both losses this season.
He threw an incompletion to Zay Jones at the Panthers 2 on fourth down in the final seconds of a 9-3 loss at Carolina on Sept. 17. Two weeks ago, Buffalo's final possession ended with Taylor being intercepted in a 20-16 loss at Cincinnati.
''Tyrod's working hard to continue to improve,'' McDermott said. ''I've got all the confidence in the world in Tyrod Taylor.
Questions regarding Taylor's long-term status have never gone away even after he signed a five-year contract extension in August 2016 that was supposed to kick in this past March.
The Bills, however, had a change of heart and were prepared to opt out of the contract before Taylor agreed to have it reduced to a two-year term.
The shortened contract plus his inconsistencies have led to Taylor being an easy target for critics.
Taylor insists he doesn't hear them.
''It comes with the job,'' Taylor said. ''I'm a focused guy.''
NOTES: Matthews was cleared to return to practice and worked out on a limited basis Wednesday, though his status is uncertain for Sunday. ... LB Tyrell Adams was claimed on waivers a day after being released by Oakland. ... LB Deon Lacey was released. ... CB Sammy Seamster was signed to the practice squad.
---
For more NFL coverage: http://www.pro32.ap.org and - http://www.twitter.com/AP-NFL
---
---