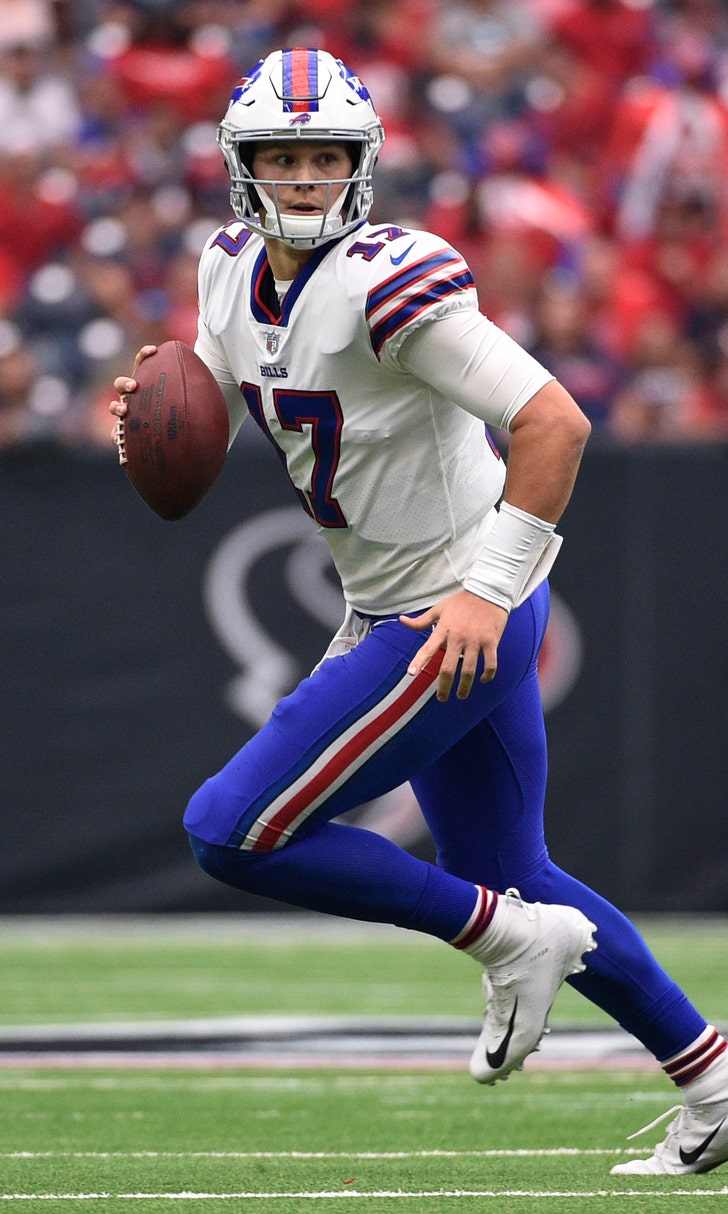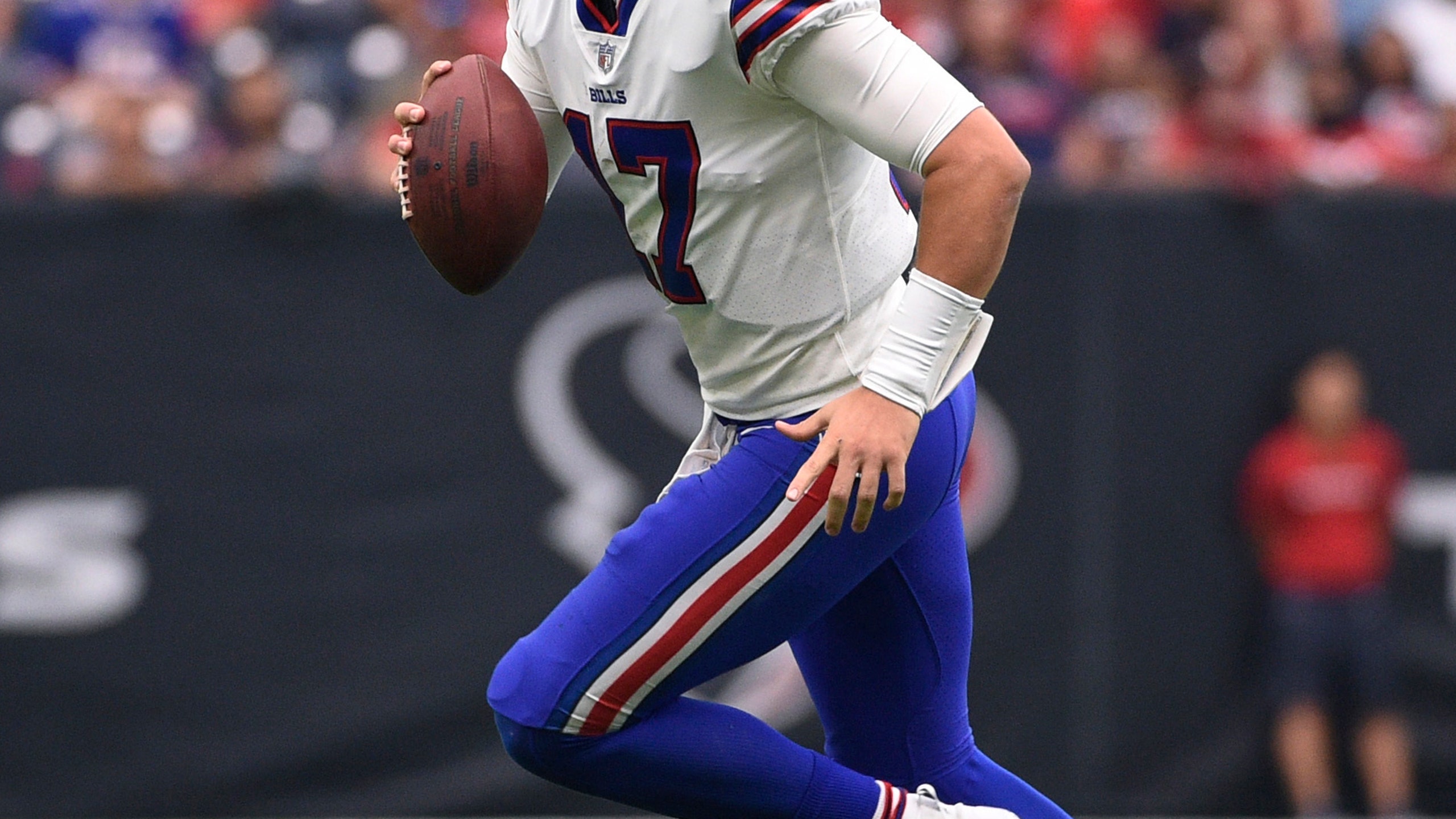 Bills coach: QB Allen will regain starting job when healthy
November 12, 2018
ORCHARD PARK, N.Y. (AP) — It appears as if journeyman quarterback Matt Barkley's successful debut as the Buffalo Bills starter will be limited to one outing.
A day after a 41-10 win at the New York Jets, in which Barkley breathed life into an anemic offense in his first NFL start in nearly two years, coach Sean McDermott on Monday announced rookie Josh Allen will reclaim the starting job once he's healthy.
With the Bills entering their bye week, there's a very good chance of Allen being back behind center on Nov. 25, when Buffalo (3-7) next takes the field hosting the Jacksonville Jaguars.
"Josh is our starter when healthy, and his development is important for him and for us as we move forward, getting experience," McDermott said. "You've seen a lot of quarterbacks this season play, and it's important that he gets as many reps as he can get in live game action."
One quarterback who will no longer be in the mix is turnover-prone backup Nathan Peterman, who was released by the Bills later in the day.
Allen is 2-3 as a starter, and has missed four games since spraining his right throwing elbow. The first-round draft pick began testing his arm on Nov. 2, and spent all of last week practicing on a limited basis. He wasn't ruled out from playing against the Jets until Saturday.
McDermott said Allen continues to make progress and threw passes earlier in the day.
Allen's status, however, doesn't diminish what Barkley accomplished in helping Buffalo snap a four-game skid less than two weeks after signing with the Bills.
"I liked the look in his eye and the energy he gave our offense," McDermott said of Barkley, now on his sixth team in six seasons.
In being the fourth quarterback to start for the Bills this season, Barkley was the first to complete two touchdown passes, including one to left tackle Dion Dawkins, and finishing 15 of 25 for 232 yards passing. He oversaw an offense that set season-highs in points, total yards (451), yards rushing (212), first downs (23) and converted eight of 16 third-down opportunities.
The 41 points alone topped the 33 Buffalo combined to score in its previous four games, and marked nearly half of the 96 points the Bills scored through their first nine games.
Just as important, Barkley didn't commit a turnover after Buffalo's quarterbacks combined for 12 interceptions — three of them returned for touchdowns — and three lost fumbles in their previous six games.
Rookie Robert Foster had three catches for 105 yards receiving in becoming Buffalo's first player to top 100 since Deonte Thompson had 107 in a 30-27 win over Tampa Bay on Oct. 22, 2017.
Even running back LeSean McCoy benefited by scoring twice to end a 10-game scoring drought, dating to last season. With 113 yards rushing, McCoy also topped 100 for the first time since gaining 156 on a snow-covered field in a 13-7 overtime win against Indianapolis last Dec. 10.
"I knew that I could play in this league," Barkley said after improving his career record to 2-5. "I don't want to be cliche by saying it's like riding a bike, but I've done this for years. I believe I was made to play football, and tonight was just an example of going out there and doing what I was made to do."
In the big picture, the Bills are grooming Allen — not Barkley — to be their long-term starter.
"There's something to be said for energy and momentum and what not, but at the same time I know what Josh can do," McDermott said, when asked if he considered sticking with the hot hand in Barkley.
Perhaps, he added, Barkley provided Allen a blueprint of how the Bills can succeed.
Allen showed the telltale signs of being a rookie in going 75 of 139 for 832 yards with two touchdowns and five interceptions in five-plus games before he was hurt. Allen also had 155 yards rushing and three touchdowns, though he was occasionally knocked for being too eager to scramble out of the pocket.
Peterman was released after McDermott said he maintained confidence in the second-year player.
That wasn't apparent in McDermott's actions in starting Barkley against the Jets, a week after Peterman threw three interceptions in a 41-9 loss to Chicago. Peterman was selected in the fifth round of the 2017 draft out of Pittsburgh and wound up throwing 13 interceptions in nine career appearances, including playoffs.
Peterman began this year as the starter, before losing the job early in the third quarter of a 47-3 season-opening loss at Baltimore.
He's best remembered for throwing five interceptions in the first half of his first career start in a 54-24 loss at the Los Angeles Chargers a little under a year ago.
Derek Anderson is the third quarterback on Buffalo's roster, and has missed two games because of a concussion.
---
---