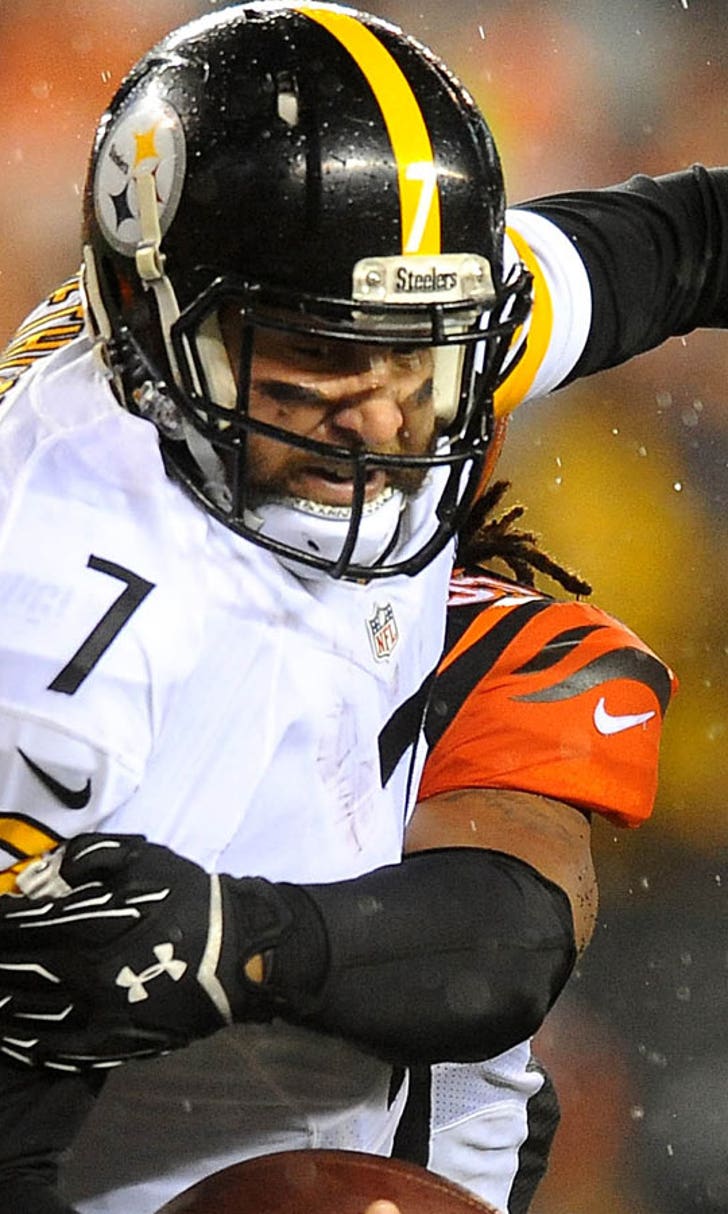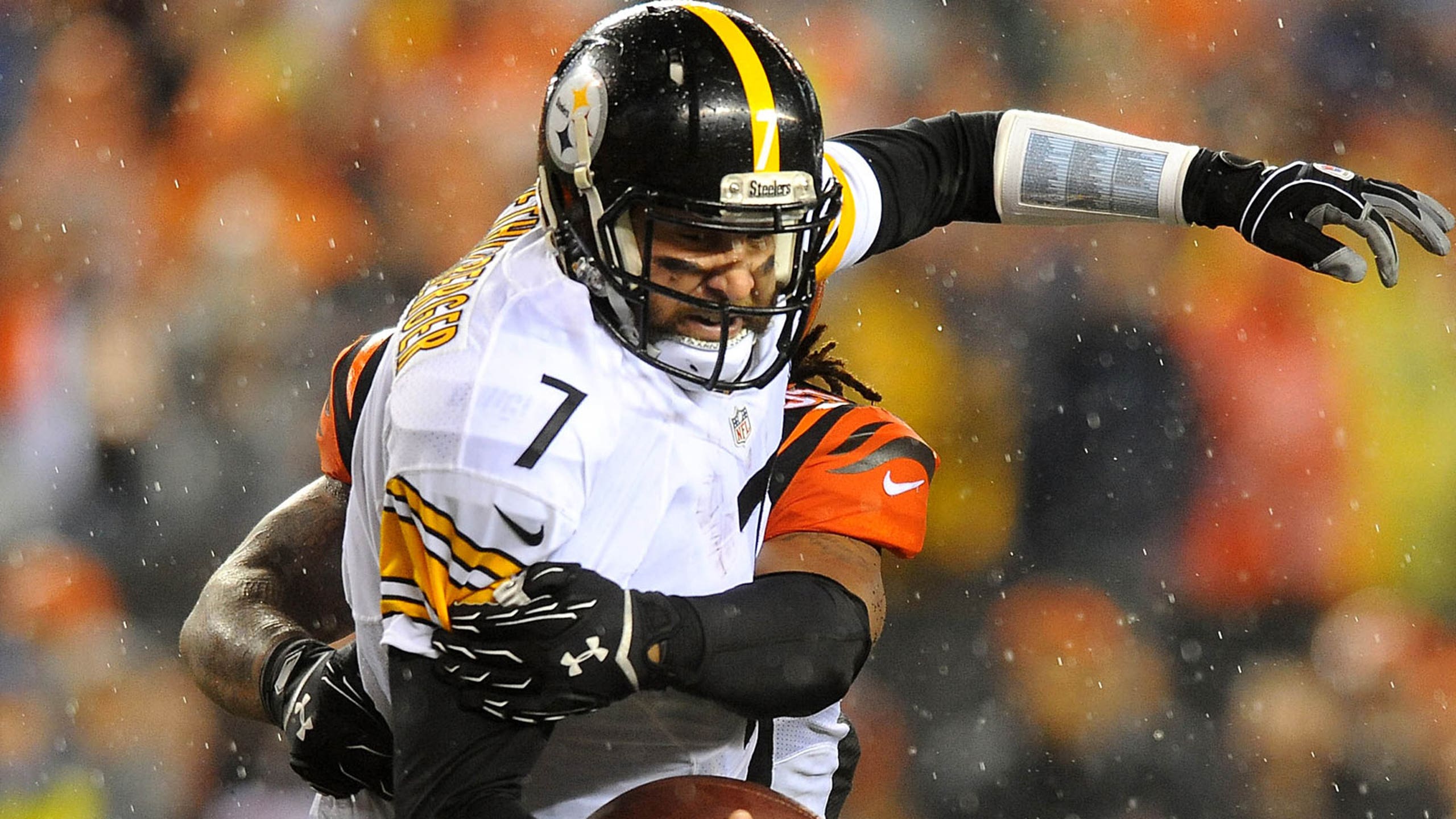 Big Ben has ligament tear in shoulder, doesn't believe Burfict hit was dirty
BY foxsports • January 12, 2016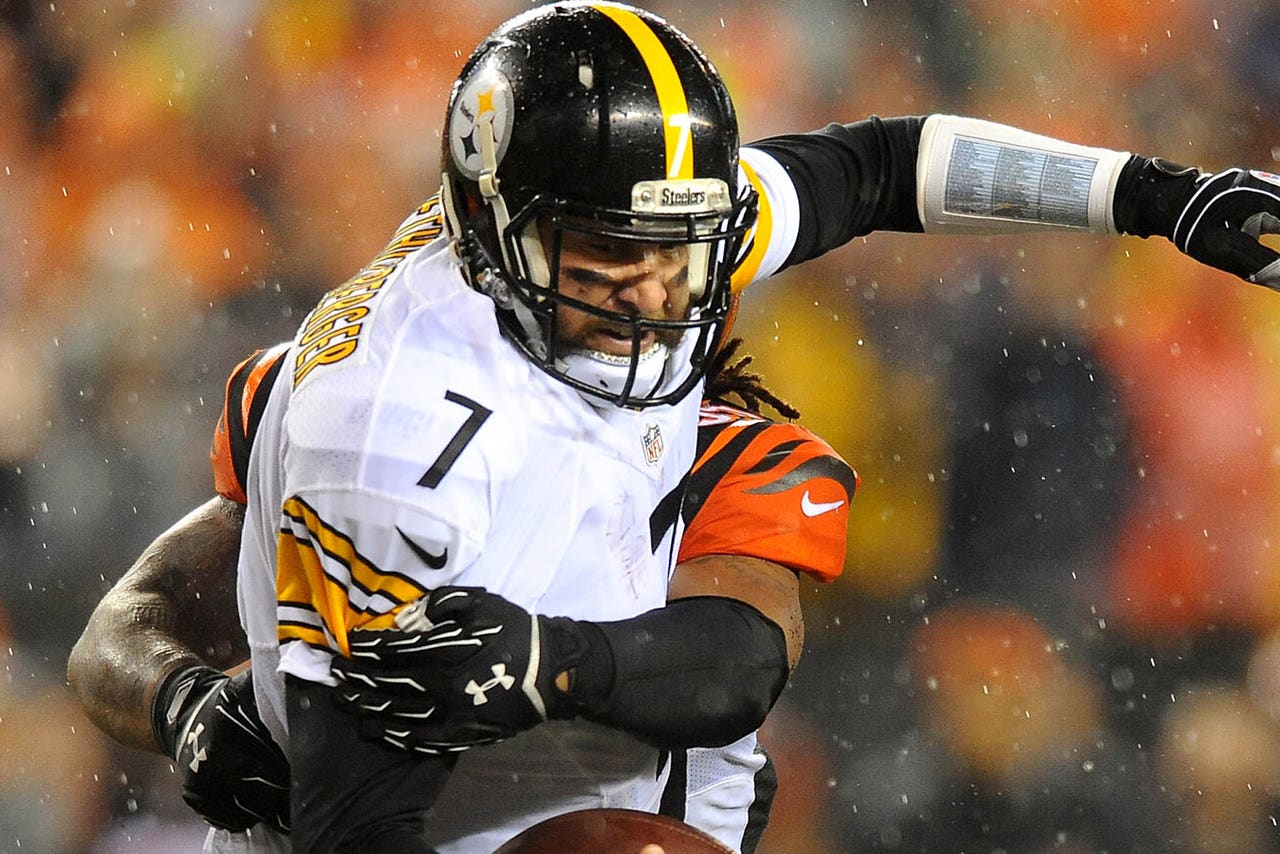 Pittsburgh Steelers quarterback Ben Roethlisberger, speaking on his weekly radio show on 93.7 The Fan in Pittsburgh, said he's still not sure if he'll be able to play in Sunday's divisional playoff game in Denver. He confirmed reports of a sprained AC joint in addition to having some torn ligaments in his throwing shoulder.
Roethlisberger has seen the video replays of Vontaze Burfict possibly giving him a little extra business, and he doesn't believe the Bengals linebacker had any ill will this time around. 
He said Burfict was just playing hard on the sack late in the third quarter, unlike in Week 14 when the Bengals linebacker hit him low. 
"I do not think it was a dirty hit. I think he was playing the game… I know that there is some video of him supposedly kneeing me, or kicking me, or whatever, but I don't think there was anything intentional."
Roethlisberger said he hasn't thrown a football since the game ended and that his shoulder is "a little better than it was," but still sore. He added that the pain occurred when he moved his arm forward during his throwing motion.
Roethlisberger will meet with doctors and trainers on Wednesday to see if he'll be able to practice. Landry Jones will take the bulk of the reps in the meantime. Roethlisberger says he's still day-to-day, while the chances for star receiver Antonio Brown aren't looking as good.
Steelers head coach Mike Tomlin indicated Roethlisberger's status was up in the air, via the AP:
Pittsburgh and Denver kick off in Sunday's late game.
Roethlisberger remains in some pretty serious pain while All-Pro wide receiver Brown remains in the NFL's concussion protocol and starting running back DeAngelo Williams remains a longshot to return from a right foot injury.
Tomlin might want to consider replacing his "next man up" mantra with "last man up" considering the circumstances.
Jones will get the majority of snaps in practice early in the week as Pittsburgh prepares for a rematch with the Broncos, whom the Steelers beat 34-27 on Dec. 20 behind the spectacular play of Brown.
Tomlin admitted the idea of playing without the NFL's second-leading receiver is "unpleasant" but one he'll have to consider after Brown took a shoulder to the head from Burfict with 22 seconds to go.
"We're hopeful, we're always hopeful," Tomlin said. "We'll do what's right when all is said and done."
Brown dominated a depleted Denver secondary for 189 yards receiving and two touchdowns in his first meeting with the Broncos. He had 119 yards against the Bengals, the best playoff performance of his career.
Yet his immediate future became uncertain when Burfict lowered his right shoulder into Brown's head while the receiver attempted to make a leaping grab on Pittsburgh's final drive.
Burfict was flagged on the play and suspended for the first three games of the 2016 regular season on Monday, though Roethlisberger didn't characterize the sack he took or the targeting of Brown as dirty play by the volatile linebacker.
"I think he was just trying to make a play," Roethlisberger said. "As fast as the game, as fast as all that happened, you've got to be pretty good to try and intentionally do something like that."
While Pittsburgh remains optimistic the cornerstones of the NFL's third-ranked offense will be available to try and help the Steelers to their first AFC championship game appearance in five years, Williams appears likely to miss his second straight game after injuring his right foot in the regular season finale against Cleveland.
Tomlin said he will "leave the door ajar" for Williams, but it seems Pittsburgh will go with the tandem of Fitzgerald Toussaint and Jordan Todman on Sunday.
The duo combined for 123 yards rushing in their postseason debuts, helping take some of the pressure off Roethlisberger, who wasn't particularly crisp in the rain even before Burfict drove him into the turf.
Not that it mattered in the end. Pittsburgh moved on and while the Bengals spent the aftermath defending their own behavior and claiming the Steelers were just as dirty, Tomlin is in no mood to engage in any more trash talk.
"Cincinnati is afforded the opportunity to sit around days after and rehash what happened," he said. "We don't have that opportunity."
NOTES: FB Will Johnson (hamstring), LB Vince Williams (hamstring) and S Robert Golden (shoulder) will be monitored early in the week, but should be ready for Sunday.
The Associated Press contributed to this report.
---
---