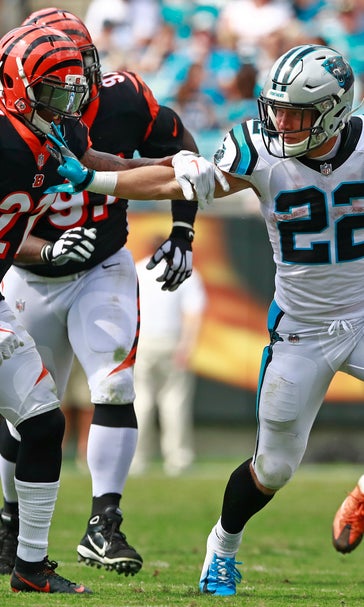 Bengals run defense stumbles in 31-21 loss to Panthers
September 24, 2018
CHARLOTTE, N.C. (AP) — The Cincinnati Bengals had limited their first two opponents to 141 rushing yards. That made what happened in their third game all the more surprising.
Christian McCaffrey ran for a career-best 184 yards and the Panthers piled up 230 yards on the ground and got two rushing scores from Cam Newton on Sunday in a 31-21 victory .
"This is a different style of offense and attack and you've got to adjust and morph and play it and make sure we stay sound in it and play it all the time," Bengals coach Marvin Lewis said. "We had moments where we played it perfectly. Then we had others where we didn't."
The Panthers gouged the Bengals with runs up the middle by McCaffrey, who ran free at times behind an offensive line beset with injuries.
"They switched up some run fits that we weren't expecting," Bengals defensive tackle Andrew Billings said. "They did a few misdirection plays, screens, throw backs, nothing that we shouldn't have stopped. We just have to get better defensively and executing."
Still, Cincinnati's struggles against the run should be of some concern heading into next Sunday's game at Atlanta, which traditionally has one of the best running games in the NFL behind running backs Tevin Coleman and Devonta Freeman — although Freeman has missed the last two games with an injury.
"They caught us in a couple bad positions and made plays," said Bengals defensive end Carlos Dunlap. "This is the NFL and their players are going to make plays, too. You have to eliminate as many of those you can. We did not do a good job of that today."
Some things to know from Carolina's win over Cincinnati:
SAFETY HELP NEEDED
The Panthers felt the loss of injured starting strong safety Da'Norris Searcy, as fill-in Colin Jones, a special teams regular, was beat on two touchdown passes . Jones was replaced by rookie Rashaan Gaulden in the fourth quarter and he could be the starter coming out of the bye week if the Panthers don't add a veteran safety.
"Colin Jones is a very physical player, a downhill player and Gaulden has some athleticism and range," coach Ron Rivera said. "We decided down the stretch we were going to give Gaulden some opportunities."
Searcy is on the IR after sustaining two concussions in five weeks.
ACTION JACKSON
The Panthers said right away they felt like they landed a big-time player when they drafted speedy cornerback Donte Jackson in the second round, and he's proving GM Marty Hurney correct.
Jackson has three interceptions in the last two games, including two Sunday.
"I was like, 'I appreciate you (No.) 14," Jackson said of Bengals quarterback Andy Dalton. "He was being very generous out there."
Jackson's pick at midfield with 3:33 to play set up Graham Gano's 40-yard field goal to make it a 10-point game and seal Carolina's win.
BOYD FILLS THE VOID
With A.J. Green sitting on a cooler on the sideline nursing a groin injury in the second half and the running game sputtering, the Bengals' turned to receiver Tyler Boyd. Boyd did his part, finishing with 132 yards receiving and a touchdown.
He found open space when the play broke down, and Dalton found him.
"It's backyard football," said Dalton, who threw for 352 yards and two scores but was intercepted four times. "Go get open. He did a great job . and made plays."
Boyd's 27-yard score in the third drew Cincinnati to within 28-21. He also had a 49-yard catch for the game's longest play.
"We work on the scramble drill," Boyd said. "When I see him rolling out, I have to find the open space on the field. Andy (Dalton) did a great job escaping the pocket and finding his wide-open target."
Green said after the game he expects to play against Atlanta on Sunday, but Lewis said it's too early to know if his star receiver will be ready.
NOT SO STELLAR DAYS: Giovani Bernard had different results last time Cincinnati played Carolina. Bernard rushed for an 89-yard score and a career-best 137 yards in 37-37 tie. On Sunday, he had 61 rushing yards and a score on 12 carries as the Bengals focused mainly on their passing game.
"When those opportunities come, we have to capitalize on them," Bernard said.
PAVING THE WAY
Having three starters out on the offensive line didn't prevent the Panthers from moving the football on the ground. In fact, the Panthers thrived, averaging 5.6 yards per carry .
"Honestly it doesn't really matter for us whether people are praising us or calling us a makeshift offensive line," said center Ryan Kalil. "We have to go to work, and we have to do our job. I'm very happy with the guys we've got in the group."
Panthers tackles Matt Kalil and Daryl Williams are on the injured reserve, while guard Trai Turner is out with a concussion. Tyler Larsen stepped in for Turner for the second straight week, while Chris Clark and Taylor Moton started at tackle. Cam Newton was sacked once.
---
---