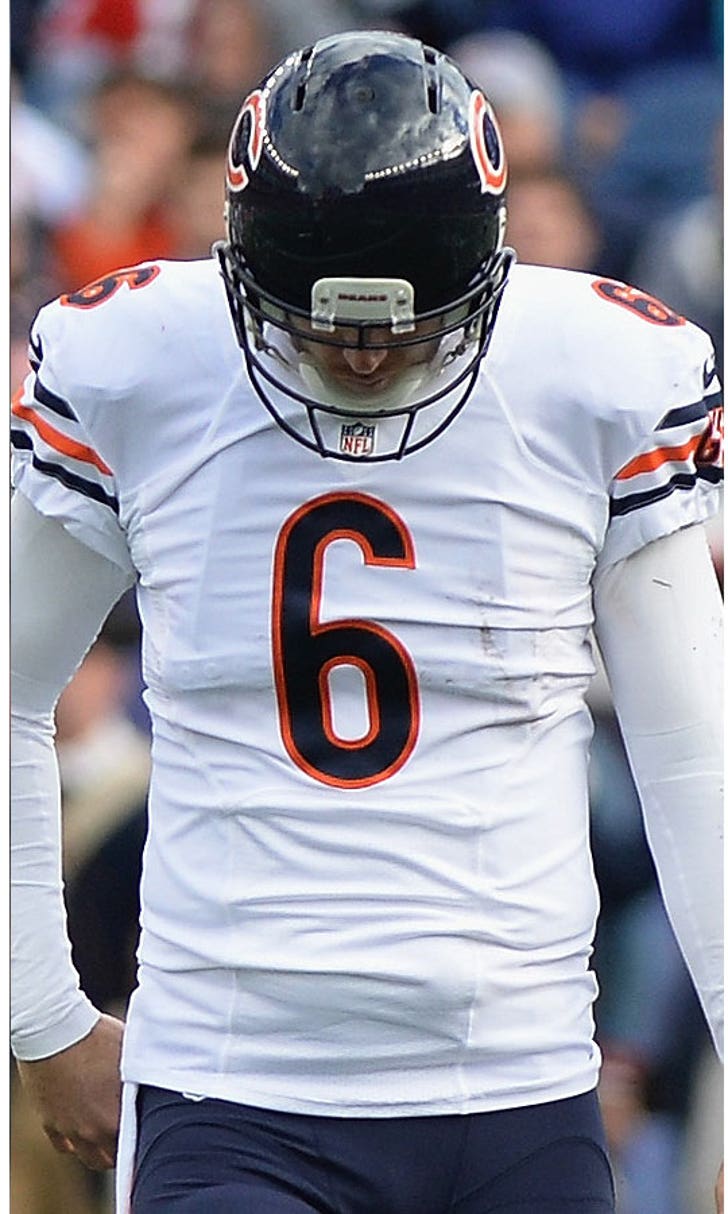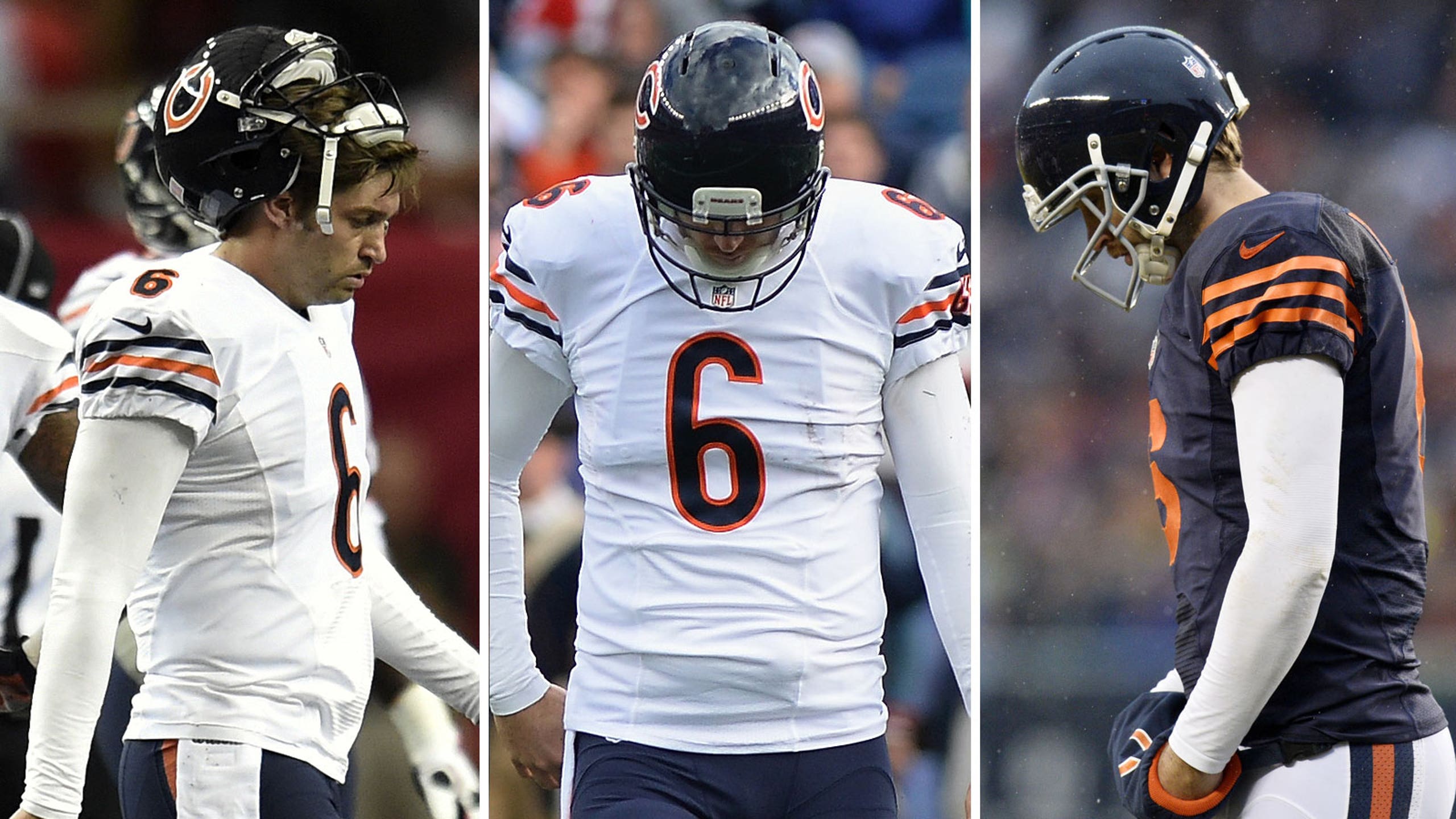 Believing in Cutler kills careers, yet GMs, coaches keep doing it. Why?
BY Alex Marvez • December 18, 2014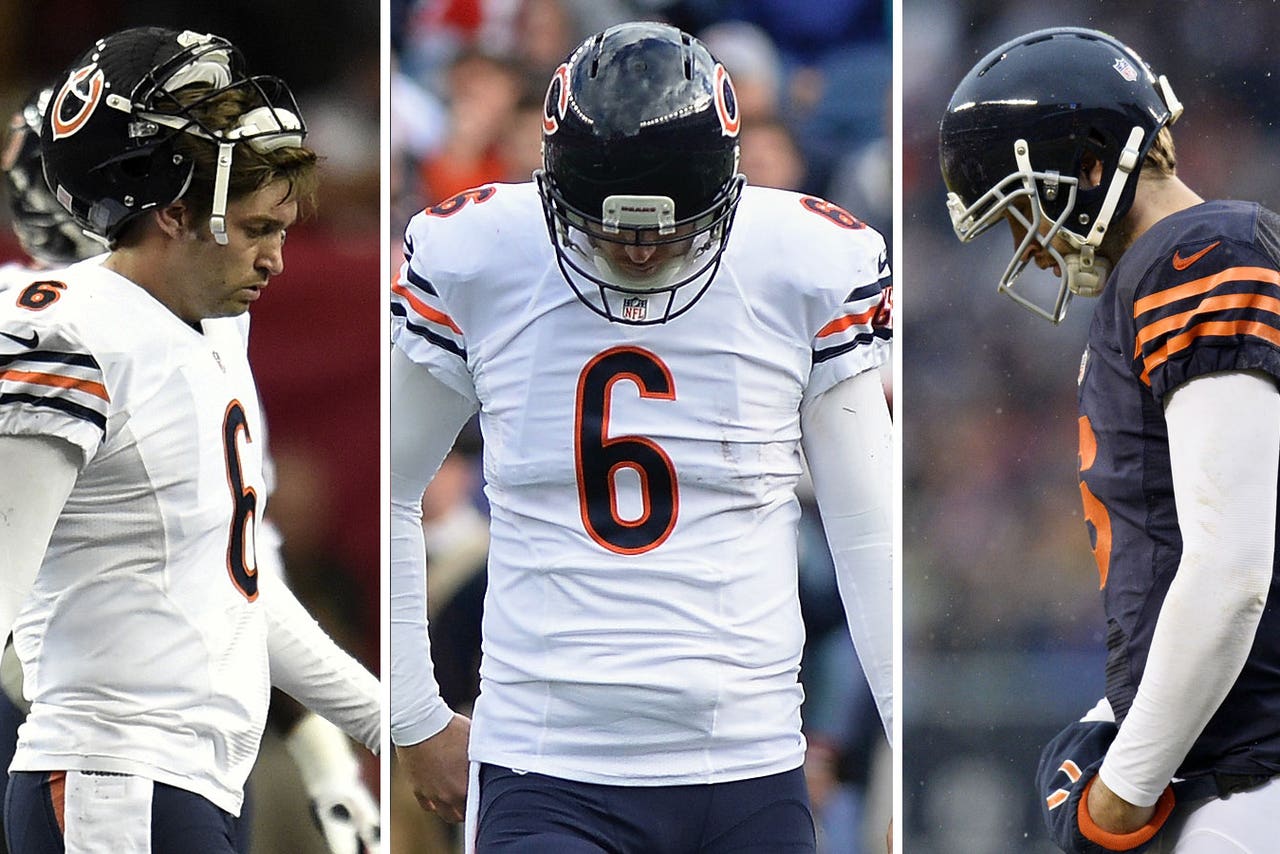 With cigarettes superimposed in dozens of photographs, the Smokin' Jay Cutler website that proclaims itself "dedicated to the most apathetic looking athlete in the history of sports" is one of the Internet's great NFL parodies.
The reality surrounding Cutler, however, is far less funny for a franchise going up in flames.
Chicago head coach Marc Trestman's decision to bench Cutler in favor of Jimmy Clausen for Sunday's game against Detroit is the latest proof that Bears general manager Phil Emery made an Albert Haynesworth-sized contractual blunder when he signed the pending free-agent quarterback to a seven-year, $126 million contract (more than $50 million guaranteed) in January.
The final straw for a QB with a 7-15 record in his past 22 starts was Monday night's 31-15 home loss to New Orleans. Cutler was 17 of 31 for 194 yards with two late touchdowns and three interceptions when the game was still within reach. But the issues go far beyond that.
The quarterback's role is often described as being a field general. Whatever passes as leadership for Cutler screams surrender.
Before one third-quarter play against the Saints, cameras captured Cutler walking toward the Saints' defense and barking, "Goddamn it!" before taking the snap. That doesn't exactly generate confidence.
Cutler emasculated two wide receivers after errant passes by animatedly pointing in the direction of where he believed their routes should have taken them instead of approaching both on the sideline to avoid unnecessary and unprofessional embarrassment. Speaking of the sideline, Cutler was the anti-Tom Brady with his sullen demeanor rather than trying to provide players with an emotional lift following an unsuccessful series.
Cutler's behavior is nothing new. "Inspirational" isn't a word associated with Cutler since his college days of trying to lift a losing program at Vanderbilt. "Limp" is more apt. Should it be any surprise that left tackle Jermon Bushrod didn't offer a hand to lift Cutler off the Soldier Field sod after getting beaten for one of seven Saints sacks?
In the NFL, Cutler has long let athletic ability speak on his behalf. And he has posted enough positive results to overshadow his lack of the intangibles possessed by the game's great passers.
This helped fool Emery into thinking he had a franchise quarterback whom he couldn't lose in free agency. Instead, Emery got this generation's version of Jeff George.
Former Philadelphia Eagles and Cleveland Browns executive Joe Banner wrote this Wednesday night on his Twitter account:
In retrospect, Cutler's slide began after the Bears started the 2013 season with a 3-0 record. He threw three interceptions in a 40-32 loss to Detroit. Starting with that game, Cutler has committed 35 turnovers compared to his 41 touchdown passes in 22 starts. Cutler has a lengthy injury history as well. While sidelined for five games last season, backup Josh McCown was far more efficient with 11 touchdowns and just one interception.
Emery ignored all these warning signs entering contract negotiations with Cutler's agent Bus Cook. Rather than slap Cutler with the franchise tag for the 2014 season as a wait-and-see safeguard, Emery was snookered into tendering a lucrative agreement that provided the Bears little wiggle room in the early years.
Although on paper it was a seven-year, $126.7-million extension, the devil is in the details of how it was structured. Rather than give him a traditional signing bonus that could be prorated for salary-cap purposes over the length of the deal, Cutler's contract was designed to provide him base salaries in the first three years that are comparable to truly elite passers like Tom Brady, Peyton Manning and Drew Brees. The deal also left Chicago without enough cap space to re-sign McCown as a safeguard. He split for the chance to start in Tampa Bay.
Cutler's $15.5-million base salary for 2015 is guaranteed — Chicago would have to count that figure in "dead money" against its salary cap if Cutler were released. Cutler's 2016 salary of $16 million is guaranteed if he's on the roster beyond March, which means the Bears must quickly make a decision about his future.
Any team that dealt for Cutler would have to assume his contract or reach agreement on a restructured deal like Oakland did when acquiring Matt Schaub from Houston during the 2014 offseason (and that worked out real well, didn't it?). This dynamic gives Cutler leverage to dictate trade partners since he's simply not worth the payday he received. If the Bears bite the bullet and cut him, Cutler can negotiate his own free-agent deal elsewhere and Chicago would receive nothing in return.
Ideally for the Bears, a suitor would emerge who is willing to give Cutler a shot running its offense. A trade would greatly alleviate the salary-cap hit compared to an outright release.
Never say never in a quarterback-starved league.
Tennessee would make the most sense provided head coach Ken Whisenhunt is on board and the Titans either don't want or aren't in position to select one of the two top QB prospects, Oregon's Marcus Mariota and Florida State's Jameis Winston, in April's draft.
Tennessee would be hoping that the 31-year-old Cutler regains the mojo under Whisenhunt that helped him lead the Bears to the NFC championship game during the 2010 season. Whisenhunt already has worked magic helping to revive the NFL careers of Kurt Warner (Arizona) and Philip Rivers (San Diego).
Cutler would receive a more positive fan reaction in Nashville than any other NFL city because of his Vanderbilt ties. He also would buy time for current Titans rookie Zach Mettenberger to better develop as Tennessee's potential future starter.
Such a scenario is purely hypothetical. The quarterback outlook for Chicago is just as foggy.
We do know the short- and long-term solution isn't on the current roster. If the Bears thought rookie David Fales was ready for game action, he would start the final two games rather than a retread like Clausen so Chicago (5-9) could get an evaluation in a lost season.
Cutler may be the biggest debacle in the Trestman/Emery era but it isn't the only one. Chicago fielded a bad defense last season that has actually gotten worse under embattled coordinator Mel Tucker. Offensive coordinator Aaron Kromer recently damned himself by admitting he was the leak for an NFL Network report ripping Cutler. Kromer should have looked in the mirror first. His unit's offensive line is a disaster once again, which has contributed to Cutler's decline, and false starts are par for the course.
Head coach Lovie Smith and three different offensive coordinators (Mike Martz, Ron Turner and Mike Tice) were fired from their jobs after working with Cutler since he joined the Bears via trade from Denver in 2009. So was Jerry Angelo, the general manager who orchestrated that deal before getting replaced by Emery.
Trestman, Kromer, Emery and others associated with Cutler probably will be next. Look for them in the ashes left behind by a player who has proven hazardous to the professional health of those around him.
---
---