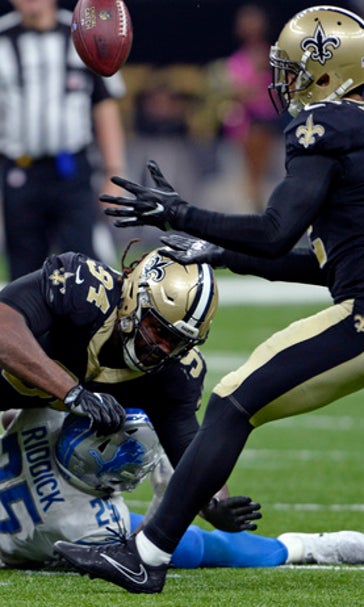 Banged-up Lions limping into perfectly timed bye week
October 19, 2017

ALLEN PARK, Mich. (AP) Matthew Stafford simply stood on the field, letting Jake Rudock take snaps at the Detroit Lions' only practice during their bye week.
Stafford's body has taken a beating recently. He has been sacked 17 times in the past three games, leaving him with an ailing right ankle and sore ribs.
Stafford needs a break this week. And, he's not alone.
The idle Lions (3-3) went limping into Week 7, feeling fortunate a slew of players will have a chance to help their banged-up bodies bounce back.
''It's a bit early, but it couldn't have come at a better time for us,'' tight end Eric Ebron said. ''It just exploded in here with a number of injuries. It's not good, but it gives us enough time to get healthy.''
In a 52-38 loss at New Orleans , the Lions lost their best receiver, Golden Tate, with a shoulder injury that might be a long-term problem for him and the team.
Safety Glover Quin, one of the top players on defense, left the game against the Saints with a concussion. That may lead to Quin missing a game for the first time since 2009 when Detroit resumes its season the night of Oct. 29 at home against Pittsburgh.
One starter on the offensive line, guard T.J. Lang, was a late scratch at New Orleans with a bad back. Lang's replacement, Emmett Cleary, left the game with an ankle injury. Ankle injuries also slowed or sent the team's starting tackles, Rick Wagner and Greg Robinson, to the sideline against the Saints.
Help may be on the way to bolster both lines and special teams.
Taylor Decker, who has been out since having surgery on his right shoulder last summer, might return to practice next week.
That would move Decker a step closer to starting at left tackle to protect Stafford much better than Robinson has so far.
Defensive tackle Khyri Thornton is eligible to return from his six-game suspension for violating the NFL's substance-abuse policy. Thornton would be a welcome addition because defensive tackle Haloti Ngata is out for the season with an elbow injury.
At Tuesday's practice, standout punter Sam Martin was kicking for the first time this season after being removed from the reserve/non-football injury list with an ankle injury.
So, what does Detroit want to accomplish during its bye week?
''Get healthy, that's the No. 1 thing,'' Lions coach Jim Caldwell said. ''That's going to be the primary focus, but then obviously there's some little things that we can work on. And, we got a lot of those.''
The Lions are averaging just 84 yards rushing, putting them ahead of just three teams in the league. Defenses don't have to respect Detroit's running game, allowing them to attack a shaky line to get to Stafford.
And when the Saints didn't sack Stafford, they were getting hands on a lot of throws near the line and they were credited with 16 passes defended.
''I've never really seen anything like that,'' guard Graham Glasgow said. ''But if we can fix it, we're going to work on it.''
Stafford, though, was largely to blame for the most recent loss because he threw three interceptions - after going four games without a pick - and lost two fumbles against the Saints.
As bad as he and the Lions looked, they were resilient enough to have the ball trailing by just seven points with five-plus minutes left in the game.
Detroit's comeback fell short and the setback was the team's third loss in a four-game stretch. In the first loss, Tate was ruled just short of the end zone on a review, reversing the call on the field and leading to a 10-second runoff that allowed Atlanta to hold on for a 30-26 victory.
The Lions were less than 1 yard, or a few seconds, away from a 3-0 start after opening with wins over Arizona and against the New York Giants on the road.
Instead, Detroit is 3-3 and a game behind the Aaron Rodgers-less Green Bay Packers and the Minnesota Vikings, who lost Oct. 1 to the Lions at home.
''We lost some games that we could've won,'' safety Tavon Wilson said. ''But we've got to figure out how to play better and not be down 35 points in the third quarter and find a way to get into the end zone instead of being down inside the 1.''
---
For more AP NFL coverage: http://pro32.ap.org and http://twitter.com/AP-NFL
---
Follow Larry Lage at www.twitter.com/larrylage
---
---