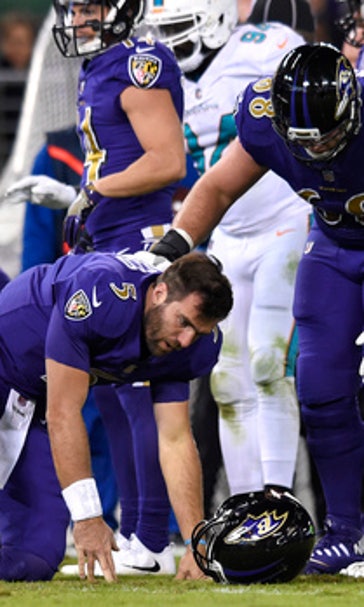 Angry Ravens say QB Flacco's concussion was on 'dirty play'
October 27, 2017

BALTIMORE (AP) The Baltimore Ravens are angry and calling for a review of the rule book after watching Joe Flacco being helped off the field, bleeding and disoriented following a late hit.
Flacco sustained a concussion Thursday night against Miami after he went into a slide designed to prevent the quarterback from being tackled. The Ravens were off Friday, and provided no update on the quarterback's condition.
It is unclear if Flacco will be ready when Baltimore plays on Nov. 5 at Tennessee.
Dolphins linebacker Kiko Alonso crushed Flacco late in the first half Thursday night, forcing his exit in a game the Ravens would win 40-0. Alonso received a penalty for unnecessary roughness on the play, but that was of little consolation to the Ravens.
''He was sliding, and the guy came in high. They're trying to take that play out, but it happens,'' safety Eric Weddle said. ''Maybe they'll look at in in the offseason, and in that situation, the guy should get ejected.''
Flacco threw a touchdown pass earlier in the game and helped Baltimore take a 13-0 lead before Alonso's hit ripped the helmet from the quarterback's head and put a gash near his ear that required stitches.
''Was it clean? Was it dirty? It doesn't matter,'' Ravens linebacker C.J. Mosley said. ''At the end of the day, our quarterback went down, and the whole team took it personally.''
Alonso insisted the hit to the head was unintentional.
''I thought he was going to slide. And then, I had to hit him, because he slid too late,'' Alonso said. ''It was bang-bang. I don't know what else I could have done.''
On Friday, Miami coach Adam Gase said, ''Kiko was in a tough spot. He's running for the first down, and I think he's kind of waiting on what's he going to do. When he's sliding, it's not like a true slide you normally see. He's kind of half in, half out.
''It's a tough, tough play to tell a guy what to do. If he completely stays away from him and he keeps running and goes head first and gets a first down, we all go, `What are you doing? Finish the play.' I don't think Kiko was trying to do anything maliciously.'''
Perhaps, but that's not how a few of the Ravens saw it.
''I thought it was dirty play, personally,'' receiver Jeremy Maclin said. ''I don't think Kiko's a dirty player, but I thought that particular play was dirty.''
After the hit, Ravens center Ryan Jensen immediately went after Alonso, pushing him to the ground and then pouncing on him.
''I felt it was a dirty hit and Joe's our franchise guy,'' Jensen said. ''We've got to go out and protect him. Joe getting cheap-shotted like that, I felt I had to do something to protect him and show him that I've got his back.''
Ravens tackle Austin Howard said: ''We're all upset about it. Right now we're just hoping for the best for Joe and hoping he makes a good comeback. We're all just praying for him. I hope he's OK.''
If Flacco can't go, the Ravens will turn to backup Ryan Mallett, who threw a touchdown pass three plays after Flacco departed.
---
For more NFL coverage: www.pro32.ap.org and AP NFL Twitter feed: http://twitter.com/AP-NFL
---
---