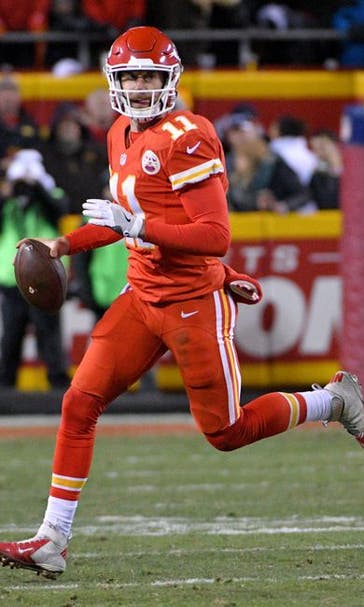 Alex Smith strikes first with rushing TD (Video)
December 25, 2016

Fansided, John Buhler/Fansided
Kansas City Chiefs starting quarterback Alex Smith decides to take it into the end zone himself on this early strike against the Denver Broncos.
The Kansas City Chiefs have not been in good graces with starting quarterback Alex Smith in recent weeks. Kansas City has a football capable of orchestrating a deep run in the AFC Playoffs, but have largely won in spite of sub-par play from their signal caller.
Early in the Chiefs' Sunday Night Football game against the rival Denver Broncos, Smith decides to give his critics something to talk about by getting into the end zone on a marvelous 10-yard rushing touchdown.
Smith's best skill as a quarterback is probably his ability to make plays with his legs. He's an accurate passer, but rarely challenges defensive backs with deep throws in the Kansas City passing game. However, he has always been shifty as a runner since being drafted No. 1 overall out of Utah in 2005.
This is a huge opportunity for the Chiefs on Sunday night. A win gives Kansas City to keep pace with the arch rival Oakland Raiders (12-3) in the AFC West standings. Both teams have qualified for the 2016 AFC Playoffs. Kansas City completed the season sweep of Oakland, but the Raiders are one-game better in the loss column.
That being said, Oakland will be without franchise quarterback Derek Carr the rest of the season. Carr unfortunately broke his leg in the Raiders' Week 16 win over the Indianapolis Colts on Christmas Eve.
Denver has to beat both Kansas City on Sunday Night Football and probably Oakland in Week 17 to get into the AFC Playoffs as a wild card team. The Broncos' biggest threat for the No. 6 seed in the AFC Playoffs would be the Miami Dolphins. Miami improved to 10-5 after beating the Buffalo Bills in Week 16.
More from FanSided
This article originally appeared on
---
---