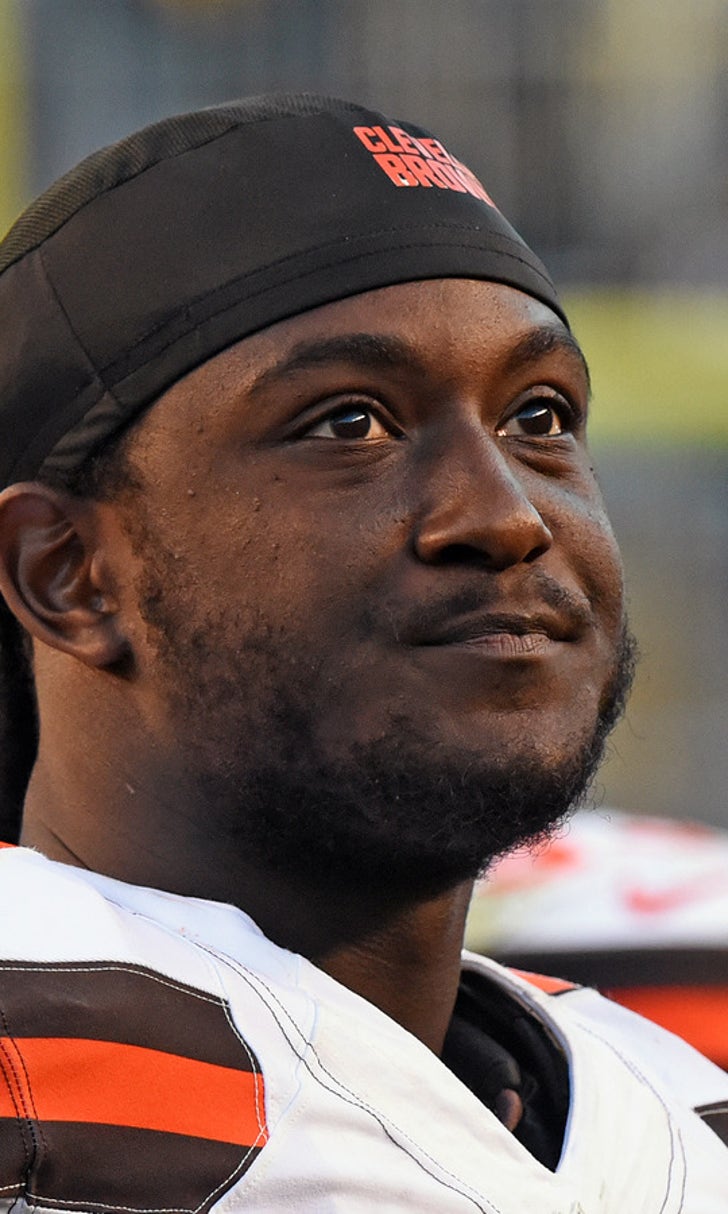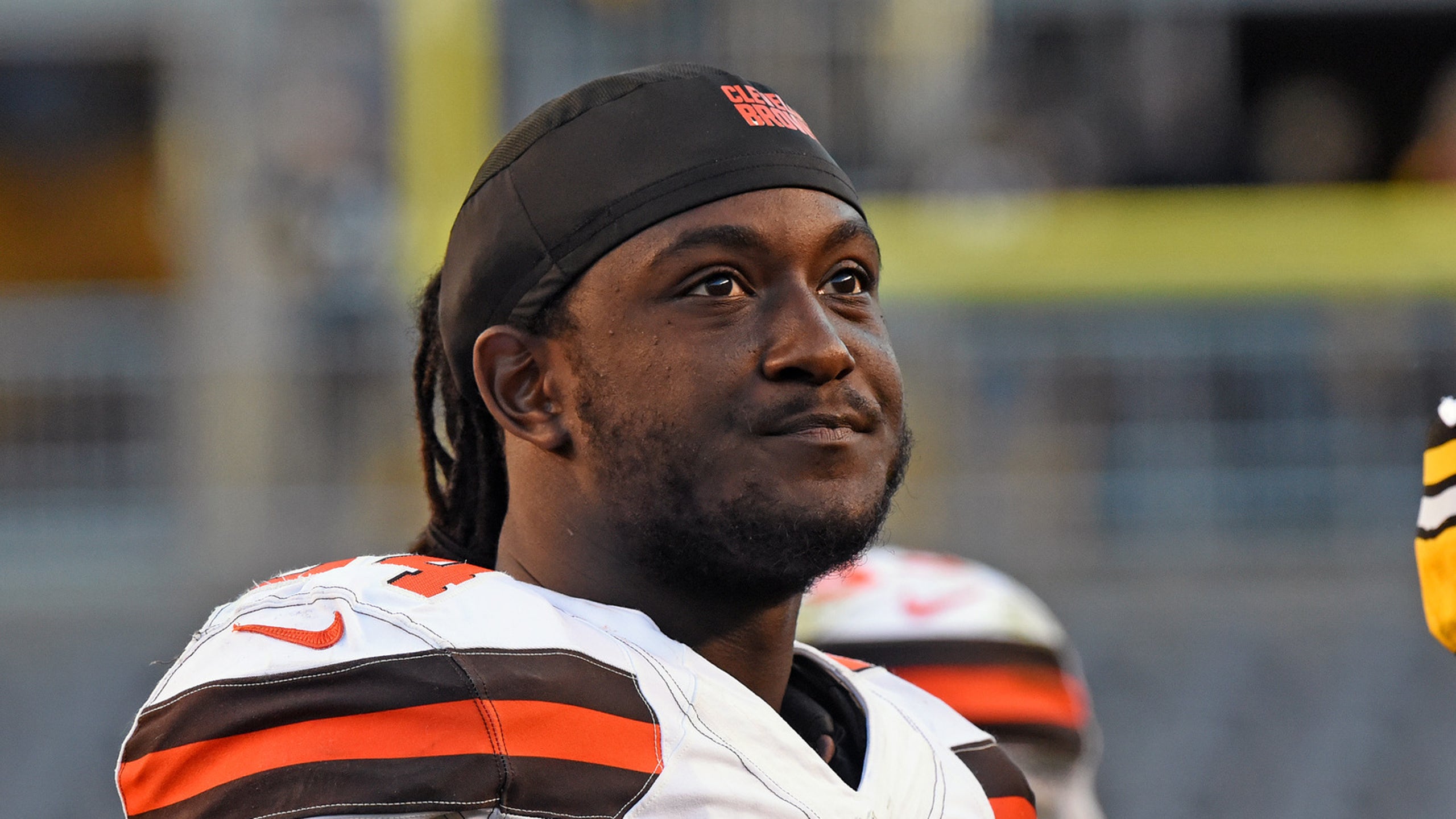 After invite, Cleveland Browns' Isaiah Crowell attends funeral of Dallas policeman
BY Barry Werner • July 19, 2016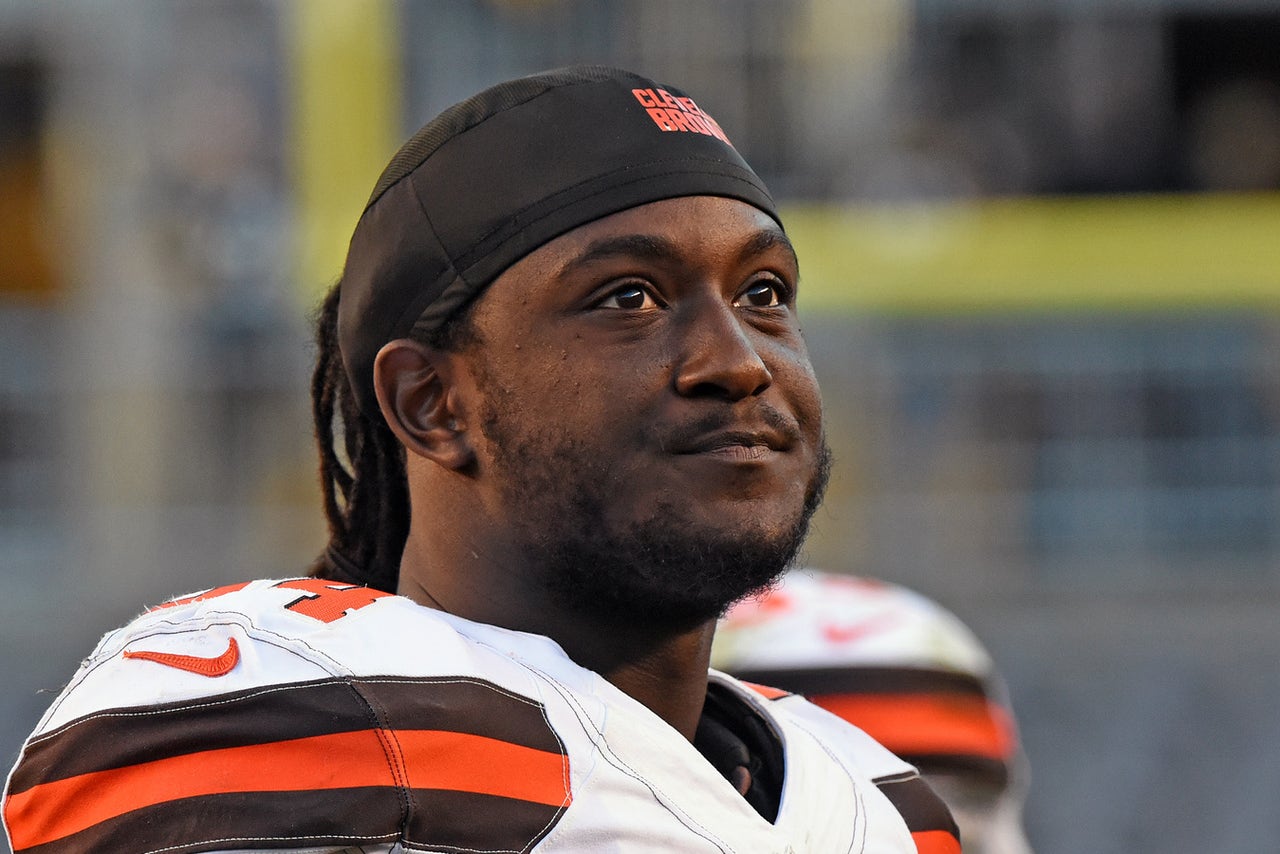 Cleveland Browns running back Isaiah Crowell found himself embroiled in controversy after a social media post that depicted a law enforcement officer being stabbed by a man in a hood.
The post came shortly after the tragedy in Dallas July 7 that saw five policemen killed and others wounded.
Crowell subsequently apologized and offered a game check -- around $35,000 -- to the Dallas police fund that has begun to help those affected by the tragedy.
However, one member of the Texas law enforcement community wasn't interested in Crowell's money. Sgt. Demetrick Pennie was more interested in having a discussion with the Browns' running back. He also invited Crowell to attend a funeral for one of the fallen officers.
Crowell accepted and Pennie took to social media to relate the educational visit. Crowell and Pennie attended the ceremony Saturday in Fort Worth for Patrick Zamarripa.
Here is the text of Pennie's post on Facebook:
"In response to the public backlash, Mr. Crowell pledged to make a donation to the Dallas Fallen Officer Foundation, of which I am the president of. In an effort to show the progressiveness and professionalism of the Dallas Police Department, its officers, and its affiliated police support organizations, I reached out to Mr. Crowell and expressed a disinterest in his money. Rather, I told him that I did want an opportunity to educate him about the policing profession and the meaning of police service and sacrifice.
"Based on this premise, I offered Mr. Crowell an opportunity to travel to Dallas to accompany me to the funeral of one of our fallen police officers. When offered the opportunity, Isaiah Crowell didn't think twice before accepting. Although, he was initially afraid and skeptical of the environment that he was entering, he traveled to Dallas overnight and met with me for an extended period of time in an attempt to find some resolve in understanding.
"Our initial meeting was facilitated by shared private stories related to our inner-city backgrounds. These shared experiences were used to build a rapport and trust between us. During the discussion, Isaiah Crowell explained that he misguidedly posted the offensive image based on the constant provocative rhetoric that spewed through the media on a daily basis. Crowell expressed that he was never active in social media, so posting the offensive image was well outside of his character. After posting the image, Mr. Crowell immediately took it down but not before it was captured and made viral. Acknowledging his mistakes, he advised his organization and prepared for the backlash which included intense public shunning and even death threats. As Mr. Crowell spoke and expressed remorse for his actions and was pulling back tears. His voice rattled as he explained the entire incident. I could hear the pain and hopelessness in his voice - the pain of feeling that you are alone in this world!
"As the conversation developed, I noted that Mr. Crowell was very tuned into the discussion and was receptive to my feedback. This marked the beginning of an open dialogue where greater understanding for policing culture could be obtained. I could see that he was curious and wanted to know more. This dialogue would not have been possible, if I had not had a personal understanding of the disconnect that existed between police officers and young people coming up from backgrounds similar to Isaiah Crowell. I am familiar with the sentiment because of my family's negative experiences in the impoverished inner-city.
"The next day, I spent 8 hours with Isaiah Crowell. During this time, he met with high-ranking police and political officials in the State including Texas Police Commissioner Rob Kyker. He also attended the funeral of slain Dallas Police Officer Patrick Zamarripa and paid his respects to the Fallen Officer. During the visit, he met with several police officers from across the country, who expressed their appreciation for him seeking forgiveness for his actions and having the courage to admit that he was wrong and making an attempt to redress the problem.
"These were interactions that Mr. Crowell never believed would be possible. At the conclusion of our day, Crowell expressed his deepest condolences for the loss of our officers and stated that he would be willing to return in the future to assist the survivors in Dallas in honoring the sacrifices of their loved ones. Crowell also expressed his gratitude to me for granting him the opportunity to attend the honorable ceremony. He stated that the visit was very humbling and gave him a different outlook on the sacrifices that police officers make every day. He also commended Dallas Police Chief David Brown for his leadership during this crisis.
"Based on my 17 years of experience in law enforcement, I found the meeting with Mr. Crowell to be authentic and reflective of the truest meaning of "Community Policing". The visit was very professional and non-threatening, which I think is a testament to the professionalism of the Dallas Police Department and is emblematic of our officers' compassion for the community at-large. As a police officer with one of the leading community policing departments in the nation, I feel that every police agency should take every opportunity available to bridge the gap between law enforcement and those with opposing viewpoints in the community because it is the only way to enhance understanding. From a member of a police family that has just lost five brothers, it is time for us in the law enforcement community to open dialogues and restore public trust.
"Years of broken communication has facilitated the rise in growth of flawed ideologies about police that we should be on the forefront of addressing. That is why I elected to meet with Isaiah Crowell personally to determine if there was any hope of reforming his thinking. Based on my interactions, I am confident that the policing community now has a supporter in Mr. Crowell. Personally, I would like to commend Isaiah Crowell for the courage of principled accountability.
"Crowell's story is a path of redemption that parallels the experiences of Daniel entering the Lion's Den. Crowell entered the most unlikely venue surrounded by thousands of police officers, which could have possibly been the most hostile environment he could have ever imagined himself walking into. But by the grace of God, he was accepted with open arms. As leaders in the police community, it is our duty to establish and maintain the public trust. We, in the Dallas Police Department, are hurting and now it is time to start the healing process by creating greater understanding in the community. My interactions with Mr. Crowell demonstrates that mutual understanding is possible as long as both parties are willing to listen."
---
---