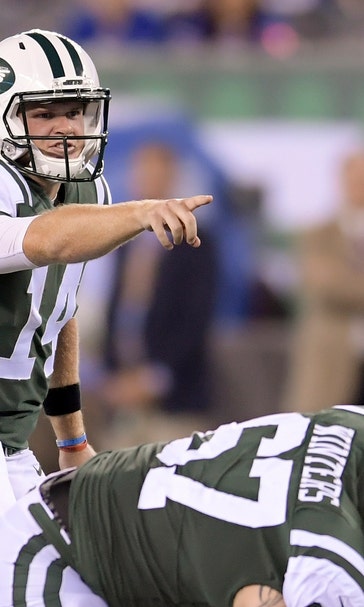 AFC East rivals Dolphins, Jets look to start season 2-0
September 13, 2018
EAST RUTHERFORD, N.J. (AP) — Welcome to the Dolphins-Jets rivalry, Sam Darnold.
New York's rookie quarterback will be under center and in the spotlight for the latest matchup of AFC East enemies Sunday at MetLife Stadium, with a 2-0 start to the season on the line.
It might not sound like much, but consider this: The Dolphins haven't opened with two wins since 2013, when they started 3-0. Meanwhile, the Jets haven't been 2-0 since Todd Bowles' first year as coach in 2015.
"All division games have that extra buzz around them, but I feel like when we play the Jets, it's always turned up just a little bit more," Dolphins quarterback Ryan Tannehill said. "I don't know what makes it that way or why it's that way. Maybe it's just the competitiveness of the games, but there always is an energy that goes with playing against the Jets."
New York leads the all-time series 54-50-1, but Miami has won three of the last four meetings.
Weird things also tend to happen when these teams square off. The muddy AFC championship game won by the Dolphins during the 1982 postseason. The back-and-forth air show by Dan Marino and Ken O'Brien in 1986. Marino's fake spike in 1994. The Monday night "miracle" comeback by the Jets in 2000.
And, that's just to name a few.
"I definitely have the feel, with them and the Patriots," Miami wide receiver Jakeem Grant said. "I feel like it is a rivalry game."
Darnold will get to experience it for the first time while also making his regular-season debut in front of the home crowd. The No. 3 overall draft pick got off to a rough start last Monday night at Detroit with his first pass intercepted and returned for a touchdown, but bounced back to have a solid night and lead New York to a 48-17 rout .
The 21-year-old Darnold finished 16 of 21 for 198 yards and two touchdowns, showing glimpses of what made him so coveted leading up to the draft.
"I feel like I live my whole life to play football and it's awesome to just be able to do that for a living," Darnold said. "I'm embracing it every single day."
Tannehill knows the feeling. After sitting out last season because of a knee injury, the Dolphins QB was back last week for the first time since 2016 and came out a winner after a 27-20 victory over Tennessee .
That came in the longest NFL game since the 1970 merger, outlasting the Titans in 7 hours, 8 minutes, including 3:59 in multiple weather delays .
"It was wild," Tannehill said, "but I'm really proud of our guys the way we responded."
Here are some other things to know as the Dolphins and Jets renew their rivalry:
DOMINANT DEFENSE
The Jets set a franchise record with 48 points on the road, and their defense played a big part.
New York had five interceptions against the Lions , including two by linebacker Darron Lee and one each by safety Jamal Adams and cornerbacks Morris Claiborne and Trumaine Johnson. Lee returned the first of his picks 36 yards for a touchdown, the Jets' first defensive score since 2013 — a span of 73 games that was the longest such drought in NFL history.
"It was definitely stepping stone in the right direction," Lee said. "We definitely want to build some consistency with that."
MOVIN' ON UP
Miami's Frank Gore has 14,087 career yards rushing and needs 15 to surpass former Jets star and Pro Football Hall of Famer Curtis Martin (14,101) for fourth place on the NFL's list.
"It speaks volumes for what he's accomplished," Dolphins coach Adam Gase said. "It's unbelievable the amount of years he's played and the amount of carries he's had over his career and the success that he's had, the things that he's battled through."
CRUISE CONTROL
If the Jets' kick coverage is good, perhaps Grant will have to put it in high gear. He said he didn't on his 102-yard runback last week against Tennessee for his first career touchdown on a kickoff return.
"I wasn't even running full speed," said the 5-foot-7 Grant, one of the NFL's fastest players. "I was actually three-quarters speed."
The third-year pro has career averages of 24.8 yards on kickoff returns and 7.7 on punt returns. So what's his top speed?
"All I can say is stay tuned," he said.
DYNAMIC DEBUT
Isaiah Crowell made an immediate impact for New York, rushing for 102 yards and two touchdowns on just 10 carries.
No other Jets running back has run for at least 100 yards and two scores in their debut with the team. With his 62-yard TD run, Crowell has six plays of 50 yards or more since 2015 — tied with New Orleans' Mark Ingram for the most by a running back during that span.
GETTING TRICKY
The Dolphins showed some new wrinkles on offense in their opener, and there's likely more where that came from.
Wide receiver Albert Wilson took a handoff and had an option to lateral to running back Kenyan Drake.
"Some of that might be copied from somebody else that I used to be with," Gase said. "I've got a pretty good library of things that I can lean on."
He was referring to Mike Martz, one of his mentors and the former head coach of the Rams.
Wilson also lined up as a wildcat quarterback, with Tannehill split wide, but Miami called timeout before the snap.
---
---