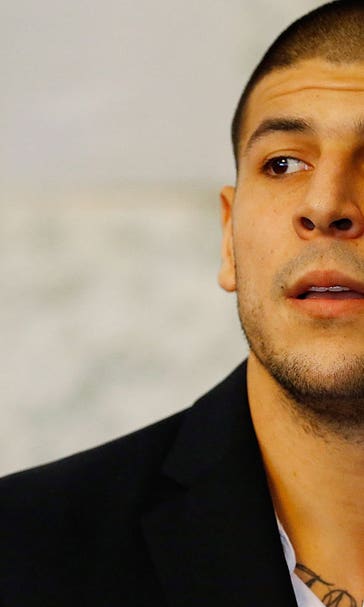 Aaron Hernandez trial resumes after bomb threat clears courthouse
BY foxsports • March 26, 2015
FALL RIVER, Mass.
The murder trial of former New England Patriots player Aaron Hernandez was briefly delayed Thursday by a bomb threat called in to the courthouse.
Superior Court Judge Susan Garsh cut off testimony around noon after a court officer alerted her to the threat. She told jurors there would be a brief delay and they were led from the courtroom. Then she announced that the building was being evacuated.
The Fall River Justice Center was swept by Massachusetts State Police. No explosives were found, and employees were let back in about an hour later.
Court resumed at 2 p.m., with Garsh telling jurors that there was no reason to believe the interruption was related to the Hernandez case.
Jurors were held in a building across the street during the closure. Security officers said Hernandez was taken out of the building but did not say where he was held.
Hernandez is accused in the June 2013 killing of Odin Lloyd, who was dating the sister of Hernandez's fiancee.
Also Thursday, the court released Garsh's decision that prosecutors may introduce into the trial jailhouse calls Hernandez made in which he discusses giving money to a cousin. Prosecutors say the promises of money were used to buy her silence after the killing.
Garsh said she would also allow a July 12, 2013 call in which Hernandez, speaking from jail, tells his cousin Tanya Singleton: "Obviously don't say nothing."
"I'm not saying nothing," she replies.
Singleton, who has terminal cancer, spent seven months in jail for refusing to testify before a grand jury investigating Lloyd's killing. She has also pleaded not guilty to helping Hernandez co-defendant Ernest Wallace flee to Georgia.
In a July 23, 2013 conversation from behind bars, Hernandez is recorded saying he set up trust funds of $75,000 or $100,000 for Singleton's two sons, which he says would double every seven years.
In fact, he never set up the trust funds.
Singleton's sister, Jennifer Mercado, completed her testimony in the case Thursday. Mercado, who was granted immunity and ordered by the court to testify, said on the stand this week that Wallace and Hernandez's other co-defendant, Carlos Ortiz, sometimes smoked PCP and that Wallace would act crazy, jittery and erratic.
She said surveillance video taken at Hernandez's home in the early morning hours before the killing showed the two men acting jittery. But upon seeing more video Thursday from that morning and later that day, Mercado said it did not appear that Wallace and Ortiz were acting erratic or crazy.
Wallace and Ortiz have pleaded not guilty and are being tried separately.
---
---