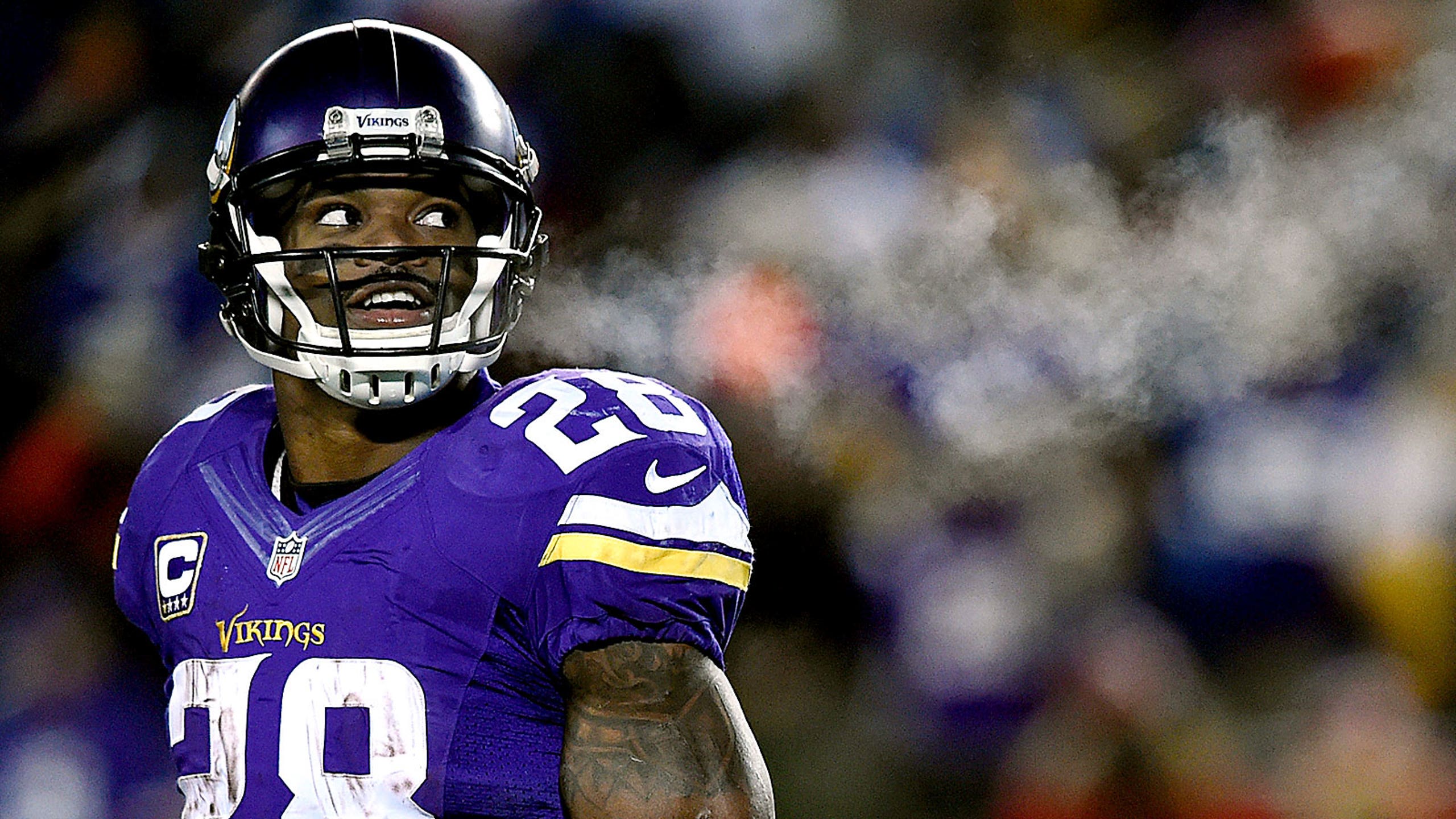 A year after public scorn, has Adrian Peterson been forgiven?
BY Reid Forgrave • January 5, 2016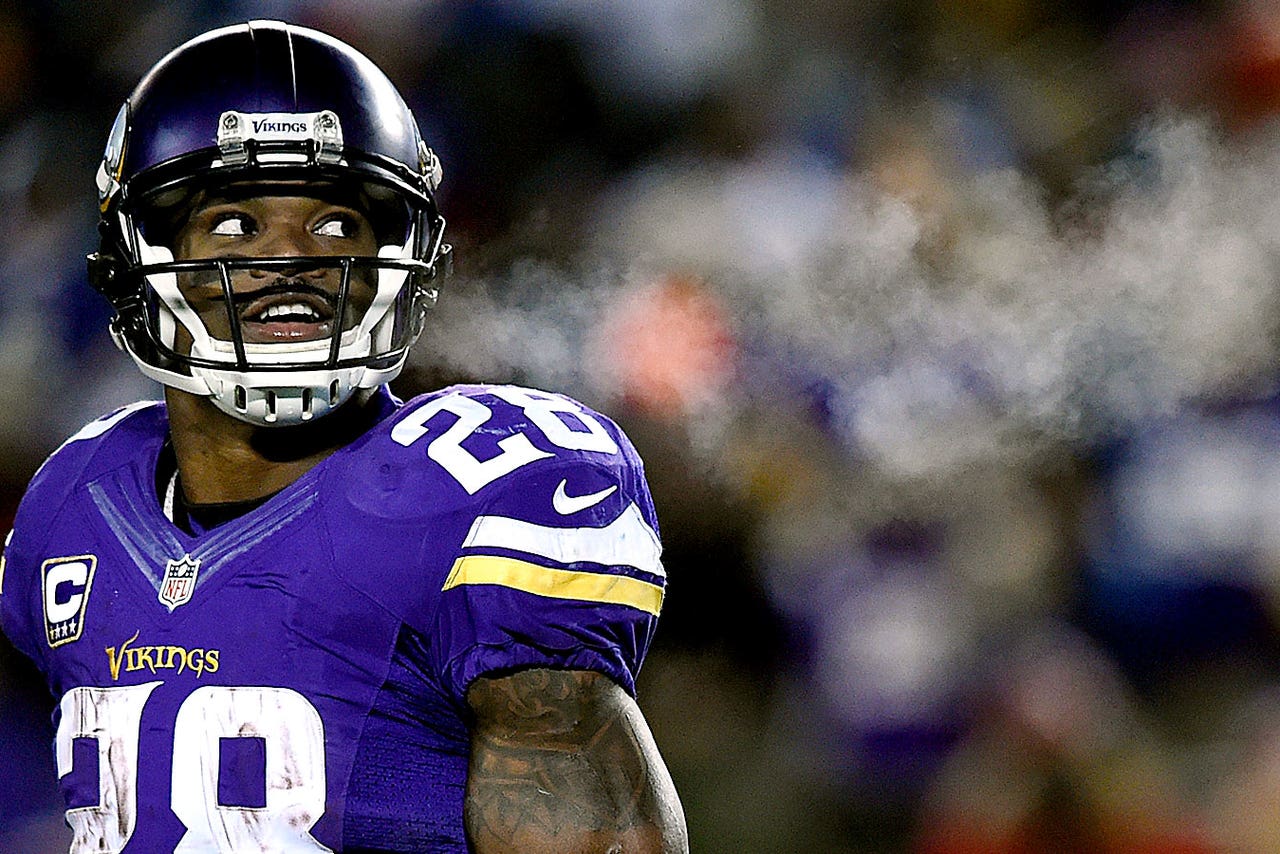 EDEN PRAIRIE, Minn. – On a recent bone-cold Minnesota morning, the best running back of his generation strode into the locker room at the Minnesota Vikings practice facility, swam into a cavalcade of cameras and began to hold court.
It has been more than a full year since Adrian Peterson's season-long suspension from the league. In September 2014, he had been indicted in Texas on charges related to whipping his 4-year-old son with a switch, and back in Minnesota Peterson's image immediately flipped: from the good-guy face of a franchise to one of the villains of an NFL beleaguered by player conduct problems.
Yet on this morning all seems forgiven. This is what happens when you are the driving force behind the resurgence of a football franchise known more for its heartbreaks than its successes. Peterson's Vikings are on the way to the playoffs, about to cap off a surprising 11-5 regular season by topping the hated Green Bay Packers in a Week 17 showdown that will give Minnesota the NFC North title for the first time since 2009.
The 2015 Vikings are perfectly designed for Peterson's power running style -- a smash-mouth, ball-control team whose quarterback rarely turns over the ball married effectively with a defense that ranks fifth in the NFL in fewest points allowed.
As the wins have piled up, most of last year's season of bad feelings toward Peterson have gone away. Perhaps that's to be expected when a surefire Hall of Fame running back posts his typically great statistics at age 30. Peterson led the NFL in rushing with 1,485 yards, the third-highest total of his career. He scored a league-leading 11 rushing touchdowns. He had seven 100-yard games during a season in which he passed legendary running backs such as Eddie George, Tiki Barber and O.J. Simpson for 17th place on the NFL's all-time rushing list.
On this morning – maybe because it's a topic that had been rehashed over and over a year ago in the media, in interviews and in Peterson's mind – none of the talk is about the 2014 felony child abuse charge that Peterson plea-bargained down to misdemeanor reckless assault. Instead, Peterson is asked about playing a bigger part in the Vikings' passing game this season. ("Just being ready whenever my number is called.") He is asked about his fumbling difficulties. ("A lot of people say, 'Oh, you lead the league in fumbles,' but how many fumbles lost do I have?") He is asked about how much pride he takes in 100-yard games, which are down league-wide the past several years. ("To be honest, I take pride in 200-yard games – that's what I'm thinking about," he said with a laugh.)
These are the expected questions in any star player's weekly interview session with beat reporters – each of the mundane, football-centered variety to feed the daily news cycle. This could have been any NFL star getting interviewed: Russell Wilson, Aaron Rodgers, Tom Brady.
Except this isn't just any NFL star. This is a player whose recent legal troubles, fairly or unfairly, had been lumped into the storyline of a troubled NFL in the age of Ray Rice and Greg Hardy. This is one of the most marketable players in the league – the 2012 NFL MVP -- whose name was dragged through the mud all of last season.
Since I moved to Minnesota this spring, I've been struck by how few discussions, even mentions, I've heard of Peterson's roller coaster of a past 16 months. Yes, part of that is because all of it was discussed ad nauseam while he was suspended. But still, the dissonance of having the man who was painted as a villain all last season now having jump-cut his way back to his old role as the cornerstone of this franchise is intriguing. Kids have gotten back to wearing Peterson jerseys. The pulled sponsorships, the protests, the talks of All-Day's character are no longer a story. What had seemed a fraught relationship between a franchise and its star player for a full year has quickly reached a détente, if not a full embrace.
The Vikings are winning, Peterson is back to being the top running back in the NFL, his wife has given birth to what she told reporters is Peterson's sixth child, and all is well.
So I asked Peterson: Did this feel like a season of redemption for him?
"A season of redemption?" Peterson replied. "I would say, yeah, but not more so for people on the outside painting me as a villain. These people don't know me. It's real hard for me as a human being to judge someone based off their perception of a situation without knowing details, without knowing any facts. It would be hard for me to judge anyone, no matter how the situation may look. That's how people have handled me. I take that for what it is. It is what it is."
In the past year, Peterson had been scorned and spurned not just for committing a crime but for being so out of touch that he didn't fully understand what he did wrong. An ESPN The Magazine article before the season told the story of Peterson riding into his ostentatious 30th birthday party on a camel, and it drew a picture of a deluded man who thought the world had wronged him and an inner circle who backed him up.
A Deadspin article was titled "Adrian Peterson Is A ****ing Moron." His offseason jockeying to be traded from the Vikings came across as petulant. Prevent Child Abuse Minnesota, a local non-profit, got an influx of phone calls about the situation, and the interim director even was invited to the Vikings facility to talk with players about disciplining children. The undercurrent of this whole controversy – a gulf in the way northerners look at corporal punishment versus the way southerners look at it – made some think more deeply about child discipline.
Mostly, though, Peterson was simply portrayed as a bad father. (He has spoken about how he was disciplining his son the same way his dad had disciplined him while growing up in Texas.) It was the full-scale destruction of what had been a clean-cut character.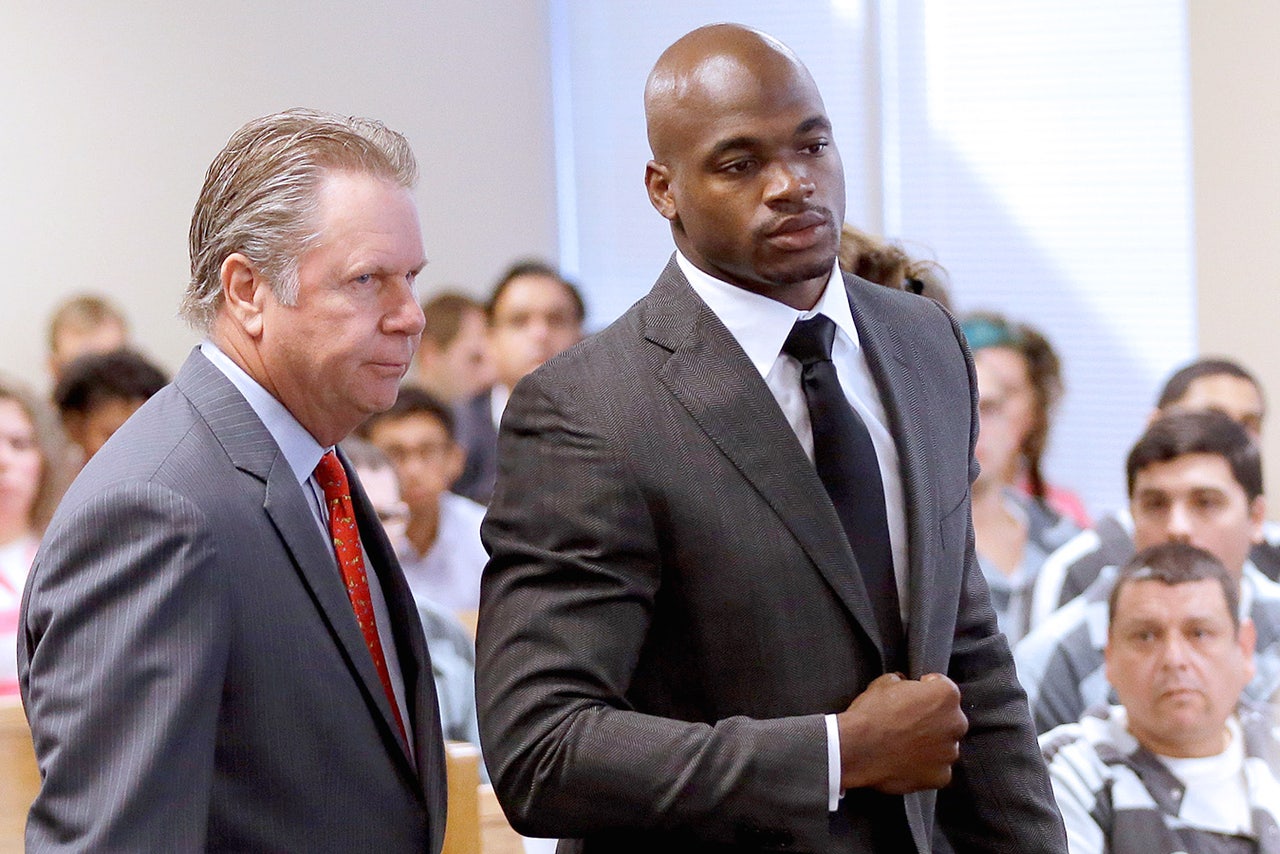 Last season, Adrian Peterson spent more time in court than on the football field.

Yet now, with the Vikings hosting a playoff game against Seattle this weekend, all that seems pushed under the rug.
When I asked him about his past 16 months and how they changed him, Peterson paused a moment. I expected a typical sports cliché about conquering adversity. Instead, he gave a refreshingly thoughtful and philosophical answer.
"I don't let it bother me because at the end of the day, I'm comfortable with who I am," he said. "My family, my kids, they know who I am. And most importantly, my heavenly Father, He knows my heart, and He's the only one I have to answer to.
"In life, people -- because of political reasons -- they'll turn their back on you fast, fast as lightning. Not putting your trust in man. See people for who they are. But with that, get over anger. Forgive them, and not judge them. And move forward."
How Peterson has moved forward on the football field has been impressive, especially for a 30-year-old man in a position that seems to have an NFL shelf life of just a few years.
But more interesting has been how the NFL and the Vikings' community has moved forward since Peterson's grand jury indictment on Sept. 12, 2014.
It's a testament to one of two things: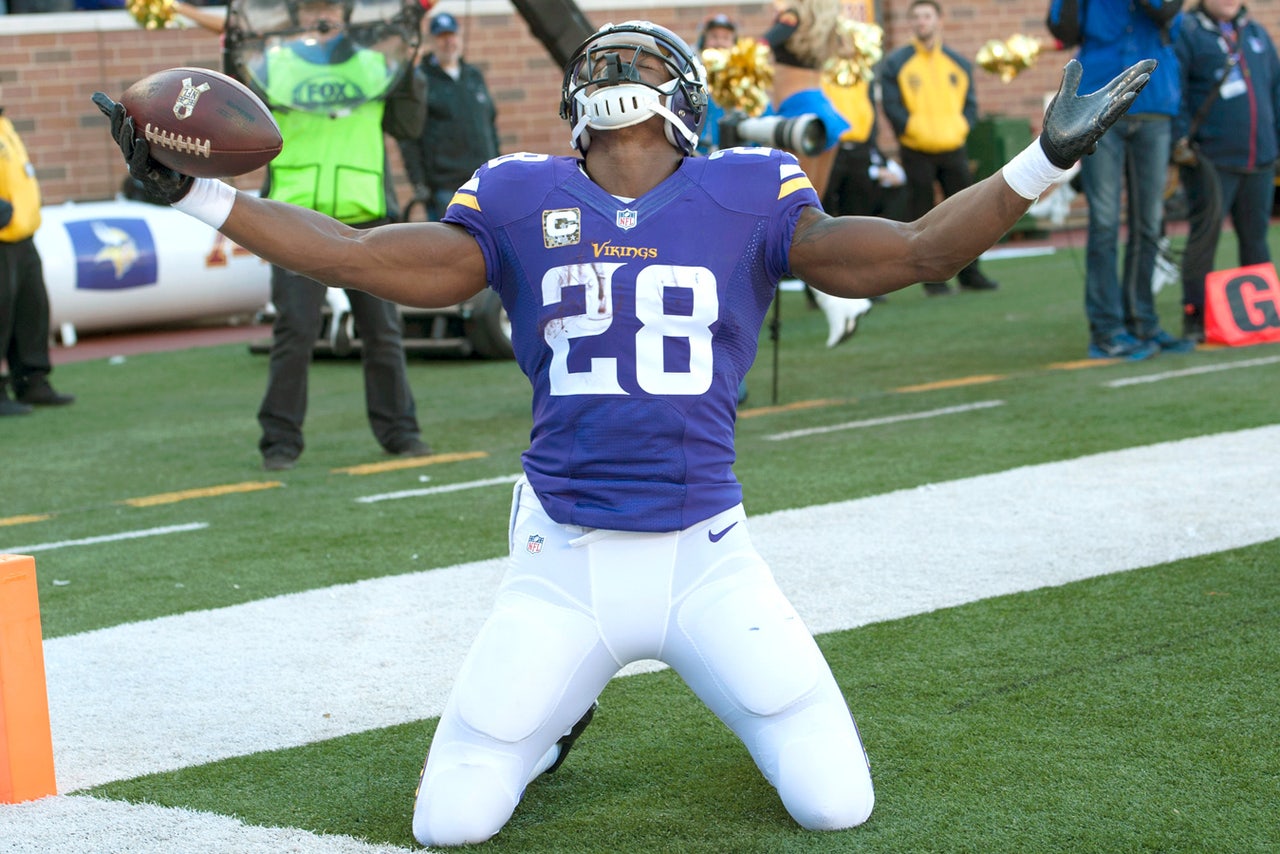 Moments like this in 2015 have made fans forget about the outrage that followed Peterson during his 2014 suspension.

-- Peterson's history as a player who has always treated people the right way, from teammates to fans, from local charities to local reporters. Minnesotans talk about Peterson stopping by after a workout in the August heat of training camp and taking pictures with hundreds of different fans. On road trips, he can often be found signing autographs in the hotel lobby.
-- The old American view that winning – that leading the league in rushing en route to a Vikings 11-5 season – is the best antiseptic.
"If you did an Adrian Peterson popularity poll 16 months ago, it would have been, 'Get this child abuser out of this city,' " said Phil Mackey, a sports radio host on 1500 ESPN Twin Cities. "Now, enough time has passed. He's at least shown some level of remorse. And if you're an athlete, the main reason people like you in the first place is you score touchdowns for your team. It's hard to cheer for a team and isolate out the one guy you're upset with."
But the episode did cause plenty of soul-searching among the Vikings fan base as well as football fans across the country. Part of it was the stark difference in opinions on corporal punishment that cleaved on geographic lines. But the other part harkened back to Charles Barkley's old saying: "I am not a role model."
"It really put into perspective the way we deify athletes and use athletes as role models," Mackey said. "Sports at their core are entertainment – like movies and music and plays and TV shows. Yet sports are the only area of entertainment where we get hooked and addicted to specific people and brands. It shatters our world when something like this happens. Your buy jerseys for your kids, then that athlete betrays your trust. But if Tom Hanks went to jail, we wouldn't be emotionally distraught over it."
What shook fans most was the difference in how they had viewed Peterson when placed alongside the published photographs of his 4-year-old son with disturbing flesh wounds. If this had been a famous athlete with a history of on-field or off-field problems, fans may have shrugged their shoulders.
For Paul Allen, the longtime play-by-play voice of the Vikings, those feelings of one year ago were intensely personal. Allen has a 15-year-old son and a 12-year-old daughter. They adored Peterson, and now Allen had to explain to his children what Peterson had done. Peterson had always been good to Allen, to his family and to his charity.
"It's troubled me on a level that's outside of being the play-by-play guy," Allen said. "I'm very close to Adrian. I'm fond of him. He's been good to me. And all the sudden a guy of whom I'm very fond of is hated and ripped by everybody. … From a fan standpoint, the vitriol he was facing, I've never come across anything like that in my life. He lost fans for life because of it."
And yet Allen, like fans of this team, was able to separate Peterson's off-field mistakes from his on-field brilliance. What happened to that child was deplorable, Allen said. But for 16 Sundays a year…
"Local football fans and national football fans have been able to separate the personal emotions from the football emotions," Allen said. "You cheer for him one day a week. … I live my life like I'm not one to judge. The situation between him and his son is a situation between him and God and his family members."
And interestingly, chief operating officer of Prevent Child Abuse Minnesota, Becky Dale, took a similar position. The urge to punish Peterson a year ago was the wrong reaction. The urge should have been to educate.
"A lot of public conversation here was around, 'Should he play or not?' " she said. "That wasn't the right question. This was an opportunity to talk about how we educate ourselves and our community at large about what types of discipline work.
A lot of people grow up thinking physical discipline can help them succeed in life. That's what Adrian was saying, that this is what happened to me, and that this is what I think I should do as a parent."
Perhaps it's that type of view that has brought about the forgive-and-forget position fans have taken on Peterson during these Vikings' unexpected run.
"We need to acknowledge and have compassion for what people's experiences were that they brought into parenting," Dale said.
Back in the Vikings' locker room, players were milling in and out before practice started. The team was flying higher than anyone expected: Head coach Mike Zimmer by his second season had remade the franchise in his own no-nonsense, defense-first image. It hadn't always been pretty, but the offense simply had gotten things done, as only three NFL teams had fewer turnovers than the Vikings this season.
"Of course it's forgotten now," McKinnon continued. "Last year a lot of fans came at him, and now that he's back, it's all forgotten. We're having the season we are, he's having the season he is -- everybody's happy again."
-- "The only thing that really keeps it going is the media – y'all," wide receiver Mike Wallace said. "Time really heals all things. … You gotta move on at some point, no matter what it is."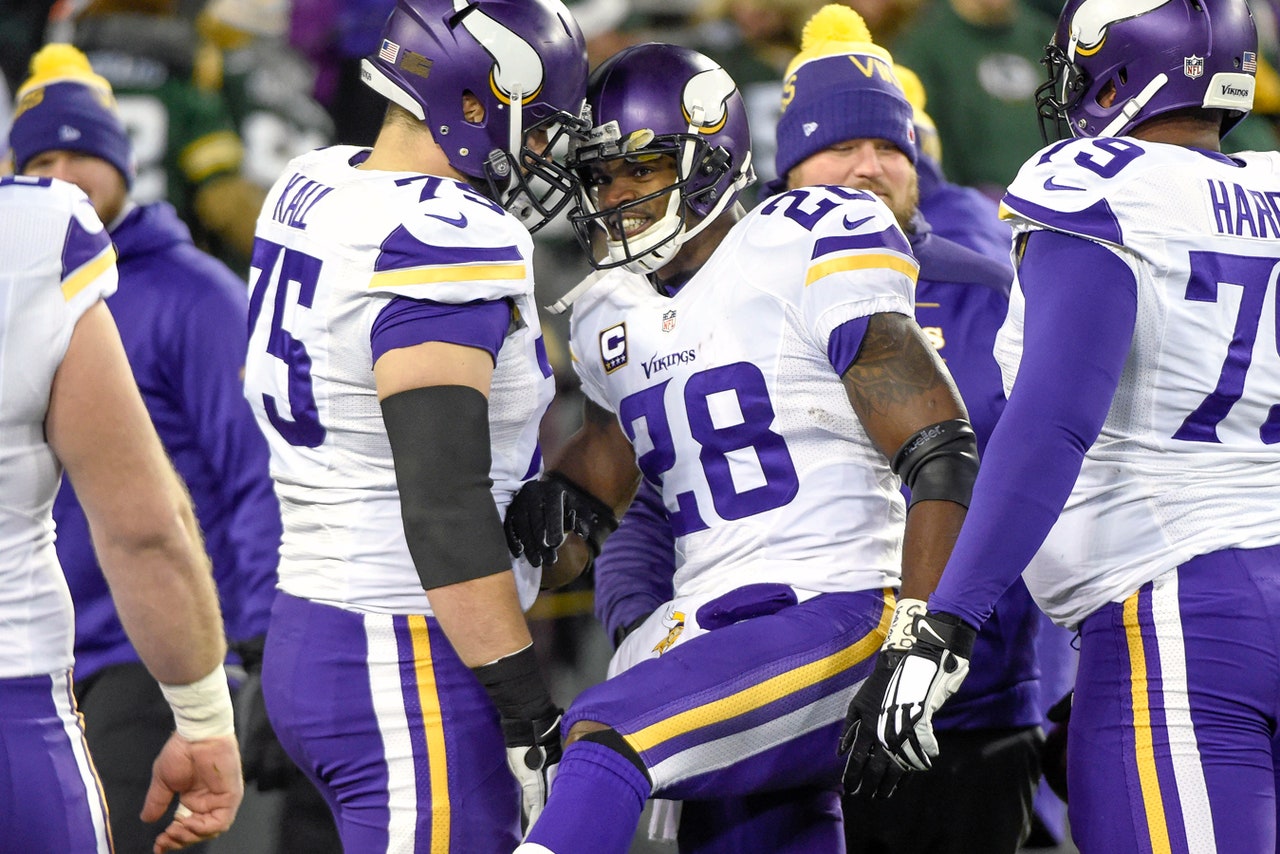 Teammates have been quick to come to Peterson's defense.

-- "People want to voice their opinion on things that are going on in the world today, and they don't know the facts," defensive end Brian Robison said. "I've always been a person to say, 'I wasn't there, I don't know what happened, so I can't base my opinion off that.' The people who are making the opinions were just listening to the picture that's being painted about him, and it's ridiculous."
"People were quick to forget actually how good of a guy he is," Robison said, "and immediately turn him into a villain."
In the corner of the locker room, the man who had been the villain stood in front of a Vikings backdrop and smiled. Peterson was talking football. He talked about this year's successes, for him and for his team. He joked with reporters.
I asked him how the past 16 months changed how he looked at the sport that made him rich and famous and, when things turned bad for him, a target in the public eye.
"It has always been a game, but it's even more so just a game," Peterson replied. "I sit back sometimes – fans get tattoos and stuff of the player they love. That's all good. But in the big scheme of things, life is way more important than the game of football. Stand back, and spend time with my kids. Take my kids to school. I know those things, but it really just put things in perspective. This is just a platform God has blessed me with, to be able to go out and perform. People like what you do on the field."
Everyone else seemed to have forgotten the outrage from a year ago. But the best running back of his generation, the man who had been at the center of that storm, had forever been changed by it.
"In life, it just kind of opens your eyes to definitely not putting your trust in man," he said. "Because he'll turn his back on you. Whether it's for self-gain, or protecting themselves – they'll turn their back on you quick. It's hard for me to understand that because I'm not that type of person. I'm going to ride it out with you 'til the end. I'm going to stick to what I believe in."
Follow Reid Forgrave on Twitter @reidforgrave or email him at ReidForgrave@gmail.com.
---
---