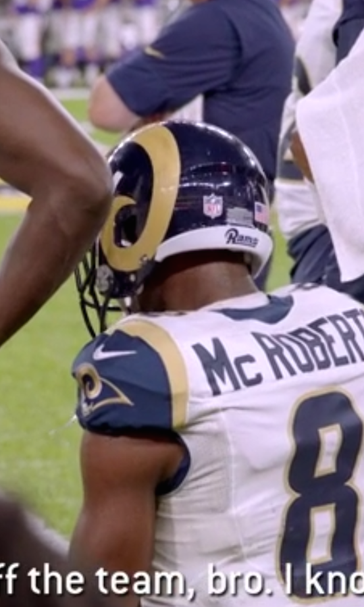 8 takeaways from the season finale of 'Hard Knocks' with the Los Angeles Rams
BY Pete Blackburn • November 15, 2016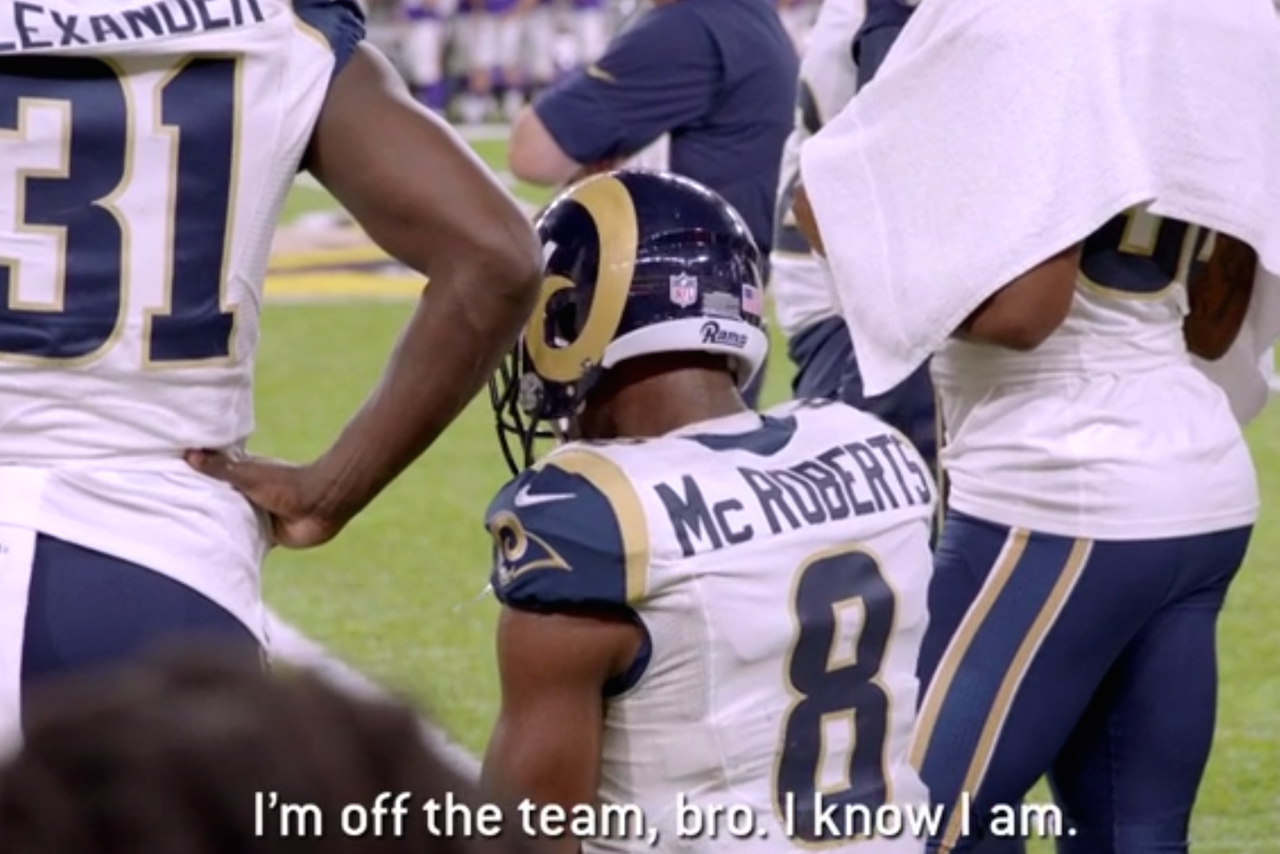 The fifth and final episode of this season's Hard Knocks aired on HBO Tuesday night, bringing an end to the latest installment of the annual series that takes football fans behind the scenes of an NFL training camp.
This year's series has followed the Rams as they return to Los Angeles and try to establish a new identity both on and off the field. But just as the Rams have had some pretty unspectacular seasons of football in the past few years, this has been a pretty unspectacular season of television. The first four episodes were mostly vanilla, and the finale was never going to undo that regardless of what went down.
That being said, some drama finally arrived and brought some brief reminders of why we watch the show in the first place. Let's jump into the final takeaways.
Time to grow up, Lamarcus Joyner
Last we checked in with cornerback Lamarcus Joyner, he was being a big baby and refusing to practice because he wasn't getting enough reps in camp. Tuesday's finale kicked off with the 25-year-old threatening to quit the team during a meeting with head coach Jeff Fisher.
"I want to be a starter," Joyner told Fisher in his office. "Ya'll can have your money back. I don't play football for money. Coach, I love this game." He told his coach that he would be happier if he quit and went to work at Wal-Mart. (I wish Fisher called his bluff there.)
Fisher told Joyner he wanted him to be the nickel cornerback because he thought it was the hardest position to play. Then, he shared a story with Joyner about how, back in 2000 as head coach of the Titans, he thought Steve McNair lost some passion for the game after taking a big hit. Eventually, Fisher saw it come back, and he said he wanted to bring it back out of Joyner as well.
Ultimately, Joyner and Fisher were able to clarify their stances and work it out, and the cornerback returned to the field soon after. These probably the most interesting and revealing moments of the entire series this year, as fans don't often get an inside look at how conflicts like this one find a resolution. This is exactly the kind of behind-the-scenes stuff that makes Hard Knocks valuable and interesting. Unfortunately, there wasn't a whole lot of it this year.
Musical. Montages.
I can't pinpoint when exactly Hard Knocks decided they'd have a musical montage featuring pointless super slo-mo closeups every 10 minutes, but that was a thing this season and it got old pretty quickly. We can probably chalk that up to the Rams being super boring and HBO needing to fill time.
William Hayes inception
Speaking of needing to fill time, we got to watch Will Hayes watch an episode of Jimmy Kimmel Live! in which Kimmel talked about the defensive end's love for mermaids and showed scenes from previous episodes of Hard Knocks. Seriously, we got to watch Hayes watching Hard Knocks on Hard Knocks. It was weird.
Todd Gurley hits the Pro Shop
The Rams second-year running back actually visited the Vikings' Pro Shop to buy an Adrian Peterson jersey that the Vikes' running back could sign after the Rams' final preseason game in Minnesota. A couple of teammates ribbed Gurley for the move, but he defended himself.
"What's wrong with buying another man's jersey, bro?" asked Gurley. "That's what's wrong with y'all. People got too much pride these days."
It's not uncommon to see players exchange game jerseys on the field, but I'm not sure if I've ever seen a player hitting up the team store before a game to purchase another dude's jersey.
A heartbreaking muffed punt 
Heading into the finale, one of the biggest complaints I had regarding this season of Hard Knocks was the lack of emotional depth or high stakes. The finale brought those stakes, as a lot of the players profiled through the previous four episodes had to fight for a spot on the final 53-man roster.
The last preseason game is where a lot of those jobs are won and lost, and wide receiver Paul McRoberts knew that. After not getting much of a chance to impress while lined up on offense, he decided he needed to make his impact felt on special teams. Unfortunately, his desperation backfired when he attempted to return a punt that clearly should have been fair caught and ended up fumbling away a turnover.
Knowing he's on the bubble, McRoberts' reaction to the mistake was pretty devastating. After competing intensely for a spot all training camp, he recognized that he could (and likely would) be undone by that one mistake. It was brutal to watch, but that's the kind of stuff that makes Hard Knocks great. Or at least used to.
Fortunately for McRoberts, he went on to make a nice touchdown grab later in the game and would eventually be signed to the Rams' practice squad. Other guys weren't so lucky, which brings us to ...
Final roster cuts
Hard Knocks always highlights several fringe roster players, making the round of final cuts pretty dramatic and interesting for viewers. This season's finale provided a number of harsh realities for familiar Rams players, as several who were focal points of the series ultimately didn't make the team.
Ian Seau, the nephew of late Hall of Fame linebacker Junior Seau, was cut. Austin Hill, the undrafted free agent wideout competing against McRoberts, was cut. Eric Kush, the goofy center who loves tank tops more than anybody in the world, was cut.
For what it's worth, the conclusion to this year's Hard Knocks provided a pretty interesting juxtaposition of fates. While not making a roster means coming up short on a lifelong dream for some, it's not always the end of the road for others.
Kush took his release pretty hard but was signed almost immediately by the Chicago Bears, his sixth team in the past two years. Linebacker Brandon Chubb didn't make the 53, but joined McRoberts on the practice squad, which was a win for him. Hill, however, didn't get any such breaks. He was left in "limbo," stuck at home with his family while he waits for a call from another NFL team. It's a call that may never even come.
"I've been cut multiple times and you always think it's going to be easier each time, but it's not," Hill said.
The face tattoo pays off 
Rams defensive end Ethan Westbrooks is a guy we saw getting chewed out on several occasions during this season. It wasn't a sure thing that he'd make the final roster, but he did.
That's extremely good news for him, considering he got a face tattoo with the hopes that it would motivate him to make it in the NFL and not have to pursue another, "normal" job with a tattoo on his face. It looks like he'll get to put off that worry for another year.
Hello, Hollywood
After preseason officially wrapped up, we got to see some of the guys loosen up a bit. Cameras followed rookie wide receivers Austin Spruce and Mike Thomas as they hit the Hollywood Walk of Fame, where they danced with (and failed to tip) a Michael Jackson impersonator, took pictures with fans and made fun of a way-too-skinny SpiderMan impersonator. Call it too little too late if you want, but it was one of the few standout examples of personality from a very vanilla Rams team this season.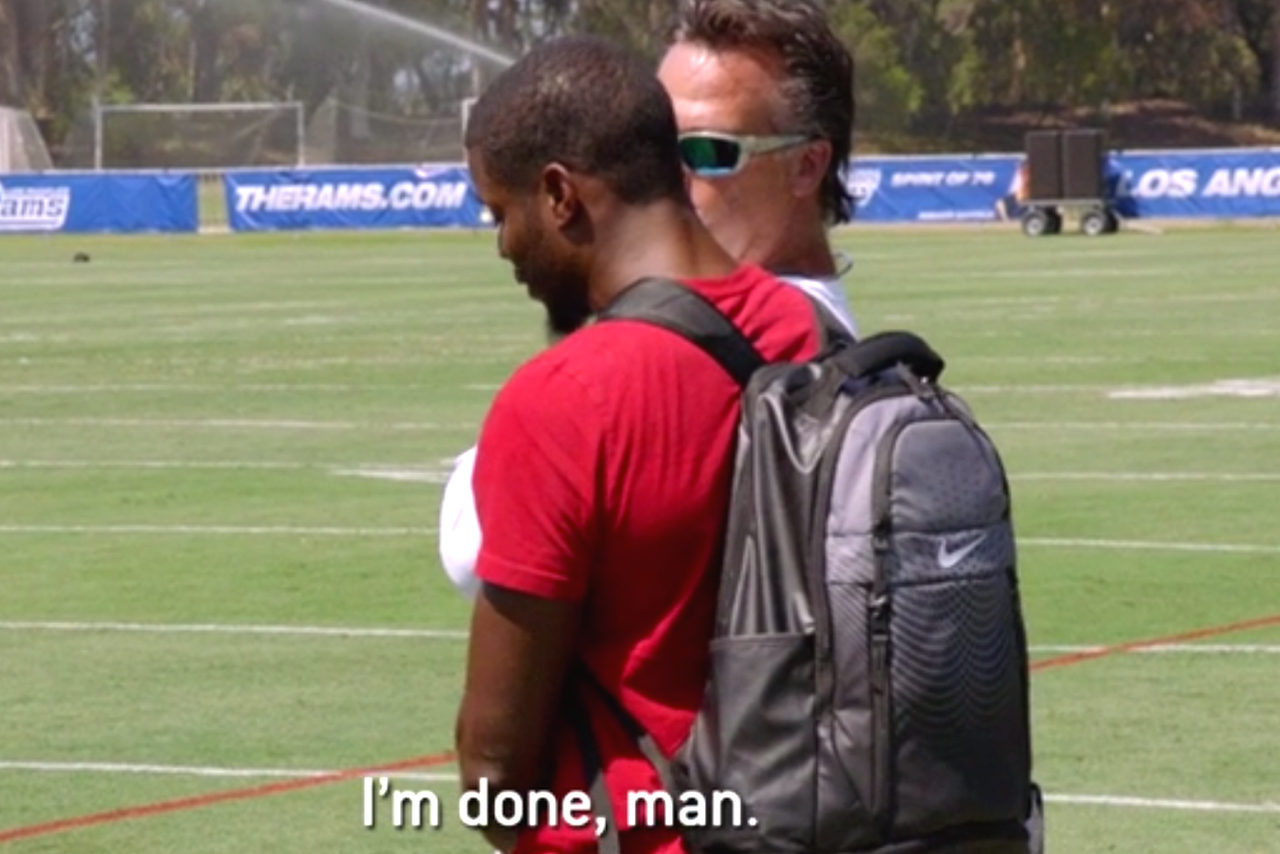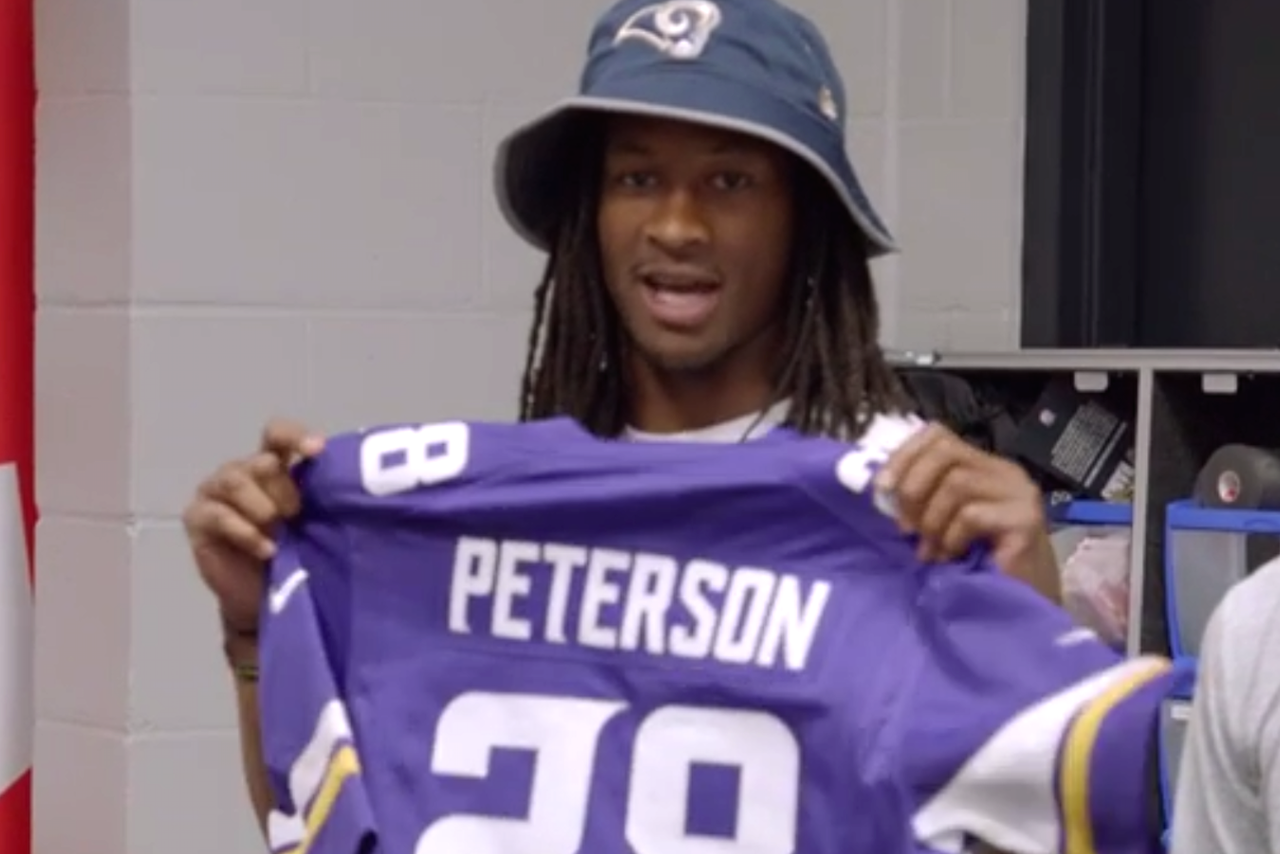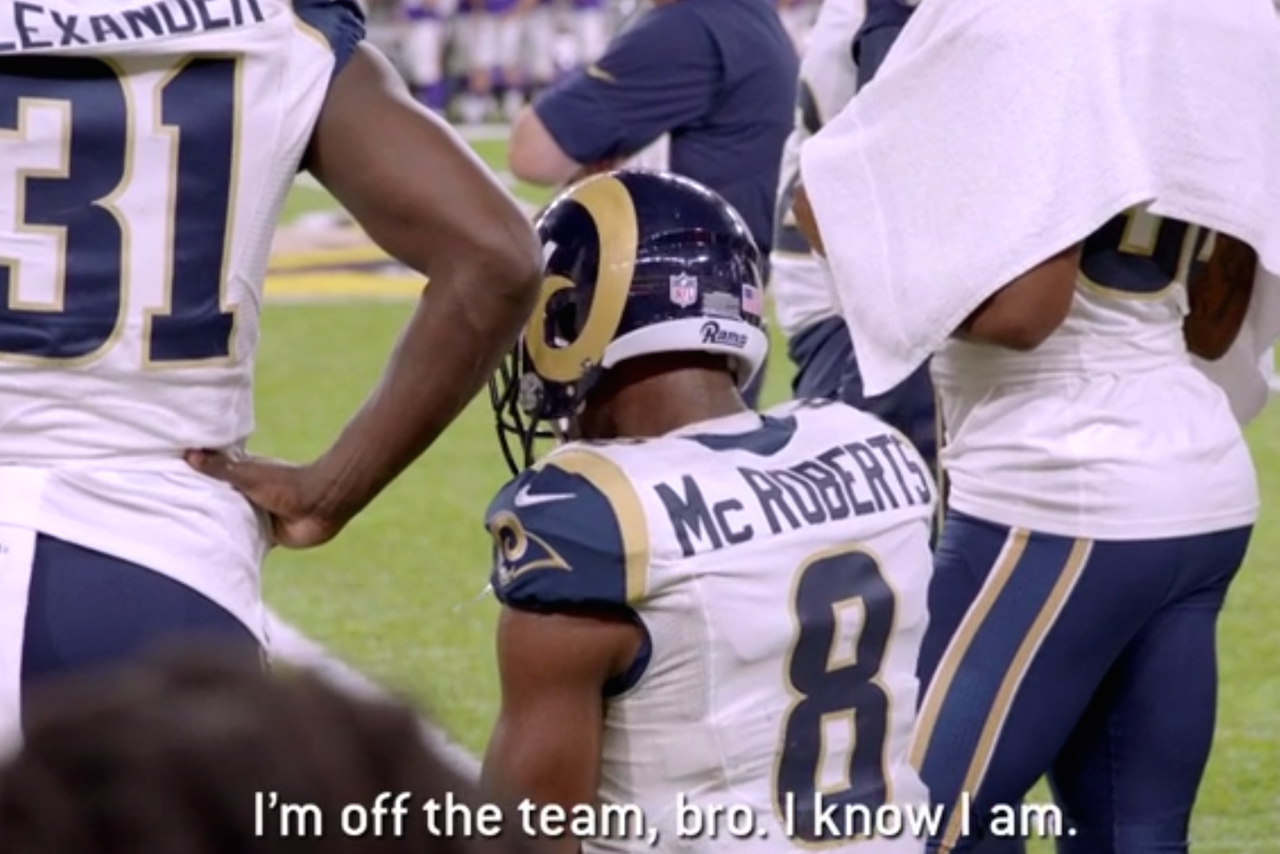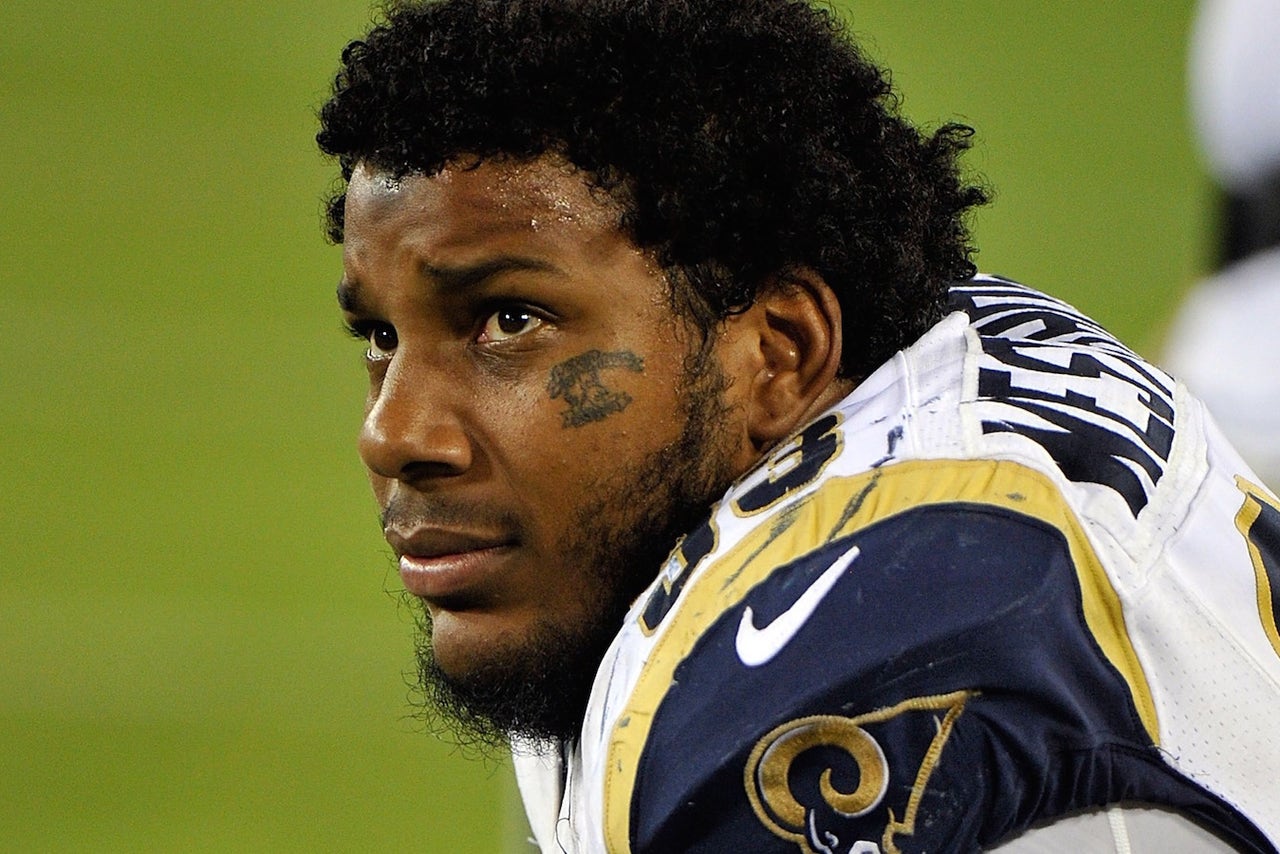 ---
---