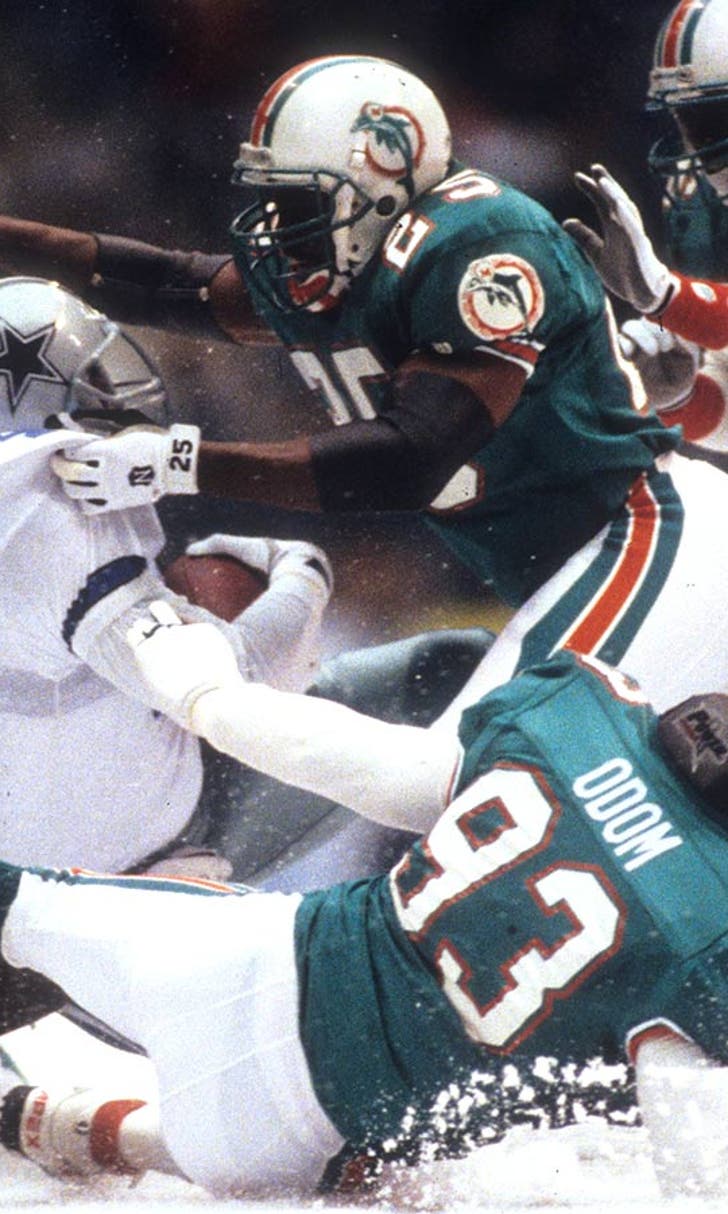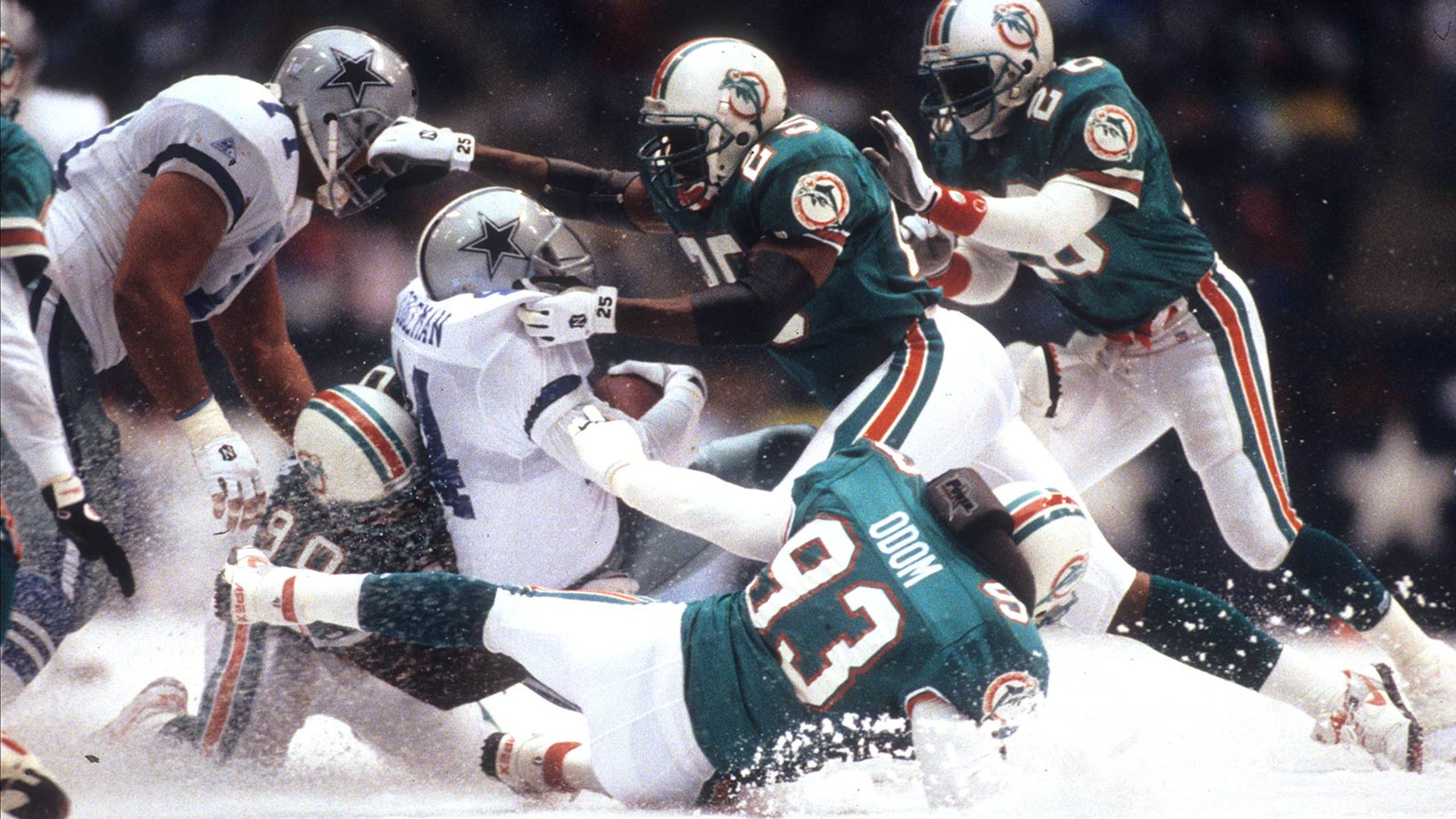 5 things you forgot about Dallas and Miami's epic 1993 'Snow Bowl'
BY Erik Malinowski • November 25, 2014
It's an afternoon that no football fan will ever forget: Thanksgiving Day, Dallas, 1993. 
It was 21 years ago today that we saw maybe the most dramatic ending to a Turkey Day game broadcast on national television. Dolphins kicker Pete Stoyanovich lines up for a game-winning 41-yard field goal, down 14-13 and just a few seconds on the clock. The Cowboys block the kick. The ball goes spinning into the freshly fallen snow, and a gaggle of players on both teams encircle the pigskin. All the Cowboys need to do is not touch the ball. All the Dolphins need is a miracle.
As The New York Times aptly wrote: "This was a crazy, crazy game with a fitting finish."
Enter Dallas defensive lineman Leon Lett, who had become infamous 10 months earlier for his goal line fumble in the Super Bowl, thanks mostly to the closing speed of Buffalo's Don Beebe. And now Lett's snowy slide into further infamy had allowed the Dolphins to recover on the 3-yard line and kick a (much easier) 19-yard field goal to win the game.
The last-second script change changed both team's fortunes that day in ways that no one could predict. It also didn't go down the way anyone really remembers, so let's go back to that historic moment when we all dropped our turkey legs in stunned disbelief. 
1. Miami's best player didn't even suit up
Dallas was ahead 14-7 at halftime, thanks to two Kevin Williams touchdowns — one on a 64-yard punt return for a touchdown and another on a 4-yard score from Troy Aikman — but the Dolphins clawed back throughout the second half. Their defense didn't allow Dallas to score again, and the offense moved the ball just enough for Stoyanovich to chip through three field goals. 
But it wasn't Dan Marino behind center for Miami. The legendary Dolphins quarterback had torn his Achilles' the month before — after starting the year 4-1, throwing eight scores and compiling a 95.9 passer rating — and would miss the rest of the 1993 season.
The Dolphins' playcaller that fateful day? Steve DeBerg, who was playing for his sixth career team and about to turn 40. DeBerg did pass for 284 yards, but he threw two picks and no touchdowns, so while you can say he technically won the game for Miami, it was more a case where he did just enough to not lose.
2. That was the last game Miami won that season
"This is as big as any win I've ever played in, and it looks like the games are going to get bigger and bigger," DeBerg said after the game. "This really became a man's game, a big man's game because all we could do was go straight ahead."
Alas, the Dolphins' season took a desultory turn after Stoyanovich's game-winning chip shot. Incredibly, 9-2 Miami had its next three games at home — New York Giants, Pittsburgh and Buffalo — and lost all of them. A Week 16 drubbing at San Diego dropped the Fins to 9-6, but a final-week win against the pitiful 4-11 New England Patriots would've sealed a wild-card playoff berth. 
It was not to be. A 36-yard TD pass in overtime from Drew Bledsoe to Michael Timpson nailed down a 33-27 win for New England and the Dolphins were left playing golf in January and wondering just what the heck had happened after that win in Dallas.
3. There was no instant replay back then
One of the weirder subplots of the NFL in the 1990s is how the game's owners summarily voted to remove instant replay for a period of seven seasons. After a March 1992 vote stripped replay review from on-field officials, the technology didn't return until 1999. In the interim, there were plays like the end of this 1993 game in Dallas, which the refs had to get right using nothing but the always-appreciated human element. 
Referee Ed Hochuli, in only his fourth season as a working NFL official, was the one who delivered the decision in one of his now-trademark, long-winded explanations. Back then, he didn't have the benefit of replay review, but he and his crew still nailed the intricacies of what went down on that play.
"I didn't see anything after the block," Hochuli told the Cowboys' official team magazine last year. "That's common in terms of what our specific areas of responsibility are. My eyes are trained to be on the kicker, the holder, the snap, not where the ball landed downfield. So the crew came together, and there was a little input from everyone, and we put the pieces together. I have so much confidence in my crew. We have complete trust and confidence in each other. And we got the call right."
4. Leon Lett has rebounded nicely from his infamous past
"I knew the rule," Lett recalled last year. "I had blocked field goals in the past. It's not like it was my first time on the field goal block team. Maybe it was that season, but not in my career. I have been trying to think back for, what, 20 years now, and I don't know what happened. It was a brain freeze."
But to his enduring credit, Lett never let his two high-profile oopsies on two of the game's biggest stages — the Super Bowl fumble and the Thanksgiving snow slide — define him or his career.
After that 1993 season, Lett played in 89 more games for the Cowboys through the 2001 season. He made two Pro Bowls and recorded 19 sacks, and Lett is now in his third season under head coach Jason Garrett as the team's assistant defensive line coach.
5. That was the last game Dallas lost that season
What, you thought this game only altered one team's campaign? In the same way you'd be shocked that first-place Miami never won again the rest of the year, this devastating loss for the Cowboys proved to be, well, not at all devastating!
"We've lost two in a row to start the season, and we've lost two in a row now," Cowboys head coach Jimmy Johnson said after the game. "There is no reason we can't put another streak together. This was a very disappointing loss. In fact, I don't know whether I've ever had a loss that hurts like this one right now."
In fact, the Cowboys did put together another streak — one made entirely of wins. They won their next eight straight games to not only finish the season at 12-4 but win their second-straight Super Bowl — and are still the last team to have done so.
You can follow Erik Malinowski, who has never had a field goal blocked, on Twitter at @erikmal and email him at erik.malinowski@fox.com.
---
---