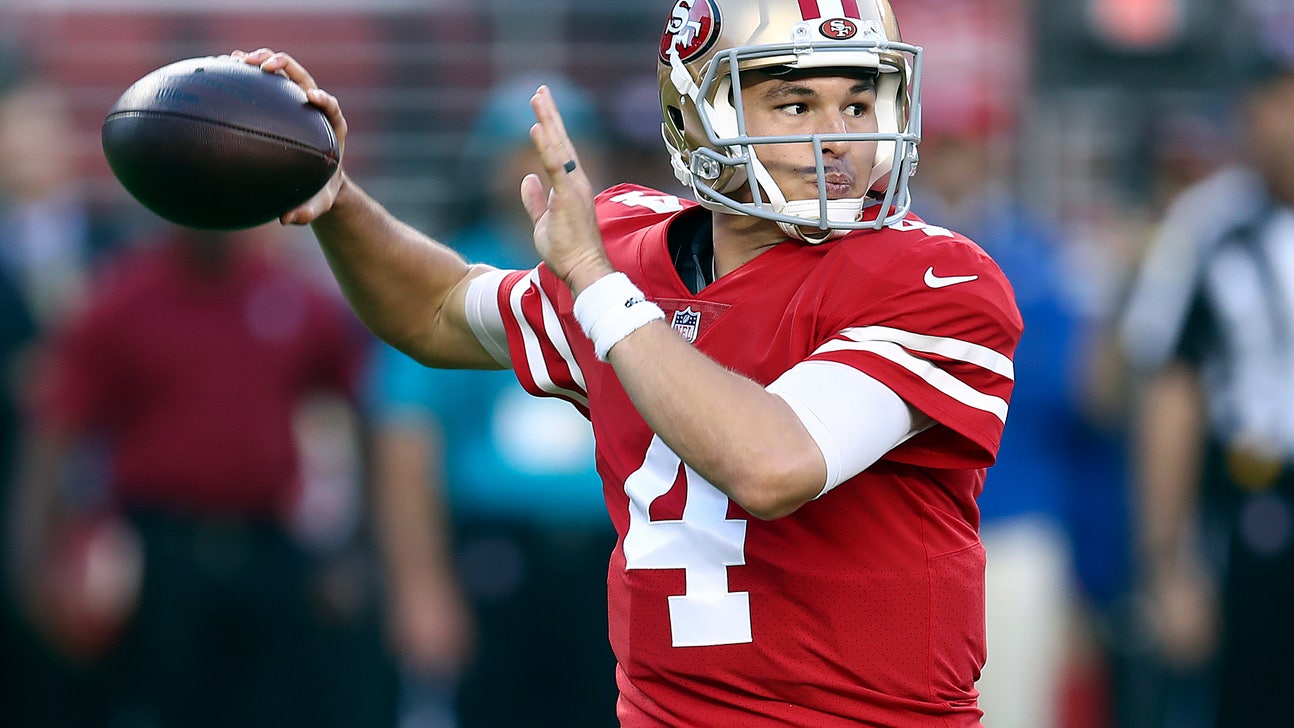 49ers QB Nick Mullens knows how to make good 1st impression
Updated
Mar. 5, 2020 12:41 a.m. ET
SANTA CLARA, Calif. (AP) — Nick Mullens knows how to make a good first impression.
Whether it was wearing a suit to his pre-draft interview with the San Francisco 49ers or setting records in his NFL debut, Mullens has proven that he can get off on the right foot in a new situation.
Now the key for Mullens heading into his second start for the 49ers (2-7) on Monday night against the New York Giants will be building on the big performance he had last week against the Oakland Raiders to earn that second chance.
Instead of getting rushed into action on a short week with no real practice, Mullens gets the benefit of a full week of work with his teammates as he tries to match the three-touchdown performance in a 34-3 win over the Raiders last Thursday night.
"He doesn't have to cram everything in in a day and a half," coach Kyle Shanahan said Thursday. "He's got the whole week to kind of let it saturate, learn the play calls, spit them out easier, gets to throw some full-speed balls to all our players where last week there wasn't one full-speed rep. I think it helps prepare him more and makes him more comfortable going into the game."
Mullens has felt comfortable ever since joining the Niners. He impressed people by dressing up for the interview and even though he went undrafted out of Southern Mississippi, he showed enough to stick around last year on the practice squad.
Mullens kept working hard, knowing the offense as well as anyone and improving at working under center after spending so much time in college in the shotgun that he had to watch YouTube videos to teach himself how to drop back properly.
"He worked as hard as anyone last year and he played scout team safety all last year," Shanahan said. "We spent most of last year this time messing with him on how bad his backpedal looked and things like that, on tape. But, he was a guy who just, he knew he had to do that, that's how the league works. You don't have enough guys to practice and he didn't just sit there and mope about it because I get how people could because it isn't a fair situation. But, he found ways to work on his own, to grab guys after, to go out late at night and do stuff. He's obsessed with getting better and he's needed the time to do it and it helped him get ready for last week."
That hard work paid off when Mullens got his first chance to play in a game when C.J. Beathard was hampered by a sore right wrist.
Mullens completed 16 of 22 passes for 262 yards, three touchdowns and no interceptions for a 151.9 passer rating last week. That's the highest since the merger for a player in his debut with at least 20 attempts.
Mullens also joined Hall of Famers Jim Kelly (1986) and Fran Tarkenton (1961) as the only QBs to throw for at least 250 yards and three touchdowns without throwing an interception in their NFL debuts.
That made it an easy call to give Mullens a second start this week, although Shanahan said he will evaluate the quarterbacks on a week-to-week basis.
"I don't think it was too tough of a decision," Shanahan said. "Our team played really well and he played well. It was going to be hard to not give him the opportunity."
About the only time Mullens got flustered was when Shanahan kept talking after relaying the play call into Mullens' helmet. Mullens got frustrated enough that teammates said he told Shanahan to quiet down even though the helmet offers only one-way communication.
That ended up amusing his teammates and lightening the mood in the huddle.
"Sometimes in the huddle, you hear the play call and you're ready to repeat it ...," Mullens said. "I was just ready to call the play."
Shanahan joked that Mullens will have to yell at him louder if he wants his coach to hear him on the sideline but he understands the frustration.
"That's always the dilemma for coaches and quarterbacks. It's funny because I know if I was a quarterback and someone was yelling in my ears, I would handle it much worse than those guys would," Shanahan said. "I struggle. I've almost gotten in trouble with head coaches for saying the wrong thing when you're trying to think and make a play call and someone's yelling in your ear, it's hard to think."
NOTES: LB Reuben Foster (hamstring) and S Jaquiski Tartt (shoulder) didn't practice and will be questionable this week. ... WR Pierre Garcon (knee) and LT Joe Staley (veteran's day) also didn't practice. ... The 49ers promoted DB Greg Mabin to the active roster from the practice squad and signed CB Tarvarus McFadden to the practice squad.
---
---