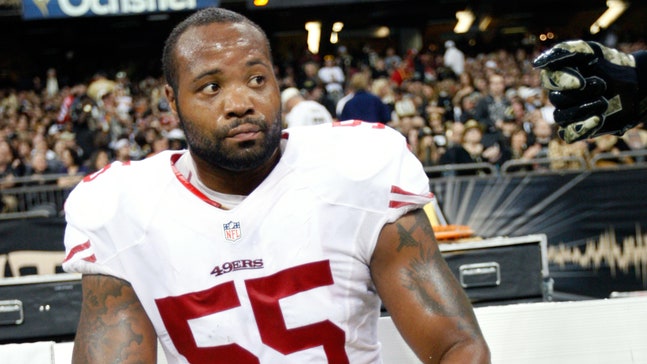 49ers LB Ahmad Brooks, upset with playing time, benches himself against Giants
Published
Nov. 16, 2014 8:12 p.m. ET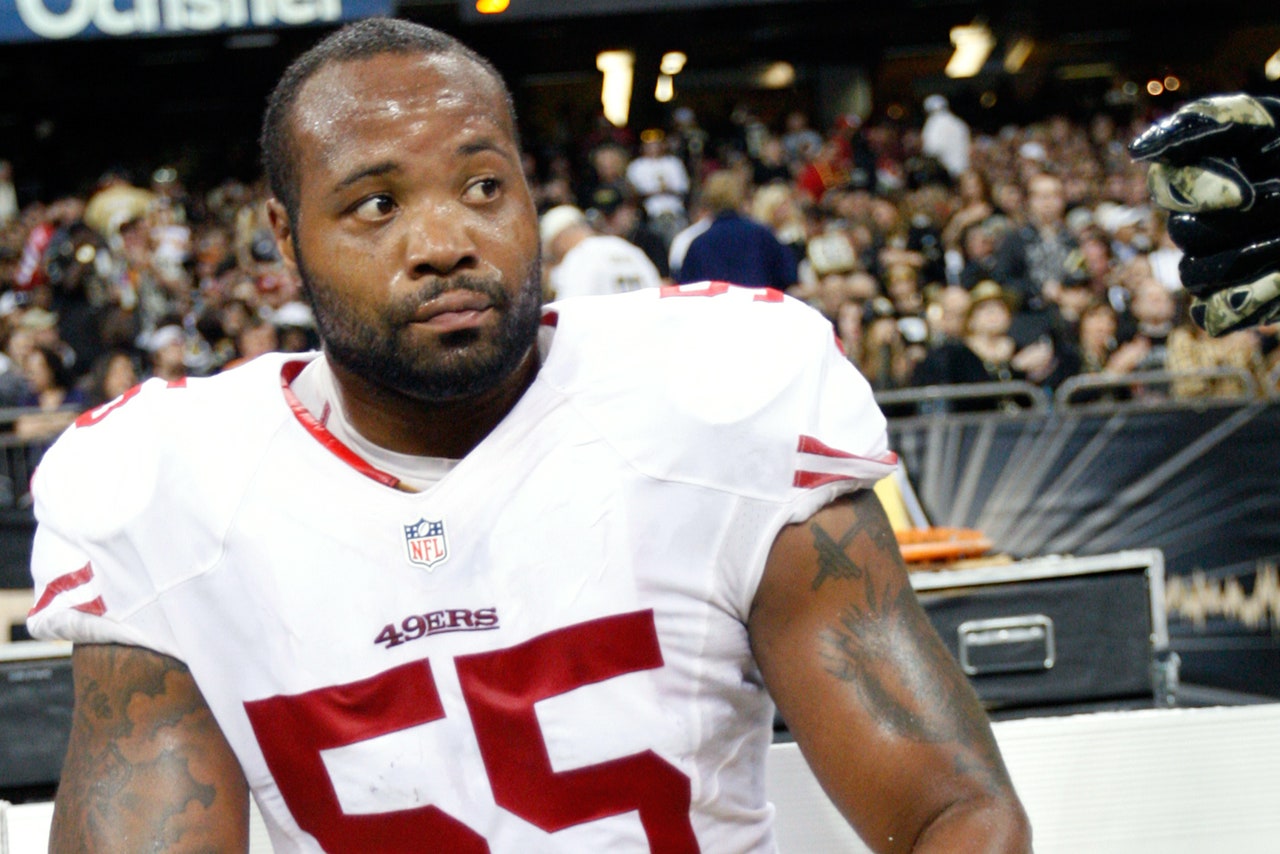 San Francisco 49ers linebacker Ahmad Brooks wasn't benched on Sunday. Rather, he benched himself.
A source told FOX Sports that Brooks was upset with the coaches' decision to take reps away from him and give them to Aldon Smith and Aaron Lynch during the team's 16-10 victory over the New York Giants. The source said Brooks told the coaches and his teammates he believed he should be playing every snap and didn't care to be part of a rotation, so he pulled himself from the game.
Multiple media reports from MetLife Stadium stated Brooks wasn't standing on the sideline in an effort to get back in the game but was rather sitting on the bench, removing his cleats and getting the tape cut off his ankles.
After the game, 49ers coach Jim Harbaugh said he and Brooks are "working through something" and added: "We need Ahmad Brooks to win a championship. I feel that wholeheartedly and have felt that way."
Brooks declined to address the situation in depth with reporters, though he agreed with the assessment he and Harbaugh are "working through something."
It's been an eventful season for Brooks. FOX Sports' Jay Glazer reported the Niners were in discussions with the Cleveland Browns about a possible trade shortly before the trading deadline. Last week, Brooks forced a fumble on a sack of Drew Brees to set up the game-winning field goal against the New Orleans Saints.
But Brooks' heroics weren't enough to save his spot as a full-time starter for very long. The 49ers wanted Smith to get right back into the defense after sitting out the first nine games of the season, and the team is very high on Lynch, who has three sacks in his last five games.
Both Lynch and Smith played well in Sunday's win over the Giants. Smith pressured and hit Giants quarterback Eli Manning as Manning threw an incomplete pass on the Giants' next-to-last offensive play -- a third-and-six from the 19-yard line.
Brooks' spat with the coaching staff is the latest bit of controversy Harbaugh and his staff have had to navigate. Somehow, they're doing it well enough to be 6-4, one game out of a playoff spot in the NFC.
---
---