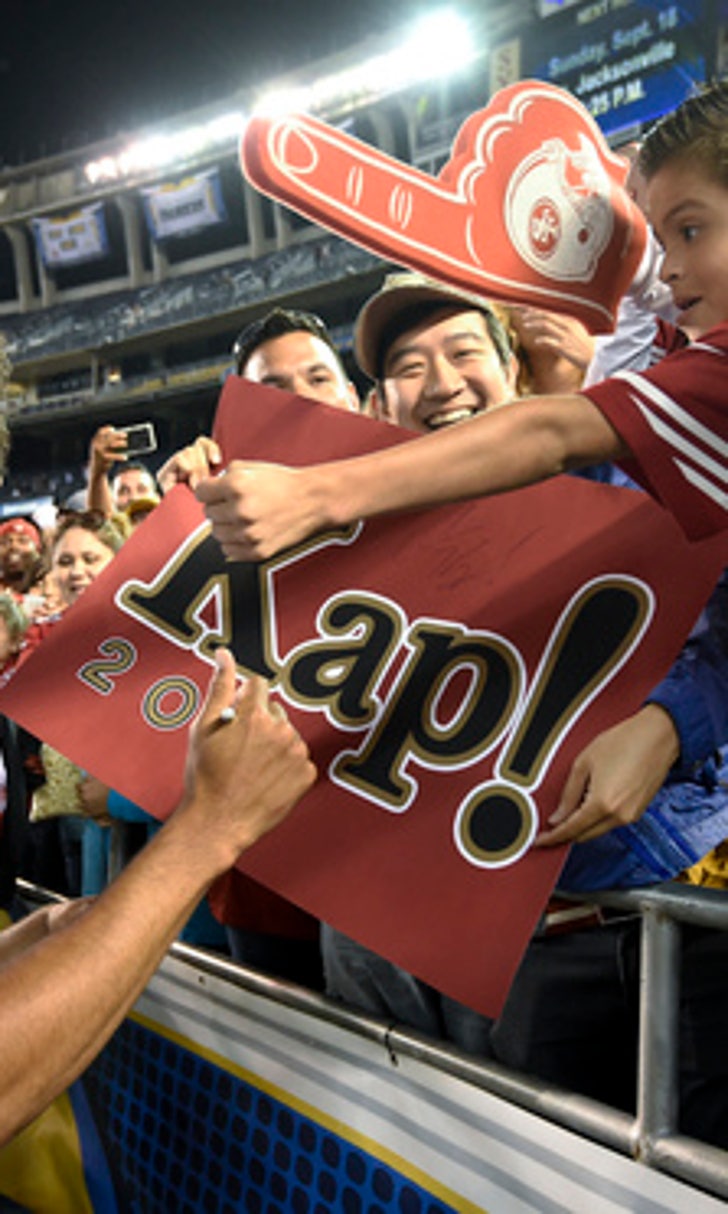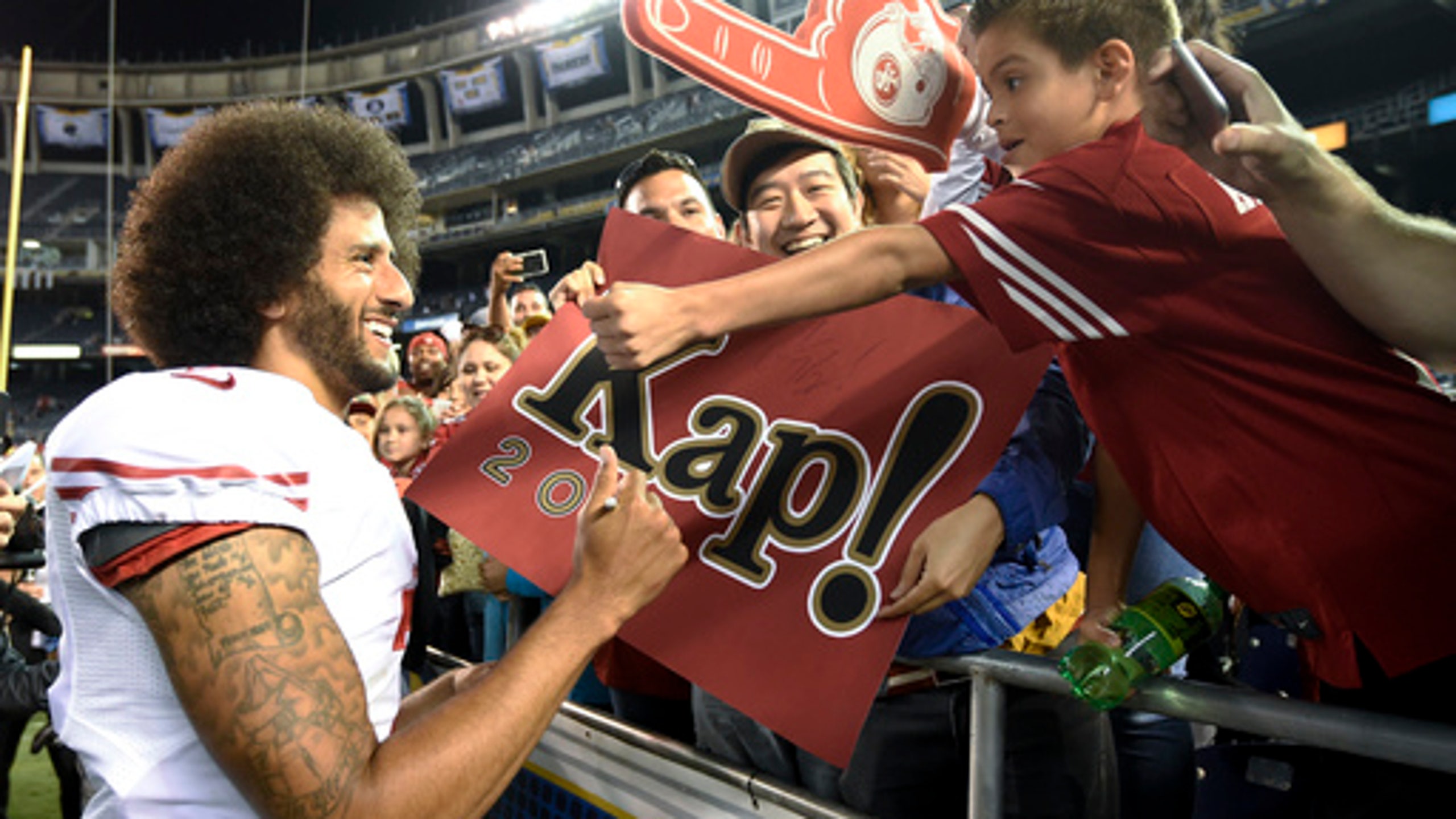 49ers keep Colin Kaepernick as backup QB to Blaine Gabbert
BY foxsports • September 3, 2016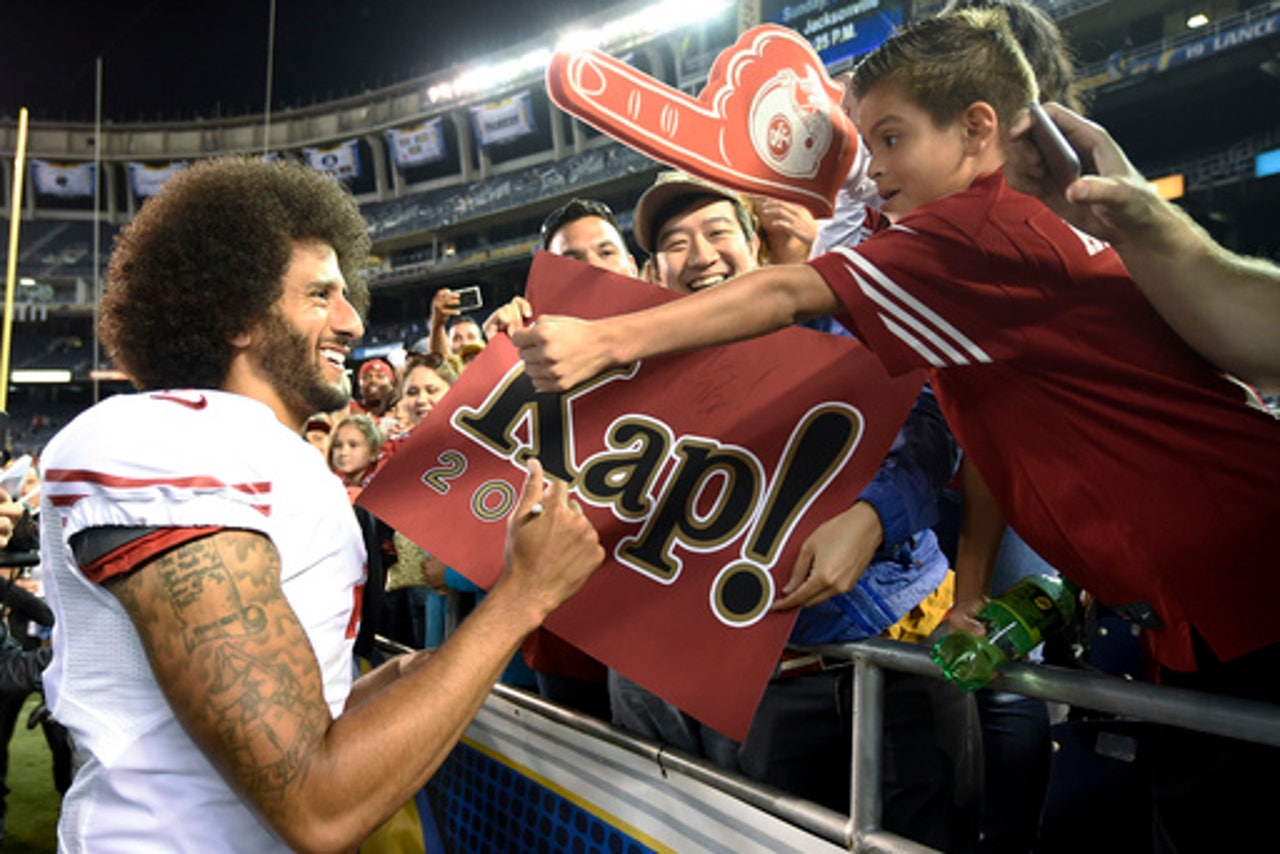 SANTA CLARA, Calif. (AP) Colin Kaepernick survived San Francisco's roster cuts on Saturday when the 49ers determined that his ability as a quarterback more than offset any potential distraction over his refusal to stand during the national anthem.
Coach Chip Kelly announced that Kaepernick will start the season as the backup to Blaine Gabbert with Christian Ponder as the third-stringer. Kelly had telegraphed that move to keep Kaepernick earlier in the week when he called him one of his team's two best quarterbacks.
Kaepernick's status on the team was briefly in question after his anthem protest over racial oppression and police brutality in the United States became public last weekend. But the Niners determined his ability as a player outweighed any potential distraction.
''When he's here, he's all about football and all about work,'' Kelly said. ''That's what I've seen since we've been here. He continues to display that every day he's been in this building.''
In other moves, the Niners acquired receiver Rod Streater and an undisclosed draft pick from Kansas City for an undisclosed draft pick and traded safety L.J. McCray to Seattle for an undisclosed draft pick. Both deals are pending physicals.
The Niners also waived receiver DeAndre Smelter with an injury, placed linebacker Aaron Lynch on the suspended list for four games for violating league rules on substance abuse and released 20 players.
But the biggest focus was at quarterback, where San Francisco released Jeff Driskel but kept Kaepernick and Ponder.
Kaepernick refused to stand for the national anthem on Aug. 26 against Green Bay and was outspoken in his reasoning, saying he would continue standing up for people who were oppressed until he saw significant change.
Kaepernick once again protested the anthem on Thursday night in San Diego, but kneeled alongside teammate Eric Reid, instead of sitting, in a move meant to show more respect to veterans.
Kaepernick's performance had plummeted in recent years after he led San Francisco to the Super Bowl following the 2012 season and the NFC title game the following year.
He eventually lost his starting job to Gabbert midway through last season and had done little to show he should win it back this year. He was slowed in the offseason after undergoing operations on his non-throwing shoulder, right thumb and left knee and did not get any practice time.
He returned to the practice field at the start of training camp in late July but then missed about two weeks with a tired right shoulder but wasn't able to win the job back.
''He knows he still has work to do,'' Kelly said. ''He's not up to his playing weight that he was when he was successful here and he'll continue to work on that. He missed a couple of weeks there with the arm and that set him back a little bit in terms of his ability to compete for it.''
After struggling in his return against the Packers and causing a media maelstrom with his protest, some raised questions about whether he was worth keeping around.
Adding to that was the fact that 49ers would be on the hook for his $14.5 million base salary in 2017 if Kaepernick gets hurt this season and is not fully recovered by April 1. Kaepernick's $11.9 million salary for this season became guaranteed when he was on the roster in April. The Niners had discussions with Denver about a possible trade in the offseason and Kaepernick even met with Broncos general manager John Elway. But hangups over Kaepernick's salary contributed to the deal falling apart.
Kaepernick's teammates supported his protest and Reid even joined in. Kaepernick said after Thursday night's game that he loved America and wants to make the country a better place. He also said he intends to donate $1 million ''to different organizations to help these communities and help these people,'' declining to provide specifics.
The other players cut by the Niners were receivers Dres Anderson, Devon Cajuste, Bryce Treggs, Ryan Whalen and DeAndrew White; offensive linemen Alex Balducci, Fahn Cooper, Colin Kelly and Norman Price; defensive linemen Demetrius Cherry, B.J. McBryde and Garrison Smith; linebackers Corey Lemonier, Marcus Rush and Shayne Skov; running backs DuJuan Harris and Kelvin Taylor; tight end Je'Ron Hamm; and cornerback Prince Charles Iworah.
---
Online:
AP NFL website: www.pro32.ap.org and www.twitter.com/AP-NFL
---
---