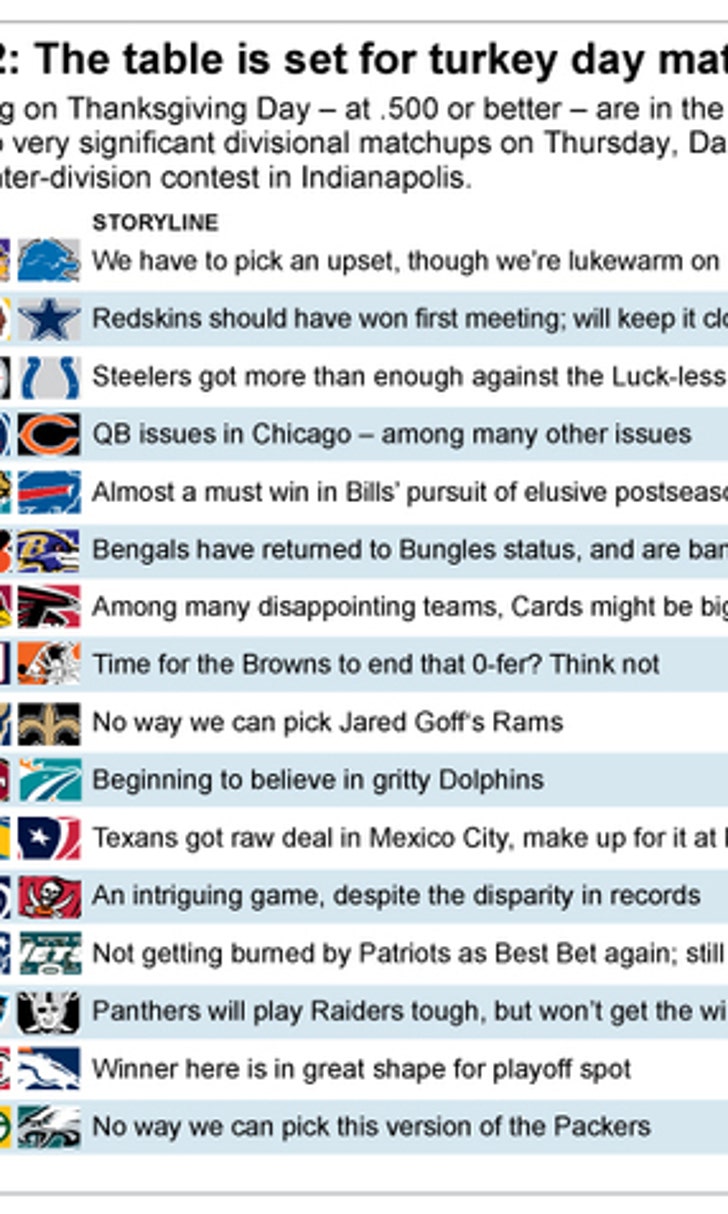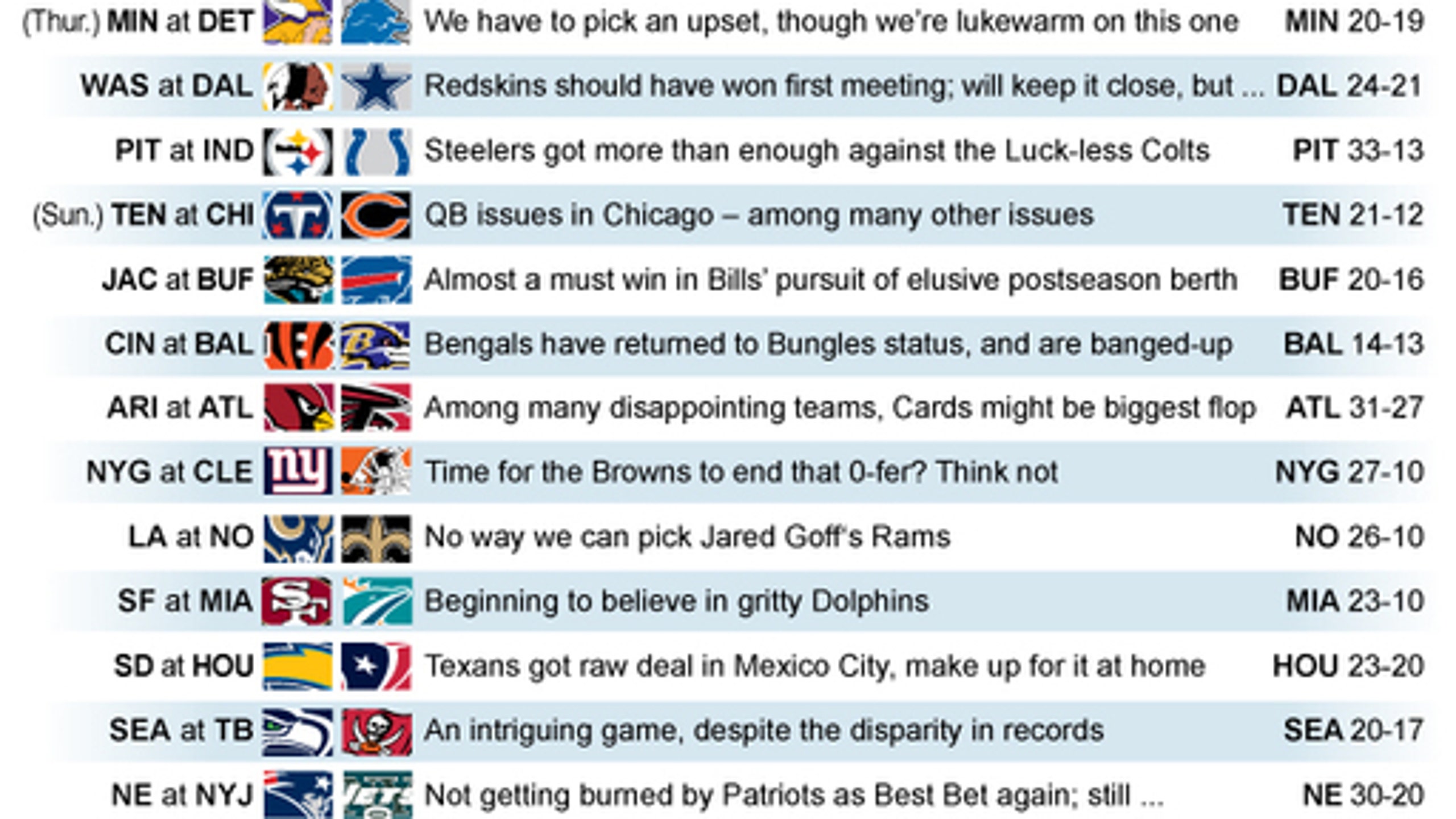 3 quality matchups for Thanksgiving Day
BY foxsports • November 23, 2016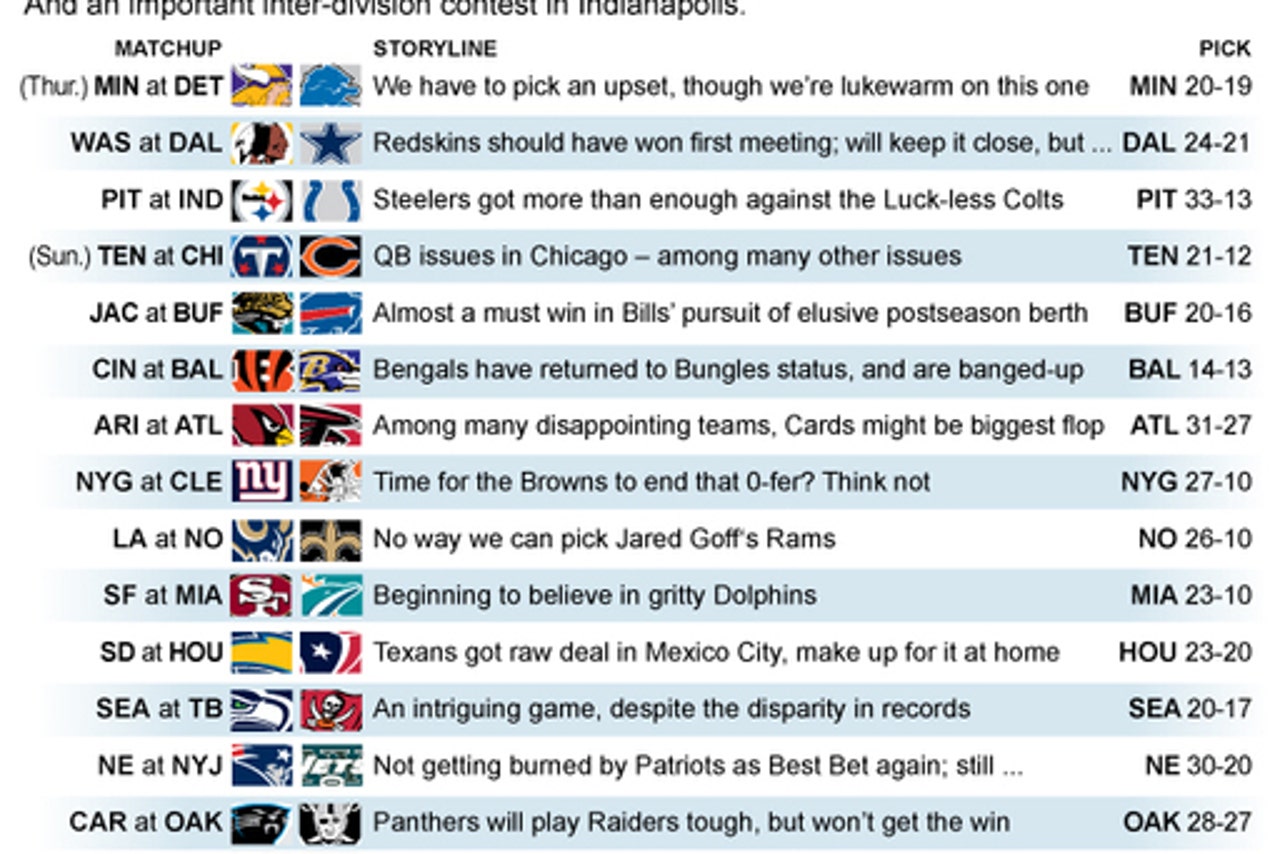 The NFL is bragging about how for the first time since 1935, Thanksgiving Day features three games with all six teams at .500 or better.
Considering how mediocre so many teams are this season, Pro Picks isn't sure how to take that stat.
Regardless, there are two very significant divisional matchups on Thursday at the traditional holiday sites, Dallas and Detroit. And an important inter-division contest in Indianapolis.
The Colts (5-5) have won two in a row, but the most recent victory was costly, particularly with the Sunday-Thursday timeframe for their game with the Steelers. Andrew Luck entered the concussion protocol on Monday.
The backup quarterback for Indianapolis (No. 17 in AP Pro32) is Scott Tolzien. Not exactly in Luck's class, you say?
''We've got a guy that comes to work every single day and prepares like a starter ever since he's been in this building,'' Colts coach Chuck Pagano says of Tolzien, who's in his fourth NFL season, has thrown 91 passes (all with Green Bay when Aaron Rodgers was hurt) and has not taken a snap this year.
''He understands and knows this offense and if that's the case, he'll go out and play winning football.''
Sorry, we don't buy it.
Yes, the Steelers (also 5-5, No. 16 in AP Pro32), are no powerhouse this season, especially on defense. But they've got more than enough against the Luck-less Colts.
BEST BET: STEELERS, 33-13
No. 11 Minnesota (plus 2 1-2) at No. 10 Detroit
We have to pick an upset, though we're lukewarm on this one.
UPSET SPECIAL: VIKINGS, 20-19
No. 8 Washington (plus 7) at No. 1 Dallas
Redskins should have won first meeting. They will keep this close, but ...
COWBOYS, 24-21
No. 23 San Diego (plus 1) at No. 13 (tie) Texans
Texans got raw deal in Mexico City, make up for it at home.
TEXANS, 23-20
No. 24 Green Bay (plus 3 1-2) at No. 13 (tie) Philadelphia, Monday night
No way we can pick this version of the Packers.
EAGLES, 30-22
No. 27 Los Angeles (plus 7) at No. 25 New Orleans
No way we can pick Jared Goff's Rams.
SAINTS, 26-10
No. 20 Tennessee (pick-em) at No. 29 Chicago
Line reflects QB issues in Chicago - among many other issues.
TITANS, 21-12
No. 6 (tie) New York Giants (minus 7) at No. 32 Cleveland.
Time for the Browns to end that 0-fer? Think not.
GIANTS, 27-10
No. 2 Seattle (minus 5 1-2) at No. 19 Tampa Bay
An intriguing game, despite the disparity in records.
SEAHAWKS, 20-17
No. 22 Carolina (plus 4) at No. 4 Oakland
Panthers will play Raiders tough, but won't get the win.
RAIDERS, 28-27
No. 6 (tie) Kansas City (plus 3) at No. 5 Denver
Winner here is in great shape for playoff spot.
BRONCOS, 23-21
No. 3 New England (minus 8) at No. 28 New York Jets
Not getting burned by Patriots as Best Bet again. Still ...
PATRIOTS, 30-20
No. 30 Jacksonville (plus 7 1-2) at No. 18 Buffalo
Almost a must win in Bills' pursuit of elusive postseason berth.
BILLS, 20-16
No. 26 Cincinnati (plus 2 1-2) at No. 15 Baltimore
Bengals have returned to Bungles status, and are banged-up.
RAVENS: 14-13
No. 21 Arizona (plus 3) at No. 9 Atlanta
Among the many disappointing teams, Cardinals might be biggest flop.
FALCONS, 31-27
No. 31 San Francisco (plus 7 1-2) at No. 12 Miami
Beginning to believe in gritty Dolphins.
DOLPHINS, 23-10
---
Last Week: Against spread (11-3). Straight up: (11-3)
Season Totals: Against spread (74-78-6). Straight up: (92-66-2)
Best Bet: 5-6 against spread, 7-4 straight up.
Upset special: 5-5-1 against spread, 5-6 straight up
---
For more NFL coverage: http://www.pro32.ap.org and http://www.twitter.com/AP-NFL
---
---