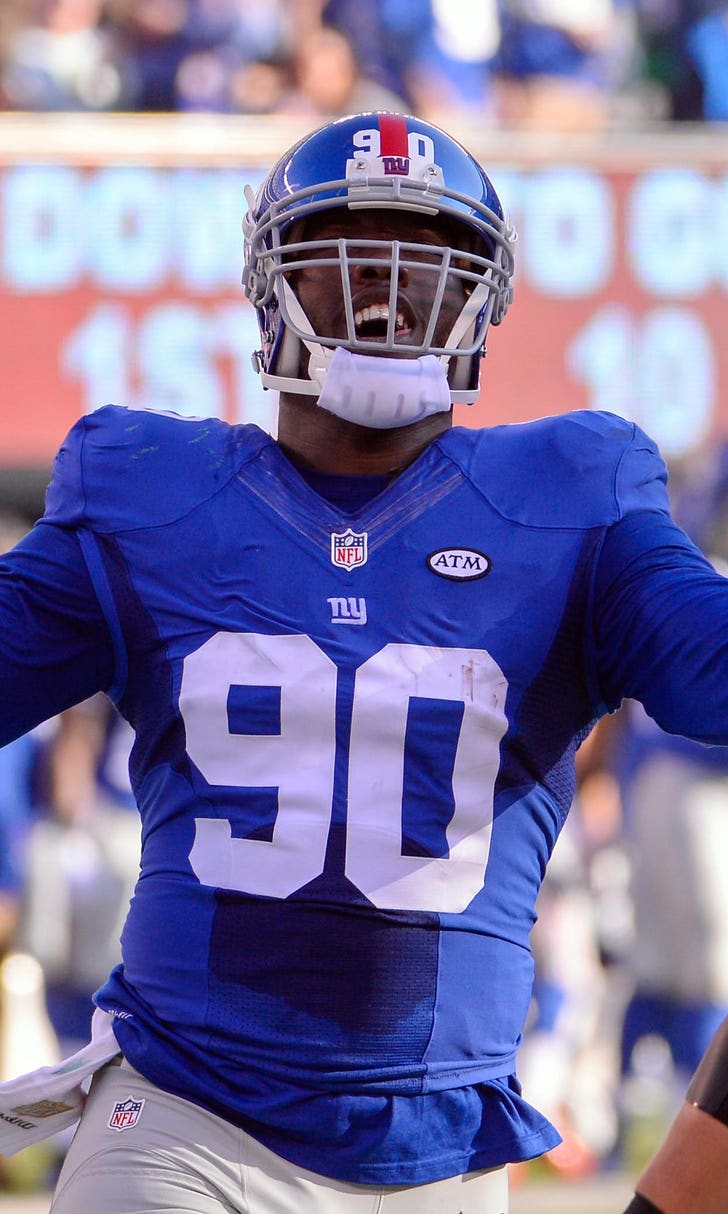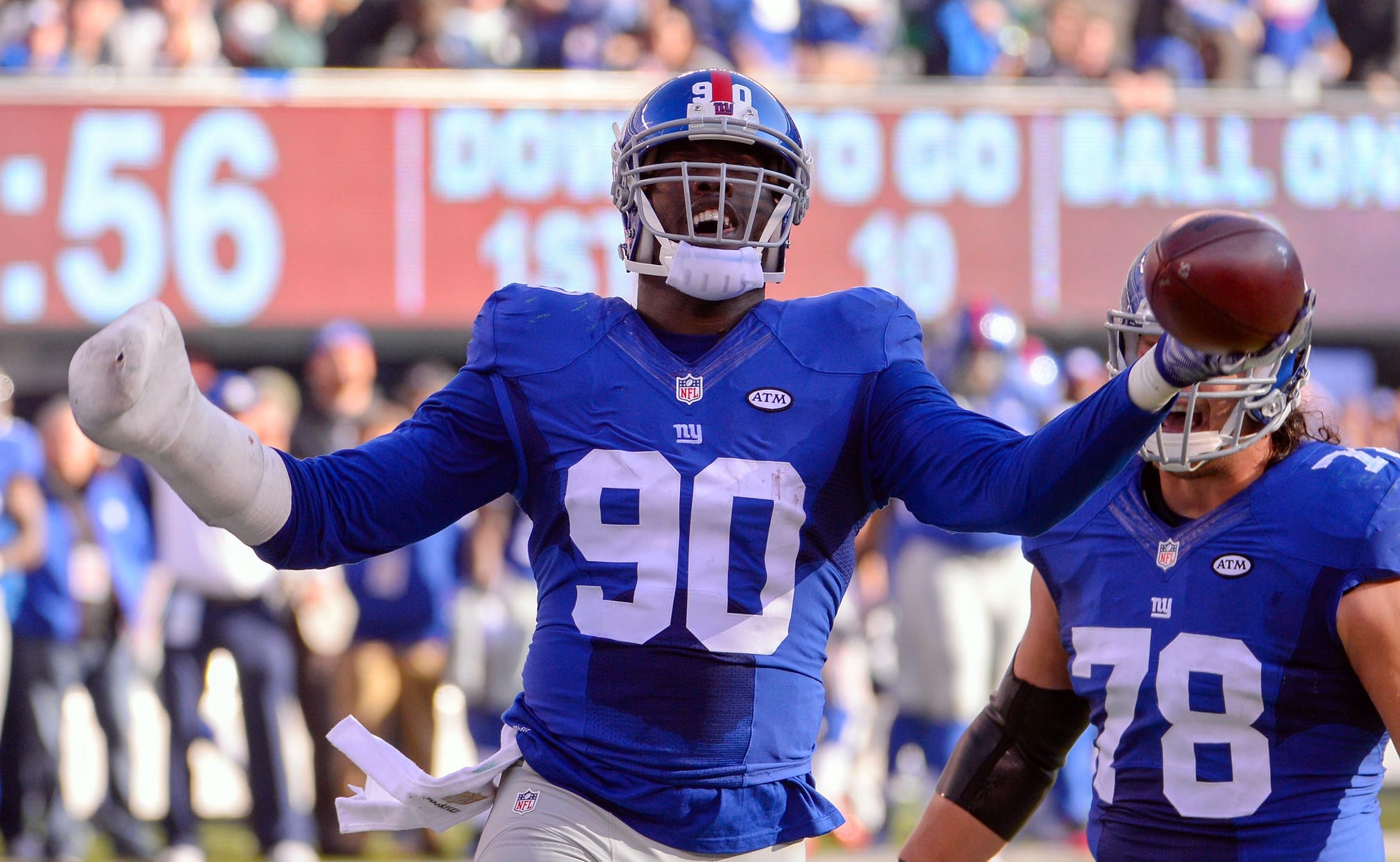 2017 NFL Free Agency: 5 Possible Destinations for Jason Pierre-Paul
BY Fansided and Randy Gurzi/FanSided via NFL Spin Zone • June 30, 2017
Jason Pierre-Paul is one of the better pass rushers available in free agency this offseason, which five teams are his most likely landing spots?
Once one of the most feared pass rushers in the NFL, defensive end Jason Pierre-Paul is hoping to cash in on a rebound year. After a fireworks injury cost him part of his right hand, JPP was able to play just eight games in 2015. He finished with 26 tackles and just one sack in the season that he was playing under the franchise tag.
After that season he was unable to secure the type of long-term security he desired and again settled on a one-year deal, albeit this time it was not the franchise tag. JPP was no doubt motivated by the five-year contract worth $85 million his own team dished out to former Miami Dolphins defensive end Olivier Vernon.
Pierre-Paul proved he was still a capable pass rusher in 2016. He played in 12 games and recorded seven sacks on the season, just 1.5 sacks less than Vernon and his huge contract provided.
Now with his team dedicated to another edge rusher, Pierre-Paul looks to find his big deal elsewhere. As he searches for his next NFL home, here are the five most likely landing spots
Jan 1, 2017; Detroit, MI, USA; Green Bay Packers quarterback Aaron Rodgers (12) gets chased by Detroit Lions defensive end Devin Taylor (98) during the second quarter at Ford Field. Packers won 31-24. Mandatory Credit: Raj Mehta-USA TODAY Sports
5. Detroit Lions
Oftentimes teams stack up in a certain area to dethrone their competitors within their division. It makes sense, because in order to get into the playoffs, you need to beat the teams in your division. The Detroit Lions did enough to make it into the postseason, but in losing to the Green Bay Packers in Week 17, they lost their chance at hosting a playoff game. That can have a huge impact on whether or not a team is successful in the playoffs. Green Bay went to the NFC Championship Game and Detroit lost in the Wild Card Round.
More from NFL Spin Zone
There's no guarantee that they could have gone further by beating Green Bay, but the Packers would have been out in favor of the Washington Redskins had Detroit won. After that loss, they should be headed back to the drawing board to determine a way to unseat the Pack as the best on the NFC North. The best way to do that is to attack quarterback Aaron Rodgers.
Enter Jason Pierre-Paul. Detroit needs someone to pressure the quarterback after recording just 26 sacks all season long which tied them for second worse in the league with the Cleveland Browns. Bringing in Pierre-Paul would give them a proven pass rusher to go along with youngster Ziggy Ansah, who had just two sacks all year after posting 14.5 the previous season.
Maybe the addition of Pierre-Paul wakes Ansah up and the two can form a great pass rushing duo.  If not, at least they could have someone who will get after opposing quarterbacks as Detroit tries to take the next step in 2017.
Sep 14, 2014; East Rutherford, NJ, USA; Arizona Cardinals quarterback Drew Stanton (5) is sacked by New York Giants defensive end Jason Pierre-Paul (90) during the game at MetLife Stadium. Mandatory Credit: Robert Deutsch-USA TODAY Sports
4. Arizona Cardinals
The Arizona Cardinals were interested in his services a year ago, and there's no reason to think they would be less interested after a better season out of Pierre-Paul. The defensive end turned down what was considered to be a better contract from the Red Birds to stay in New York on a one-year deal. His intention was to obviously prove he still could perform at a high level in hopes of earning the type of money that his Giants paid to Olivier Vernon.
JPP proved he still could play at high level, but the Cardinals also proved they were okay without him. Arizona led the NFL with 48 sacks on the season, but that may not mean they are content. Outside linebacker Chandler Jones is their most accomplished edge rusher, but with him looking for a big contract this offseason he may not be coming back. Or who knows, they may want both. Reports are the team is all-in on winning in 2017 and will be active in free agency this offseason.
Via the team's official website, general manager Steve Keim had this to say:
"I don't know what you would consider 'splash,' but we'll certainly be aggressive and keep our foot on the gas pedal, try to keep pushing this thing in the right direction," Keim said. "There's no doubt we took a step back last year. We've got to pick up the pieces and make some good decisions this offseason."
Adding Pierre-Paul wold be a splash and honestly no team can never have enough pass rushers. That makes this option still viable no matter what they do with Jones.
Nov 8, 2015; Tampa, FL, USA; New York Giants defensive lineman Jason Pierre-Paul (90) rushes the passer in the first half against theTampa Bay Buccaneers at Raymond James Stadium. The New York Giants defeated the Tampa Bay Buccaneers 32-18. Mandatory Credit: Jonathan Dyer-USA TODAY Sports
3. Tampa Bay Buccaneers
Pierre-Paul was born in Florida and played at USF, so maybe going home would be enticing to him. That brings the Tampa Bay Buccaneers into focus. This is an incredibly young franchise that finished with 38 sacks on the season in 2016. They have some young talent, as well as a couple veteran rushers in Gerald McCoy and JPP's former teammate in New York, Robert Ayers.
That doesn't mean they can't add more. According to Spotrac.com, the Bucs are third in the NFL in cap space. They can afford to make a big splash as they attempt to take that next step. They finished 9-7, which landed them at second place in the NFC South. While that was a great accomplishment under rookie head coach Dirk Koetter, there is room to improve.
Adding more veteran players to their impressive collection of young talent may be exactly what they need. As for Pierre-Paul going back to Florida may not be the only thing that entices him. The Bucs are set up to be good for a long time, and being part of that movement from bottom dweller to perennial contender could be exactly what he's looking for. Well, that and all the cap space they have to throw his way. That works too.
Dec 18, 2016; San Diego, CA, USA; Oakland Raiders defensive end Khalil Mack (52) on defense during the fourth quarter against the San Diego Chargers at Qualcomm Stadium. Mandatory Credit: Jake Roth-USA TODAY Sports
2. Oakland Raiders
Speaking of teams going from bottom dwelling to contending, the Oakland Raiders hadn't recorded a winning season since 2002. They finally bucked that trend in 2016 by winning 12 games. They lost their quarterback to a broken leg near the end of the year, so their playoff run ended rather quickly. Still, this is a team with the arrow pointing up—except on defense.
The Raiders were an offensive force behind the arm of quarterback Derek Carr. He was a legitimate MVP candidate and was helped by wide receivers Amari Cooper and Michael Crabtree. Defensively, they were a different story. The Raiders finished near the back end of every defensive statistic and could surely use some help.
Thanks to Khalil Mack, they aren't starved for pass rushers, but that doesn't mean adding one is a bad idea. Outside of Mack, the Raiders don't have anyone on defense who is irreplaceable, and after another off field incident it's not like they can ever trust outside linebacker Aldon Smith to ever return. Pierre-Paul would give Mack another edge rusher to take pressure off him, perhaps making their defense a respectable unit.
They don't need to be great on that side thanks to how efficient Carr is, but JPP could give them the extra push they need.
Feb 5, 2017; Houston, TX, USA; Atlanta Falcons head coach Dan Quinn and wide receiver Julio Jones (11) stand for the National Anthem before Super Bowl LI against the New England Patriots at NRG Stadium. Mandatory Credit: John David Mercer-USA TODAY Sports
1. Atlanta Falcons
Here is another team that won based mainly on their offense. Quarterback Matt Ryan was the 2016 NFL MVP and the Atlanta Falcons also featured one of the best wide outs in the league in Julio Jones. They also have running backs Devonta Freeman and Tevin Coleman, who form one of the best running back duos in recent memory.
Defensively they're less impressive. They're not exactly a bad defense, especially when you look at their second half of the season. Head coach Dan Quinn has a strong defensive background and found ways to get the most out of his players as they made their impressive Super Bowl run.
After harassing New England Patriots quarterback Tom Brady throughout the first half, the Pats found a way to neutralize the Falcons attack. That's the problem you run into when you are producing result based on scheme more than talent—and when you don't have the depth to withstand losing time of possession. For the Falcons, they do have both, but not so much at the edge rushing spot.
Vic Beasley, Jr. is a talented pass rusher, but opposite him the Falcons could use some help. That's where Pierre-Paul comes in. He would be an instant upgrade along their defensive line and could be the one player they need to turn this unit from a liability to a strength.
---
---