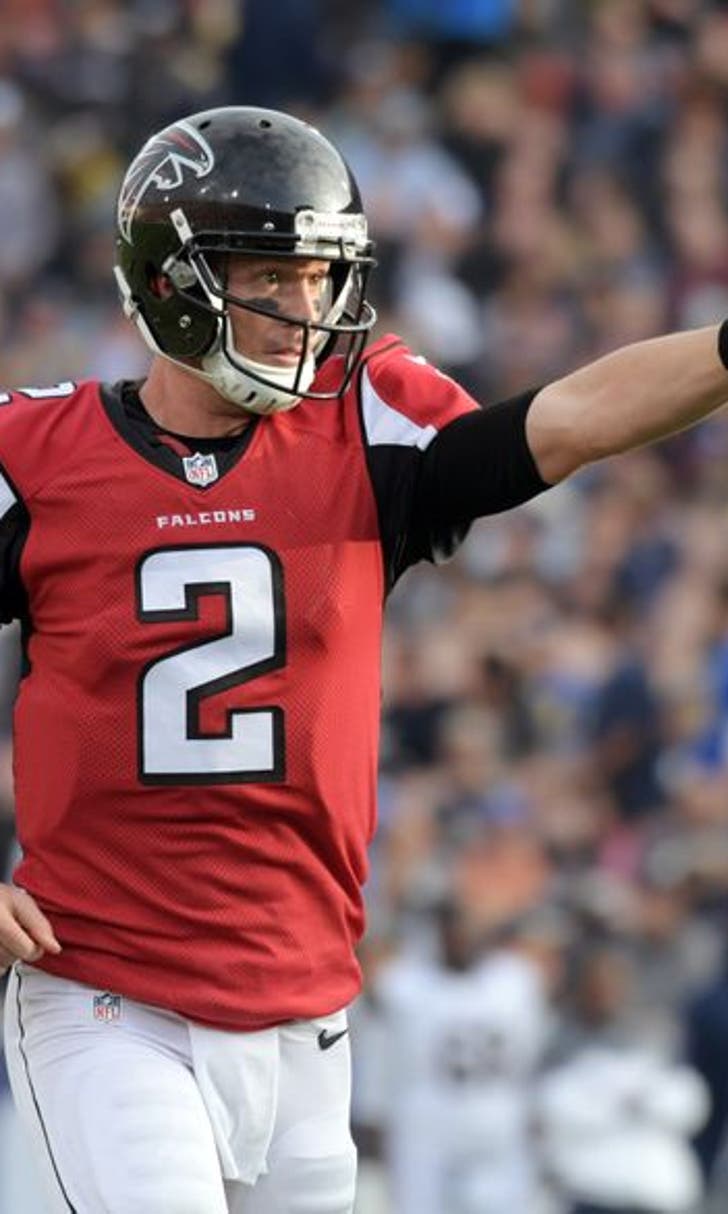 2016 NFL Honors: Final Results and Winners For Every Award
BY Fansided and Erik Lambert/FanSided via NFL Mocks • June 30, 2017
Dec 11, 2016; Los Angeles, CA, USA; Atlanta Falcons quarterback Matt Ryan (2) celebrates after throwing a 64-yard touchdown pass in the third quarter against the Los Angeles Rams at Los Angeles Memorial Coliseum. Mandatory Credit: Kirby Lee-USA TODAY Sports
The 2016 NFL Honors were expected to feature big names and more than a few surprises. They certainly didn't disappoint in any regard to that.
Of course the Super Bowl is the big game that everybody strives for, but that doesn't mean other players and coaches should go unnoticed every year because they couldn't win that game. Competition is about accomplishment on many levels. Individual and team-based. Football has several that showcase what makes the game great.
So who were some of the big winners this season?
MVP:  Matt Ryan, QB, Atlanta Falcons
Some may have felt Derek Carr or Tom Brady deserved the award but the truth is Matt Ryan owned it from the very beginning. He was outstanding from start to finish and now has his Atlanta Falcons one win away from being world champions. It certainly wasn't their 25th ranked defense that did it. Without Ryan this team may not even have a winning record. That's MVP personified.
Defensive Player of the Year:  Khalil Mack, DE, Oakland Raiders
This was a bit of an upset to many. It looked like Von Miller had the award sewn up, but upon examining the numbers it's not a surprise Khalil Mack swiped it away from him. He finished with 11 sacks, a interception, five forced fumbles, and a defensive touchdown. Every time the Oakland Raiders needed a big play on defense, he was the one who provided it.
Coach of the Year:  Jason Garrett, Dallas Cowboys
The competition for this award was hot in 2017. So many deserving candidates. Belichick guiding the Patriots to 14-2 despite not having Brady for four games. Adam Gase turning a 1-4 Miami Dolphins team into a playoff participant. Still, none of them could top Jason Garrett. Leading a team with an all-rookie backfield to the #1 seed in the NFC made him the easy choice in the end.
Nov 13, 2016; San Diego, CA, USA; San Diego Chargers defensive end Joey Bosa (99) raises his arms as he engages with a Miami Dolphins defender during the second quarter at Qualcomm Stadium. Mandatory Credit: Orlando Ramirez-USA TODAY Sports
Offensive Rookie of the Year:  Dak Prescott, QB, Dallas Cowboys
Ezekiel Elliott was very deserving of this honor as well. Same goes for Jordan Howard and Michael Thomas. Dak Prescott though was the much bigger surprise. Everybody expected Elliott to have success. He had to overcome a steep learning curve and replacing a Pro Bowler in Tony Romo. He did that and more, becoming a leader on the team and reaching a Pro Bowl of his own.
Defensive Rookie of the Year:  Joey Bosa, DE, Los Angeles Chargers
The Chargers got a lot of grief from draft experts when they decided to take Joey Bosa with the #3 pick in the 2016 draft. It didn't help when the Ohio State defensive end staged a contract holdout. In the end though the team got the last laugh. Bosa was a force from the moment he took the field, finishing with 10.5 sacks despite missing four games. A scary thought for the future.
Comeback Player of the Year:  Jordy Nelson, WR, Green Bay Packers
It's so hard for a player to suffer a significant injury one year and then return and have it seem like he was never gone. That is what Jordy Nelson managed to do for the Green Bay Packers in 2016. He tore his ACL and missed all of the previous year. People weren't sure what to expect from the 31-year old. What they got was 1,257 yards and 14 touchdowns. He was a virtual lock for this honor.
More from NFL Mocks
This article originally appeared on
---
---