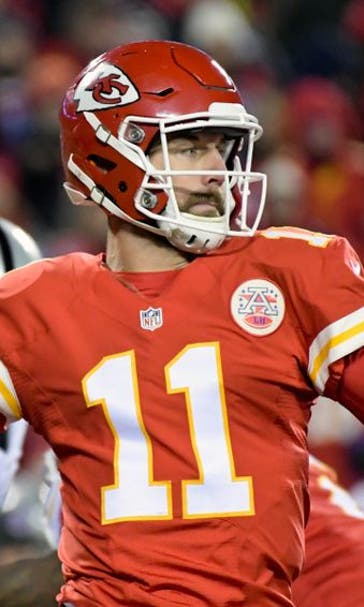 2016 AFC Playoff Picture: Week 15
December 15, 2016

Fansided, Brad Berreman/Fansided
Here's a look at the playoff picture in the AFC going into Week 15 on the 2016 NFL schedule.
Heading into Week 15, the AFC playoff race is closely contested with no team having clinched anything for sure yet. Yes, the New England Patriots (11-2) are in line to win the AFC East and the favorites to make it to the Super Bowl, but everything else is up in the air right now.
Here's a look at the AFC playoff race, starting with the division leaders.
AFC East: New England Patriots (11-2) New England is three games clear of the Miami Dolphins for the division lead, so there's a scenario where they clinch this weekend. Home field advantage through the playoffs also looks likely for the Patriots.
AFC West: Kansas City Chiefs (10-3) A season sweep of the Oakland Raiders gives the Chiefs the tie-breaker for the AFC West lead. If they can stay atop the division, and earn a first round bye, good luck to any team that has to go to Arrowhead Stadium.
AFC North: Pittsburgh Steelers (8-5) A win over the Buffalo Bills last Sunday, and the Baltimore Ravens' loss last Monday night, vaulted Pittsburgh to the top of the AFC North. If the Steelers make the playoffs, they'll be a dark horse to make it to the Super Bowl.
AFC South: Houston Texans (7-6) The Texans put themselves in the driver's seat to win the AFC South with last Sunday's win over the Indianapolis Colts, as they earned a season sweep and maintained an undefeated record within the division. A soft schedule over the next two weeks could assure a second straight division title for Houston.
Wild Card Contenders: Oakland Raiders (10-3), Denver Broncos (8-5), Miami Dolphins (8-5), Baltimore Ravens (7-6), Tennessee Titans (7-6), Indianapolis Colts (6-7), Buffalo Bills (6-7)
Key Games In The AFC Playoff Picture For Week 15 (Sunday afternoon unless otherwise noted)
Miami Dolphins at New York Jets (Saturday night)
Jacksonville Jaguars at Houston Texans-1 p.m. ET
Indianapolis Colts at Minnesota Vikings-1 p.m ET
Philadelphia Eagles at Baltimore Ravens-1 p.m ET
Pittsburgh Steelers at Cincinnati Bengals-1 p.m ET
Tennessee Titans at Kansas City Chiefs-1 p.m. ET
Cleveland Browns at Buffalo Bills-1 p.m ET
New England Patriots at Denver Broncos-4:25 p.m ET
Oakland Raiders at San Diego Chargers-4:25 p.m. ET
More from FanSided
This article originally appeared on
---
---