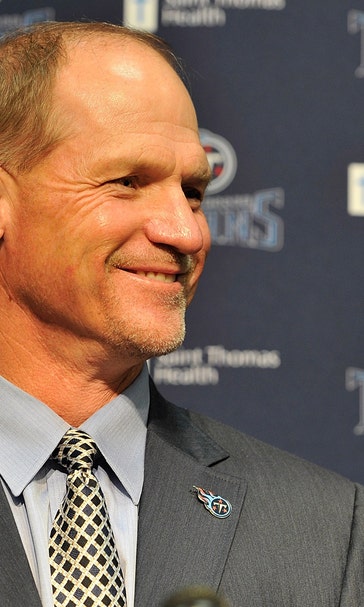 2014 Titans preview: Whisenhunt aims to revitalize Tennessee
BY foxsports • July 11, 2014
FOX Sports Tennessee previews the upcoming NFL season with an in-depth look at the Tennessee Titans, who are looking to break back into the playoff picture for the time since 2008:
2013: 7-9, 2nd in AFC South
Head coach: Ken Whisenhunt
Key departures: RB Chris Johnson, CB Alterraun Verner, OT David Stewart, PK Rob Bironas, WR Kenny Britt
Key arrivals: LB Wesley Woodyard, OT Michael Oher, LB Shaun Phillips, RB/PR Dexter McCluster, RB Bishop Sankey, OT Taylor Lewan
THREE QUESTIONS
1. Can quarterback Jake Locker stay healthy?
When the fourth-year quarterback has played, he has played well, including guiding the team to a 3-1 start last year. But he missed nine starts last year and five the previous season with various injuries, including a foot injury last November that required surgery and rehabilitation that lingered into spring drills. The team didn't pick up Locker's option year in 2015, meaning he's playing for his job this season with the team going forward.
2. Who will take up the slack for Chris Johnson?
After being the leading rusher and gaining at least 1,000 yards the last six seasons, including 2,006 in 2009, Johnson was released after declining to renegotiate a contract that was to pay $8 million this year. The Titans signed versatile free agent Dexter McCluster, drafted Washington back Bishop Sankey in the second round and hope oft-injured Shonn Greene returns to form that netted him consecutive 1,000-yard seasons in 2011-12 with the Jets.
3. Can the Titans find a replacement for cornerback Alterraun Verner?
In a contract year, Verner picked a great time to have a breakout season, leading the team and finishing tied for fifth in the NFL with five interceptions. He parlayed that into a four-year, $26.5 million free agency deal with the Bucs. Thing is, Verner didn't beat out Tommie Campbell for the starting job last year opposite veteran Jason McCourty until the final week of preseason. The fourth-year Campbell is back trying to win the job again, but the leader appears to be third-year Coty Sensabaugh, just ahead of second-year Blidi Wreh-Wilson.
BREAKOUT PLAYER
When trying to convince versatile Dexter McCluster to sign a free agency deal with the Titans, all Whisenhunt had to do was show film of last season while offensive coordinator with the Chargers. Specifically, it was the variety of ways Whisenhunt utilized running back Danny Woodhead, who finished with 1,034 total yards (429 rushing, 605 receiving).
While McCluster was named to the Pro Bowl in his fourth and final season with the Chiefs, it was as a punt returner. He was used little at running back, but rather mostly as slot receiver. But McCluster had shown he can do both in Kansas City in separate seasons, posting career yardage highs of 516 rushing in 2011 and 511 receiving last year. The Titans plan to get more production in each category this season from McCluster, who claimed that was the reason he signed with the team.
"We wanted to find a guy who created problems for defenses (with) a guy who has versatility to do some different things, similar to how we used Danny Woodhead in San Diego last year," said Titans offensive coordinator Jason Michael, the Chargers' tight end coach in 2013. "Dexter has played more in the slot the last couple years in Kansas City, but if you go back to 2011 when he spent a bunch of time in the backfield, we knew he had the ability to run the football as a running back and the versatility to do some different things and move him around and create some matchup problems for defenses."
REASON FOR OPTIMISM
Simply put, it's Whisenhunt. He is proclaimed to be a "quarterback whisperer" having worked initially with Steelers quarterback Ben Roethlisberger as an offensive coordinator, reviving the career of future Hall of Famer Kurt Warner as head coach of the Cardinals, and then last season teaming with resurgent Philip Rivers in San Diego. Whisenhunt hopes to work the same magic with the Titans, although it will be hard to do if Locker can't stay healthy.
But it's more than just working with quarterbacks or being an offensive wizard, but rather the determined approach Whisenhunt brings to a team that had an unproductive looseness under former coaches Mike Munchak and Jeff Fisher. Thus, the team hasn't made the playoffs since 2008, equaling the longest such dry spell for the franchise since not making the postseason five years in a row from 1994 to 1998 (during which time the team went from being the Houston Oilers to the Titans). Not that Whisenhunt is a control freak, but there is no doubt who is in control.
"If you look at the way coach 'Whiz' conducts himself and look at the rest of the coaching staff, they come in here with something," Titans safety Bernard Pollard said of Whisenhunt, who helped the Steelers win a Super Bowl as offensive coordinator and later guided the Cardinals there as head coach. "They all have a Super Bowl ring. They all have wins under their belt. They all have just that feel, and I hate to say it, but that swag. I think it is kind of trickling down to the players. The guys are excited."
REASON FOR PANIC
The general sentiment concerning the Titans is that they will go as far as quarterback Jake Locker can take them. But the 2011 first-round draft pick's inability to stay healthy the past two seasons since being given the starting quarterback reins offers little encouragement.
Two years ago, veteran quarterback Matt Hasselbeck was the backup, but he was released before last season to later sign with the Colts and sit behind Andrew Luck. Enter last season veteran quarterback Ryan Fitzpatrick, who is now the starter for the Texans. Although the Titans won only three of nine games that he started in 2013, Fitzpatrick did have plenty of game experience as former starter for the Bills.
Backing up Locker this season is Charlie Whitehurst, who has been in the league since 2006 but hasn't seen meaningful action in a game since making two starts for the Seahawks in 2011. Last year, he played in two games for the Chargers but didn't post any stats, while dressing all 16 games the previous year as San Diego's backup but not seeing any action. But Whisenhunt coached Whitehurst last year with the Chargers, so he knows what he's getting.
The Titans drafted former LSU quarterback Zach Mettenberger in the sixth round, but he'll initially battle former Raiders quarterback Tyler Wilson for the No. 3 quarterback spot. Should Locker go down for any extended time like the past two seasons, there is little to no experience among the quarterbacks behind him currently on the roster.
---
---