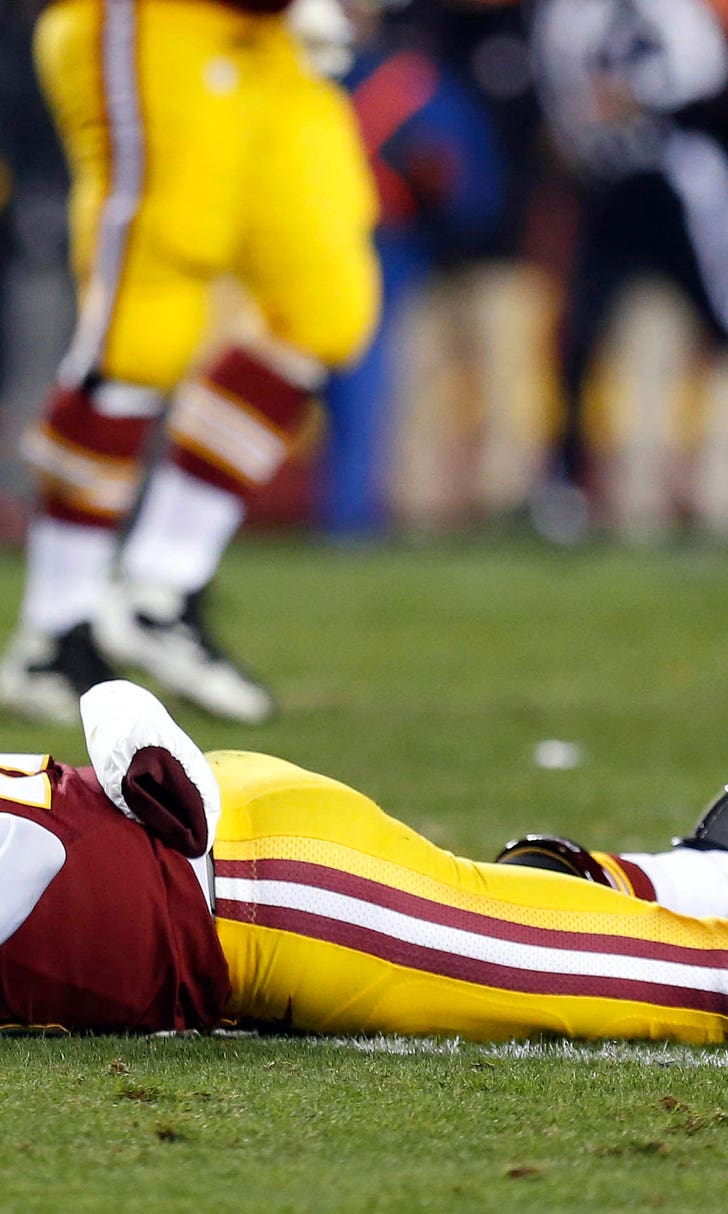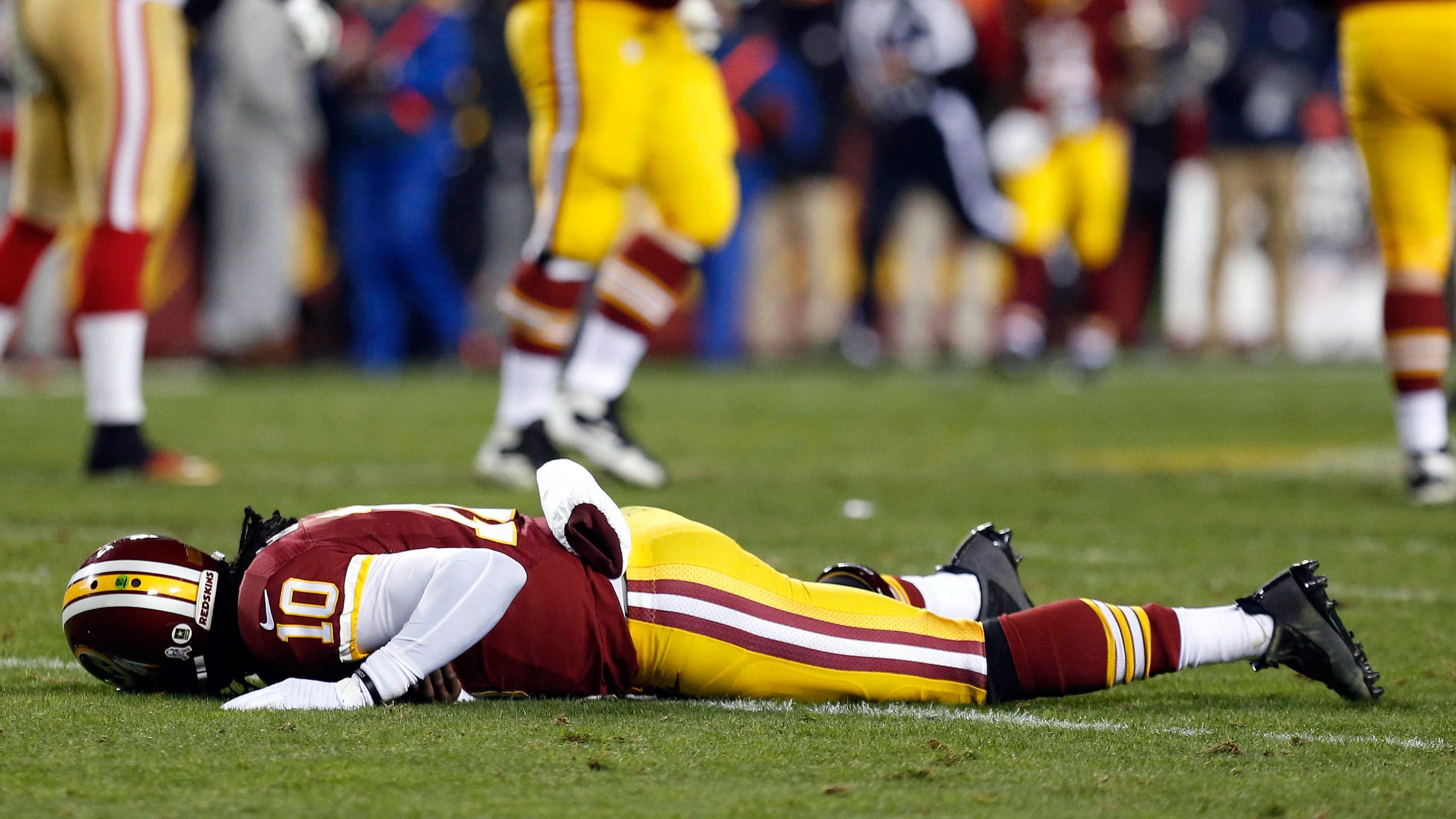 10 reasons why Shanahan is right to bench RG3
BY foxsports • December 9, 2013
Mike Shanahan's motive to bench Robert Griffin III for the remainder of the season is unclear. While the franchise quarterback has clearly regressed in his sophomore season, benching him could be devastating to his progress.
Here are 10 reasons why sitting Griffin is a good decision:
1. There's nothing to gain by playing
It was one thing to let him try to play when there was something to play for.  Why send a gimpy RG3 out there to possibly get maimed again? Let him really get healthy and start preparing for next year.
2. His head can break as badly as his body
The RG3 fairy tale twerked into a soap opera almost 12 months ago. It's now taken up full-time residence in his head. You couldn't miss the frustration following Sunday's game.
"Constantly, I come to these press conferences and get asked questions about non-football things as opposed to football. It's not the way the game should be going," Griffin said. "When you are sitting there, 3-10, you partially understand some of it. But at the end of the day, there are other questions that need to be asked and other things that we have to do and one of them is playing better."
The guy needs a vacation.
3. He can't run
Or he can't run like he used to. Griffin has gained 489 yards in the first 13 games. He gained 815 in 15 games last season. He had seven rushing touchdowns last year. He has none this season.
4. He can't pass
Again, not like he used to. His  completion percentage has dropped from 65.6 last season to 60.1. He has 12 interceptions so far, compared to only five his entire rookie year. His QB rating has dropped from 102.4 to 80.2.  
5. It  would eliminate all talk that RG3 is trying to get Shanahan fired
According to everybody in Washington, Griffin and Shanahan are the football version of Nancy Pelosi and John Boehner. They make nice in public but really don't want to spit in each other's Gatorade.
If Griffin keeps regressing at his current rate, cynics will say he was trying to help Baylor's Art Briles become the Redskins' next coach. Better to let Shanahan lose completely on his own.
6. It would give Snyder more time to spend with RG3
When it comes to stars, Snyder has always acted more like a fan than an owner. He dines with Griffin, they spend Thanksgiving together and have caught Hollywood movie premieres.
It's hard to imagine George Halas taking Mike Ditka to the White House correspondents' dinner. But if Griffin didn't have to spend so much time in the film room, he'd be free to take long walks on the beach with his biggest fan.
7. His linemen can't protect him
The Redskins have given up 25 sacks in their current five-game losing streak. They allowed six on Sunday. That would be a problem if RG3 had three good legs.
8. His linemen are running out of ways to pretend they don't see him
The Big Lead recently had a telling statistic. The first 26 times Griffin was sacked this season, a teammate helped him up only three times. They helped him up four times in last season's final game.
Either they don't want to risk straining their backs, or there's a subliminal message there.
9. Kirk Cousins could use an extended audition
Does he have a real future, even as trade bait? Give him the ball for the rest of the season and find out. All we know right now is he's shown promise as a passer and an apple polisher. After Sunday's loss, Cousins was asked about Shanahan and his son, offensive coordinator Kyle Shanahan.
"I absolutely love the Shanahans," he said, "and believe they are doing a great job coaching us."
Here's hoping his passes are more accurate than his coaching evaluations.
10. The media firestorm would divert attention from Snyder's other big problem
As Washington's world has unraveled the past couple of weeks, has anyone heard about the "Redskins" issue? That's not going away, but an RG3 benching might keep Native American groups from protesting outside the stadium.
Why show up when everybody would be looking to see if Griffin is on the sideline supporting his team, or in the owner's box feeding peeled grapes to Snyder while advising him on who the next coach should be?
---
---