With promising future, T-wolves say goodbye to Saunders
November 3, 2015

There was a basketball game to be played here on Monday night. It was a relatively important one, too: A sellout crowd at the Target Center, the No. 1 overall pick making his home debut, the old vet starting his 21st season back with the team that drafted him, an exciting new beginning for Minnesota Timberwolves basketball.
But it marked an ending, too. And so before any basketball game would be played, there was something far more important to be done. A memorial to one of the most influential sports figures in Minnesota sports history. A salute to a man known as much for his innovative coaching as for his gentle and humble humanity. A wake for one of the good guys, or, really, just one of the guys.
Flip Saunders died last weekend. You already knew this. You saw the shocking news that Saunders' Hodgkin's lymphoma had taken a quick and fatal turn only four months after the initial diagnosis, and he was gone at age 60. You read the basketball tributes penned about his 17 years as an NBA head coach: The unconventional route he took through college and the CBA before landing an NBA gig, the 654 wins in 17 years, the four conference finals his teams made without an NBA Finals, the foundation his front-office finagling laid for this young, talented Timberwolves squad.
But as the lights darkened at the Target Center, and as the tributes poured forth -- from names like Adam Silver and Gregg Popovich, Phil Jackson and Kevin Love, John Wall and Larry Bird -- it wasn't Flip the basketball mind who came out. It was Flip, the guy who read "Berenstain Bears" books to elementary kids. It was Flip, the man who still loved to put on magic shows with cards and coins. It was Flip, the guy who loved sports but knew sports were just, well, sports, and weren't life. It was Flip, the coach who treated every player the same, the definition of a players' coach.
"There was never anybody left out with Flip," Kevin Love said in the tribute.
Again and again, as Timberwolves players lined up solemnly on the court and stared at the big screen, came the heartfelt words about Flip. The tributes spoke of a man who was the same man when he was a 24-year-old coach grinding it out at Golden Valley Lutheran College as when he was a 60-year-old NBA head coach and president of basketball operations. They spoke of his phone calls at 3 a.m. or 4 a.m. to debate hoops.
They spoke directly to Flip.
"I remember the first time you told me you loved me," Timberwolves general manager Milt Newton said with a choked voice. "That really hit me, because usually at this level, people try to keep those type of feelings to themselves. I'm glad you were able to say that while you were here. But I just wanted to tell you: 'I love you too. Rest in peace.'"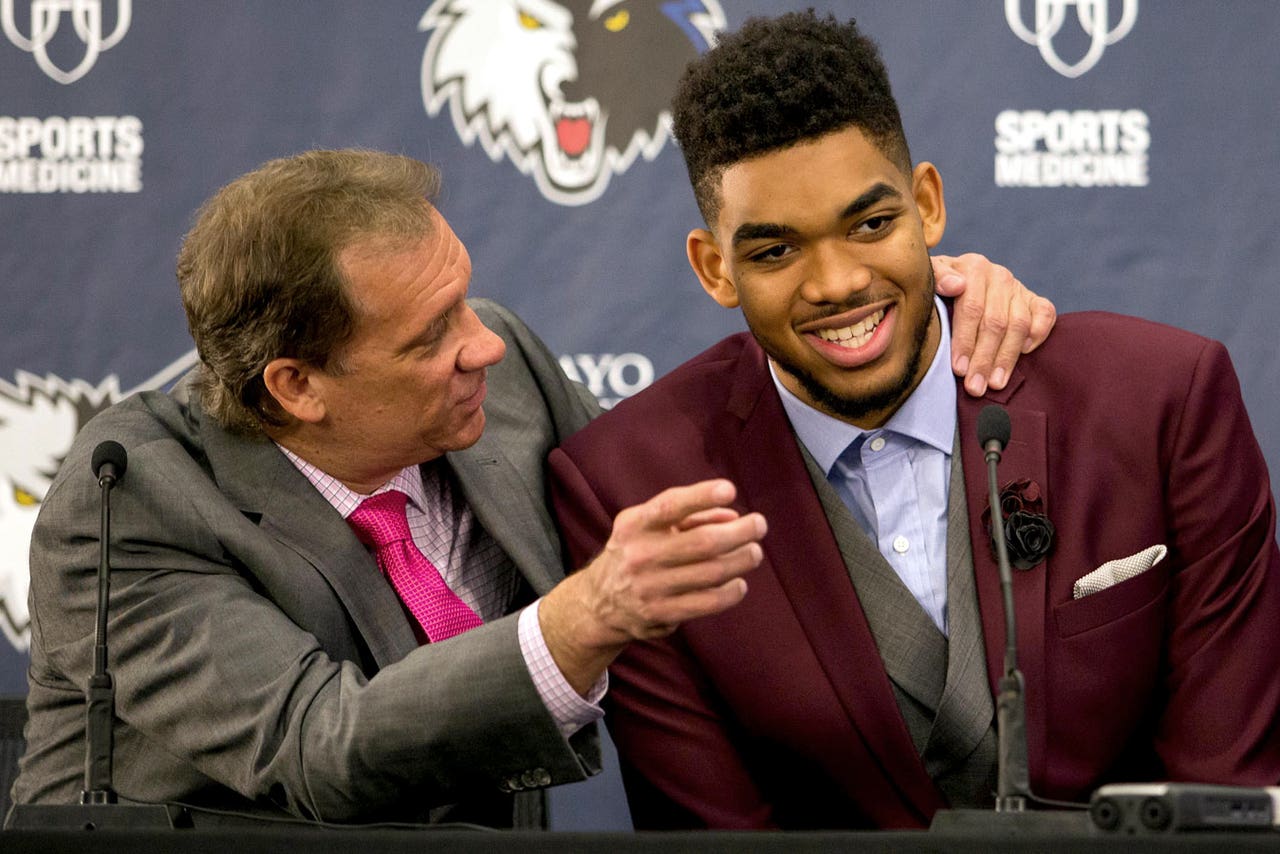 On June 26, a jovial Flip Saunders (left) introduced new No. 1 pick Karl-Anthony Towns.
Newton's words were broken up with tears. At the end he looked toward the sky.
Death comes for all of us. When death comes for our famous sports figures -- when it comes too soon for the people we lift up as heroes -- it shines a light on our own mortality. We go on with our lives, day to day, game to game, with death the furthest thing from our mind until it smacks us in the face.
A little more than four months ago, Saunders seemed hale and healthy. He was all smiles for the cameras as he put his arm around the Timberwolves new No. 1 overall pick, Karl-Anthony Towns. He was trying for a sequel to the Basketball Miracle in Minneapolis. The only coach to take the Timberwolves to the playoffs -- he did it eight times, other T-wolves coaches have made no playoffs -- was setting the franchise back in that direction.
Then a cancer diagnosis, and a turn for the worse, and sooner than anyone expected, the end.
Before Monday night's game -- an emotional game where the T-wolves lost to the Trail Blazers 106-101 with an ending tainted by several questionable calls that would have sent Flip through the roof -- the photo of Flip with his arm around Towns flashed on the big screen. It was a stark reminder. There was Towns, a new, youthful, exciting beginning for this franchise. There was Flip, months before his end.
As friends and colleagues have rehashed over the past week, Flip was a man who loved the life lessons in basketball. "Your greatest strength is your greatest weakness" -- that was one of his favorites. There were so many more. Sometimes, they sounded like cliches. More often, they sounded like simple wisdom.
In the locker room after the loss, I asked Towns about that photo of Flip with his arm around his new draftee. It was just a few months ago. Now, the man who drafted him was gone before Towns ever really got to know him, and the 19-year-old rookie was a week into his career, confronted with big questions about life.
"We're not all blessed to have our next day," Towns said, with a simple wisdom that would have made Flip proud.
Follow Reid Forgrave on Twitter @reidforgrave or email him at ReidForgrave@gmail.com.
---
---